Supreme Court Rules Against Unions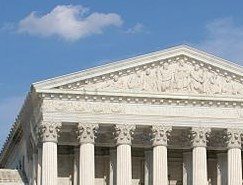 In a closely watched decision, the U.S. Supreme Court this morning ruled that home-care workers cannot be compelled to pay fees to the unions that represent them. The ruling in the Harris v. Quinn case was narrow in its scope — there had been speculation that a majority of the justices could throw out the high court's 1977 Abood decision that had authorized all public-sector unions to collect dues from workers for whom the unions negotiated contracts.
According to the Los Angeles Times:
In a 5-4 ruling written [by] Justice Samuel A. Alito Jr., the court said these employees, some of whom care for their disabled children at home, have a constitutional right not to support a union they oppose. The decision is a victory for the National Right to Work Foundation, which took up the cause of several mothers who objected to paying union fees.
Acknowleging the restricted focus of this morning's court decision, the New York Times noted that "during oral arguments in January, Justice Elena Kagan said the position taken by the National Right to Work Legal Defense Foundation 'would radically restructure the way workplaces across this country are run.'"
The crux of Alito's argument, according to the Chicago Tribune, was that the Illinois caregivers "are not similar enough to government employees to be compelled to pay union dues."
Capital & Main will have further coverage later.