Supreme Court Considers an Important Labor Case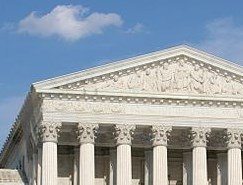 A recent Los Angeles Times editorial succinctly spelled out the simple truth about a potentially major labor case now before the U.S. Supreme Court. In Unite Here Local 355 v. Mulhall, a hospitality union is seeking to overturn a lower court decision favoring a supposedly disgruntled worker whose case just happened to be taken up by the National Right to Work Legal Defense Foundation.
The case's backstory is a somewhat complicated tale involving a Florida union local's attempt to organize workers employed by the operator of a casino and race track. That operator, Mardis Gras Gaming, accepted a "neutrality agreement" with UNITE HERE, in order to give the union access to Mardis Gras' workers without management objections. The arrangement also allowed for what's called a card-check election, which is often used to simplify union elections at businesses.
But one Mardis Gras employee, Martin Mulhall, cried foul and claimed the agreement violated the 1947 Taft-Hartley Act. Ignoring the rulings of two appeals courts (along with decades of rulings by the National Labor Relations Board), the U.S. 11th Circuit Court of Appeals in Atlanta sided with Mulhall. The Times' editorial board disagreed with the 11th Circuit:
At a time when unions are struggling to organize workers in the private sector, the Supreme Court is being asked to make unionization more difficult even when an employer agrees not to resist it. The court should reject the notion that such "neutrality" agreements violate the law.
The Supreme Court's decision isn't expected until spring, but union supporters are hopeful about the outcome, basing their optimism on the fact that most of the questioning by the justices indicated skepticism of the plaintiff's arguments. That, and the fact that not even the Chamber of Commerce joined the National Right to Work lawyers could be a sign that the right to work side's position is too extreme even for the  court's conservatives to support.