Study: California Best State for Laws to Help Working Parents
Seth Sandronsky reports that California rates No. 1 for family-friendly laws — even as new legislation is blocked in Sacramento.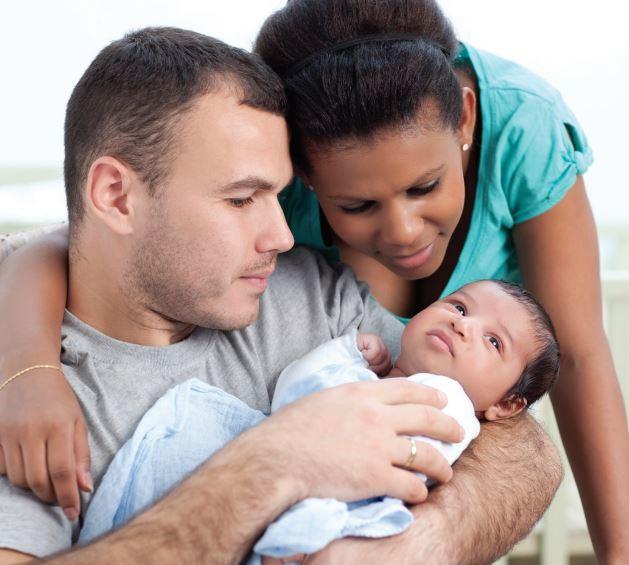 Parents (and expecting parents) who balance jobs to raise small kids are faring better in California than anywhere else in the country, according to the National Partnership for Women & Families, which recently released the fourth edition of an 81-page study measuring family benefits. Expecting Better: A State-by-State Analysis of Laws That Help Expecting and New Parents gauges how states have or have not exceeded the federal Family and Medical Leave Act (FMLA) of workplace protections for new parents that took effect in 1993.
"California simply has the most protections in place for new and expecting parents of all 50 states and the District of Columbia," Sarah Fleisch-Fink, NPFW director of workplace policy and senior counsel, told Capital & Main by phone. She said California leads the nation in four main areas:
paid family medical leave
paid sick days
pregnancy accommodations
workplace protections for expecting and nursing mothers that surpass FMLA requirements
With the exception of Missouri, all of the 12 states receiving an "F" for failing to pass laws to improve the FMLA are right-to-work states. Right-to-work laws, which govern 26 states, weaken collective bargaining rights and union organizing.
Alabama, Arkansas, Georgia, Idaho, Michigan, Mississippi, Nevada and Oklahoma received F grades, in part, for failing to "expand upon federal rights or protections for new and expecting parents who work in the private sector," where the vast majority of workers are employed. In these states, according to Expecting Better, there are "no laws beyond the federal FMLA that guarantee job protection or leave for new or expecting parents who work for the state."
Sebrina Owens-Wilson, a director with the nonprofit, Oakland-based Partnership for Working Families, pointed out that forward-looking policies created at the city level have in turn spurred California's family-friendly laws that improve on the FMLA. "These municipal policies changed the dialogue and expectations of employers to help pass California's progressive laws for working families," she told Capital & Main by phone.
In a related trend, economic justice work in the Golden State is sparking a national political discussion – the 2016 presidential campaign is a case in point. Such a dynamic is blowing wind into the sails of proposals to boost the federal minimum wage past its current $7.25 an hour, where it has been since 2009.
Enacting a series of policies to stabilize economic security for the most vulnerable working parents who are low-income and people of color is key to creating the political environment needed to expand the FMLA, Owens-Wilson said. "That focus has worked really well in California."
California is a rock-solid blue state. It is also a minority-majority state, with the world's sixth largest economy – and the lone state to receive an "A" rating from Expecting Better. Still, there is room to improve domestic laws and policy for parents who work outside the home. One goal, Fleisch-Fink said, is to expand the paid family leave law to make it job-protected.
California lawmakers have recently had mixed results expanding family benefits, however.
Senate Bill 1166, the New Parent Leave Act that State Senator Hannah-Beth Jackson (D-Santa Barbara) introduced February 18, would have expanded California's current protected parental leave law to employers with payrolls of five to 50 workers, mandating that employees receive 12 weeks of parental leave. The measure failed passage in the Committee on Labor and Employment June 22, but last week Democratic lawmakers amended SB 1166 as SB 654, keeping the original language. It would now apply to companies with 10 or more workers, who would receive a guarantee of 12 weeks of job-protected maternity and paternity leave after the arrival of a newborn or adopted child. SB 654 now moves to the Assembly Labor and Employment Committee.
Organized labor, the American Civil Liberties Union of California and the Western Center on Law and Poverty backed SB 1166. Opponents included the Civil Justice Association of California, the National Federation of Independent Business, the Western Growers Association and the California Chamber of Commerce, which called the bill a "job killer."
When she co-authored a work-scheduling bill, Senator Connie Leyva (D-Chino) thought she could avoid the job-killer label by reaching out to the Chamber of Commerce for its input. However, SB 878, which would have compelled employers to give their workers seven days' notice of work scheduling to help them plan family life, bit the dust in the Senate Appropriations Committee this spring – after being branded a job killer.
"I thought initially that bringing in CalChamber and other stakeholders into the process would be more helpful than it was," Leyva, a past head of the California Labor Federation, told Capital & Main by phone. "We did learn a lot speaking with all of the opposition. I hope that when the work-scheduling bill is reintroduced we can incorporate some of the opponents' suggestions, but not in a way that waters down the intent of the bill."
Leyva vows the bill will return for consideration in 2017. "I am completely committed to the issue of reliable work scheduling," Leyva said, "having spent 30 years either working or representing grocery workers."
Paying attention to new and growing industries, such as the app-based service-sectors that hire on-demand workers is vital, according to the Partnership for Working Families' Owens-Wilson. "We don't want to allow on-demand employers to undercut the progress made for working families." The on-demand economy, she added, fractures stable employer-employee relationships.
Making labor "flexible" prioritizes the interests of employers over workers, an equation that upends living conditions for all workers and not just those with families. To wit, on-demand employees work as nonunion independent contractors, and not as company employees. That nonemployee status makes it hard for workers to access vital benefits.
In a bid to elevate workplace security for on-demand workers, Assemblywoman Lorena Gonzalez (D-San Diego) introduced but then withdrew Assembly Bill 1727, known as the California 1099 Self-Organizing Act. Prior to shelving the bill, she said it would ensure "that the millions of Californians who aren't treated as employees, including workers in the evolving gig economy, simply have the option to organize and collectively bargain for better pay and working conditions for themselves for the work that they perform."
However, according to Gonzalez, complex legal issues required further discussions for AB 1727, with lawmakers such as Assembly Judiciary Committee Chair Mark Stone (D-Monterey Bay). "AB 1727 is dead for the year, but I will bring back another version of this bill next session," Assemblywoman Gonzalez told Capital & Main.
Meanwhile, San Jose voters will decide on a local measure, "Opportunity to Work," on the November 2016 ballot. Proponents include Silicon Valley Rising and the South Bay AFL-CIO Labor Council.
This initiative would compel firms with more than 35 employees to offer paid hours to existing part-time workers first before making new hires. It would increase take-home income and nudge part-time employees closer to full-time status, also improving their eligibility for employer-paid health-care benefits.
"The [Opportunity to Work] initiative will help combat the epidemic of underemployment in San Jose," the labor council's Dianna Zamora-Marroquin said in an email. "This is the first initiative of its kind aimed at providing part-time employees across all industries access to the hours needed for a reliable, livable paycheck.
"It is estimated that the initiative would provide nearly 64,000 hourly employees in the city of San Jose, who are primarily women and people of color, with the opportunity to access critical work hours."

The Real Costs of Living in California
A new report from United Ways of California shows that 1 in 3 working families struggle to make ends meet.

These seem to be boom times for Americans, as monthly statistics from the U.S. Labor Department tout a fast-rising economy and dwindling unemployment since the final years of the Obama administration. What those numbers fail to measure is the real cost of making ends meet, and how far out of reach that remains for many working households that continue to struggle.
The reality in California is that one in three households are falling short, according to Struggling to Stay Afloat: The Real Cost Measure in California 2018, a new report from the nonprofit United Ways of California. The study sought to document the actual costs of a "a bare-bones decent standard of living," says Peter Manzo, president of the nonpartisan advocacy group, and include the real-world impact of housing costs, transportation, education and other immovable factors.
The report is downloadable from the United Ways website, which also has interactive features where each county is examined in detail. In an interview with Capital & Main this week, Manzo explained the report's findings.
---
Captial & Main: What inspired this study?
Peter Manzo: The federal poverty level doesn't really take into account the cost of living in California. It also doesn't tell you where we would like families to be. It doesn't show you what is doing OK and how far most households are from it. Everyone knows it can be expensive to live in California, but this adds more detail.
How did you determine what the real costs were?
The real cost measure we used is a basic needs budget: housing, food, transportation, health care, childcare, taxes and 10 percent of the total for miscellaneous – things like your mobile phone bill. The interesting thing about the real cost measure is that the household budget varies by composition. So if you have two adults working full-time minimum-wage jobs, the household budget was different from the same two adults with an infant. The cost structure changes significantly by adding family members.
It looks like different parts of the state are affected differently.
Obviously, coastal areas are more expensive to live in than inland areas in terms of housing. Even so, there are high numbers of households struggling to meet the cost of a decent standard of living in those lower-cost areas. It's interesting to contrast much of the Bay Area with L.A. County, which has a much higher rate of struggling households: 38 percent of households in L.A. County struggle vs. the composite number across those Bay Area counties, which is about 25 percent. It's very expensive to live in Santa Clara County, but there are more households that are earning above what they need.
If you look at Fresno County, that's a very different situation.
On our website, you can look at neighborhood level data. You can look at it by neighborhood, which is real important. With Fresno, you have a high rate of need. And if you look at West Fresno, which sadly is pretty well known for having a very high unemployment rate and a lot of struggling families, it looks worse than other parts of Fresno.
In the Bay Area there is more opportunity, while in Fresno County the opportunities are less and people are struggling at a higher rate than other parts of the state.
Yes. It's very tough in a lot of place in the Central Valley and the Inland Empire. There are struggling households in just about every part of the state. Every ethnic and racial group struggles. No one's immune to it.
The Bay Area has been going through a difficult boom period where a lot of people moved in and housing costs went up. L.A. seems to be in the middle of that too. How do those kinds of changes affect people's ability to keep up?
HUD fair market rent, which is a proxy for actual rents, increased almost 45 percent in the last three years in Alameda County. That's a steep jump. The Bay Area cost ripple is still going on. L.A. County has rising rents. Our offices are in Downtown L.A., and you can't turn around without bumping into a crane. In the last three years, there has been an incredible boom in construction. And it seems to be mostly high-market condos that aren't very affordable and aren't that well occupied. My sense is that people are buying them for a second home. Obviously we need more housing units, but they need to be affordable. What we want to point out in our study is that we need to do more for renters. There are many more people living in apartments whose rents may go up than would be housed by new construction. Maintaining affordability is key.
How does education play into it?
We see a correlation between a higher level of education and a lower rate of struggle. Households led by college graduates, only 15 percent of those households struggle, compared to 78 percent for households led by somebody who doesn't have a high school diploma.
How do children in a household affect the ability to keep up?
That's one of our big findings. A household with kids really changes the budget of what a decent standard of living looks like. Some people would quarrel with us about this, but we feel children should have access to quality pre-school and childcare. We know most kids don't actually get access to that, but we think they should, and that's included in our budget. We find that 6 in 10 households with a child under 6 are struggling – especially when they're led by a single mother.
It looks like in many parts of the state, transportation is also a big cost, approaching the level that people pay for housing.
Our assumption is that families need a car. We talk to people who do studies back east, and often the assumption there is that low-income households are using public transportation. But even in the Bay Area, most people need a car. It's like a lifeline, to drive around and get to work. It's a little like Grapes of Wrath: You need to be able to move. Our costs are based on reported expenditures from the Bureau of Labor Statistics. If we had a high functioning public transportation system down here, that would help a lot of people.
These are overwhelmingly working households: 9 in 10 of them have a working adult, and in 80 percent of them the household is working full-time. Oftentimes, when people talk about poverty, they just know what the poverty level is – but it doesn't really tell you what they're contending with, and the trade-offs they're having to make. And there's often an assumption that poor people are lazy and if they just get a job, things would be better. Our point is that these are overwhelmingly working families. They have jobs and they're still not earning enough for a decent standard of living.