Students Blast USC's Handling of Sexual Harassment Case
Less than a week after a graduate student sued the University of Southern California for allegedly failing to adequately protect her from a professor who she said had sexually harassed her, students in USC's School of Social Work told administrators they did not feel safe.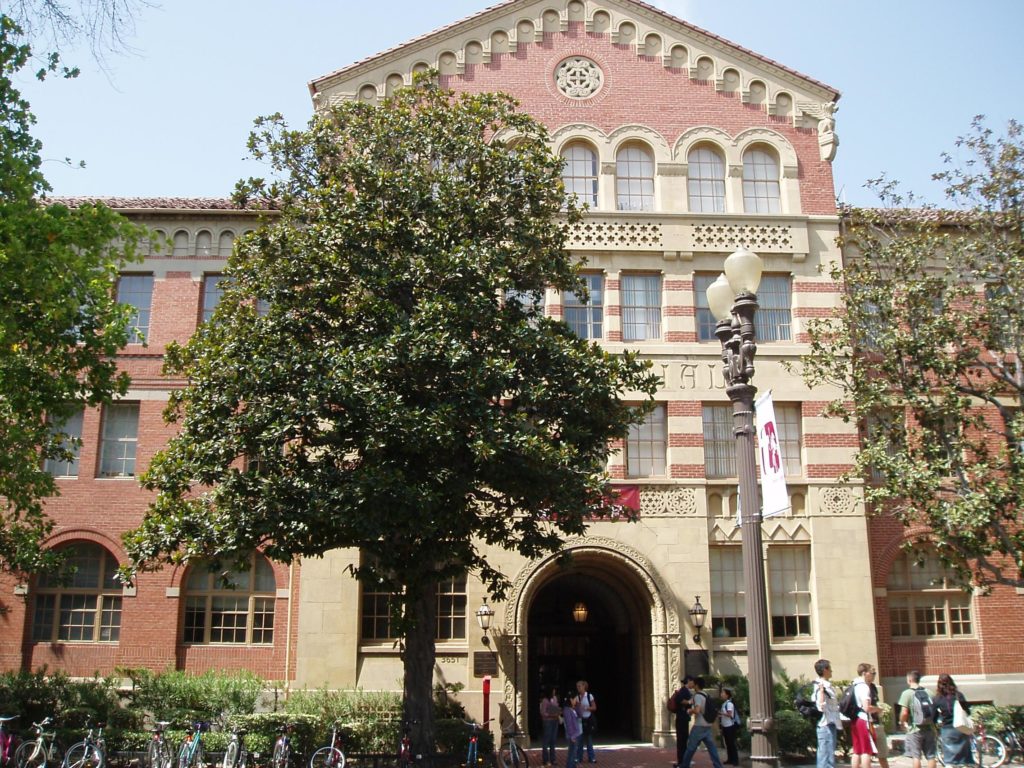 Photo by Padsquad19
68 faculty members signed an October 28 letter that questioned the university's handling of Fenwick's complaint against Guerrero.
---
Less than a week after a graduate student sued the University of Southern California for allegedly failing to adequately protect her from a professor who she said had sexually harassed her, students in the university's School of Social Work told administrators they did not feel safe.
"Our main message to the administration was that we don't feel safe the way things are right now," Social Work doctoral student Robin Petering said after what she described as a "tense" but productive meeting on Monday where she said students covered the room's windows to ensure their anonymity.
In her suit filed in Los Angeles Superior Court, USC doctoral candidate Karissa Fenwick said Social Work Professor Erick Guerrero, her dissertation advisor, tried to kiss her, causing her to flee his hotel room in January when they attended a conference in New Orleans. The next day, the suit said, Guerrero warned her not to tell anyone about the incident, saying, the Dean "has invested a lot in me and would never take your side."
Fenwick said she wrestled with whether to report Guerrero. "On the one hand, reporting him felt like I was sabotaging my whole career," she told CBS news after filing her lawsuit. "And on the other hand I felt like I could not stand back and just wonder if it was going to happen to somebody else if I never said anything. I felt I had to do it to protect other students."
The university said in a statement that it took Fenwick's complaint "very seriously" and "thoroughly investigated the claims." Based on its findings, the statement said, USC disciplined Guerrero. "A financial penalty was imposed, he was barred from leadership positions, his office was relocated away from students, and he will not teach classes or supervise students for the current academic year and beyond," the statement said. "And he was warned that any recurrence or retaliation could lead to dismissal."
The statement also said USC "sought to support" Fenwick by providing a new dissertation advisor and prohibiting Guerrero "from any and all contact with her."
Guerrero has denied the charges in Fenwick's suit and has filed a grievance against the university for its handling of the case. He alleged in court papers responding to her complaint that Fenwick is retaliating against him for confronting what he called her inappropriately flirtatious dancing at a piano bar they and other colleagues visited before returning to his hotel room where he went to charge his phone. He said he also suggested that she find another supervisor for her dissertation.
"I would never put myself in a compromising situation that can take away all the things I have worked so hard to accomplish," Guerrero said in a statement to CBS news.
Fenwick has denied Guerrero's accusations, and her lawyer, John Winer, called his characterization of the evening in New Orleans as "slut-shaming."
Fenwick's lawsuit contends that a second student, identified only as "Student X," also received unwelcome sexual attention from Guerrero about six years ago with invitations to the opera and compliments about her hair and outfits. Guerrero, the complaint alleges, once told Student X's boyfriend at a dinner they attended, "You have good taste, and I'm not talking about your plate of food."
Sixty-eight faculty members signed an October 28 letter that questioned the university's handling of Fenwick's complaint against Guerrero.
"We simply cannot reconcile the limited sanctions imposed by the university in light of our Office of Equity and Diversity's determination that this colleague not only sexually harassed two students, but also then attempted to dissuade a complainant from reporting the incident," the letter said. It also called on the university to consider dismissing Guerrero.
Fenwick and her supporters would like to use her case to make university-wide changes that result in more stringent discipline for harassment and more transparency about the results of investigations.
The lawsuit and university investigation are playing out against the backdrop of a rash of media reports of sexual harassment and other improprieties at USC, raising the question for some whether the university is doing enough to create a safe environment on campus. The Los Angeles Times has reported that USC Vice President of Advancement and Health Sciences Development David Carrera left his job in the wake of allegations that he sexually harassed female colleagues.
The Times reported in July that the former Keck School of Medicine Dean, Carmen Puliafito, had engaged in illegal drug use and consorted with prostitutes. Puliafito's replacement, Rohit Varma, resigned as dean in early October after the Times revealed that he had been disciplined after a sexual harassment allegation from a young researcher in 2003.
These administrators were in high-profile positions and responsible for raising millions of dollars for the university. Guerrero, an associate professor, is an important figure his field, according to Fenwick, who has published with him.
The university has taken some steps in response to the harassment cases that have come to light over the past year. It has created a task force to oversee and implement workplace standards and a new vice provost of leadership development is being established to oversee hiring processes and work environment, according to the Daily Trojan, the campus newspaper.
Fenwick, who does not know if she will continue to pursue a career in academia, told Capital & Main she was asked to keep the investigation confidential even after the university found that Guerrero had violated the school's sexual harassment policy. That sends the wrong message, she said.
"It's hard to prevent sexual misconduct if people don't ever see any deterrent to those behaviors," Fenwick added. She said that while she can understand the impulse to want protect the professional reputation of someone found to have engaged in harassment, it is more important to the overall culture of an organization to send a message that the behavior will not be tolerated.
"I think we need to have more open conversations about what went wrong in my case," Fenwick said. "We need to discuss what zero tolerance really means for anyone who is found to have engaged in sexual misconduct."
Guerrero's attorney, Mark Hathaway, said this case represents what's wrong with having university administrators enforce Title IX rules governing sexual misconduct cases that can have such dire consequences for the accusers and the accused.
Hathaway said his client was unable to examine the evidence used to support the university's sanctions against him. "The use of secret evidence in the 21st Century of the United States" for making important decisions is "unfathomable," Hathaway said. The university did not respond to Capital & Main's request for a response to Hathaway's comments.
On Monday, School of Social Work Dean Marilyn Flynn released an open letter to students, faculty, staff and friends of the school in which she addressed the broader discussion around sexual harassment taking place across the country.
"The situation we find ourselves in today is sadly playing out in greater numbers and far beyond the walls of our institution," Flynn wrote. "I am proud that the shame or fear that drives these incidents into secrecy is being replaced by the courage to come forward and say, 'This happened to me and I won't be silent about it anymore.'"
---
Correction: Due to an editing error, an earlier version of this article incorrectly ascribed Erick Guerrero's quote to Student X's boyfriend as having been made to Karissa Fenwick's boyfriend. We regret the error.
Copyright Capital & Main
No Walk in the Garden for the Urban Homeless
Throughout Los Angeles, landscaping is put to aggressive use, functioning as a weapon of anti-homelessness under the guise of beautification.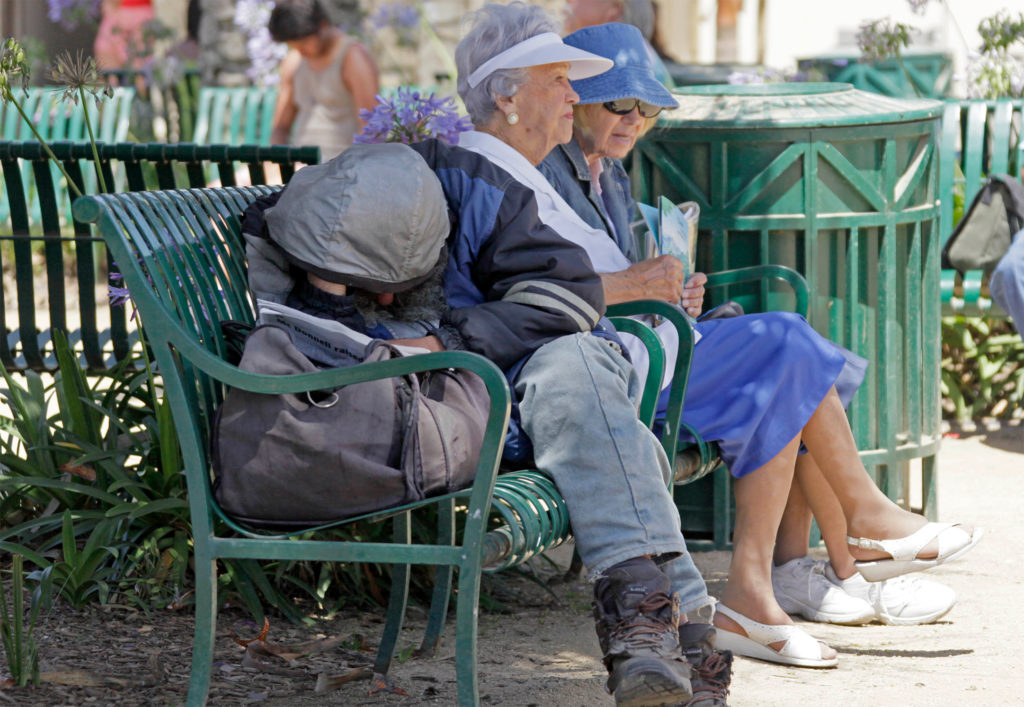 ---
The phenomenon of hostile landscaping in Los Angeles has further marginalized a swelling unhoused population.
---
Last May, in Los Angeles' coastal Venice neighborhood, Adam Smith noticed a series of planter boxes in the middle of a familiar sidewalk. Affixed near the intersection of Third and Sunset avenues, mere blocks from a Google campus and a suite of oceanside cafes, the standalone planters ran roughly the length of a wall delineating a parking lot behind a luxury condo complex.
Previously, Smith told Capital & Main, a group of six to 10 homeless people had regularly slept in tents on that block, favoring it for its relatively plentiful street light. A volunteer for the Culver-Palms Burrito Project, which prepares and serves the titular food to the unhoused of West Los Angeles, he'd become acquainted with individuals living there over the course of several years.
Once the planters were installed, however, the sidewalk was clear. "That next day, after I saw [the planter boxes] for the first time, I went there to look around because I figured they were sleeping somewhere else," Smith said. "I found people up around the corner, just, like, a block away."
---
Companies are privatizing public space to create more "landscape" for their businesses.
---
Throughout Los Angeles, landscaping is put to aggressive use, functioning as a weapon of anti-homelessness under the guise of beautification. Just as both public and private architectural design throttle space available to the unhoused internationally — via, among other examples, spikes on ledges and bars on benches to discourage sitting and lying down — and cities such as San Francisco arrange boulders to deter homeless encampments, the phenomenon of hostile landscaping in Los Angeles has further marginalized a swelling unhoused population.
Nearly 20 miles from Venice, a Los Feliz traffic median at the intersection of Vermont and Prospect avenues, and Hollywood Blvd., has regularly seen encampments arranged on its concrete ground, abutting a raised patch of desert landscaping and sycamore trees.
Christened "Vermont Triangle," the median's first redesign occurred in 2008, when the now-defunct Community Redevelopment Agency spearheaded a project to "improv[e] the pedestrian amenities" and "enhanc[e] the physical appearance of the existing median park." According to the Los Angeles Times, this yielded seating areas, lampposts to echo those at nearby Barnsdall Art Park, and the sycamores. Eventually, unhoused people began to pitch tents, availing themselves of the median's modest stretches of open public space.
Now, due to pressure from local business owners, Vermont Triangle is in flux. City Councilmember David Ryu's office, the Times noted, plans to invest $18,000 in another redesign, following a 2013 re-landscape. The 2013 update was financed in part by the Hollywood Hotel and Kaiser Permanente, according to Jeff Zarrinnam, who serves on the board of governors of the East Hollywood Business Improvement District. (Ryu's office couldn't be reached for comment.) Current proposals range from adding art installations and neighborhood signs, which Zarrinnam said the Los Feliz Neighborhood Council and East Hollywood Neighborhood Council have floated, to putting in planters.
Zarrinnam said he supports "bridge housing," a term the municipal government, neighborhood councils and local businesses use to favorably denote temporary homeless shelters and transitional housing. Yet reports indicate that the current state of temporary housing for many homeless people in Los Angeles County — who, as of May, numbered approximately 53,000 — is nothing short of abysmal. A recent investigation by radio station KPCC found infestations, harassment and medical negligence, among other scourges at various facilities throughout Los Angeles County, including those funded by the Los Angeles Homeless Services Authority (LAHSA), which conducts the county's annual homeless census.
Steve Diaz, an organizer for Los Angeles Community Action Network (LA CAN) who works with unhoused populations in downtown and South L.A., calls hostile landscaping of public space "the next level of criminalization" of homelessness. He alluded to an industrial neighborhood overlapping Skid Row, whose business owners call "The North Sea": a cluster of converted seafood warehouses and factories painted the same hues of oceanic blue — complete with landscaped sidewalks.
"They started breaking the concrete and taking away from the sidewalk to place different types of flowers, whatever garden they were putting in," Diaz said. "You have a major street [on] Skid Row that, at one point, was home to a lot of homeless folks now being gated off, and then the concrete being broken to start using these gardening pockets within the space to eliminate sidewalk access." (Miguel Nelson, a North Sea business owner involved in the area's marketing efforts, declined to respond publicly.)
As private property owners adopt guerrilla tactics to thwart homeless encampments, legal issues arise. Skid Row activist General Jeff Page has observed that, while property owners are permitted to control up to three feet of sidewalk extending from their buildings, "The North Sea is taking upwards of five to 10 feet of sidewalk, allowing only for ADA (Americans with Disabilities Act) compliance and zero space for homeless tents and/or encampments." (The Los Angeles Department of Public Works stated that the North Sea sidewalk landscaping is currently under investigation and thus couldn't comment further on the matter.)
What's more, business owners in South L.A. have illegally installed fences around their property, which, according to Diaz, will eventually give way to sidewalk landscaping. Relatedly, Adam Smith has been corresponding with city officials to ascertain the permit status of the Venice planters. The West L.A. office of the Bureau of Engineering, which issues revocable permits, told Capital & Main that it did not have a permit on file for the planters. Without one, according to the bureau, "no portion of the public right-of-way, including sidewalk, is allowed for private use."
Nevertheless, the planters remain and, according to Smith, have multiplied. Additional boxes, he said, are now ensconced in the sidewalk around the corner, to where the previously ousted people had first moved.
"For some people, [landscaping] sounds like a great idea," Diaz said. "But you're literally privatizing public space to create more 'landscape' for your business."
---
Copyright Capital & Main