Students Blast USC's Handling of Sexual Harassment Case
Less than a week after a graduate student sued the University of Southern California for allegedly failing to adequately protect her from a professor who she said had sexually harassed her, students in USC's School of Social Work told administrators they did not feel safe.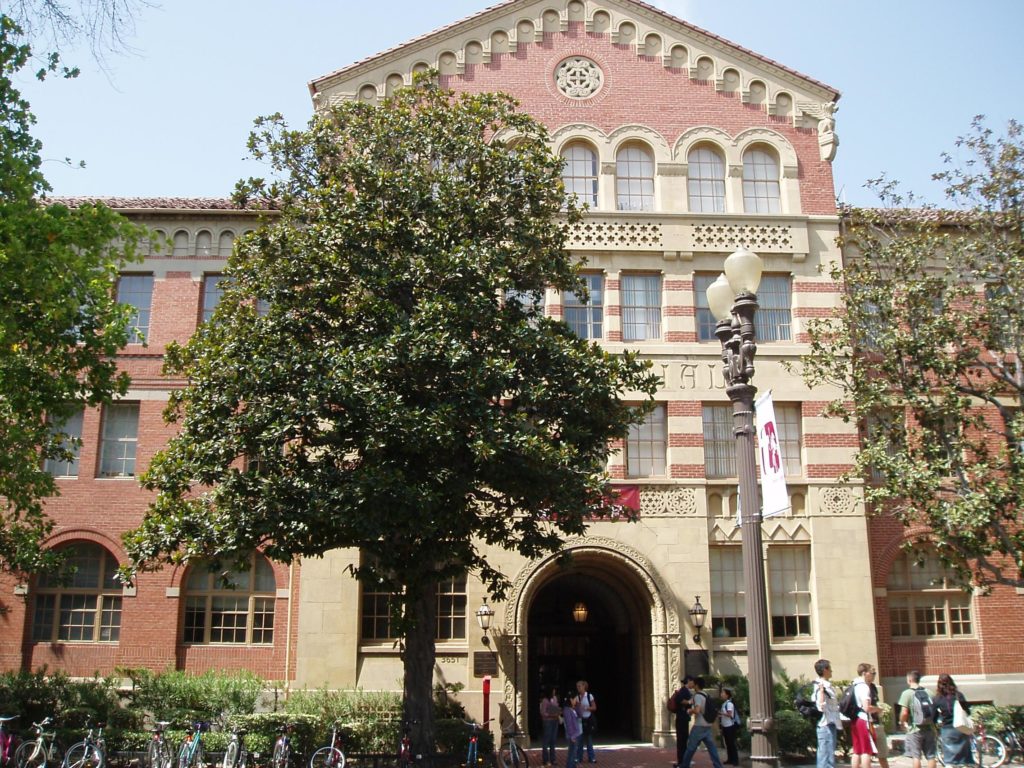 Photo by Padsquad19
68 faculty members signed an October 28 letter that questioned the university's handling of Fenwick's complaint against Guerrero.
---
Less than a week after a graduate student sued the University of Southern California for allegedly failing to adequately protect her from a professor who she said had sexually harassed her, students in the university's School of Social Work told administrators they did not feel safe.
"Our main message to the administration was that we don't feel safe the way things are right now," Social Work doctoral student Robin Petering said after what she described as a "tense" but productive meeting on Monday where she said students covered the room's windows to ensure their anonymity.
In her suit filed in Los Angeles Superior Court, USC doctoral candidate Karissa Fenwick said Social Work Professor Erick Guerrero, her dissertation advisor, tried to kiss her, causing her to flee his hotel room in January when they attended a conference in New Orleans. The next day, the suit said, Guerrero warned her not to tell anyone about the incident, saying, the Dean "has invested a lot in me and would never take your side."
Fenwick said she wrestled with whether to report Guerrero. "On the one hand, reporting him felt like I was sabotaging my whole career," she told CBS news after filing her lawsuit. "And on the other hand I felt like I could not stand back and just wonder if it was going to happen to somebody else if I never said anything. I felt I had to do it to protect other students."
The university said in a statement that it took Fenwick's complaint "very seriously" and "thoroughly investigated the claims." Based on its findings, the statement said, USC disciplined Guerrero. "A financial penalty was imposed, he was barred from leadership positions, his office was relocated away from students, and he will not teach classes or supervise students for the current academic year and beyond," the statement said. "And he was warned that any recurrence or retaliation could lead to dismissal."
The statement also said USC "sought to support" Fenwick by providing a new dissertation advisor and prohibiting Guerrero "from any and all contact with her."
Guerrero has denied the charges in Fenwick's suit and has filed a grievance against the university for its handling of the case. He alleged in court papers responding to her complaint that Fenwick is retaliating against him for confronting what he called her inappropriately flirtatious dancing at a piano bar they and other colleagues visited before returning to his hotel room where he went to charge his phone. He said he also suggested that she find another supervisor for her dissertation.
"I would never put myself in a compromising situation that can take away all the things I have worked so hard to accomplish," Guerrero said in a statement to CBS news.
Fenwick has denied Guerrero's accusations, and her lawyer, John Winer, called his characterization of the evening in New Orleans as "slut-shaming."
Fenwick's lawsuit contends that a second student, identified only as "Student X," also received unwelcome sexual attention from Guerrero about six years ago with invitations to the opera and compliments about her hair and outfits. Guerrero, the complaint alleges, once told Student X's boyfriend at a dinner they attended, "You have good taste, and I'm not talking about your plate of food."
Sixty-eight faculty members signed an October 28 letter that questioned the university's handling of Fenwick's complaint against Guerrero.
"We simply cannot reconcile the limited sanctions imposed by the university in light of our Office of Equity and Diversity's determination that this colleague not only sexually harassed two students, but also then attempted to dissuade a complainant from reporting the incident," the letter said. It also called on the university to consider dismissing Guerrero.
Fenwick and her supporters would like to use her case to make university-wide changes that result in more stringent discipline for harassment and more transparency about the results of investigations.
The lawsuit and university investigation are playing out against the backdrop of a rash of media reports of sexual harassment and other improprieties at USC, raising the question for some whether the university is doing enough to create a safe environment on campus. The Los Angeles Times has reported that USC Vice President of Advancement and Health Sciences Development David Carrera left his job in the wake of allegations that he sexually harassed female colleagues.
The Times reported in July that the former Keck School of Medicine Dean, Carmen Puliafito, had engaged in illegal drug use and consorted with prostitutes. Puliafito's replacement, Rohit Varma, resigned as dean in early October after the Times revealed that he had been disciplined after a sexual harassment allegation from a young researcher in 2003.
These administrators were in high-profile positions and responsible for raising millions of dollars for the university. Guerrero, an associate professor, is an important figure his field, according to Fenwick, who has published with him.
The university has taken some steps in response to the harassment cases that have come to light over the past year. It has created a task force to oversee and implement workplace standards and a new vice provost of leadership development is being established to oversee hiring processes and work environment, according to the Daily Trojan, the campus newspaper.
Fenwick, who does not know if she will continue to pursue a career in academia, told Capital & Main she was asked to keep the investigation confidential even after the university found that Guerrero had violated the school's sexual harassment policy. That sends the wrong message, she said.
"It's hard to prevent sexual misconduct if people don't ever see any deterrent to those behaviors," Fenwick added. She said that while she can understand the impulse to want protect the professional reputation of someone found to have engaged in harassment, it is more important to the overall culture of an organization to send a message that the behavior will not be tolerated.
"I think we need to have more open conversations about what went wrong in my case," Fenwick said. "We need to discuss what zero tolerance really means for anyone who is found to have engaged in sexual misconduct."
Guerrero's attorney, Mark Hathaway, said this case represents what's wrong with having university administrators enforce Title IX rules governing sexual misconduct cases that can have such dire consequences for the accusers and the accused.
Hathaway said his client was unable to examine the evidence used to support the university's sanctions against him. "The use of secret evidence in the 21st Century of the United States" for making important decisions is "unfathomable," Hathaway said. The university did not respond to Capital & Main's request for a response to Hathaway's comments.
On Monday, School of Social Work Dean Marilyn Flynn released an open letter to students, faculty, staff and friends of the school in which she addressed the broader discussion around sexual harassment taking place across the country.
"The situation we find ourselves in today is sadly playing out in greater numbers and far beyond the walls of our institution," Flynn wrote. "I am proud that the shame or fear that drives these incidents into secrecy is being replaced by the courage to come forward and say, 'This happened to me and I won't be silent about it anymore.'"
---
Correction: Due to an editing error, an earlier version of this article incorrectly ascribed Erick Guerrero's quote to Student X's boyfriend as having been made to Karissa Fenwick's boyfriend. We regret the error.
Copyright Capital & Main
Persistence of Vision: The Autry Museum's 'La Raza' Photo Exhibition
A photographic exhibit reveals long-unseen images of the Chicano community at a time of political upheaval and demands for civil rights.
1970 Chicano Moratorium March (Luis C. Garza/Chicano Studies Research Center at UCLA)
After 47 years, the old black-and-white news photograph can still shock: A helmeted Los Angeles County sheriff's deputy points a teargas gun toward a small unarmed group crowded in the doorway of the Silver Dollar Café, a tavern on Whittier Boulevard in East L.A. It's a local pub, next door to a wig shop, with an outer wall advertising itself as a swinging destination with a collage of cartoon martini glasses, musical notes and topless women. But that afternoon in 1970, it was just someplace to grab a beer for journalist Ruben Salazar before heading back to the office.
He'd spent the day covering the National Chicano Moratorium March against the Vietnam War, which ended with deputies breaking up the demonstration and clashing with protesters. But Salazar, 42, a columnist for the Los Angeles Times and news director at the Spanish-language station KMEX-TV, never made it out of the Silver Dollar. Moments after the photograph was taken by Raul Ruiz of the underground La Raza newspaper, the deputy blindly fired a teargas canister into the bar, striking Salazar in the head and killing him instantly.
That picture is now at the center of LA RAZA, a photographic exhibition at Los Angeles' Autry Museum of the American West that was culled from an archive of 25,000 images created for the publication between 1967 and 1977. During those years, La Raza evolved from a small tabloid newspaper into a slicker magazine, but the mission never wavered: representing the Chicano community at a time of political upheaval and demands for civil rights.
The exhibition, which runs through February 10, 2019, shares La Raza's photographic collection for the first time with the public. It is now part of Pacific Standard Time: LA/LA, the Getty's countywide exploration of Latin American and Latino art, where the recently unearthed photographs offer an essential document of a movement too often overlooked.
"The purpose of the newspaper-magazine was that of an organizing tool, first and foremost," says Luis Garza, who was then a young photographer on the all-volunteer staff, and co-curates the Autry show. "There was little representation whatsoever of the Chicano community … within the body politic of Los Angeles. Decisions were being made affecting our community that we had no voice in."
Many of the images at the Autry depict a community newly engaged with the political moment, filling city streets in protest and carrying signs that confronted issues of immigration, cultural identity, civil rights and foreign wars that remain relevant a half-century later. In one picture, protesters march past the stately Times building in downtown L.A., with one sign reading, "Stop Nixon's racist deportation raids."
Other photographs document marches through rural California, beneath banners for the United Farm Workers and the slogan "Be Brown & Be Proud." Teenagers take to the streets in pictures from a series of walkouts and "blowouts" at several L.A. high school campuses named for presidents Wilson, Jefferson, Garfield, Lincoln and Theodore Roosevelt. Also at the Autry: A row of large blowups of police officers on rooftops and bridges, watching with binoculars, cameras and rifles as the demonstrations unfolded. La Raza was there to report on a community speaking out and under siege.
There were consequences for the mostly young staff. One prominent photograph at the Autry captures a little girl in braids, yelling into the lens while holding a stack of La Raza newspapers with an alarming headline: "La Raza Raided — Editor, Staff Imprisoned." Another picture shows La Raza photographer Ruth Robinson being handcuffed along with a Brown Beret activist.
"They got arrested all the time," says Amy Scott, chief curator at the Autry and co-curator of LA RAZA. "For them, activism and photography were not two separate things. The photographs were a way of making these arguments and putting them out there."
The mission was not simply to document the era's homegrown political uprising, but to capture something of the culture asserting itself as "a much more complex and dynamic community than had ever been portrayed in the mainstream media," adds Scott.
La Raza began life in the basement of an Episcopalian church in Lincoln Heights, debuting September 4, 1967, as a modest eight-page publication. By the time it had grown to more than 60 pages, its focus had expanded beyond local issues to concerns about Vietnam, indigenous land rights, immigration and Latin America. Mainstream media in the late 1960s was dependably conservative and "gave no coverage to our community whatsoever except to depict us in a negative light," says Garza.
Police in front of Lincoln High School, 1970. (La Raza/Chicano Studies Research Center at UCLA)
The photographers at La Raza provided their own cameras and 35mm film, while editors struggled to keep the no-budget operation afloat. "We tried at first to be bi-monthly, then it became monthly, then it became whenever you had the funds to print," recalls Garza, a University of California, Los Angeles student at the time. "It could be weeks, months or even a year before the next issue came out."
The paper's most dramatic moment of recognition came with the Moratorium March and the death of Salazar. After working as a foreign correspondent in Vietnam, the Times reporter returned to Los Angeles to find a vibrant subject in the growing Chicano movement. He was often critical of police — and was one of four fatalities on a violent day of deputies clashing with protesters. Pictures at the Autry show police clearing streets with batons and shotguns, and of squad cars with shattered windshields.
After Salazar's body was carried out of the Silver Dollar, the L.A. Sheriff's Department denied any role in his death, even suggesting that snipers were responsible. It was La Raza's photographs of the shooting, also published in the Times, that revealed the truth. Some suspected Salazar had been targeted for assassination. Whether through malice or utter incompetence, the incident was a bleak example of law enforcement's posture within East L.A. The deputy who fired into the bar was never charged.
In 2012, Garza and others began an effort to go through the La Raza photographs, which had been largely unseen and stored in multiple three-ring binders by one of the founding editors. Images had to be identified and cataloged, a process Garza describes as "photo-forensics." The archive was placed at the UCLA Chicano Studies Research Center, and with a grant from the Getty, the pictures were digitized, culminating with the Autry exhibition.
"I view it as karma and the blessings of the gods," Garza says of the successful effort to bring the pictures back into circulation after four decades in storage.
"The reaction from everyone is very positive, it's very emotional," adds Garza, who went on from La Raza to documentary work for KABC-TV. "For the first time we're getting recognition of who we are, what we accomplished and what we attempted. It isn't just about our community as Chicanos. It is about Los Angeles. It is about this country as a whole."
---
LA RAZA, Autry Museum of the American West, 4700 Western Heritage Way, Los Angeles; through Feb. 10, 2019.  theautry.org