Strange Bedfellows Unite to Stop Anti-Development Ballot Measure in Los Angeles
Rarely has a ballot measure united so many divergent groups in opposition as has Measure S, a proposition on the city's March 7 ballot that would impose strict limits on development.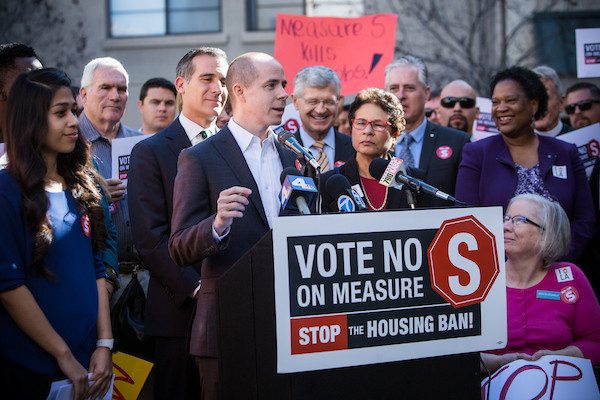 View of Los Angeles skyline from Kenneth Hahn State Recreation Area. Photo via BDS2006 at English Wikipedia.
Rarely has a ballot measure united so many divergent groups in opposition as has Measure S, a proposition on the city's March 7 ballot that would impose strict limits on development. Business, labor and advocacy organizations, from the Los Angeles Chamber of Commerce to the Los Angeles County Federation of Labor—groups that typically are adversaries —have joined forces against a measure they believe will derail affordable housing projects, costing the city both revenue and jobs.
Supporters have their odd alliances, too: local environmental groups and homeowners' associations, which complain that the city's building frenzy has run amok, crowding out views, choking thoroughfares with traffic and eating up open space with hillside mega-homes.
Both sides, tellingly, have invoked Trump.
"Stop Trump's Developer Pals," blares a mailer from the Yes on S campaign, listing the big-money developers that oppose the measure and their ties to the 45th president.
The opposition, for its part, is circulating a mustard-yellow stencil of Trump's face with "No on S" plastered across it, alongside the words, "Really? Again?"
Measure S would put a permanent end to projects that require amendments to the city's general plan, a collection of 35 community blueprints governing development in various neighborhoods. (A developer who wanted to build an apartment complex, for instance, on an industrial-zoned lot, would be blocked until the city updates its rules.) It would also impose a two-year moratorium on projects that require loosening height or density limits specified in the various community plans. (The moratorium could end early if the city updates its general plan before the time is up.) It would then require the City Council to review the city's general plan every five years. Billionaire real-estate developers oppose it, as does the Los Angeles Chamber of Commerce. Certainly Trump himself, were he a Los Angeles builder, would no doubt fight it to the end.
But those developers have some uncommon allies among housing advocates, labor and even environmental groups and planning experts. Some of them point out that, like Donald Trump's successful run for president, the S campaign plays heavily on emotions—on city homeowners' hatred of developers who contribute large amounts to city council campaigns, allegedly in exchange for better zoning deals. (Sea Breeze developer Samuel Leung, who was revealed in a Los Angeles Times investigation to have potentially directed more than $600,000 to city councilmembers, is cited frequently in Measure S campaign literature.) The problem, say opponents, is that Measure S will do very little to address their frustrations.
In that way, says Shane Phillips, the volunteer project director of the nonprofit housing advocacy organization Abundant Housing LA, Measure S "is the Donald Trump of ballot initiatives. It's identifying a real problem. But it's not proposing anything to fix that problem." Instead, he says, Measure S offers only an idealized return to a bygone Los Angeles, when everyone could dream of a house and a pool or at least a view. "They think that by stopping development they can have that back," he says. "But stopping things doesn't fix anything. It only crystalizes the problems that exist."
Among those problems is that between 2010 and 2015, nearly 180,000 people moved into Los Angeles, according to census estimates. But the city added only an estimated 25,000 new housing units. The median home price just soared past $600,000
Measure S will make it all worse, Phillips contends. "It will," he says, "be a catastrophe for the city."
To a large extent, Measure S reflects the vision of one man and one organization: Michael Weinstein, president of the AIDS Healthcare Foundation. According to the Los Angeles Times, the nonprofit got involved in the development debate two years ago, right around the time the real-estate firm Crescent Heights proposed its Palladium Residences project, a 731-unit, 30-story, $324 million residential complex on Sunset Boulevard in Hollywood. The City Council voted 12-0 in March of last year to approve a zoning change and other variances for the project, which would occupy an empty lot one block from a subway station. Weinstein's organization, whose offices sit on the 21st floor of the building next door, filed suit to stop the project the next month.
The AIDS Healthcare Foundation has since contributed more than $4.5 million to the Measure S campaign, under the auspices of the Coalition to Preserve L.A.
Whether Measure S is at its root about Weinstein's view is probably irrelevant at this point. The S campaign has cited other egregious examples of development gone awry to bolster its case, including developer Rick Caruso's 185-foot residential tower near the Beverly Center, an area of the city where the community plan limits building height to 45 feet. Measure S supporters have also flagged the city's flawed environmental-approval process, which has earned S the support of certain environmental groups, including Los Angeles Audubon and Citizens for Los Angeles Wildlife, or CLAW.
CLAW's co-founder and chair, Alison Simard, agrees with the part of Measure S stipulating that the pre-development environmental impact reports required by California law should be commissioned by the city and not the developer. "That's at the heart of our support for the ballot measure," she says. "Measure S complements our work to protect wildlife and the diminishing linkages between open spaces throughout our city."
Other environmental groups, including the Audubon Center at Debs Park and the Los Angeles League of Conservation Voters, oppose S, however, arguing that it would only exacerbate the critical housing shortage in a city with a homeless population of 28,000, where a quarter of a million households sink more than half of their income into rent. The Natural Resources Defense Council has come out against S, and while the Sierra Club has not endorsed either way, the organization did oppose a similar proposition that failed in the City of Santa Monica last year.
There's another, more global environmental argument to be made against S, too: that impeding residential density only encourages more sprawl, and more long commutes from exurbs to the city. "I would hope that most environmental orgs are concerned first and foremost with climate change," says Shane Phillips, who insists Measure S won't stop mansions from overtaking hillsides; those mansions rarely require a zoning change. "Every one of those houses will have a pool, a lawn and a water system," he says. "Habitat destruction comes with sprawl." (A separate ordinance to address mansionization was approved by the planning department in July, and is currently awaiting City Council approval.)
There's no question that the City of Los Angeles has both a problem with unrestricted development and outdated land-use and development rules, some of which haven't undergone a full overhaul for decades. Even the ballot measure's most ardent opponents admit that's true, and some even allow that both Palladium Residences and the Caruso project were granted zoning easements based less on their merits than on their relationships with City Hall.
But those projects are outliers, said Stephanie Klasky-Gamer, president of the nonprofit L.A. Family Housing, at a February 11 debate on the measure. "You can't legislate based on these outliers." Yes, Los Angeles needs to improve oversight to limit those more extreme examples, but S isn't the solution, she said. "It really will have a negative impact on our jobs and housing prices in Los Angeles."
One study, at least, bears that out. Released by Beacon Economics late last year, the study found that Measure S will cost the city 12,000 jobs in the first year of the moratorium, including 7,000 construction jobs. Lost construction activity will cost the city $642 million in wages and an estimated $1.9 billion in economic output. The law would also deprive the city of 37 to 45 single-family units, and up to 2,800 multi-family units, "further straining the housing supply and putting upward pressure on rents."
It's worth noting that another Beacon Economics study, published last October, also found a negative economic impact associated with Measure JJJ, an affordable housing initiative that passed easily on the November ballot. JJJ mandates that projects over 10 units requiring general plan amendments or zoning changes adhere to certain labor standards, such as paying prevailing wages and hiring locally. Those same projects also have to offer a certain number of their units at below market cost. Developers complained that JJJ would drive up housing costs, a claim disputed by proponents. But Measure S would be exponentially worse, and it would likely cancel out the rules the previous ballot measure put in place.
Measure S would also interfere with another successful ballot measure, HHH, an effort to reduce homelessness, which also passed on last November's ballot. While S allows an exemption from its zoning change moratorium for 100 percent affordable housing projects, it contains no such break for affordable housing projects that require amendments to the general plan.
Nearly all low-cost housing projects do require such amendments, says Rusty Hicks, executive secretary-treasurer of the Los Angeles County Federation of Labor and a vocal opponent of Measure S. "Nine out of ten of the sites where we could build affordable housing or supportive housing would be 'opportunity sites,'" he says. They would require an official amendment to the general plan before they could be built, and that, Hicks notes, could take years. "We shouldn't slow down that progress just to give a childish middle finger to City Hall."