Strange Bedfellows Unite to Stop Anti-Development Ballot Measure in Los Angeles
Rarely has a ballot measure united so many divergent groups in opposition as has Measure S, a proposition on the city's March 7 ballot that would impose strict limits on development.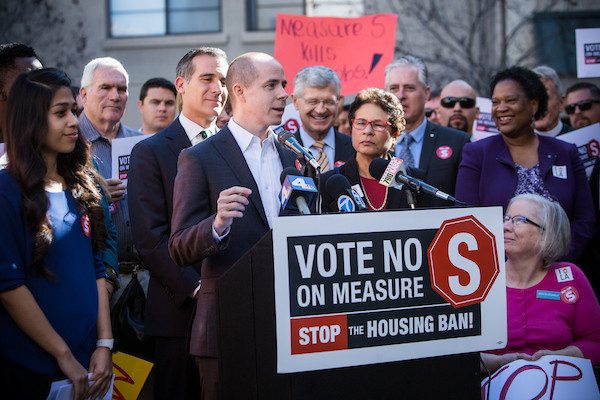 View of Los Angeles skyline from Kenneth Hahn State Recreation Area. Photo via BDS2006 at English Wikipedia.
Rarely has a ballot measure united so many divergent groups in opposition as has Measure S, a proposition on the city's March 7 ballot that would impose strict limits on development. Business, labor and advocacy organizations, from the Los Angeles Chamber of Commerce to the Los Angeles County Federation of Labor—groups that typically are adversaries —have joined forces against a measure they believe will derail affordable housing projects, costing the city both revenue and jobs.
Supporters have their odd alliances, too: local environmental groups and homeowners' associations, which complain that the city's building frenzy has run amok, crowding out views, choking thoroughfares with traffic and eating up open space with hillside mega-homes.
Both sides, tellingly, have invoked Trump.
"Stop Trump's Developer Pals," blares a mailer from the Yes on S campaign, listing the big-money developers that oppose the measure and their ties to the 45th president.
The opposition, for its part, is circulating a mustard-yellow stencil of Trump's face with "No on S" plastered across it, alongside the words, "Really? Again?"
Measure S would put a permanent end to projects that require amendments to the city's general plan, a collection of 35 community blueprints governing development in various neighborhoods. (A developer who wanted to build an apartment complex, for instance, on an industrial-zoned lot, would be blocked until the city updates its rules.) It would also impose a two-year moratorium on projects that require loosening height or density limits specified in the various community plans. (The moratorium could end early if the city updates its general plan before the time is up.) It would then require the City Council to review the city's general plan every five years. Billionaire real-estate developers oppose it, as does the Los Angeles Chamber of Commerce. Certainly Trump himself, were he a Los Angeles builder, would no doubt fight it to the end.
But those developers have some uncommon allies among housing advocates, labor and even environmental groups and planning experts. Some of them point out that, like Donald Trump's successful run for president, the S campaign plays heavily on emotions—on city homeowners' hatred of developers who contribute large amounts to city council campaigns, allegedly in exchange for better zoning deals. (Sea Breeze developer Samuel Leung, who was revealed in a Los Angeles Times investigation to have potentially directed more than $600,000 to city councilmembers, is cited frequently in Measure S campaign literature.) The problem, say opponents, is that Measure S will do very little to address their frustrations.
In that way, says Shane Phillips, the volunteer project director of the nonprofit housing advocacy organization Abundant Housing LA, Measure S "is the Donald Trump of ballot initiatives. It's identifying a real problem. But it's not proposing anything to fix that problem." Instead, he says, Measure S offers only an idealized return to a bygone Los Angeles, when everyone could dream of a house and a pool or at least a view. "They think that by stopping development they can have that back," he says. "But stopping things doesn't fix anything. It only crystalizes the problems that exist."
Among those problems is that between 2010 and 2015, nearly 180,000 people moved into Los Angeles, according to census estimates. But the city added only an estimated 25,000 new housing units. The median home price just soared past $600,000
Measure S will make it all worse, Phillips contends. "It will," he says, "be a catastrophe for the city."
To a large extent, Measure S reflects the vision of one man and one organization: Michael Weinstein, president of the AIDS Healthcare Foundation. According to the Los Angeles Times, the nonprofit got involved in the development debate two years ago, right around the time the real-estate firm Crescent Heights proposed its Palladium Residences project, a 731-unit, 30-story, $324 million residential complex on Sunset Boulevard in Hollywood. The City Council voted 12-0 in March of last year to approve a zoning change and other variances for the project, which would occupy an empty lot one block from a subway station. Weinstein's organization, whose offices sit on the 21st floor of the building next door, filed suit to stop the project the next month.
The AIDS Healthcare Foundation has since contributed more than $4.5 million to the Measure S campaign, under the auspices of the Coalition to Preserve L.A.
Whether Measure S is at its root about Weinstein's view is probably irrelevant at this point. The S campaign has cited other egregious examples of development gone awry to bolster its case, including developer Rick Caruso's 185-foot residential tower near the Beverly Center, an area of the city where the community plan limits building height to 45 feet. Measure S supporters have also flagged the city's flawed environmental-approval process, which has earned S the support of certain environmental groups, including Los Angeles Audubon and Citizens for Los Angeles Wildlife, or CLAW.
CLAW's co-founder and chair, Alison Simard, agrees with the part of Measure S stipulating that the pre-development environmental impact reports required by California law should be commissioned by the city and not the developer. "That's at the heart of our support for the ballot measure," she says. "Measure S complements our work to protect wildlife and the diminishing linkages between open spaces throughout our city."
Other environmental groups, including the Audubon Center at Debs Park and the Los Angeles League of Conservation Voters, oppose S, however, arguing that it would only exacerbate the critical housing shortage in a city with a homeless population of 28,000, where a quarter of a million households sink more than half of their income into rent. The Natural Resources Defense Council has come out against S, and while the Sierra Club has not endorsed either way, the organization did oppose a similar proposition that failed in the City of Santa Monica last year.
There's another, more global environmental argument to be made against S, too: that impeding residential density only encourages more sprawl, and more long commutes from exurbs to the city. "I would hope that most environmental orgs are concerned first and foremost with climate change," says Shane Phillips, who insists Measure S won't stop mansions from overtaking hillsides; those mansions rarely require a zoning change. "Every one of those houses will have a pool, a lawn and a water system," he says. "Habitat destruction comes with sprawl." (A separate ordinance to address mansionization was approved by the planning department in July, and is currently awaiting City Council approval.)
There's no question that the City of Los Angeles has both a problem with unrestricted development and outdated land-use and development rules, some of which haven't undergone a full overhaul for decades. Even the ballot measure's most ardent opponents admit that's true, and some even allow that both Palladium Residences and the Caruso project were granted zoning easements based less on their merits than on their relationships with City Hall.
But those projects are outliers, said Stephanie Klasky-Gamer, president of the nonprofit L.A. Family Housing, at a February 11 debate on the measure. "You can't legislate based on these outliers." Yes, Los Angeles needs to improve oversight to limit those more extreme examples, but S isn't the solution, she said. "It really will have a negative impact on our jobs and housing prices in Los Angeles."
One study, at least, bears that out. Released by Beacon Economics late last year, the study found that Measure S will cost the city 12,000 jobs in the first year of the moratorium, including 7,000 construction jobs. Lost construction activity will cost the city $642 million in wages and an estimated $1.9 billion in economic output. The law would also deprive the city of 37 to 45 single-family units, and up to 2,800 multi-family units, "further straining the housing supply and putting upward pressure on rents."
It's worth noting that another Beacon Economics study, published last October, also found a negative economic impact associated with Measure JJJ, an affordable housing initiative that passed easily on the November ballot. JJJ mandates that projects over 10 units requiring general plan amendments or zoning changes adhere to certain labor standards, such as paying prevailing wages and hiring locally. Those same projects also have to offer a certain number of their units at below market cost. Developers complained that JJJ would drive up housing costs, a claim disputed by proponents. But Measure S would be exponentially worse, and it would likely cancel out the rules the previous ballot measure put in place.
Measure S would also interfere with another successful ballot measure, HHH, an effort to reduce homelessness, which also passed on last November's ballot. While S allows an exemption from its zoning change moratorium for 100 percent affordable housing projects, it contains no such break for affordable housing projects that require amendments to the general plan.
Nearly all low-cost housing projects do require such amendments, says Rusty Hicks, executive secretary-treasurer of the Los Angeles County Federation of Labor and a vocal opponent of Measure S. "Nine out of ten of the sites where we could build affordable housing or supportive housing would be 'opportunity sites,'" he says. They would require an official amendment to the general plan before they could be built, and that, Hicks notes, could take years. "We shouldn't slow down that progress just to give a childish middle finger to City Hall."

The Lies That Should Have Sunk Kavanaugh
Co-published by Newsweek
"Is he threatening the Democrats?" asks former Congresswoman Elizabeth Holtzman about Brett Kavanaugh. "Is he threatening people who oppose his nomination? We don't need a Supreme Court justice who is going to use his position to get revenge."

Co-published by Newsweek
Only the shaken confidence in Brett Kavanaugh by three senators stands in the way, Saturday, of the Supreme Court nominee's lifetime appointment to the nation's highest court. Republicans Jeff Flake and Lisa Murkowski, and Democrat Joe Manchin, will have little more on which to base their votes than the words of Kavanaugh himself versus those of his various accusers.
Below are six of the main lies Kavanaugh is accused of telling under oath, followed by a discussion with three legal experts on his behavior. The feature ends with a list of 13 other alleged lies, with thanks to GQ, the New York Times, Vox, the Washington Post, and Current Affairs.
1. May 9, 2006, SJC nomination hearing to the DC Circuit Court of Appeals, response to Senator Richard Durbin (D-IL) and the late Senator Ted Kennedy (D-MA), again about his knowledge of the "Memogate" emails.

"I'm not aware of the memos, I never saw such memos that I think you're referring to. I mean, I don't know what the universe of memos might be, but I do know that I never received any memos and was not aware of any such memos."
Distance from the Truth: Kavanaugh made the denial under oath multiple times to committee members. Senator Patrick Leahy (D-VT), however, recently posted confidential emails on Twitter that he says were in Kavanaugh's possession, proving his previous denials are, Leahy wrote, "just FALSE!"
2. May 9, 2006, SJC hearing on Kavanaugh's nomination to the DC Circuit Court of Appeals, response to Senator Durbin (D-Ill.) about the judicial nomination of William Haynes, the Pentagon's director of torture policy during the George W. Bush administration.
"I was not involved and am not involved in the questions about the rules governing detention of combatants or—and so I do not have the involvement with that."
Distance from the Truth: Kavanaugh has since been doubly implicated, both in significant involvement with Haynes' judicial confirmation for Bush and in having a hand in Bush detention and interrogation policies. Newly discovered emails from 2002 prove the former, Senate Democratic Whip Dick Durbin (D-IL) charged last month, and "show that Kavanaugh played a substantial role in the decision to nominate Haynes."
3. September 27, 2018, Senate Judiciary Hearing, on explaining partying activities during the summer of 1982.

"I never attended a gathering like the one Dr. Ford describes in her allegation."
Distance from the Truth: Both Kavanaugh's later testimony and his personal calendars detail attending parties throughout the period of the alleged assault, uncannily similar to the one Christine Blasey Ford describes.
4. April 27, 2004, SJC confirmation hearing of Kavanaugh to the DC Circuit Court of Appeals, response to Senator Orrin G. Hatch (R-UT) on whether as Associate White House Counsel he had direct knowledge of Memogate memos stolen from Democrats on the Judiciary Committee and leaked to the White House.

"No. Again, I was not aware of that matter in any way whatsoever until I learned it in the media."
Distance from the Truth: Kavanaugh made the denial under oath multiple times to committee members. Senator Patrick Leahy (D-VT), however, recently posted confidential emails on Twitter that he says were in Kavanaugh's possession, proving his previous denials are, Leahy wrote, "just FALSE!"
5. September 27, 2018, Senate Judiciary Hearing, denying a New York Times report that "Renate alumnius" [sic] on his yearbook page was a sexual boast.
"That yearbook reference was clumsily intended to show affection, and that she was one of us…It was not related to sex."
Distance from the Truth: Sean Hagan and three other former Georgetown Prep students counter that the reference was intended as degrading, albeit unsubstantiated. "So angry. So disgusted. So sad. Integrity? Character? Honesty?" Hagan posted on Facebook after the testimony.
6. September 27, 2018, SJC hearing, response to Senator Amy Klobuchar (D-MN) about whether he "drank so much that you didn't remember what happened."
"But I did not drink beer to the point of blacking out… Passed out would be—no, but I've gone to sleep, but—but I've never blacked out."
Distance from the Truth: Former Yale freshman roommate James Roche: "I saw him both what I would consider blackout drunk, and also dealing with the repercussions of that in the morning."
Capital & Main asked congressional committee veterans and a former federal prosecutor to examine Kavanaugh's September 27 testimony, as well as additional statements flagged by journalists as probable Kavanaugh mistruths. They were asked if the nominee's character, temperament and credibility under fire warrant his elevation to the Supreme Court.
Former assistant U.S. attorney Nick Akerman
"[Kavanaugh] came out with an opening statement that basically tried to take away the committee's ability to really cross examine him," says trial lawyer and former assistant U.S. attorney Nick Akerman. "Because, I think, he realized that if he left himself open to being questioned by committee members and open-ended cross examination, he'd wind up getting himself into trouble — exactly as he did."
Akerman cut his prosecutorial teeth in the 1970s with the Watergate Special Prosecution Force under Archibald Cox and Leon Jaworski. Any kind of "he said, she said" equivalence between Blasey Ford and Kavanaugh during the hearings, Akerman argues, quickly foundered on the wealth of persuasive detail in Blasey Ford's account that was made even more compelling when it dovetailed with the personal calendar that Kavanaugh introduced as supposedly exculpatory evidence.
"I don't think Kavanaugh realized what he was doing," Akerman says. "I mean, the fact that he tried to keep [the possible party date] to a weekend as opposed to a weekday during the summer is a bit ridiculous. There's just enough little details in there that when you start adding them up all point towards him lying. This is somebody who should not be on the U.S. Supreme Court."
Former Rep. Elizabeth Holtzman
When Akerman was building cases against all the president's men, Elizabeth Holtzman was holding Richard Nixon accountable for his abuses of executive power and for flouting the Constitution. As a first-term congresswoman from New York City serving on the House Judiciary Committee, she cast key impeachment votes against Nixon. Like Akerman, Holtzman also notes the contradictions around Kavanaugh's interpretation of the calendar in his testimony, but what really stands out to her is how loosely, she says, Kavanaugh plays with facts.
"First of all, there was no left-wing conspiracy," she says. "If you listen to Dr. Blasey Ford, you know that she was a very reluctant witness, and this was not an effort to undo a conservative appointment; it was to let people know about what he had done. … His claim that there was no corroboration also wasn't true. Because there is corroborative testimony — testimony that she gave about her therapist, that she told the therapist, that she told her husband; there may be other people that she told."
Kristine Lucas, Leadership Conference on Civil and Human Rights
Kristine Lucius, executive vice president of policy for the Leadership Conference on Civil and Human Rights, which opposes the nomination, has been through her share of confirmation fights. But her experience as the legal and policy adviser to the former Senate Judiciary Committee chair, Democrat Patrick Leahy of Vermont, did not prepare her for what played out at last week's hearing.
"What we saw in Brett Kavanaugh's testimony was someone belligerent and vindictive, and threatening and partisan," Lucius says. "Even setting aside the significant sexual assault allegations, I have real concerns about how the Supreme Court will be viewed if he is confirmed."
Holtzman also expresses concern on this point.
"He said, 'What comes around, goes around' — and that's a kind of a threat," Holtzman says. "Is he threatening the people that support Dr. Blasey Ford? Is he threatening the Democrats? Is he threatening people who oppose his nomination? Who is he threatening? We don't need a Supreme Court justice who is going to use his position to get revenge."
Lucius recalls past confirmation fights from her time with the Judiciary Committee, when past drug use or a sexual allegation would sometimes surface in her background briefings of a nominee for committee members. What never seemed to emerge was a consistent standard of concern by senators. It was at such moments that she saw confirmation votes as a "decency test" for each individual member.
"This is 100 percent on the shoulders of the senators," says Lucius. "They are deciding what the standard is going to be for the highest court in the land. And that has as much to do with their institutional role as [it does] their own moral compass."
Ten More Times Kavanaugh May Have Lied Under Oath
1. September 5, 2018, Day 2 of Senate Judiciary Committee hearing, explaining a dissent that compared the majority's upholding of a DC ban on assault weapons "to a ban on a category of speech."
Under Oath:
"I grew up in a city plagued by gun violence and gang violence and drug violence."
Distance from the Truth: Kavanaugh grew up as an only child in Bethesda, Maryland, one of the country's most elite communities, whose homicide rate was 2.1 deaths per 100,000 from 2009 to 2015.
2. September 27, 2018, Senate Judiciary Committee hearing, explaining to Senator Sheldon Whitehouse (D-RI) what "boofed" means in Kavanaugh's yearbook entry, "Judge — have you boofed yet?"
Under Oath:
"That refers to flatulence. We were 16."
Distance from the Truth: "Anal sex," insisted Georgetown Prep classmates of the slang's meaning, interviewed prior to Kavanaugh's testimony. None had ever heard it referring to flatulence.
3. September 27, 2018, Senate Judiciary Committee hearing, to Senator Whitehouse's question of what "Devil's Triangle" on Kavanaugh's yearbook page referred to.
Under Oath:
"Drinking game."
Distance from the Truth: For most people, this is teen argot for group sex between two men and one woman.
"The explanation of Devil's triangle does not hold water for me," said William Fishburne, who managed the Georgetown Prep football team while Kavanaugh was a senior, to the New York Times.
4. September 27, 2018, Senate Judiciary Committee hearing, to Senator Whitehouse's question about another Kavanaugh' yearbook entry: "Beach Week Ralph Club — Biggest Contributor."
Under Oath:
"I'm known to have a weak stomach."
Distance from the Truth: Beach Week was a party week for Georgetown Prep kids. Yale roommate James Roche recalls Kavanaugh "frequently drinking excessively and becoming incoherently drunk"; roommate Kit Winter remembers "a lot of vomit in the bathroom. No one ever cleaned it up. It was disgusting. It wasn't incidental. It wasn't, 'Oh, this weekend someone puked in the bathroom.' People were constantly puking in the bathroom. Constantly."
5. September 27, 2018, Senate Judiciary Committee hearing, to Republican staff counsel Rachel Mitchell, on whether he consumed alcohol in high school.
Under Oath:
"I liked beer. Still like beer. We drank beer. The drinking age, as I noted, was 18, so the seniors were legal. Senior year in high school, people were legal to drink, and we — yeah, we drank beer, and I said sometimes, sometimes probably had too many beers."
Distance from the Truth: Technically correct … for Maryland; not so for Kavanaugh. In July of 1982, seven months before he turned 18, the state raised the legal drinking age for beer and wine from 18 to 21. Those who were 18 or older at the time were "grandfathered" in, so they could continue to drink legally. Those like Kavanaugh, who didn't turn 18 until the following February, had to continue illegally.
6. September 27, 2018, Senate Judiciary Committee hearing, on his recollections of Christine Blasey Ford.
Under Oath:
"She and I did not travel in the same social circles."
Distance from the Truth: During the spring and summer of 1982, Ford testified she was dating a friend of Kavanaugh's nicknamed "Squi," who appears more than a dozen times on Kavanaugh's calendar of social events.
7. September 27, 2018, Senate Judiciary Committee hearing, commenting on the veracity of Ford's testimony.
Under Oath:
"Dr. Ford's allegation is not merely uncorroborated, it is refuted by the very people she says were there, including by a longtime friend of hers."
Distance from the Truth: Ford identified four people, including Kavanaugh, at the party; the other three participants only said they had no memory of the gathering, and one, Leland Ingham Keyser, told the Washington Post that she believes Dr. Ford's account."
8. September 27, 2018, Senate Judiciary Committee hearing
Under Oath:
"The event described by Dr. Ford presumably happened on a weekend because I believed everyone worked and had jobs in the summers. And in any event, a drunken early evening event of the kind she describes presumably happened on a weekend. … If the party described by Dr. Ford happened in the summer of 1982 on a weekend night, my calendar shows all but definitively that I was not there."
Distance from the Truth: Ford never said when the alleged incident occurred. It's also not the case that Kavanaugh's social circle restricted its drinking to weekends in the summer. Judge, Kavanaugh's friend, wrote in a book about his battle with sobriety that he would often show up to work either hungover or still intoxicated from the night before.
9. September 27, 2018, Senate Judiciary Committee hearing
Under Oath:
"The calendars show a few weekday gatherings at friends' houses after a workout or just to meet up and have some beers. But none of those gatherings included the group of people that Dr. Ford has identified. And as my calendars show, I was very precise about listing who was there. Very precise."
Distance from the Truth: One calendar entry is a near-perfect match to the party described in Ford's testimony. On July 1, Kavanaugh, Mark Judge, Patrick Smyth and the boy Ford says she was going out with were headed to a friend's house for "skis" — or beer, as Kavanaugh explained in his testimony.
10. September 10, 2018, Senate Judiciary Committee hearing, responding to written questions about direct knowledge of sexual harassment by federal judge Alex Kozinski.
Under Oath:
"I do not remember any such comments."
Distance from the Truth: Kozinski's infamous private server containing pornographic photos and his inappropriate conduct were an open secret in the legal community, particularly the circles that included Kavanaugh, who maintained a close relationship with the jurist. Ex-clerk Heidi Bond wrote that "having clerked in his chambers, I do not know how it would be possible to forget something as pervasive as Kozinski's famously sexual sense of humor or his gag list."
Kavanaugh's Misleading Statements
in Fox News Interview
September 23, 2018, Fox News interview, on his high school years.
Not Under Oath:
"I went to an all-boys Catholic high school, a Jesuit high school, where I was focused on academics and athletics, going to church every Sunday at Little Flower, working on my service projects, and friendship, friendship with my fellow classmates and friendship with girls from the local all-girls Catholic schools."
Distance from the Truth: A far cry from the Keg City Club Treasurer — "100 Kegs or Bust" — listed on his Georgetown Prep yearbook page, or with what is described in Wasted: Tales of a Gen X Drunk, high school friend Mark Judge's memoir.
September 23, 2018, Fox News interview, responding to Debbie Ramirez's New Yorker claim that a drunk Kavanaugh exposed himself to her in a room of people at Yale.
Not Under Oath:
"If such a thing had happened, it would've been the talk of campus. The women I knew in college and the men I knew in college said that it's inconceivable that I could've done such a thing."
Distance from the Truth: Yale classmate Richard Oh and another anonymous student remember hearing about the incident at the time. Yale roommate James Roche found it entirely plausible that Kavanaugh exposed himself to Ramirez.
---
Copyright Capital & Main