Strange Bedfellows Unite to Stop Anti-Development Ballot Measure in Los Angeles
Rarely has a ballot measure united so many divergent groups in opposition as has Measure S, a proposition on the city's March 7 ballot that would impose strict limits on development.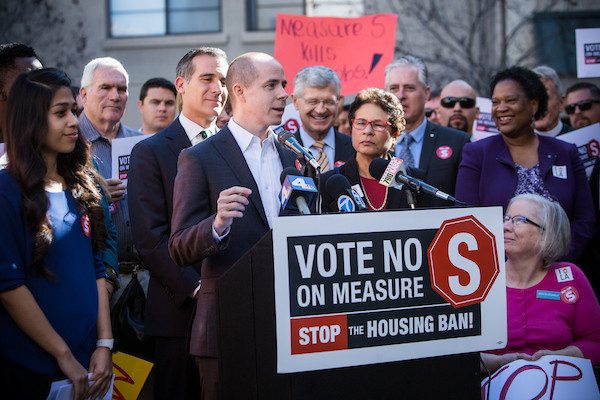 View of Los Angeles skyline from Kenneth Hahn State Recreation Area. Photo via BDS2006 at English Wikipedia.
Rarely has a ballot measure united so many divergent groups in opposition as has Measure S, a proposition on the city's March 7 ballot that would impose strict limits on development. Business, labor and advocacy organizations, from the Los Angeles Chamber of Commerce to the Los Angeles County Federation of Labor—groups that typically are adversaries —have joined forces against a measure they believe will derail affordable housing projects, costing the city both revenue and jobs.
Supporters have their odd alliances, too: local environmental groups and homeowners' associations, which complain that the city's building frenzy has run amok, crowding out views, choking thoroughfares with traffic and eating up open space with hillside mega-homes.
Both sides, tellingly, have invoked Trump.
"Stop Trump's Developer Pals," blares a mailer from the Yes on S campaign, listing the big-money developers that oppose the measure and their ties to the 45th president.
The opposition, for its part, is circulating a mustard-yellow stencil of Trump's face with "No on S" plastered across it, alongside the words, "Really? Again?"
Measure S would put a permanent end to projects that require amendments to the city's general plan, a collection of 35 community blueprints governing development in various neighborhoods. (A developer who wanted to build an apartment complex, for instance, on an industrial-zoned lot, would be blocked until the city updates its rules.) It would also impose a two-year moratorium on projects that require loosening height or density limits specified in the various community plans. (The moratorium could end early if the city updates its general plan before the time is up.) It would then require the City Council to review the city's general plan every five years. Billionaire real-estate developers oppose it, as does the Los Angeles Chamber of Commerce. Certainly Trump himself, were he a Los Angeles builder, would no doubt fight it to the end.
But those developers have some uncommon allies among housing advocates, labor and even environmental groups and planning experts. Some of them point out that, like Donald Trump's successful run for president, the S campaign plays heavily on emotions—on city homeowners' hatred of developers who contribute large amounts to city council campaigns, allegedly in exchange for better zoning deals. (Sea Breeze developer Samuel Leung, who was revealed in a Los Angeles Times investigation to have potentially directed more than $600,000 to city councilmembers, is cited frequently in Measure S campaign literature.) The problem, say opponents, is that Measure S will do very little to address their frustrations.
In that way, says Shane Phillips, the volunteer project director of the nonprofit housing advocacy organization Abundant Housing LA, Measure S "is the Donald Trump of ballot initiatives. It's identifying a real problem. But it's not proposing anything to fix that problem." Instead, he says, Measure S offers only an idealized return to a bygone Los Angeles, when everyone could dream of a house and a pool or at least a view. "They think that by stopping development they can have that back," he says. "But stopping things doesn't fix anything. It only crystalizes the problems that exist."
Among those problems is that between 2010 and 2015, nearly 180,000 people moved into Los Angeles, according to census estimates. But the city added only an estimated 25,000 new housing units. The median home price just soared past $600,000
Measure S will make it all worse, Phillips contends. "It will," he says, "be a catastrophe for the city."
T
o a large extent, Measure S reflects the vision of one man and one organization: Michael Weinstein, president of the AIDS Healthcare Foundation.
According to the Los Angeles Times
,
the nonprofit got involved in the development debate two years ago, right around the time the real-estate firm Crescent Heights proposed its Palladium Residences project, a 731-unit, 30-story, $324 million residential complex on Sunset Boulevard in Hollywood. The City Council
voted 12-0 in March
of last year to approve a zoning change and other variances for the project, which would occupy an empty lot one block from a subway station. Weinstein's organization, whose offices sit on the 21st floor of the building next door, filed suit to stop the project
the next month
.
The AIDS Healthcare Foundation has since contributed more than $4.5 million to the Measure S campaign, under the auspices of the Coalition to Preserve L.A.
Whether Measure S is at its root about Weinstein's view is probably irrelevant at this point. The S campaign has cited other egregious examples of development gone awry to bolster its case, including developer Rick Caruso's 185-foot residential tower near the Beverly Center, an area of the city where the community plan limits building height to 45 feet. Measure S supporters have also flagged the city's flawed environmental-approval process, which has earned S the support of certain environmental groups, including Los Angeles Audubon and Citizens for Los Angeles Wildlife, or CLAW.
CLAW's co-founder and chair, Alison Simard, agrees with the part of Measure S stipulating that the pre-development environmental impact reports required by California law should be commissioned by the city and not the developer. "That's at the heart of our support for the ballot measure," she says. "Measure S complements our work to protect wildlife and the diminishing linkages between open spaces throughout our city."
Other environmental groups, including the Audubon Center at Debs Park and the Los Angeles League of Conservation Voters, oppose S, however, arguing that it would only exacerbate the critical housing shortage in a city with a homeless population of 28,000, where a quarter of a million households sink more than half of their income into rent. The Natural Resources Defense Council has come out against S, and while the Sierra Club has not endorsed either way, the organization did oppose a similar proposition that failed in the City of Santa Monica last year.
There's another, more global environmental argument to be made against S, too: that impeding residential density only encourages more sprawl, and more long commutes from exurbs to the city. "I would hope that most environmental orgs are concerned first and foremost with climate change," says Shane Phillips, who insists Measure S won't stop mansions from overtaking hillsides; those mansions rarely require a zoning change. "Every one of those houses will have a pool, a lawn and a water system," he says. "Habitat destruction comes with sprawl." (A separate ordinance to address mansionization was approved by the planning department in July, and is currently awaiting City Council approval.)
There's no question that the City of Los Angeles has both a problem with unrestricted development and outdated land-use and development rules, some of which haven't undergone a full overhaul for decades. Even the ballot measure's most ardent opponents admit that's true, and some even allow that both Palladium Residences and the Caruso project were granted zoning easements based less on their merits than on their relationships with City Hall.
But those projects are outliers, said Stephanie Klasky-Gamer, president of the nonprofit L.A. Family Housing, at a February 11 debate on the measure. "You can't legislate based on these outliers." Yes, Los Angeles needs to improve oversight to limit those more extreme examples, but S isn't the solution, she said. "It really will have a negative impact on our jobs and housing prices in Los Angeles."
One study, at least, bears that out. Released by Beacon Economics late last year, the study found that Measure S will cost the city 12,000 jobs in the first year of the moratorium, including 7,000 construction jobs. Lost construction activity will cost the city $642 million in wages and an estimated $1.9 billion in economic output. The law would also deprive the city of 37 to 45 single-family units, and up to 2,800 multi-family units, "further straining the housing supply and putting upward pressure on rents."
I
t's worth noting that another
Beacon Economics study
, published last October, also found a negative economic impact associated with Measure JJJ, an affordable housing initiative that passed easily on the November ballot. JJJ mandates that projects over 10 units requiring general plan amendments or zoning changes adhere to certain labor standards, such as paying prevailing wages and hiring locally. Those same projects also have to offer a certain number of their units at below market cost. Developers complained that JJJ would drive up housing costs, a claim disputed by proponents. But Measure S would be exponentially worse, and it would likely cancel out the rules the previous ballot measure put in place.
Measure S would also interfere with another successful ballot measure, HHH, an effort to reduce homelessness, which also passed on last November's ballot. While S allows an exemption from its zoning change moratorium for 100 percent affordable housing projects, it contains no such break for affordable housing projects that require amendments to the general plan.
Nearly all low-cost housing projects do require such amendments, says Rusty Hicks, executive secretary-treasurer of the Los Angeles County Federation of Labor and a vocal opponent of Measure S. "Nine out of ten of the sites where we could build affordable housing or supportive housing would be 'opportunity sites,'" he says. They would require an official amendment to the general plan before they could be built, and that, Hicks notes, could take years. "We shouldn't slow down that progress just to give a childish middle finger to City Hall."
Years of Infamy: A New Documentary About the Japanese-American Internment
And Then They Came For Us is not the first film to tell the story of Executive Order 9066. Rarely, however, has any account of this shameful history been presented with such persuasively contemporary urgency.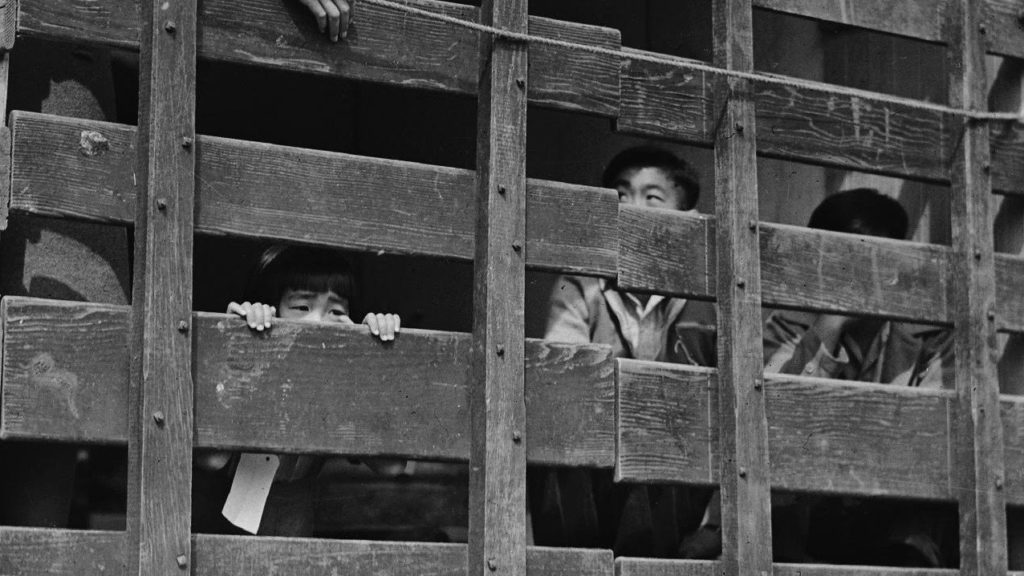 On February 19, 1942, President Franklin D. Roosevelt signed Executive Order 9066, which authorized the War Department to declare much of the West Coast to be military exclusion zones, resulting in the arrest, removal and incarceration of 120,000 law-abiding residents — including roughly 70,000 birthright American citizens — for the offense of being of the wrong race during wartime. Civil rights vanished for Americans of Japanese descent who were forcibly uprooted and deprived of their property without due process.
Social justice filmmakers Abby Ginzberg and Ken Schneider's powerful new documentary, And Then They Came For Us, is not the first to tell the story of one of modern America's most ignominious mass violations of civil rights. Rarely, however, has any account of this shameful history been presented with such persuasively contemporary urgency.
From Ginzberg's opening shots of protest at San Francisco Japantown's February 19th Day of Remembrance march, to the film's concluding call for solidarity between the survivors of 9066 and the Muslim immigrants who now find themselves targeted by yet another baldly racist executive action, it is always harrowingly apparent who is behind today's clear and present danger to bedrock civil liberties.
In fact, as Ginzberg explained to Capital & Main, it wasn't until the days following Donald Trump's 2016 election victory that she became convinced she had a compelling enough hook on which to hang an otherwise oft-told tale. That's when she saw Trump surrogate Carl Higbie appear on TV and cite the wartime internment as a precedent for candidate Trump's calls for a "complete shutdown of Muslims entering the United States," which included surveillance against mosques and establishing a database for all U.S. Muslims.
"I could suddenly see the politics of the film, I could understand its importance to today," she recalled. "It didn't become [a] dry history based on post-World War II analysis. It made me get very excited about it and decide that this film had to be done. We needed to find a way to get it out into the world as quickly as possible."
Her idea was to approach the internment as if it were a breaking news story. By keeping it lean, forgoing lengthy fundraising or complicated locations, the film might get from script to screen while the headlines were still fresh enough to have an impact. That's when the Jonathan Logan Family Foundation, which funds progressive investigative journalism, ponied up for the entire budget — a rare stroke of fortune in the social justice filmmaking world: "I was able to create a budget, give it to them and say, 'I will do this film if you pay the bills.' And they did. We started filming in October of 2016. And we finished it kind of mid- to end-of-April, 2017. For me that is record time." (Disclosure: The foundation is a financial supporter of this website.)
The heart of And Then They Came for Us lies in the trauma and unreconciled anger of the incarcerated — including the articulate testimony of former camp children like actor-activist George Takei. The experiences of now-deceased adults survive in an extraordinary trove of documentary images taken by photographers hired as government propagandists by the War Relocation Authority (WRA). The photographers, among them Ansel Adams and the magnificent Dorothea Lange, were carefully monitored by minders lest they violate rules against taking photos of camp barbed wire, guard towers and heavily armed military police. The prisoners themselves were forbidden cameras of any kind, and it is ironic that the only images of the Japanese-Americans behind barbed wire are those taken by internee Toyo Miyatake, using smuggled equipment and film.
"We tapped into a reservoir of stories," said Ginzberg, "and we were able to kind of cobble the film from everybody contributing something. But the two people who lead the film are George Takei and Satsuki Ina, who really have spent a lot of their lives working on this. … A third person, who's not related at all to George, is Barbara Takei, who's part of the Tule Lake Committee." Local authorities, she added, "are now threatening to build an airfield sorta smack in the middle of the Tule Lake camp, which would mean that any notion of sacred space, or being able to [honor] it as a historical site, will go to hell."
Eschewing the usual newsreel footage, Ginzberg sought — and was given — unrestricted access to recently unearthed and previously unpublished photographs, and research culled by photo historians Richard Cahan and Michael Williams for their 2016 coffee-table tome Un-American: The Incarceration of Japanese Americans During World War II. The book includes 170 images drawn from a 7,000-shot archive of the "evacuation." Ginzberg mostly narrows that to the work of Adams and Lange. And it is the unwavering gaze of the Lange portraits — part of an almost legendary, 800-image cache that was immediately impounded and "lost" for 60 years by the U.S. Army — that drives home the human scale of the tragedy. Many of Lange's photos were impounded for too truly reflecting the emotional reality of the camps.
"We try to let the photos in a certain way speak for themselves," Ginzberg pointed out. "We're letting people sort of read it in the faces of the Dorothea Lange [images], and something — "magical" is not the right word — but something deep happens in the experience of looking at those photos that are up there a little bit longer than they might be in some other setting. [Audiences are] able to read, as Takei says, the resilience and the stress. And so there's something happening that becomes a first-person experience."
In one of the most haunting scenes, internment historian and filmmaker Satsuki Ina, who was born in 1944 at the Tule Lake Segregation Camp near the Oregon border, a maximum security facility reserved for "troublemaker" activists, pensively encounters a Lange portrait of her mother, Shizuko, taken in 1942. Capturing an attractive, immaculately dressed young woman, the picture freezes a moment when her features are visibly drawn in worry as she waits with other first- and second-generation Japanese-Americans on a long sidewalk queue underneath government posters announcing their imminent removal.
Other speakers describe remarkably similar memories of the pain of witnessing their parents undergo the humiliation of gradually being shorn of their freedom and independence. Within a matter of weeks, the WRA froze bank accounts, limited movement and finally stripped internees of their automobiles and other property through forced sales. Los Angeles families were shipped to the Santa Anita racetrack and housed in horse stalls. Orwellian euphemisms ran through a government narrative that spoke soothingly of "evacuations" and "relocation centers," rather than forced removals and concentration camps.
According to Ginzberg the film has been well received by audiences at the handful of film festivals it has entered since its May premiere. She's been offering it for sale on the movie's website for activist groups that have already hosted a number of screenings around the country, and it has played particularly well with teachers. Ginzberg's strategy is to market the film as a classroom-friendly component (the runtime is 46 minutes) to lesson plans about the incarceration.
"Let's see if we can't educate people, organize people and have this film be as relevant as possible to what is going on, particularly with the Muslim travel ban, and then with other really repressive immigration policies."
---
The November 27 Los Angeles premiere for And Then They Came for Us, at the Downtown Independent Theater, is sold out.  Other screenings can be found at thentheycamedoc.com.
Copyright Capital & Main