Steve Mnuchin: A See-No-Evil Treasury Secretary
Last Monday the Senate Republicans confirmed Wall Street predator Steve Mnuchin to oversee America's financial industry. Across the country, bankers and hedge fund managers poured champagne while showing clips of Michael Douglas' "greed is good" speech from the film Wall Street.
Last Monday the Senate Republicans confirmed Wall Street predator Steve Mnuchin to oversee America's financial industry. Across the country, bankers and hedge fund managers poured champagne while showing clips of Michael Douglas' "greed is good" speech from the film Wall Street.
The bankers at Goldman Sachs' headquarters in New York City were also celebrating. They've now scored a trifecta, with former partner Mnuchin approved as Treasury Secretary, former Goldman Sachs president Gary Cohn serving as President Trump's top economic adviser, and one-time Goldman Sachs banker Steve Bannon ensconced in the White House as Trump's top policy advisor in charge of restoring white supremacy and deporting immigrants. Another Goldman Sachs alum, Anthony Scaramucci, will have to wait awhile before officially joining Trump's inner circle. He can't pass the conflict-of-interest ethics test — a very low bar in the Trump administration — because he sold his firm, SkyBridge Capital, to a division of HNA Group, a Chinese conglomerate that would become the firm's majority owner and has close ties to China's ruling Communist Party.
The Senate confirmed Mnuchin, known as the "foreclosure king" during his days running OneWest Bank, by a mostly party-line vote of 53-47. Only one Democrat, Sen. Joe Manchin of West Virginia, voted with the Republicans. Manchin has received over $1 million in campaign donations from the financial, insurance and real estate industry, according to the Center for Responsive Politics.
As Treasury secretary, Mnuchin will be Trump's top hit man in charge of dismantling the 2010 Dodd-Frank law that strengthened regulations on the financial industry that have been important checks on Wall Street greed, including the Consumer Financial Protection Bureau, which in its short life has already protected hundreds of thousands of consumers from bank abuse. Mnuchin will also be in charge of overhauling nation's tax code to reduce taxes for his fellow bankers and other wealthy corporate plutocrats.
"Mr. Mnuchin has made his career profiting from the misfortunes of working people," said Sen. Debbie Stabenow (D-MI). "OneWest was notorious for taking an especially aggressive role in foreclosing on struggling homeowners."
Sen. Sheldon Whitehouse (D-RI) said, "I simply cannot forgive somebody who took a look at that banking crisis and took a look at the pain that Wall Street had sent in a wave across all of America, and thought, 'Ah, there's a great new way to make money, foreclosing on people.'"
The Senate Republicans not only ignored Mnuchin's track record running a "foreclosure machine" and engaging in racist lending practices but also his failure to disclose nearly $100 million in assets on forms he filed with the Senate Finance Committee. Only after questioning by Sen. Ron Wyden (D-OR) did Mnuchin acknowledge he was a director of Dune Capital International Ltd. in the Cayman Islands and Anguilla, tax havens often used by rich investors to avoid paying U.S. taxes. Mnuchin was forced to admit that these offshore corporations  were little more than post office boxes, with no employees or offices.
Senate Majority Leader Mitch McConnell (R-KY) voiced the GOP's see-no-evil approach when he said that Mnuchin "is smart, he's capable, and he's got impressive private-sector experience."
Several weeks ago, Sen. Elizabeth Warren convened a meeting in Washington, D.C. to hear from homeowners who had been victims of Mnuchin's "private-sector experience." Warren organized the event because Sen. Orrin Hatch (R-UT), chairman of the Senate Committee on Finance, rejected a request to invite them to testify at Mnuchin's confirmation hearing. The financial, real estate, and insurance industry has lined Hatch's pockets with $2.6 million in campaign donations.
One of the people at the Warren event, Colleen Ison-Hodroff, is an 84-year-old Minneapolis resident whose husband got a reverse mortgage on their fully-paid home through OneWest's Financial Freedom subsidiary. Within days after her husband died, she received OneWest notification to either repay the reverse mortgage in full or face foreclosure. Another was Heather McCreary, a Nevada mother of two, who lost her home in 2010 after OneWest refused to provide a loan modification. "Steve Mnuchin's company had no interest in helping us," said McCreary. "They wanted to foreclose because they were focused on their profits."
Soon after Trump nominated Mnuchin (who had been his campaign finance chair) for the Treasury post, consumer groups, unions, and community organizations around the country mobilized to oppose his confirmation. They offered similar stories and testimony about the human suffering caused by OneWest Bank's callous practices under Mnuchin's leadership. Three weeks ago, the Alliance of Californians for Community Empowerment, a community organizing group, held a vigil outside Mnuchin's $26 million mansion in Bel Air, a wealthy section of Los Angeles, to draw attention to his terrible track record as a banker.
At the height of the housing crisis, Mnuchin got rich throwing tens of thousands of working people out of their homes. The 54-year old Mnuchin is now worth about $400 million, according to Fortune magazine.
During his presidential campaign, Trump criticized Wall Street bankers for their excessive political influence, attacked hedge fund managers for getting away with "murder" under the current tax code, and claimed that he would self-fund his campaign to avoid being beholden to special interests. "The hedge fund guys didn't build this country," Trump said on Face the Nation.  "These are guys that shift paper around and they get lucky."
But now Trump has tapped Mnuchin and other Wall Street insiders for top positions, guaranteeing that the financial industry will get its way unless Democrats and grassroots organizations mount fierce opposition.
Trump's earlier rhetoric aside, he and Mnuchin are a good match. Prior to his appointment, Mnuchin was CEO of Dune Capital Management, a hedge fund that had business dealings with Trump.
Both Trump and Mnuchin earned their first fortunes the old fashion way: they inherited it. Trump took over his father Fred's real estate empire and expanded it through corrupt and rapacious business practices. Mnuchin, also the scion of a wealthy and well-connected family, graduated from Yale in 1985 and soon wound up working at Goldman Sachs, where his father Robert had been a general partner.
Both Trump and Mnuchin have run businesses accused of widespread  racial discrimination and they both represent the excessive wealth and greed of the billionaire developer and banker class. And both men have hedged their political bets, donating big bucks to Democrats as well as Republicans.
Indeed, Mnuchin's entire life is a tale of privilege and profit.
After graduating from Yale, Mnuchin went to work at Goldman Sachs, following in his father's footsteps. He spent 17 years at the bank, where he eventually became an executive vice president. According to the Wall Street Journal, he left in 2002 "at the age of 39 with a reported $46 million stake in the bank." He left the bank and went on to head several hedge funds.
In 2009, Mnuchin assembled a group of investors (including computer capitalist Michael Dell, financier George Soros, private equity investor Christopher Flowers, and hedge fund titan John Paulson) to buy the troubled IndyMac Bank from the Federal Deposit Insurance Corporation (FDIC) as part of a sweetheart deal. They renamed it OneWest Bank and kept its headquarters in Pasadena, CA. They persuaded the FDIC to reimburse the billionaires bankers for much of their costs for foreclosing, a policy called "lost share" that shielded the bank from risk. Mnuchin moved to Los Angeles to run the bank.
A 2013 memo from prosecutors in the California attorney general's offices, leaked to the media two weeks ago, revealed "evidence suggestive of widespread misconduct" by OneWest under Mnuchin's helm.
In 2009, after the housing bubble burst, the Obama administration launched a program to encourage banks and their mortgage servicers to help borrowers stay in their homes by modifying their mortgages to make them more affordable. But about three-quarters of homeowners who sought modifications from OneWest were denied. OneWest was among the worst performing large servicers in the program by that measure.
Instead, soon after Mnuchin bought the bank, One West went on a foreclosure frenzy. The California Reinvestment Coalition (CRC)—a nonprofit organization that pushes banks to reinvest in low income communities and communities of color—determined from Freedom of Information Requests that the FDIC had already paid out over $1 billion to reimburse OneWest for the cost of over 35,000 foreclosures in California and many other foreclosures in other states. The bank made a tidy profit on each foreclosure. "On bad loans, OneWest, which bought many of the loans at 70 percent of par value, gets the cash from a foreclosure," according to the Los Angeles Business Journal, "and is also reimbursed up to 95 percent of the difference between the original loan value and the foreclosure sale amount."
Many of those foreclosures were illegal. Some OneWest employees accused the bank of encouraging fraudulent behavior, including widespread "robo-signing" – signing off on foreclosures without verifying information or closely examining the documents. Some observed that the bank illegally backdated mortgage documents.
Moreover, a CRC and Urban Strategies Council analysis of One West's 35,877 foreclosures in California from April 2009 to April 2015 found that 68 percent occurred in zip codes where the non-white population was 50 percent or greater.
In a complaint filed with the U.S. Department of Housing and Urban Development, the CRC accused OneWest of engaging in redlining by giving few mortgage loans to African American and Latino consumers, failing to locate branches in communities of color, and doing less maintenance on foreclosed homes in neighborhoods of color than white ones. Only two of OneWest's 73 branches are located in low-income areas. During Mnuchin's reign as CEO, it made few small business loans to businesses with annual revenues under $1 million—the kind of operations common in low-income and minority areas.
CRC executive director Paulina Gonzalez called OneWest Bank "a leader in foreclosing on seniors," many of whom have reverse mortgages—loans that provide cash payments to help homeowners realize value from the equity in their homes and become payable when the borrower dies or moves—insured by the Federal Housing Administration. OneWest was responsible for 16,200 foreclosures on government-backed reverse mortgages, or 39 percent of all foreclosures nationwide, from 2009 through late 2014, even though it only serviced about 17 percent of the loans, according to government data analyzed by the CRC.
OneWest also serviced billions of dollars of mortgage loans on the behalf of third parties, such as Fannie Mae. In multiple surveys of California housing counselors, OneWest was ranked among the worst mortgage servicers in the state.
In 2014, Mnuchin arranged to sell OneWest to the CIT Group for $3.4 billion—more than double what his group paid for the bank five years earlier. Bloomberg calculated that he may have made more than $200 million from the sale. Mnuchin also received a nearly $11 million severance package when he resigned from CIT's board on top of more than $20 million in total pay. Under the terms of the acquisition, CIT agreed to pay Mnuchin $4.5 million a year for three years as the bank's vice-chairman. After he relinquished that post last, Mnuchin was given a $10.9 million severance package, according to the Wall Street Journal.
Despite Mnuchin's confirmation, consumer and community groups have pledged to organize to thwart his and Trump's agenda of dismantling consumer protections.
"While we're surprised and disappointed that senators would vote for him after he refused to provide honest answers, CRC, our members, and our allies aren't going anywhere,," said the CRC's Gonzalez. "We are ready to continue the fight against Wall Street greed."
"There were nearly 8,000 OneWest foreclosures here in Los Angeles," said Isela Gracian, president of the East LA Community Corporation, a nonprofit group that builds affordable housing and provides counseling to homeowners to help them avoid foreclosures. "We are ready to ensure that he doesn't continue to do harm to working class families and that the US economy serves all of us, not just Wall Street."
---
This feature is crossposted at Huffington Post.
No Apologies: Bill de Blasio on Economic Inequality, 2020 and the Amazon Deal
"We must nominate a solid progressive," says New York's mayor about the Democrats' next presidential candidate. "That's the only way we can change the country. It's also the only way we can win."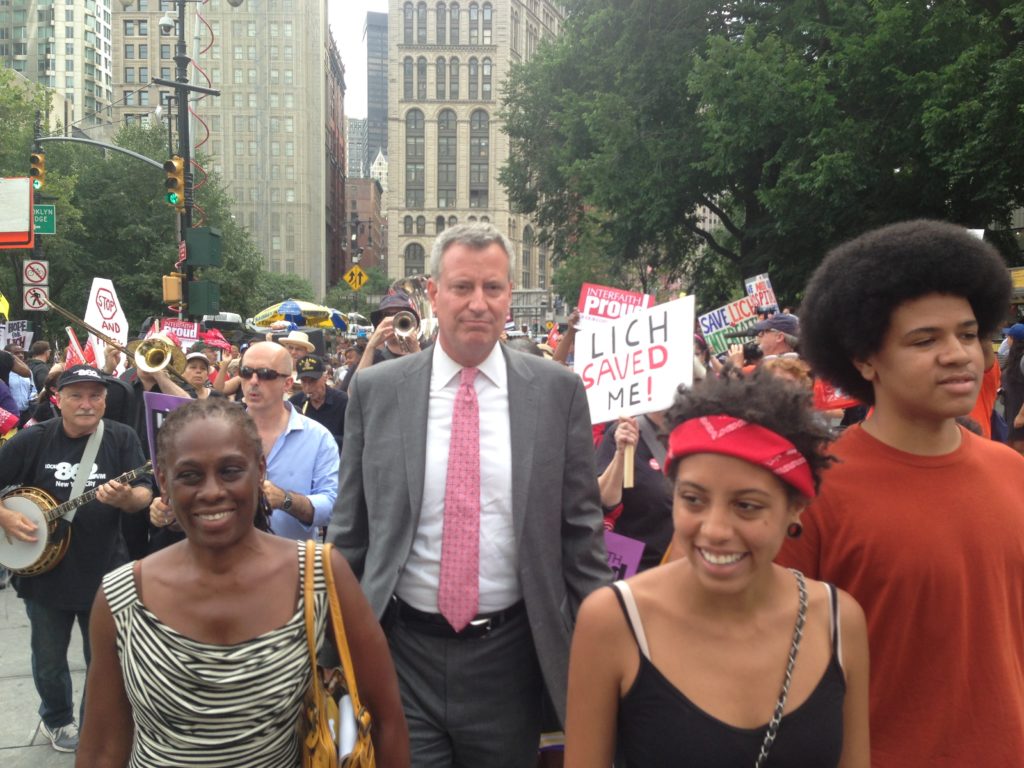 What can municipal leaders do about economic inequality? New York Mayor Bill de Blasio says they can do a lot — and he argues that the Big Apple is proof. He also contends that in the upcoming 2020 presidential election, Democrats must boldly confront the issue and reject centrist candidates like his predecessor Michael Bloomberg, who de Blasio says represent the interests of the wealthy.
De Blasio was elected to the city's top office after he made economic inequality the central issue in his campaign. During his 2013 run, he said New York had "become a tale of two cities, a place where City Hall has too often catered to the interests of the elite rather than the needs of everyday New Yorkers." The facts underscored his assertion: the New York City area is one of America's most economically unequal locales — a place that has both the world's largest number of billionaires and a 19 percent poverty rate.
As mayor, de Blasio has backed a universal health care initiative, rent stabilization laws, affordable housing programs and wage increases for municipal workers.
In recent weeks he has faced criticism for supporting the now-defunct deal to bring Amazon's second headquarters to New York. Deal critics claimed that the deal would have needlessly enriched a wealthy corporation whose business model has been laying waste to small local businesses.
Capital & Main reporter David Sirota caught up with de Blasio to discuss his record, the Amazon deal and the next presidential election. What follows is an edited excerpt of the conversation.
---
What can municipal leaders do at the local level to address economic inequality?
When I ran in 2013, I talked about economic inequality. I talked about a tale of two cities, and the constant refrain I heard from a lot of pundits and journalists was: That's not something that can be addressed locally — that can only be handled on a federal level, maybe a state level. [But] I argued that we had extraordinary tools…to really have an impact in the here and now…
At the local level, we increased the minimum wage to $15 an hour for public workers and nonprofit workers that got public support through their nonprofits. We did a paid parental leave…Pre-K for all — [whose] average expense for a family [is] $10,000 to $15,000 a year per child, if you had to pay for the same kind of time for your kid during the day in a private setting…We're providing afterschool as a universal guarantee for all middle school kids…With guaranteed health care, we're ensuring that 600,000 New Yorkers who have no health insurance will have either very low cost health insurance on a sliding scale or it will be refi'ed for free if they can't afford it.
All of this puts money back in people's pockets [and] I think that question in every locality in America is, how far can you go? How far can you go to addressing income inequality because it really adds up….We don't have the tools to tax the wealthy in the way we should at the local level, but we do have the ability to redistribute. We do have the ability in a powerful way to raise the floor.
Where have you had to make the biggest compromises?
Everything dealing with the state government has been a practicing compromise. I said, "I think the fair way to go about funding Pre-K would have been a millionaire's tax." We couldn't get it. We had to figure out a different funding formula to get enough money to get it up and running nonetheless.
We found a huge challenge also [with] the state government on how to handle the problem of our subways. So far we've ended up with bits and pieces of agreement and some forward motion, but not enough.
Here we are in the center of global capitalism and in a place where there's some very powerful interests that don't share my philosophy, but I have not felt held back in the scheme of things that much, and I attribute it to having strong political support on the ground. I attribute it to the fact that there's a real belief in a progressive vision. There's a real energy behind the notion of addressing these core issues, and honestly, the folks who tried to stand in our way have not had a lot of success in the bigger scheme of things.
The Amazon HQ2 deal that you supported has generated a lot of criticism from those who argued that it was a taxpayer giveaway to a big corporation. What is your response to that criticism?
The vast majority of the incentives in place were state law incentive programs available to any companies that met certain criteria. They have been on the books for a long time and Amazon tapped into them the way any company could have.
I respect the variety of voices that have been raised against the deal. I really do. But I want to say there's really not been a discussion previous to this deal about these kind of programs that have existed for a long time. Some of the folks who are very strongly criticizing this deal had previously voted for these very same incentive programs. I think there needs to be a bigger examination of what's going on here…
The state had one piece of the subsidy plan that they tailor-made [for] Amazon. The city would not do that…Under my administration we will not make a tailor-made incentive plan for any company. Whether it's about coming here or staying here, we just won't do it. We've made that clear. I think that's a race to the bottom. Amazon wanted us to give them specific incentives, we wouldn't do it…
Then the obvious pragmatic question: Was I going to let 25,000 to 40,000 jobs go because a lot of us have differences with Amazon as a company? Was that a reason to let those jobs go to Virginia or to Dallas, Texas or someplace else, when they could have a very positive impact for New Yorkers in terms of their lives and their employment, but also on the revenue base that we have?
This [was] going to bring in a huge amount of revenue to help us with the things that we focus on as a progressive city. With affordable housing and with initiatives to get people jobs and all sorts of other things we do. All of those pieces went into the equation for me.
After years of divided control, the New York legislature has full Democratic majorities in both houses, and the governor of New York is a Democrat. What do you want to see from this Democratic state government in the upcoming year?
So they've already passed major new gun safety legislation. They've passed the New York version of the Dream Act. They've passed reproductive rights legislation and fundamental election reforms. Things that we never could have gotten in this state for decades, like early voting, same-day registration. A huge number of things are happening already.
I think going forward we have to fix our subways and I think a billionaire's tax is the best way to do it…We need to strengthen our rent regulations. I know our colleagues out in California tried to get a referendum passed and it didn't succeed, but in this state we have created strong rent laws at least for New York City, but we need to make them a lot stronger given the cost of living here.
We [need] a school system with mayoral control [and] a vacancy tax. This is something that stops landlords from withholding their properties from small business…We need to eliminate cash bail. We need to have the legislation to speed up the trial process so we can reduce the number of people incarcerated.
You are not ruling out a presidential bid in 2020. What do you think needs to be front and center in those Democratic primaries?
My basic message is [that] this is a progressive moment, we must nominate a solid progressive. That's the only way we can change the country, but it's also the only way we can win. I am very clear that nominating a centrist would just set us back and I've said publicly that centrists need not apply in 2020 in the Democratic Party.
The only thing I think that would cause us to lose in this moment, where we should be poised for great victory, is if the American people can't really tell the Democratic Party apart from the Republican Party, and that's been the case in way too many elections. But we have a chance here to be uncompromising and to be clear. And it starts with addressing income inequality.
It has to be abundantly clear that we are comfortable calling for higher taxes on the wealthy, that we're comfortable acknowledging that this is a very wealthy country. There's plenty of money, it's just in the wrong hands, and we have to be open about that.
We have to be a clear and blunt and progressive populism. The word "populist" to me should never be applied to the right wing like they have a trademark on it, and it's a negative. When I think of populism, I think of progressive economic populism that has existed for many, many decades, which is progressives saying we're on the side of the people and we are willing to take on the elites of the status quo.
But that begins with real simple litmus-test ideas. Are you willing to greatly increase taxes on the wealthy or not? If you're willing to do it, you're a solid progressive. You're going to have a really energetic audience out there. You're going to show the difference between our party and the other party…
I think this party should stand for Medicare for All [and] should be absolutely unapologetic about it…You're paying way too much in all sorts of ways right now for your health care. A Medicare for All system would be more fair, more consistent, more universal.
If we're talking that language, we're going to move people and we're going to redefine what the Democratic Party is, and I think it can turn into a party that wins consistently. But if we don't speak that language, it's not going to surprise me if we once again struggle in places like the industrial Midwest or Florida, and so I want to see the party come to a real consensus around this…
I want to see that whatever we do in the end, it's clear that we both have a sharp, strong ideology that we're comfortable [with] and that we actually have an idea how to make it happen. Because if people perceive it as [being] long on theory, short on reality, that will also alienate working people who are depending on us to get it done, so we have to show this is the kind of thing that can actually happen in real life.
Your immediate predecessor, billionaire Michael Bloomberg, is considering running in the Democratic primary. What do you think of his potential candidacy?
There were things I agreed with Michael Bloomberg on as mayor and there were very clearly things I disagreed [with], but as a candidate for president, let's begin at the beginning. This party is not nominating a billionaire, nor should we nominate a billionaire.
Billionaires in this country got there in large measure through very favorable government policies that helped them every step along the way, starting with favorable tax policies. The folks in the one percent have benefited from exactly what's wrong. And that's not who I'm turning to to fix the problem.
Also, Michael Bloomberg's been abundantly clear. He is a free marketeer. He doesn't want to see a strong government disrupting what's wrong with the free enterprise system, and to stand up for everyday people. That's just not who he is.
This guy is part of that one percent establishment that created the problem. Lord knows this is not the person we turn to, if we're trying to establish a progressive, consistent, uncompromising, strong Democratic Party…
If Bloomberg or Howard Schultz were nominated, it would once again say to the American people, "You can't depend on the Democratic Party to be on your side," and it would confirm to people it's the party of the elites, not the party of working people.
---
Copyright Capital & Main