Step Back, Big Mac: California Franchisees Score Major Victory
Edward Navales realized a career in large tech firms wasn't for him, and in 2008 he decided to open his own business. Armed with a University of Texas MBA and guided by a desire to do something meaningful, he decided to start a firm in the health care sector. As he surveyed his options, it seemed like a franchise agreement would be the quickest and surest way to success.
He invested savings, took out a Small Business Administration loan and entered into an agreement with Bright Star Healthcare, a small but fast-growing home health care company. Bright Star promised its franchisees support and flexibility. According to Navales, the reality was something else entirely.
"What I found was inadequate support, unrealistic and predatory minimum sales targets and costly vendor requirements," Navales said. "I soon learned my fellow franchisees were experiencing the same challenges." Bright Star, claimed Navales, wasn't responsive to their requests and complaints, and he found himself fielding calls from many frustrated colleagues, then eventually spearheading an association of franchisees. The franchisor responded by subjecting him to repeated audits and charging him with violating his franchise agreement.
"I chose to speak out because things weren't right," Navales told Capital & Main by phone. "I put my money where my mouth is, create an association to bring [franchisees'] paramount issues to the front and get them addressed. And guess what? They targeted me, and they terminated me." Unlike many whose franchise contracts are terminated, he managed to go independent and keep his business, though he lost his house and his marriage crumbled along the way.
While not all franchisees experiences such a horror story, the power dynamic Navales described is shared by the owners of 82,000 franchise locations up and down California. The large franchisors – companies as diverse as McDonald's, 7-Eleven, Chevron and Motel 6 – hold all the cards, and can easily find reason to declare a franchisee in violation of their agreement. At the whim of the franchisors, infractions such as dirty windows or wrongly packaged food could result in a franchisee losing his or her business, investment and livelihood.
Now legislation working its way through Sacramento seeks to address that imbalance and provide franchisees some protection. AB 525, nicknamed the 'Franchise Bill of Rights,' received a huge boost yesterday as its biggest critics came to an agreement in which they will drop their opposition to the landmark bill.
The International Franchise Association (IFA) agreed to go along with the legislation after ironing out some language changes with the bill's main sponsor, the Coalition of Franchisee Associations (CFA). Robert Cresanti, the IFA's executive vice president of governmental relations and public policy, said in explaining the agreement that both sides compromised and are probably not entirely happy. However, all the key components of the bill remain, and many of AB 525's supporters see it as a clear win.
"With this landmark agreement, we can ensure that these franchisees will be better protected and will allow for greater opportunities for these small businesses to grow," said Assembly Speaker Toni Atkins (D-San Diego) in a release that followed the announcement.
"I think it's a huge victory, not only for the franchisees, but also the one million workers who are employed by the 80,000-plus franchisees in California," Tia Orr, senior government advocate at SEIU California (a financial supporter of Capital & Main), said. "For years, franchisees in California and across the country have been fighting for a more even and level playing field and to have protections for their small businesses. And the opposition hasn't come to the table to entertain any possible negotiation or even acknowledge that there is a problem. Their coming to the table and negotiating this is a huge step forward for workers and franchisees alike."
The Franchise Bill of Rights and similar proposals represent an interesting and groundbreaking alliance of small business and labor. SEIU has been backing such franchise initiatives in the belief that more stability among franchisee-employers will mean more stability for workers, while also giving local owners more leeway to improve working conditions and pay. In one notorious recent case, McDonald's pressured franchisees to pay employees less. Even when such pressures aren't explicit, franchisees may fear raising labor standards and earning the ire of their franchisors. Such implied pressure could be lessened by legislation like AB 525.
Four years ago, a predecessor of the Franchise Bill of Rights didn't make it out of committee. Last year, SB 610 made it through the California Legislature, only to be met with a veto by Governor Jerry Brown, who was concerned that the bill's language protecting franchisees against termination was too broad and asked for a more collaborative solution. Now, with the new version passing the Assembly in a bipartisan vote and gaining momentum, its main critics decided they needed to be in the conversation or risk getting left behind.
This is the first time the IFA – which bills itself as the world's largest trade association representing both franchisors and franchisees – has agreed to any part of legislation like this. Cresanti said that it was important for the group to be involved in order to mitigate what they saw as the worst parts of the bill and clean up some language. "We thought that the bill was out of balance, and there were pieces of it we thought were threatening to the stability of the industry in California." He warned that the threat of more litigation under the proposed law could increase the cost of opening and operating franchises in California.
In addition to raising the bar for violations under which a franchisor can terminate a franchisee and allowing opportunities to correct some types of violations, AB 525 also has provisions that protect franchisees' investments in their businesses. It sets up a framework for franchisees attempting to sell or transfer their business and stipulates that they be compensated for capital improvements, as well as inventory and supplies, upon losing their franchise contract. Franchisors will also have to pay damages in the cases of unfair termination.
"Hopefully it means fewer fights," said Navales of the bill. "Hopefully it means the franchisor will listen to the franchisee and know that if we're going to create a franchise association, it's to help. We're not trying to hurt anybody, we're trying to help the system at the end of the day."
Not all franchisees support the bill. Saunda Kitchen, a Mr. Rooter Plumbing franchisee from Sonoma County, joined Cresanti on the conference call announcing the agreement. "Personally I didn't see the need for any legislation to change my franchise contract," Kitchen shared. She noted that the new amendments worked out by IFA and CFA at least clarified the right of franchisors to protect their brand, which benefits franchisees like her as well.
But one of the bill's authors, Assembly Majority Leader Chris Holden (D-Pasadena), drew on his experience as a franchisee. "As a former small business franchise owner, I can tell you that the one-sided nature of a franchise relationship quickly becomes apparent after signing these documents," Holden said in a statement quoted by Nation's Restaurant News. "Right now, it's easy for a company to get rid of a franchisee whether they've done anything wrong or not. These small business owners invest substantial time and money into the enterprise and deserve to be protected."

Seven Restless GOP Districts Revisited
This week, in a run-up to the June 5 primary, we are re-highlighting our profiles of seven Republic congressional districts whose flipping would signal a fundamental groundswell against the Trump administration.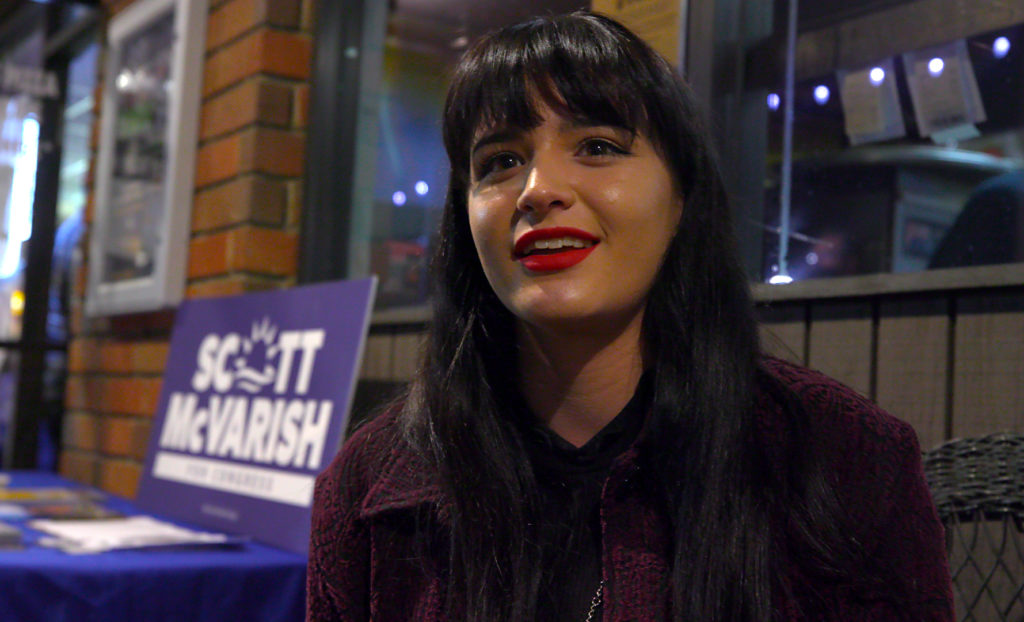 On February 1 Capital & Main launched its Blue State/Red District series profiling seven Republican-held congressional red districts — specifically, the challenges shaping their destinies and the policy rifts between the districts' representatives and their constituents. We began the series because, in 2016, seven of California's 14 Republican-held congressional districts returned all GOP incumbents to the House of Representatives, yet majorities in seven of those districts chose Hillary Clinton over Donald Trump for president. The districts were located in places long associated with rock-ribbed conservatism: The High Desert, Orange County, interior San Diego County and the Central Valley.
This week, in a run-up to the June 5 primary, we are rerunning these stories in the hope of returning attention to these key districts, whose flipping would signal a fundamental groundswell against the Trump administration and its policies.
---
CA 49 (Northern and Central San Diego County) — Kelly Candaele. Co-published by International Business Times.
CA 48 (Coastal Orange County) — Judith Lewis Mernit. Co-published by The American Prospect.
CA 10 (Central Valley) — Larry Buhl. Co-published by International Business Times.
CA 25 (High Desert) — Steve Appleford. Co-published by International Business Times.
CA 21 (San Joaquin Valley) — Larry Buhl.
CA 45 (Orange County) — Judith Lewis Mernit. Co-published by International Business Times.
CA 4 (The Gold Country) — Kelly  Candaele.
---
Copyright Capital & Main