State of Resistance: Labor Will Double Down in Trump Era
As workplace protections have come under attack, California has created labor-organizing models to resist attempts to erode labor standards and impose right-to-work measures.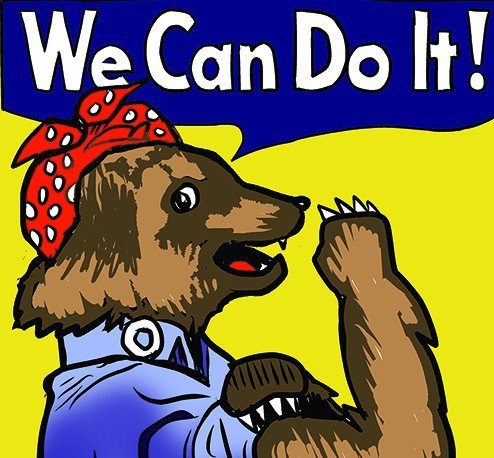 California's labor laws are stronger than federal regulations in most areas, including the minimum wage, paid sick leave, overtime for agricultural workers and domestic worker rights. The state also leads the national trend for predictive scheduling. (In 2014 San Francisco passed the nation's first measure that requires employers to inform workers of schedules two weeks in advance; 13 states and other municipalities are currently pursuing the policy.
But it's not all sunshine, now that fast-food mogul Andrew Puzder has been nominated to be the next Secretary of Labor. Puzder, the CEO of CKE, which owns the Carl's Jr. and Hardee's chains, is no admirer of California's labor codes and last year began moving the parent company's headquarters from California to Tennessee, complaining that "you can't be a capitalist in this state." Donald Trump's nominee is widely regarded by labor advocates as a substantial threat to working standards around the country. The fallout from a Puzder labor department could well reach California.
"We may be big and we may have the Sierras, but we're not an island," says Ken Jacobs, who is the chair of the University of California, Berkeley's Labor Center. "There are very serious challenges."
But as union membership shrinks nationally and workplace protections have come under attack, California has created labor-organizing models to resist attempts to erode labor standards and impose right-to-work measures —two predicted hallmarks of a Trump administration labor policy.
The International Brotherhood of Electrical Workers Local 1245 has developed and exported to other states a leadership model that goes beyond the shop floor and trains stewards to engage in an organizing agenda to counter anti-labor attacks and to support local political and contract fights.
The California local, which has a strong presence in the Central Valley and Nevada, created an Organizing Stewards program that recruits stewards, teaches them how to connect with members and trains them in door-to-door canvassing and leadership skills.
Much of it involves on-the-ground training. Just this month the California organizing corps helped Baltimore Gas & Electric workers buck a national anti-union trend to win representation.
Nine organizing stewards went to Wisconsin to join rallies at the state capitol against Governor Scott Walker's right-to-work policies and to reach out to other workers. Local 1245 also fielded 100 organizing stewards and active members during the 2016 election season to work full time on campaigns across California, Nevada, Arizona, Pennsylvania and Ohio to support labor-friendly candidates, says Fred Ross Jr., an organizer for the local who, along with colleague Eileen Purcell, developed the program.
Tom Dalzell, Local 1245's business manager, views a Trump administration, especially Trump's Supreme Court picks, with concern, but is resigned to resisting. "I don't know what it's going to look like," he says. "We know we're going to have to do it."
Dalzell worries about potential Supreme Court decisions that could permit public employees to opt out of union membership. The only answer, he says, will be counter-organizing in the workplace with one-on-one meetings to explain why an employee should stick with his or her union. "It will be like an organizing campaign," Dalzell says, of "people who are already taking the message of the union to people who have never had to fight for it or live without it."
Silicon Valley Rising, a coalition of the Communication Workers of America, International Brotherhood of Teamsters, Service Employees International Union Local 521, SEIU-USWW and UNITE HERE Local 19, plus nine community organizations, formed two years ago in this region dominated by tech development.
"Silicon Valley was the poster child for income inequality," says Maria Noel Fernandez, SVR's campaign director. The Silicon Valley work culture is famous for its perks — shuttles sent to a tech worker's front door, chefs serving gourmet meals, game rooms and massages. Those details make for good headlines but hide the gulf between tech employees who earn, on average, $113,000 annually, and the support staff of janitors, cafeteria workers and others, the majority of whom are contract workers who average under $20,000 a year, according to a study by University of California, Santa Cruz researchers. While tech development drives jobs in Silicon Valley, the majority of those jobs belong to service workers that serve meals and clean offices.
Silicon Valley Rising is poised to push the state of California to keep moving forward on labor and immigration standards, and to continue campaigns around employee rights, work-week rules and local minimum wage measures. The coalition is also working with employers to ensure that employees that work on the sprawling company campuses are protected from Immigration and Customs Enforcement (ICE) authorities while on the job.
Tech employees—those considered the industry talent— recently joined service workers in a march in front of the data analytics company Palantir Technologies. The protest targeted Palantir's involvement in technologies that could support Trump's announced programs of mass deportation and "extreme vetting" of Muslim immigrants. Trump mega-donor Peter Thiel holds the largest share of the company, one of the world's most valuable venture-capital-backed companies.
The tech workers' message, says Fernandez, is that "'This is not how we want our talent to be used.' That's not the Silicon Valley they signed up for."
Local action is critical, says Fernandez. Labor has won on wage and work standards in cities, and Trump administration policies will thwart gains at the federal level. "Cities have to be the centers of resistance."
The University of California system exudes the same prosperous air as the tech sector—but grad students working here as teaching assistants, tutors and lab technicians at 10 campuses in the UC system can make as little as $18,000 annually.
The fight here concerns labor standards—but has other ramifications. Funding for research and research assistants is federal, says Anke Schennink, the president of United Auto Workers Local 5810, which represents 7,000 post-doctoral researchers in the UC system. "Most of our international students are on work visas, so we're doing education and strategy discussions around what exactly is going on and what we can do." The local works with the national UAW to press on protecting immigrant post-doc rights.
Schennink is an immigrant from the Netherlands where "a lot of power is in the hands of labor — strikes are a common thing, not unique." Under-paid post-doctoral students are her rank-and-file but the union's issues go beyond pay and working conditions, and the local is prepared to defend against attacks on immigrant rights and potential federal cuts that could decimate funding for climate science, clean energy and some medical research.
"We of course have to put together a legislative and political plan with Trump as a factor," she says.  An October contract win that created family leave and other amenities has boosted union activism and the Trump victory has actually accelerated organizing.
The Oakland-based Local 3299 of the American Federation of State, County and Municipal Employees union has a similar big-picture perspective. The local organizes front-line health-care staff members who answer phones and check in patients at UC's 10 campuses, five medical centers and additional clinics, research laboratories and UC Hastings College of the Law. "The cuts to health care will be devastating to our members and leave millions without health care," predicts Elizabeth Perlman, the local's executive director.
For Perlman, guaranteeing worker rights in the Trump era means doubling down on the union's information campaign in the face of anticipated right-to-work initiatives that are legislated from Congress or adjudicated by a Trump Supreme Court. This defensive war will require keeping in close touch with her local's members, so "the union knows what's important to them, what connects them to the union, who they are, where they work. It's focus groups, it's polling, it's every piece of data we can collect." The union, she says, must make hard assessments about how it connects with workers. If Supreme Court decisions give employees a choice as to whether to opt into the union, locals must work to find out what makes members value their union and be willing to participate and pay dues.
UC Berkeley's Jacobs is encouraged by California's innovation and energy, but remains cautious about predicting the national impact.
"We have incredible people [and] unions—if anybody can craft a solution it's us. We should be clear-eyed that people need to fight the changes on a national level— we're going to also have to figure out what to do as a state."

Do Incarcerated Firefighters Deserve a Path to Employment?
Since 1983 six inmate firefighters have died while working on fire containment. Today they are paid $2 per day — and an extra $1 when fighting active fires.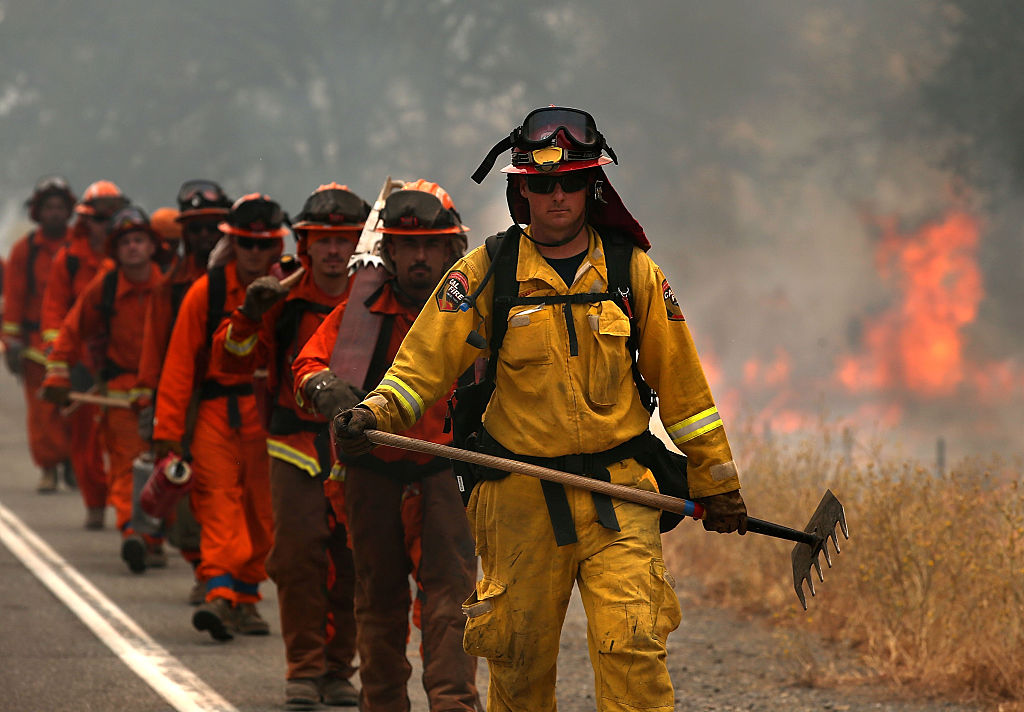 ---
California estimates that the Conservation Camp inmate-training program saves state taxpayers up to $100 million per year through firefighting and responses to other emergencies.
---
As California's wildfire season grows ever longer and more intense, the state has relied heavily on thousands of prisoners, including women, to battle blazes alongside approximately 6,000 professional full-time and seasonal firefighters. Prisoner advocates, however, point out that these inmates' criminal records prevent them from working as firefighters almost anywhere in California after their release.
Critics of the inmate program also say prisoners risking their lives to battle dozens of fires every year should get more out of the program than their current $2 per day and the additional $1 they receive whenever fighting active fires. The state's Cal Fire firefighters earn between $3,273 and $4,137 per month, plus benefits, not counting overtime, according to a Cal Fire spokesperson. California has been using inmate firefighters since World War II, when the workforce for Cal Fire was depleted.
---
Approximately 3,700 inmates work at fire camps and about 2,600 of those are qualified to work on the front lines of active fires.
---
When Laura Weigand applied to California's Conservation Camp, the program that trains inmates to fight wildfires, she knew it would be an uphill battle, literally. She was 43 when she joined the camp in 2009, twice the age of most of the women in pre-camp endurance trainings. One endurance test – hiking two miles straight uphill in 45 minutes – felled plenty of younger women, but Weigand was the first to the top of the hill, which meant she had her choice of camps to complete her trainings. She picked Malibu.
Two weeks after she completed training, she was working alongside Cal Fire firefighters to put out the Crown Fire, earning a fraction of what professional firefighters made for the same amount of risk. But she said she didn't feel exploited because she went into the program to get away from the prison grounds.
"The days flew by, because there were different experiences. Even though it was not good pay it was better than you get in prison," she said. But a foot injury threatened her limited freedom.
"I was hiking on a broken metatarsal bone for two years and was afraid to tell them about it because I didn't want to get kicked out of the program."
Weigand eventually became a "swamper" or trainer of other incarcerated firefighters. She estimated that she trained about 300 women before she left prison in 2012.
The California Department of Corrections and Rehabilitation (CDCR), cooperating with the California Department of Forestry and Fire Protection (Cal Fire) and the Los Angeles County Fire Department, operate 44 conservation camps across the state, including three female camps. Camp populations range from 80 to 160 inmates working and learning in minimum-security facilities, supervised by correctional staff. When they're working on an active fire, Cal Fire staff supervise them.
CDCR says approximately 30 percent of applicants who volunteer for the program successfully complete the curriculum. Not all inmates are eligible. Those who have committed more serious crimes, such as arson, rape or other sex offenses are disqualified.
Overall, there are approximately 3,700 inmates working at fire camps and approximately 2,600 of those are qualified to work on the front lines of active fires, according to CDCR. As of August 31 there were just over 1,100 inmate firefighters across 123 crews deployed to the Carr, Mendocino Complex, Hirz, Cooks, Cherae, Stone, Cache and Holy Fires.
After being released in 2011, Weigand didn't apply to be a professional firefighter because she was above most fire departments' threshold age. But Weigand, who now works at Social Model Recovery Systems, a substance abuse and mental health nonprofit, says even if she were younger, she probably couldn't have gotten such a job, because most local and county firefighting jobs require an emergency medical technician (EMT) license, and most former inmates, even those convicted of lower level felonies, can't obtain that.
In an email, a Cal Fire spokesperson said the department doesn't require an EMT license for employment, but admitted that many fire departments throughout the state have at least the expectation of an EMT license for employment.
Such a barrier doesn't make sense to Romarilyn Ralston, who was imprisoned 23 years and served as a fire camp swamper and clerk for Cal Fire while incarcerated. Now, as a member of the Los Angeles chapter of the California Coalition for Women Prisoners, and program coordinator for Project Rebound at California State University, Fullerton, she's advocating for raising state employment opportunities for former inmates who made it through the Conservation Camp program.
Ralston told Capital & Main that, even though the program offers valuable training, the lack of EMT training at the camps, as well as the seeming prohibition against hiring former felons for many firefighting jobs statewide, amounts to "an exploitation of prison labor."
"They should be paid at least the minimum wage, which is $15 in L.A. County," Ralston added. "They're putting their lives on the line and saving California hundreds of millions a year."
The CDCR has estimated that the Conservation Camp program saves California taxpayers between $90 million and $100 million per year through firefighting and responses to other emergencies. Those who make it through the program, when not fighting active fires, may also be asked to clear firebreaks, maintain parks and clear fallen trees and debris. Since 1983 six inmate firefighters have died while working on fire containment, according to CDCR.
Recently California has taken steps to ease restrictions on former felons, though none of the measures would mandate local emergency medical services authorities to allow them to earn EMT licenses.
As part of the 2018 budget bill, Governor Jerry Brown expanded employment opportunities for former inmate firefighters through the Ventura Conservation Camp (VCC), in Ventura County. The program is for parolees only, and the first group of 20 is set to begin training this fall.
An omnibus safety bill, AB 1812, approved by Governor Brown in June, would allow graduates of approved fire camp training to apply for lower-level emergency medical responder (EMR) licenses, though not for EMT licenses.
California's legislature is taking other small steps toward lowering the employment bar for incarcerated firefighters and other ex-cons seeking professional employment.
Assembly Bill 2293, in its original version would have, with certain conditions, prevented the authority licensing paramedics and EMTs from denying certification to anyone with a criminal record. But faced with strong opposition from the Emergency Medical Services Administrators Association of California, and the National Association of Emergency Medical Technicians, who said hiring those with criminal histories could pose a public safety risk, AB 2293 was amended down to a data reporting bill, according to California Assemblywoman Eloise Gómez Reyes (D-San Bernardino), who assisted in crafting both versions of the bill.
"We decided to address a glaring deficiency, which is the lack of data [on who is being denied jobs]," Gómez Reyes said of AB 2293, which now heads to an uncertain future on the governor's desk.
Today, Gómez Reyes added, the state only has anecdotal data on many former prisoners being denied EMT certification or jobs based on their criminal past, but no hard numbers yet. "We're trying to see in what circumstances are people being given these licenses, and what we suspect are the majority of circumstances of people being denied because of past offenses. Whatever decision we make in the future is going to be based on accurate data."
Another bill, AB 2138, authored by Assemblymen Evan Low (D-San Jose) and David Chiu (D-San Francisco), would ease licensing restrictions for former inmates in a variety of occupations, but not firefighters. That's still an important step, according to David Fathi, director of the American Civil Liberties Union National Prison Project, because its passage could remove some "arbitrary" barriers to employment.
"In many states there are over 100 occupations that former prisoners can't pursue," Fathi said. "One of the best predictors of successful reentry is securing and keeping stable employment. And yet as a society we go out of our way to make it difficult for prisoners to get a job when they get out. This is especially absurd when the prisoner has learned the skill in prison."
Fathi points to a neighboring state, Arizona, which last year eased restrictions on ex-cons from becoming professional firefighters, as well as to a study from Arizona State University, which showed that states with larger employment barriers for felons have higher recidivism rates.
"Employment disqualification for former prisoners should be the rare exception," Fathi said, "and it should be based on an individualized assessment of the risk posed by the particular person — not simply upon a criminal conviction."
---
Copyright Capital & Main