State of Resistance: California in the Age of Trump
For the past two decades, California has been at the cutting edge of social and economic change in America. Now, with Donald Trump about to enter the Oval Office, the Golden State is poised to take on a new role: leader of the anti-Trump resistance.
For the past two decades, California has been on the cutting edge of social and economic change in America. Now, with Donald Trump about to enter the Oval Office, the Golden State is poised to take on a new role: leader of the anti-Trump resistance.
California's frontline position in opposing Trump is not merely a reflection of its deep-blue politics. On many of the flashpoint issues expected to define Trump's presidency, California has a tremendous amount at stake. As the new administration tries to reverse the significant gains made on immigrant rights, climate change, criminal justice and workers' rights, to name a few subjects, many of the fiercest battles in the country will be fought up and down the state.
Can California lead the resistance to Trump's right-wing agenda and continue to be in the vanguard of advancing progressive change? Yes – and in fact, the two are inextricably linked, both tactically and symbolically. In the months and years to come, California must become like the best sports teams, capable of playing defense and offense at the highest level.
---

Why California Must Lead
No state rivals California either in the dimensions of its population or economy. At just under 40 million people, California has more residents than the nation's 20 least densely populated states put together. Its economy is the sixth-largest in the world, trailing only the U.S., China, Japan, Germany and the United Kingdom.
California is also home to several of the nation's most powerful and influential industries, including high tech and entertainment. Both Silicon Valley and Hollywood wield enormous economic clout, and are key shapers of consumer habits and cultural norms.
Why is this significant? Because California has the ability to exert enormous pressure on everything from markets and mores to politics and policy, a position it has ably demonstrated in its leadership role in addressing climate change, despite federal inaction.
Size and economic strength by themselves are not enough. But over the past 20 years, California has acquired another key comparative advantage: It has developed some of the most innovative social movements in the country – and exported them to cities across the U.S. These movements have secured rights for immigrants, boosted worker pay, protected LGBTQ Californians and pushed the state forward on addressing climate change. They will be called upon to use their organizing prowess to hold the line against Trump even as they continue to push the envelope of social and economic justice in California and beyond.
California advocates have succeeded in large part by mobilizing an incredibly diverse set of stakeholders. This will pay big dividends now, as very disparate groups of people – immigrants, Muslims, African-Americans, the poor, women, communities already suffering the effects of climate change – see their interests threatened by the Trump administration. The experience of working together across racial, ethnic, geographic and class lines will lend itself to the creation of even broader alliances – so broad that California could be a key base for the biggest and most diverse progressive coalition the nation has ever seen.
Flashpoint Issues
While California's anti-Trump coalition will need to develop the capacity to fight many battles at once, one initial front will surely be immigration. If Trump makes good on his campaign promises, hundreds of thousands of undocumented immigrants will be faced with deportation, many of them DREAMers protected by the Deferred Action for Childhood Arrivals (DACA).
The economic, social and human costs of disrupting the lives of so many Californian families are staggering. Recognizing this, state and local leaders have vowed to resist efforts targeting immigrants, setting the stage for high-stakes confrontations with the new administration.
No less dramatic will be the battles over climate change. Governor Jerry Brown has vowed to oppose any efforts to roll back the state's pioneering environmental policies (including a promise to have California launch its own satellites to gather information on global warming!), and he will be joined by a broad-based group of business leaders and activists.
Another flashpoint will be workers' rights. Fast-food CEO Andrew Puzder is likely to be the new labor secretary: He is on the record as opposing increases in the minimum wage and expansion of overtime pay and is clearly no ally of those who seek to rein in the abuse of independent contractors and gig-economy workers. In California, the nation's strongest labor movement, together with community and business allies, has enacted some of the most far-reaching worker protections in the country; we will need to stand firm on what we've won and stand strong against an assault on labor rights.
More broadly, unions face an existential crisis under a President Trump. Just last year, the Supreme Court heard a key case initiated out of the Golden State, Friedrichs v. California Teachers Association, in which anti-labor advocates sued to eliminate the ability of unions to collect dues for collective bargaining. Down one justice, the Court deadlocked – but since a tie sets no national precedent, another version of the same sort of case is widely expected to come up once Trump fills the open seat. Californians will have to be among those opposing any Court nominee likely to ignore worker, minority or women's rights.
Another bone of likely contention: Trump can also be expected to push hard on a law-and-order agenda that will fly in the face of efforts to reform the criminal justice system. After recognizing its own disastrous infatuation with over-incarceration, California has embraced recent initiatives to reduce the sentences of nonviolent offenders and to ban labor market discrimination against former felons. This will be another policy battleground and will provide the opportunity to showcase a national counter-example to Trump's fear-driven attempt to strengthen law enforcement at the expense of civil rights.
The Challenges Ahead
While California is well positioned to lead the charge against Trump, the success of these efforts is not inevitable. The challenges ahead include the risks of factionalism, the rise of extremism and the need to craft a new relationship with business forces.
When Richard Nixon was elected president in 1968, left-of-center political forces fragmented badly, expediting the rise of conservatism, which in turn has dominated national politics ever since. California's progressive movement does not appear to be headed in this direction, but Trump has proven himself a master at dividing and conquering, and he will no doubt pursue the same strategy as president. He will also attack on many fronts, creating a strain on resources and the possibility of destructive in-fighting.
And although California may currently vote progressive, it is also no stranger to extremism. The descendants of the John Birch Society are alive and well, the Tea Party has its Golden State adherents and it's worth recalling that Rush Limbaugh got his talk-radio start in Sacramento. With Trump in the White House, the right in general and the politics of hate in particular may well get a boost. The inland and rural regions of California have been the traditional breeding grounds for white nationalism, but the alt right is also operating in the state's urban population centers.
Finally, some business leaders, lured by tax cuts, deregulation and union-busting, will be supportive of the Trump agenda even if they are repulsed by the anti-immigrant and anti-trade rhetoric. Other business leaders have a more balanced perspective, recognizing that a strong and sustainable economy requires that wages rise, racial inclusion occurs and the planet is protected. Progressives will have to figure out where alliances are possible and effective. This is particularly important in California, where some "business Democrats" often side with corporate lobbies on critical environmental and labor legislation. While several such elected officials found themselves unelected in 2016, others may be emboldened by Trump and his brand of scorched-earth capitalism. This could pose a serious risk to progressive priorities, even with the Democratic super-majority in the state legislature.
Looking Forward
As Trump and his allies wage war on all fronts, a weariness may set in – and along with it a tendency to take refuge in California's different political reality. That would be a very costly mistake. Not only must California help the country fight back, it must not take its own prolific advances for granted.
After all, it was only two decades ago that we were convulsed by our own anti-immigrant hysteria in the form of Proposition 187, a law that sought to strip all services, including education, from undocumented immigrants. It passed with an overwhelming majority, and the state soon followed with an electoral attack on affirmative action and aggressive efforts to criminalize black and Latino youth. And even as the nation voted for Obama in 2008, California voted for Proposition 8, stripping the rights of same-sex couples to marry.
We've come out of our political morass, not just because time has passed and demographics have shifted, but also because of a new hard-fought and hard-forged politics and social compact. With the nation now experiencing its own "Prop 187 moment," we have a responsibility to help others avoid our own mistakes and accelerate the country's path to a more inclusive future.
We will also need to lead by example. For all of California's political progress, we still have one of the highest levels of inequality in the country, some of the most polluted communities, huge shortages of affordable housing, a massive homeless population, ongoing police brutality and one of the nation's highest number of people caught up in the criminal justice system.
Even in the Trump era, California can tackle these problems – but it will require old relationships and new allies, solid institutions and innovative strategies, long-standing-values and a fresh and compelling vision of our future. All this will require a clarity of purpose, a level of passion and strength of resolve that few of us have been called on to summon.
So get ready. The battle begins now.
State of Resistance: Artists Push Back
What space is left for art, now that its traditional license of intellect, invention and poetic imagination have been so effectively seized by Donald Trump's own brand of performance art?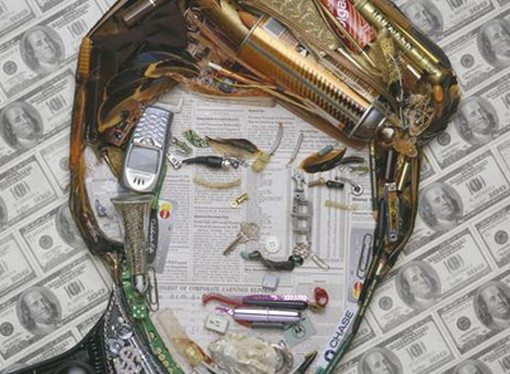 "Donald Trump," by Jason Mecier
One particularly unsettling portent from the presidential election may have been the role that artists didn't play. Though political caricaturists and satirists had a field day, no Shepard Fairey stepped forward from the art world to crystalize the ideals and aspirations of a candidate, or to electrify and inspire voters in the way that the Los Angeles street artist's iconic "Hope" portrait did for Barack Obama in 2008.
Then again, what space was left for art when its traditional license of intellect, invention and poetic imagination was so effectively seized by Donald Trump's own brand of performance art?
As president, Trump has wasted little time in formalizing his stranglehold on artistic, journalistic and intellectual expression that doesn't bend to a reality constructed of "alternative facts" and Orwellian doublespeak.
Meanwhile, a report by The Hill noted that the new administration will follow a scorched-earth budget blueprint, published last year by The Heritage Foundation, that calls for the privatization of the Corporation for Public Broadcasting and the outright elimination of both the National Endowment for the Arts and the National Endowment for the Humanities.
The good news is that California artists along a wide horizon of  styles  have been rallying and organizing.
In December, a group of Bay Area-based artists, writers and cultural producers launched 100 Days Action, an online forum and calendar of daily activist and art-driven activities proposing a "counternarrative" to the one hundred day plan that Trump outlined during his campaign.
In Los Angeles, Hollywood's World of Wonder Storefront Gallery counter-programmed the Trump inauguration with a show of transgressive protest art called "Surviving Trump: The Art of Resistance," featuring new works from a roster that includes Ginger (from the activist collective INDECLINE), Kenny Scharf, Raja, Pandora Boxx, Trevor Wayne, Jason Mecier, Sham Ibrahim and media critics the Kaplan Twins.
Shepard Fairey offered free downloads on his Obey Giant website of his "We the People" portraits celebrating America's multicultural and racial diversity. The new images turned up on placards carried by thousands at the Women's March on Washington and offered a human face to those affected by Trump's anti-immigrant agenda of mass deportations, a border wall and an indefinite ban on Syrian refugees.
Art's greatest power is its ability to articulate that which is literally unspeakable. And countering the brutalism of the new Performance Artist-in-Chief may demand an artistic resistance that goes beyond galleries or the conventional rhetoric of the demonstration march — or, as Yoko Ono famously phrased it, art that is a verb rather than a noun.
For a sense of what that verb may look like, Capital & Main spoke to two California artists working in the medium of what has been called "social practice" art, a participatory, multidisciplinary medium that uses social engagement and collaboration in works that transcend traditional categories of art and political activism.
San Francisco artist and media designer Amy Franceschini's roots in farming, environmental and food sovereignty issues have been central to Futurefarmers, the renowned S.F.-based art collective she founded in 1995. Raised in California by divorced farmer parents — her father was a large industrial grower and owner of a pesticide company in the San Joaquin Valley, her mother an organic farmer and activist near San Luis Obispo — Franceschini is no stranger to ideological divides or food politics.
"Seed Journey" (Photo: Marthe Van Dessel)
That formative insight not only shaped Futurefarmers's political focus, but it informs a collective practice in which members bring their distinct skill sets to bear in socially engaged work that has ranged from Victory Garden, which transformed the front of San Francisco's City Hall into an urban farming demonstration garden, to Soil Kitchen, a wind-driven neighborhood soup kitchen that offered free soil testing to low-income Philadelphia residents. Currently the collective is mounting Seed Journey, an international sailing expedition organized around the preservation of natural seed stocks, information about the dangers of GMOs and as a resistance to the privatization of the public commons.
Seed Journey may be the group's most explicit rejoinder to the unbridled privatization behind the Trump agenda. The focus of the sailing expedition, which completed its first leg from Oslo to Antwerp in the fall and will begin its second leg from Antwerp to Istanbul in April, is the disappearing of the commons due to the privatization and corporate ownership of knowledge and the importance of preserving the public domain.
Franceschini, who doesn't like the label social practitioner, describes Futurefarmers' work in terms that sounds like a cross between conceptual art and political organizing. When the group accepts an invitation to create a work in a new city, she explained, they first investigate the local ecology of political and artistic relationships — who's working in local grassroots movements, where the anarchist book store is and attending local art openings.
Futurefarmers constructed a rusticated windmill on top of an abandoned diner in North Philadelphia that generated enough electricity to power lights on the ground floor. The windmill was an homage to Cervantes' Don Quixote and the tilting at the windmill that both commented on the green energy future of Philadelphia even as the temporary installation operated with the city on a grassroots level.
"We were able to work with the Environmental Protection Agency, the mayor's office, local farmer, and create some demand, because our public artwork was commissioned by the mayor as a call to imagine a green Philly in 2015," she reflected. "The EPA actually took on our model and traveled it to different cities."
On board the sailing of Seed Journey will be seeds "rescued" from the Siege of Leningrad during World War II, going all the way back to Viking-era Finnish Rye seeds recovered by archaeologists from a site in Hamar, Norway.
"Seeds are a beautiful metaphor," Franceschini explained. "Literally and metaphorically they're shared through many hands, and so what we say is, 'How do we keep the power of our commons in the hands of many, rather than the hands of few and, in the case of seeds, in the hands of fewer and fewer huge companies?'"
At the opposite end of the social practice spectrum is Los Angeles multidisciplinary "life-artist" Jennifer Moon. Since emerging as a breakout star of Los Angeles' Hammer Museum's Made in L.A. biennial exhibition in 2014, Moon has become a wildly whimsical crossover attraction in group political art shows on both coasts, most recently sharing the bill of the 31-artist S/Election: Democracy, Citizenship and Freedom exhibition at East Hollywood's Municipal Gallery.
Jennifer Moon, "You Can Kill My Body, But You Can't Kill My Soul," 2013 (Photo: Patrick Connor)
Even though her work doesn't deal in conventional direct-action politics or Futurefarmers' brand of policy-focused social engagement, Moon sees the election of Trump as an opportunity for politically progressive artists.
"Before the election," she declared, "people were asking, 'What happens if Trump gets elected?' I told them, 'Maybe the revolution can actually happen then.' … I hope artists — including myself — do start thinking, Who I'm in partnership with? Why am I making art? Who is this benefiting?"
Moon's highly autobiographical blend of political theory, psychotherapy and elaborate fantasy explores the idea of love as a revolutionary force — a mix of lived experience and activism that she calls "The Revolution." Through performances, videos, manifestos and sculptures that playfully draw from the ideas and postures of theoretical physics, cognitive science, self-help gurus and TED talks, Moon undertakes, through her own highly idiosyncratic framework, the very serious business of challenging the underlying belief systems and political economies that perpetuate problems like economic and social inequality, climate change and the depletion of resources.
"My tagline on my website is 'Jennifer Moon, artist, adventurer, and revolutionary,'" Moon explained. "To me, popular politics, which is where Trump exists, is not a form of [authentic] politics in terms of how Hannah Arendt talks about the polis, which is a sphere of freedom."
Moon's recent work borrows heavily from quantum mechanics and cosmological theory — how 95 percent of the universe consists of unknown forces and matter that can't be seen or observed — to explore the tenuous connection between systems of belief and the real world. In 2015's Phoenix Rising: Part 3: laub, me and the Revolution (The Theory of Everything) at Los Angeles' Commonwealth and Council art gallery, Moon illustrated that fraught connection with an outlandish installation that melded fantasy with the language of self-help cant and included a room-size model of the Large Hadron Collider cobbled from Popsicle sticks, duct tape and Habitrail tubes.
The shared "five percent reality," as Moon describes it, represents a kind of conceptual prison that ultimately enabled white women and Latinos to ignore to Trump's attitudes toward women or immigrants in order to cast their vote for him.
"What we're seeing is not everything that's there," Moon explained. "I'm interested in how to access the things that we can't see as a way to point towards expanding our reality beyond the five percent reality. … If I'm really affected by Trump, my job is to go in and identify what he represents, because he's essentially a carrier of a certain belief, or bad beliefs."