Stage Satire Skewers 'Alternative Facts'
Most of Welcome to Your Alternative Reality's sketches cleverly build around the foibles of human nature, and are brought to life by a mostly versatile ensemble with comic chops and a crisp sense of timing.

A scene from Welcome to Your Alternative Reality. (Photo: Darrett Sanders)
Writer/directors Catherine Butterfield and Ron West have titled this collection of comedy sketches, presented by the Open Fist Theatre Company, Welcome to Your Alternative Reality — an apt reference to what millions of Americans experience each day as they digest news of our mangled government construct and its inept and puerile president.
It must be said that the show's press release is a bit misleading, as it implies that the satire is predominantly political in nature. In fact, the writers cheat somewhat by juxtaposing their lampoons of the Establishment with other targets for burlesque. There are familiar tropes about put-upon screenwriters or actors — the sort of material that usually finds a knowing, appreciative audience among L.A. theatergoers, but which really has little to do with the current deplorable state of affairs in our nation. Other sketches target the male chauvinist creeps among us, our vulnerability to malevolent hackers and the propensity for dominant groups to force their views on the minority – illustrated when disgruntled members of a 16th-century Indian tribe (Josh Banday and Kiley Everhardt) commiserate over the ruling Spaniards, who are interfering with their rite of human sacrifice.
Whether timely or no, most of the sketches cleverly build around the foibles of human nature, and are brought to life by a mostly versatile ensemble with comic chops and a crisp sense of timing. And the most politically relevant material is always on-point.
The scene that best defines the evening's ironic theme takes place near the top and is titled "Embrace It." A new psychiatric patient (Tisha Terrasina Banker) visits a well-recommended analyst (Bjorn Johnson), seeking help for her depression and feelings of hopelessness — only to be informed in no uncertain terms that the situation is hopeless indeed, and that learning to laugh ironically is her best bet for emotional survival.
In the wry but unsettling "Line of Succession" (Yes, it could happen here!), an average citizen (Dylan Maddalena) is accosted in his home by two FBI agents (Banday and Lane Allison) who interrogate him as a possible subversive, while simultaneously confirming his position in line for the U.S. Presidency.
A droll reflection on the breast-beating — and finger-pointing — that took place in progressive circles following Donald Trump's election, "Support Group" presents an assemblage of citizens (Beth Robbins, Paul Mischeshin, Everhardt, Banker and Allison), each of whom has committed a faux pas at the ballot box that contributed to his victory. (Some are forgiven, others are not.)
And in "Nylah and Mr. Green," it's hard not to cheer when an elderly African-American granddad (Banday) tongue-lashes his ambitious TV journalist granddaughter (Emily Tunon) for mouthing lies on a TV broadcast for an outlet resembling Fox News.
All told, it's an entertaining evening, with the promise of diversion from the twisted lunacy of today's headlines amply fulfilled, although more sketches with pointed political commentary would have been welcome.
---
Atwater Village Theatre, 3269 Casitas Ave.; Fri.-Sat., 8 p.m.; Sun., 7 p. m.; (no performances July 28-29); through August 12. (323) 882-6912, openfist.org.

'Skeleton Crew' Is a Play With a Moral Spine
Set in a Detroit automobile outfitting plant, Dominique Morisseau's drama grabs you from the start with its focus on blue-collar men and women, and their struggle for dignity and self-respect.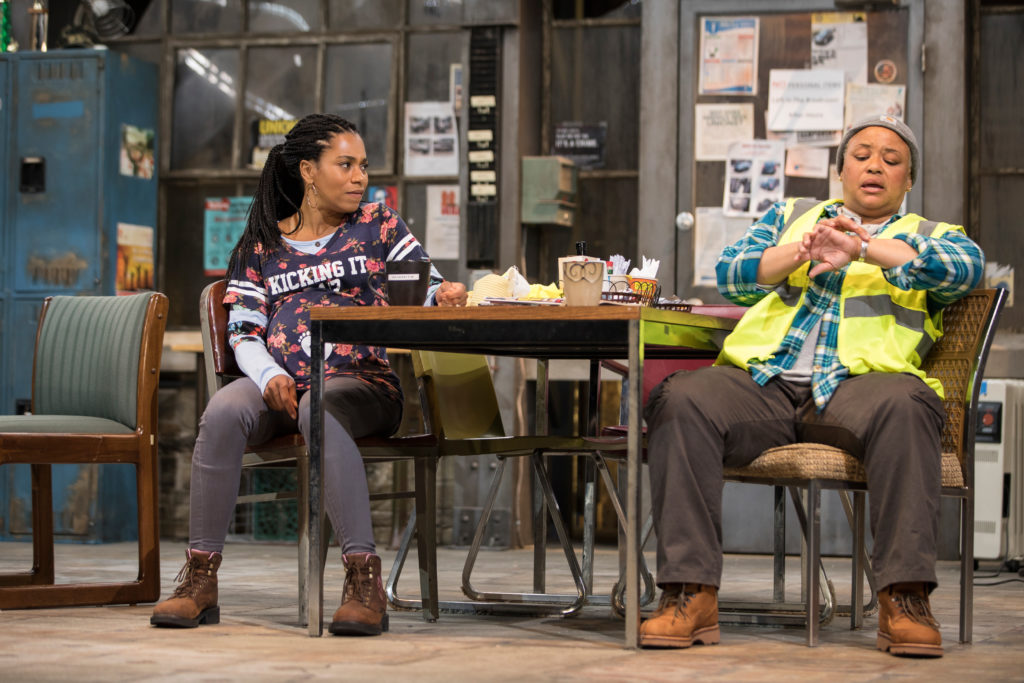 Working-class men and women of color are rarely front and center in today's media and, likewise, are presented all too occasionally on the American stage. So it's buoying to see that trend bucked in playwright Dominique Morisseau's percipient and well-crafted drama, Skeleton Crew. The play is the final installment in her Detroit  Project Trilogy; the first, Paradise Blue, is set in the 1940s amidst displacement caused by urban renewal and gentrification, while the second, Detroit '67, transpires on the eve of the 1967 Detroit riots sparked by a police action.
Directed by Patricia McGregor at Los Angeles' Geffen Playhouse, Skeleton Crew is a play with a moral spine. It takes place in 2008, when the shrinking U.S. auto industry is being further downsized. Morisseau's engaging quartet of characters — Faye (Caroline Stefanie Clay), Dez (Armari Cheatom), Shanita (Kelly McCreary) and Reggie (DB Woodside) – are employed at an automobile outfitting plant. Faye, Dez and Shanita are workers on the line while Reggie (who has a wife and kids, and has pulled himself together after a troubled youth) is their supervisor.
The first three customarily mingle in their break room (designer Rachel Myers' impressively cluttered, dingy and detailed set), trading the sort of familiar barbs and genuine concern for each other common among longtime co-workers. They also face off on philosophy: Upper-middle-aged Faye and the younger, pregnant Shanita take pride in their labor, while Dez, though a good worker, is a malcontent scornful of management and firm in the belief that everyone needs to watch out for himself. He's a thorn in Reggie's side, for while Reggie wants to be supportive of his workers, he must act at the behest of higher management. For his part, Dez resents Reggie's authority, and a palpable unease exists between them.
Besides this male matchup, we're made privy to Dez's attraction to Shanita, who mostly turns away his advances, but every now and then displays a hint of interest. Most poignant is Reggie's regard and affection for the lesbian Faye, which has roots in his boyhood when she loved, and lived, with his now-deceased mom.
These people's various predicaments intensify when rumors spread of the plant's shutdown — a disaster for all, but a particular calamity for the already near-broke Faye who, one year short of retirement, would lose her pension. The crisis forces each of these people to make a choice.
A sound piece of social realism, Skeleton Crew grabs you from the start in its focus on blue-collar men and women, and their struggle against odds for dignity and self-respect. Morisseau not only furnishes these characters a platform for their travails, she endows them with strong values, big hearts and the opportunity to choose between right and wrong.
Unfortunately, the performance I attended did not soar. Many exchanges lacked a fresh edge. The actors certainly had their characters down, but too often they appeared to be coasting on technique. (This seemed particularly true of Clay, who performed the role to great accolades in Washington, DC in 2017, also under McGregor's direction). Additionally, some of the stage movement was not entirely fluid; in confrontations, actors sometimes would just stand and face each other in an artificial way. And Cheatom's interpretation of Dez struck me as a bit overly churlish and depressive: I needed more glimpses of the intelligence and edge that would secretly attract the strong, self-directed Shanita.
The most compelling moments belong to Woodside, well-cast as a man trying his best in difficult circumstances to do the right thing.
---
Gil Cates Theater at the Geffen Playhouse, 10886 Le Conte Ave., Westwood Village; Tues.-Fri., 8 p.m.; Sat., 3 & 8 p.m. Sun., 2 & 7 p.m.; through July 8. (310) 208-5454 or www.geffenplayhouse.org