Stage Review: Workers Drown in Blood, Sweat and Beers
Sweat 's unflinching mission is to lay out the slow strangulation of the American Dream.

Most of the action in Lynn Nottage's 2015 social drama takes place in a Reading, Pennsylvania bar that serves as the home away from home for local factory hands. Sweat opens, portentously enough, during the 2008 financial meltdown — Wall Street's equivalent of the hollowing out of blue collar jobs that occurred eight years earlier, thanks to NAFTA and its progeny. Red and yellow stock market quotations scroll across the bar's industrial-gothic walls as news of the crisis ricochets around the Mark Taper Forum. (Projections by Yee Eun Nam; scenic design by Christopher Barreca; sound by Paul James Prendergast.)
Two young men, Jason and Chris (Will Hochman and Grantham Coleman, respectively) meet with a parole officer (Kevin T. Carroll) after their release from prison. The revenants are little more than shadows from a more prosperous past that holds the secret to the crime that sent them behind bars. And yet our interest really doesn't rest with their felony, which we're only reminded of whenever designer Anne Militello's lights go down cold and low, and other characters begin frowning at the two. The play's true dynamic is the fraying, metaphoric friendship between mill workers Tracey (Mary Mara) and Cynthia (Portia). The middle-age women, mothers to Jason and Chris, and die-hard union members, have both applied for a single management position in their factory. When Portia, who is black, receives the promotion, white Tracey and others in the bar turn against her.
Toggling between boozy 2000 and penitent 2008, the story's issues play out like a series of grievances: The betrayal that African-American characters feel toward both the company and a union that has kept them at arm's length; the hurt that the dope-addled Brucie (John Earl Jelks) has inflicted on his wife, Cynthia; the resentment that bartender Stan (Michael O'Keefe) harbors against a company that threw him out after nearly 30 years because of a shop-floor accident. These wounds all become exacerbated — and the bar, a toxic debate forum — when the company radically downsizes and makes crippling demands of the union.
Sweat's strength lies in its unflinching mission to lay out the slow strangulation of the American Dream, as that dream was imagined by different parts of the country's post-war working class — from self-entitled whites to stifled minorities to aspiring Latino immigrants. Under Lisa Peterson's broad direction at the Taper, the play's latent weaknesses become vividly apparent — the reduction of the ensemble's personalities to colorful "types," the lack of onstage villains and the fact that the pivotal Cynthia never seems in any kind of emotional conflict with her erstwhile factory buddies. (They're pissed off at her, but she never really bites back at them, despite her announced desire to better herself.) The actors get loud enough but, with the exception of Portia, lack ensemble chemistry; a few actors even seemed to have difficulty pronouncing the word "ain't."
Mark Taper Forum, 135 N. Grand Ave., Los Angeles. Wed.-Fri., 8 p.m.; Sat., 2:30 & 8 p.m.; Sun., 1 & 6:30 p.m.; thru Oct. 7. (213) 628-2772.
---
Copyright Capital & Main
'Skeleton Crew' Is a Play With a Moral Spine
Set in a Detroit automobile outfitting plant, Dominique Morisseau's drama grabs you from the start with its focus on blue-collar men and women, and their struggle for dignity and self-respect.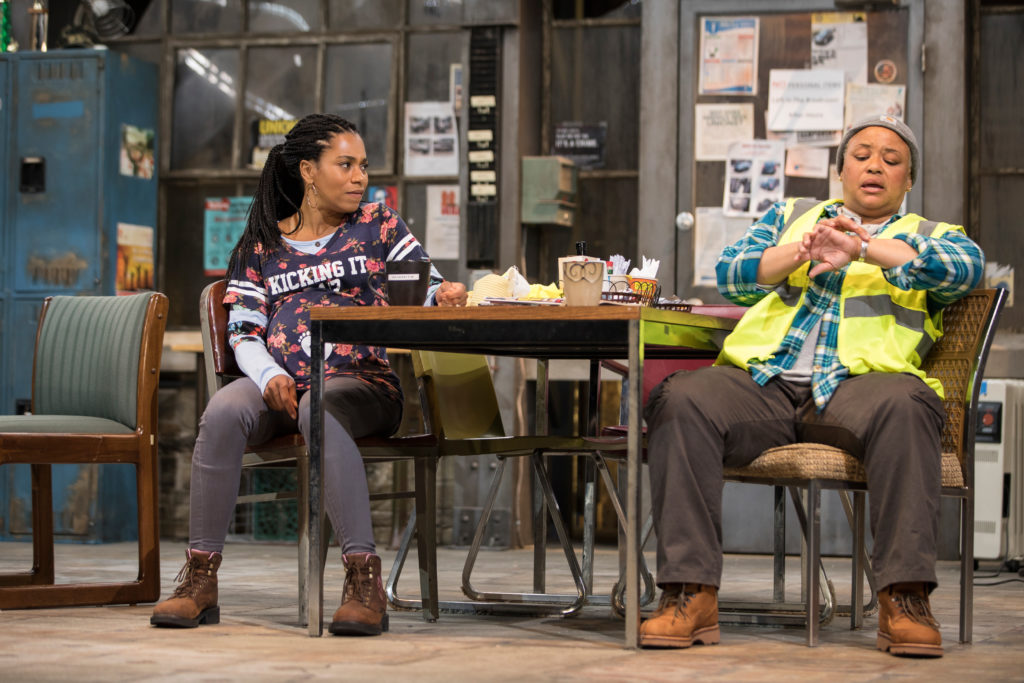 Working-class men and women of color are rarely front and center in today's media and, likewise, are presented all too occasionally on the American stage. So it's buoying to see that trend bucked in playwright Dominique Morisseau's percipient and well-crafted drama, Skeleton Crew. The play is the final installment in her Detroit  Project Trilogy; the first, Paradise Blue, is set in the 1940s amidst displacement caused by urban renewal and gentrification, while the second, Detroit '67, transpires on the eve of the 1967 Detroit riots sparked by a police action.
Directed by Patricia McGregor at Los Angeles' Geffen Playhouse, Skeleton Crew is a play with a moral spine. It takes place in 2008, when the shrinking U.S. auto industry is being further downsized. Morisseau's engaging quartet of characters — Faye (Caroline Stefanie Clay), Dez (Armari Cheatom), Shanita (Kelly McCreary) and Reggie (DB Woodside) – are employed at an automobile outfitting plant. Faye, Dez and Shanita are workers on the line while Reggie (who has a wife and kids, and has pulled himself together after a troubled youth) is their supervisor.
The first three customarily mingle in their break room (designer Rachel Myers' impressively cluttered, dingy and detailed set), trading the sort of familiar barbs and genuine concern for each other common among longtime co-workers. They also face off on philosophy: Upper-middle-aged Faye and the younger, pregnant Shanita take pride in their labor, while Dez, though a good worker, is a malcontent scornful of management and firm in the belief that everyone needs to watch out for himself. He's a thorn in Reggie's side, for while Reggie wants to be supportive of his workers, he must act at the behest of higher management. For his part, Dez resents Reggie's authority, and a palpable unease exists between them.
Besides this male matchup, we're made privy to Dez's attraction to Shanita, who mostly turns away his advances, but every now and then displays a hint of interest. Most poignant is Reggie's regard and affection for the lesbian Faye, which has roots in his boyhood when she loved, and lived, with his now-deceased mom.
These people's various predicaments intensify when rumors spread of the plant's shutdown — a disaster for all, but a particular calamity for the already near-broke Faye who, one year short of retirement, would lose her pension. The crisis forces each of these people to make a choice.
A sound piece of social realism, Skeleton Crew grabs you from the start in its focus on blue-collar men and women, and their struggle against odds for dignity and self-respect. Morisseau not only furnishes these characters a platform for their travails, she endows them with strong values, big hearts and the opportunity to choose between right and wrong.
Unfortunately, the performance I attended did not soar. Many exchanges lacked a fresh edge. The actors certainly had their characters down, but too often they appeared to be coasting on technique. (This seemed particularly true of Clay, who performed the role to great accolades in Washington, DC in 2017, also under McGregor's direction). Additionally, some of the stage movement was not entirely fluid; in confrontations, actors sometimes would just stand and face each other in an artificial way. And Cheatom's interpretation of Dez struck me as a bit overly churlish and depressive: I needed more glimpses of the intelligence and edge that would secretly attract the strong, self-directed Shanita.
The most compelling moments belong to Woodside, well-cast as a man trying his best in difficult circumstances to do the right thing.
---
Gil Cates Theater at the Geffen Playhouse, 10886 Le Conte Ave., Westwood Village; Tues.-Fri., 8 p.m.; Sat., 3 & 8 p.m. Sun., 2 & 7 p.m.; through July 8. (310) 208-5454 or www.geffenplayhouse.org