Stage Review: 'The Revisionist'
Deanna Dunagan and Seamus Mulcahy (Photo: Kevin Parry/Wallis Annenberg Center)
Jesse Eisenberg has carved a film career playing irritating nebbish-antiheroes in a host of roles. He even earned an Oscar nomination for best actor in the most memorable of these, as Facebook founder Mark Zuckerberg in The Social Network. But his artistic ambitions also encompass writing for the stage, and his second play, The Revisionist, opens with an engaging premise, albeit an unfulfilled one.
David (Seamus Mulcahy), a young American writer wrestling with a book revision, comes to Poland to visit a distant, aged cousin, Maria (Deanna Dunagan), a Holocaust survivor. Unfortunately, the two have very different notions of how David will spend his journey. Maria, a crimped pensioner who fills her lonely days watching CNN (to help with her English), envisions a chance to connect with a far-flung relative, to prepare him home-cooked meals and show him her town's limited sights.
David, an avowedly secular Jew, has something else in mind: a short trip to a dreary place where he can at last concentrate on improving his book, free of distractions. This tension grounds the drama, but Eisenberg, who based the play loosely on an event from his own life, never advances it. Instead, we watch almost the same scene unfold repeatedly. The only mystery is how a narcissistic jerk like David ever got so far, as either a writer or a houseguest, and why kindly Maria puts up with his rudeness, their blood connection notwithstanding.
One answer to that last question actually lies in the play's single inspired revelation (don't worry: no spoilers here!), which gets to the heart of Maria's need. But David's solipsism prevents further exploration of this development and the show's needlessly abrupt ending presents a serious structural flaw.
Eisenberg himself played David in the show's New York premiere – in which no less than Vanessa Redgrave portrayed Maria – and one can certainly see the similarities between David and the stunted screen characters for which Eisenberg is known. That casting limitation necessarily restricts what any actor can do with David. Mulcahy tries to lend the part his own imprint, but it's nearly impossible to get away from Eisenberg's long shadow in this ultimately repellent role. David is a spoiled child in a young adult's body, and nothing in the script makes us feel anything but dislike for him.
Dunagan's Maria, on the other hand, elicits real sympathy, both for having to endure her ugly American cousin and for the horrors visited on her by the Nazis and her fellow Poles during World War II. Theater lovers will recall Dunagan as the creator of Violet Weston in Tracy Letts' Pulitzer Prize-winning August: Osage County, for which she won a Tony. Here, Violet's indelible fierceness is convincingly replaced by Maria's touching, grandmotherly passivity. Kudos, too, for Dunagan's sustained Polish accent and repeated, if brief, lines in Polish. Ilia Volok robustly limns the play's only other character, Maria's hulking friend Zenon, alternatingly helpful and menacing.
Local director Robin Larsen moves the players about the elongated stage with enough fluidity to retain our attention even during the play's most static passages. But more credit goes to Tom Buderwitz, who designed Maria's cramped apartment with remarkable attention to detail – from the all-important framed snapshots throughout her three rooms to the dingy, large-patterned wallpaper covering them. These things and others conjure Maria's sad world far more compellingly than Eisenberg's clichés do.
Lovelace Studio Theater (Wallis Annenberg Center for the Performing Arts), Beverly Hills; through April 17. TheWallis.org; (310) 746-4000)[/box]

'Skeleton Crew' Is a Play With a Moral Spine
Set in a Detroit automobile outfitting plant, Dominique Morisseau's drama grabs you from the start with its focus on blue-collar men and women, and their struggle for dignity and self-respect.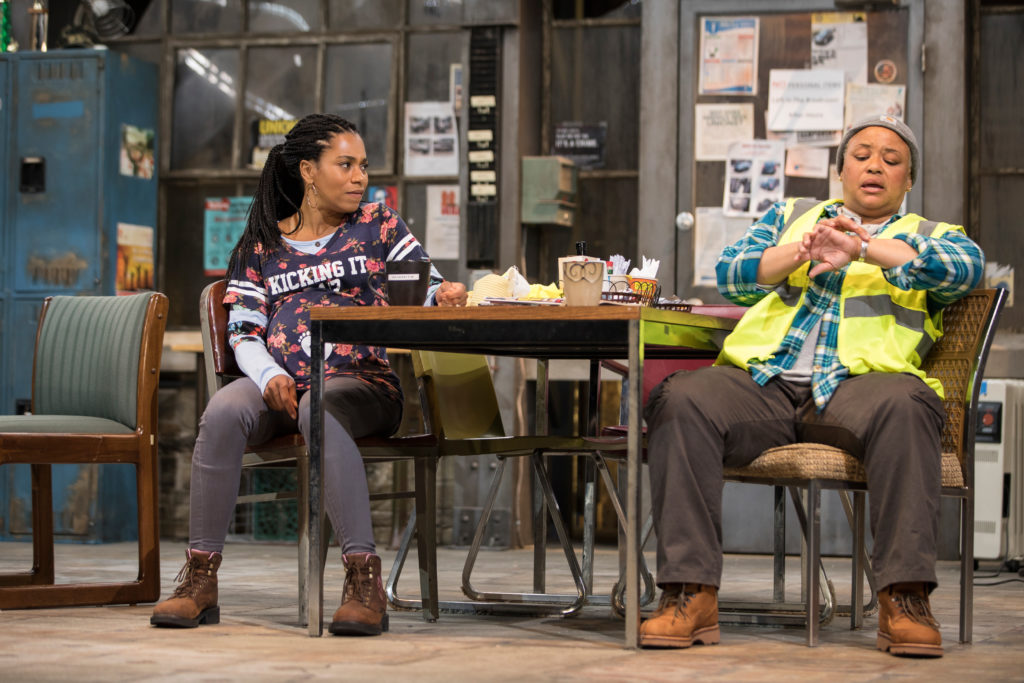 Working-class men and women of color are rarely front and center in today's media and, likewise, are presented all too occasionally on the American stage. So it's buoying to see that trend bucked in playwright Dominique Morisseau's percipient and well-crafted drama, Skeleton Crew. The play is the final installment in her Detroit  Project Trilogy; the first, Paradise Blue, is set in the 1940s amidst displacement caused by urban renewal and gentrification, while the second, Detroit '67, transpires on the eve of the 1967 Detroit riots sparked by a police action.
Directed by Patricia McGregor at Los Angeles' Geffen Playhouse, Skeleton Crew is a play with a moral spine. It takes place in 2008, when the shrinking U.S. auto industry is being further downsized. Morisseau's engaging quartet of characters — Faye (Caroline Stefanie Clay), Dez (Armari Cheatom), Shanita (Kelly McCreary) and Reggie (DB Woodside) – are employed at an automobile outfitting plant. Faye, Dez and Shanita are workers on the line while Reggie (who has a wife and kids, and has pulled himself together after a troubled youth) is their supervisor.
The first three customarily mingle in their break room (designer Rachel Myers' impressively cluttered, dingy and detailed set), trading the sort of familiar barbs and genuine concern for each other common among longtime co-workers. They also face off on philosophy: Upper-middle-aged Faye and the younger, pregnant Shanita take pride in their labor, while Dez, though a good worker, is a malcontent scornful of management and firm in the belief that everyone needs to watch out for himself. He's a thorn in Reggie's side, for while Reggie wants to be supportive of his workers, he must act at the behest of higher management. For his part, Dez resents Reggie's authority, and a palpable unease exists between them.
Besides this male matchup, we're made privy to Dez's attraction to Shanita, who mostly turns away his advances, but every now and then displays a hint of interest. Most poignant is Reggie's regard and affection for the lesbian Faye, which has roots in his boyhood when she loved, and lived, with his now-deceased mom.
These people's various predicaments intensify when rumors spread of the plant's shutdown — a disaster for all, but a particular calamity for the already near-broke Faye who, one year short of retirement, would lose her pension. The crisis forces each of these people to make a choice.
A sound piece of social realism, Skeleton Crew grabs you from the start in its focus on blue-collar men and women, and their struggle against odds for dignity and self-respect. Morisseau not only furnishes these characters a platform for their travails, she endows them with strong values, big hearts and the opportunity to choose between right and wrong.
Unfortunately, the performance I attended did not soar. Many exchanges lacked a fresh edge. The actors certainly had their characters down, but too often they appeared to be coasting on technique. (This seemed particularly true of Clay, who performed the role to great accolades in Washington, DC in 2017, also under McGregor's direction). Additionally, some of the stage movement was not entirely fluid; in confrontations, actors sometimes would just stand and face each other in an artificial way. And Cheatom's interpretation of Dez struck me as a bit overly churlish and depressive: I needed more glimpses of the intelligence and edge that would secretly attract the strong, self-directed Shanita.
The most compelling moments belong to Woodside, well-cast as a man trying his best in difficult circumstances to do the right thing.
---
Gil Cates Theater at the Geffen Playhouse, 10886 Le Conte Ave., Westwood Village; Tues.-Fri., 8 p.m.; Sat., 3 & 8 p.m. Sun., 2 & 7 p.m.; through July 8. (310) 208-5454 or www.geffenplayhouse.org