Stage Review: "Runaway Home"'s Stormy Emotional Weather
Runaway Home should pack more of a punch than it does. The production has rich and satisfying sequences, most of them generated from the supporting ensemble. Whatever its shortcomings, the play is almost too timely for comfort. Storms batter our coasts while climate deniers reign.

Camille Spirlin and Maya Lynne Robinson in Runaway Home. (Photo: Ed Krieger)
---
Directed by Shirley Jo Finney, Jeremy J. Kamps' Runaway Home takes place in New Orleans in 2008 and revolves around a troubled 14-year-old runaway learning to survive on her own after a physical altercation with her mother prompts her to leave home. It's a sound piece of writing, lyrical in places and with a historical backdrop that reminds us of the painful displacement and disrespect endured by poor people and people of color in the years following Hurricane Katrina. (An indifferent federal bureaucracy initially failed to step up to the plate, leaving homeless or under-housed folks with little or no assistance in rebuilding their lives.)
Kamps's pivotal character, Kali (Camille Spirlin) is a kid with a quick mind, a diary full of poems and lots of attitude. She once won spelling bees in school, but the death of her beloved grandmother during Katrina transformed her into what her mom Eunice (Maya Lynn Robinson) calls "a little monster."  After Eunice slapped her — she read Kali's diary and found out she was pregnant — Kali slapped back. Now she's on the run, scavenging where she can. She finds partial refuge with Armando (Armando Rey), a struggling local shopkeeper who offers Kali food after he finds her pilfering from his store. Her knowledge of survival skills broadens after she meets "Lone Wolf," (Brian Tichnell) a young volunteer who guts houses to prevent the authorities from bulldozing them entirely. Lone Wolf calls himself an anarchist; he talks to Kali about dumpster diving, finding safe places to squat, and "liberating" goods from the local Walmart. This last instruction is significant because down the road Kali decides to "liberate" someone else's gun, which turns out to be an unfortunate choice.
Back home Eunice, increasingly concerned about Kali, is being pressed by her neighbor Shana (Karen Malina White) to become part of a citizens' protest group. Another neighbor, the elderly Mr. Dee (Jeris Poindexter, in a terrific performance), is sorting through his debris-filled trailer and reminiscing about the wife who left him for another after years of putting up with his dalliances.
Given its vital story and timely social context, Runaway Home should pack more of a punch than it does. The production has rich and satisfying sequences, most of them generated from the supporting ensemble: Poindexter as the lonesome, forgetful and emotionally untethered old man; White as the vigorously fired-up, mince-no-words-with-you Shana, and Robinson as the prickly Eunice, whose past pain and heartache are unabashedly laid out for all to see. Eunice has kind impulses too, as when she offers Mr. Dee a slice of cake she baked from her mom's recipe — which he politely chokes down as she watches with benevolent intent.
These are wonderfully textured portrayals, but unfortunately the skill that fashioned them seems absent from Spirlin's repertoire. Hers is a one-note performance in a pivotal role, smoothly rendered but too superficial to be involving. Plus, despite the cocky pose, she's not a convincing teenager. One's interest flags.
As to the production's tech values, lighting designer Jennifer Edwards creates an intriguing effect in which Eunice's head is reflected behind her in elegant silhouette. Her choice of hues is dramatically appealing, but at other times I felt there needed to be more light on the performers, who were sometimes too much in shadow from where I was sitting. Music by composer/sound designer Peter Bayne delivers an appropriately uneasy ambiance.
Still, whatever its shortcomings, the play is almost too timely for comfort.  Storms batter our coasts while climate deniers reign. We seem destined to repeat errors of the past, with the most vulnerable suffering once more from the folly of the powerful.
---
Fountain Theatre, 5060 Fountain Avenue, East Hollywood; Fri.-Sat., 8 p.m.; Sun., 2 p.m.; Mon., 8 p.m.; through November  5. (323) 663-1525 or www.FountainTheatre.com.

'Skeleton Crew' Is a Play With a Moral Spine
Set in a Detroit automobile outfitting plant, Dominique Morisseau's drama grabs you from the start with its focus on blue-collar men and women, and their struggle for dignity and self-respect.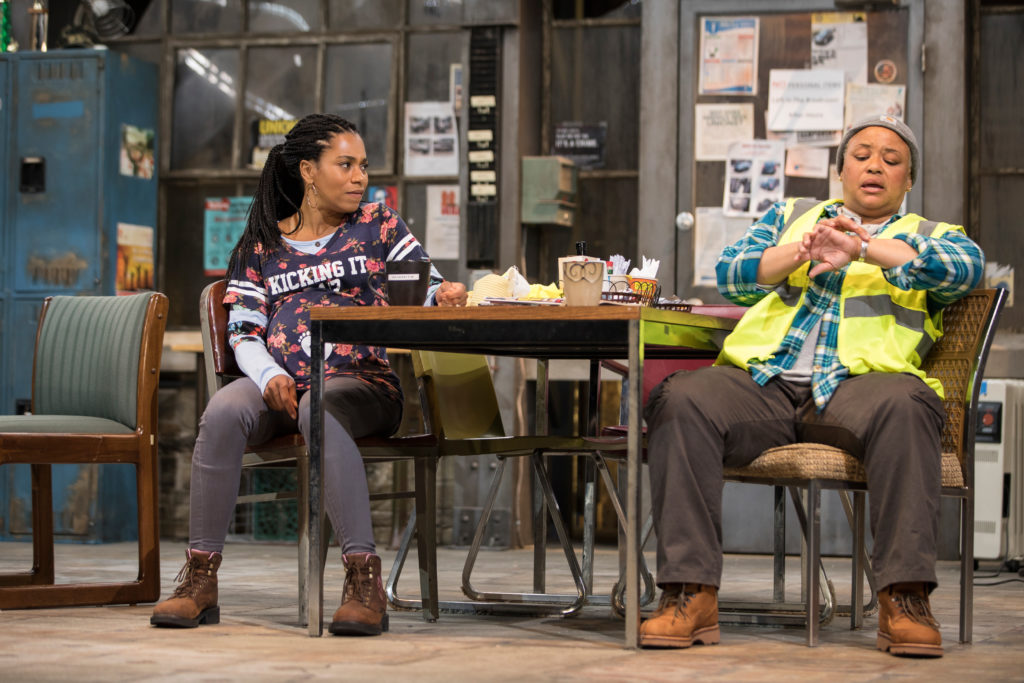 Working-class men and women of color are rarely front and center in today's media and, likewise, are presented all too occasionally on the American stage. So it's buoying to see that trend bucked in playwright Dominique Morisseau's percipient and well-crafted drama, Skeleton Crew. The play is the final installment in her Detroit  Project Trilogy; the first, Paradise Blue, is set in the 1940s amidst displacement caused by urban renewal and gentrification, while the second, Detroit '67, transpires on the eve of the 1967 Detroit riots sparked by a police action.
Directed by Patricia McGregor at Los Angeles' Geffen Playhouse, Skeleton Crew is a play with a moral spine. It takes place in 2008, when the shrinking U.S. auto industry is being further downsized. Morisseau's engaging quartet of characters — Faye (Caroline Stefanie Clay), Dez (Armari Cheatom), Shanita (Kelly McCreary) and Reggie (DB Woodside) – are employed at an automobile outfitting plant. Faye, Dez and Shanita are workers on the line while Reggie (who has a wife and kids, and has pulled himself together after a troubled youth) is their supervisor.
The first three customarily mingle in their break room (designer Rachel Myers' impressively cluttered, dingy and detailed set), trading the sort of familiar barbs and genuine concern for each other common among longtime co-workers. They also face off on philosophy: Upper-middle-aged Faye and the younger, pregnant Shanita take pride in their labor, while Dez, though a good worker, is a malcontent scornful of management and firm in the belief that everyone needs to watch out for himself. He's a thorn in Reggie's side, for while Reggie wants to be supportive of his workers, he must act at the behest of higher management. For his part, Dez resents Reggie's authority, and a palpable unease exists between them.
Besides this male matchup, we're made privy to Dez's attraction to Shanita, who mostly turns away his advances, but every now and then displays a hint of interest. Most poignant is Reggie's regard and affection for the lesbian Faye, which has roots in his boyhood when she loved, and lived, with his now-deceased mom.
These people's various predicaments intensify when rumors spread of the plant's shutdown — a disaster for all, but a particular calamity for the already near-broke Faye who, one year short of retirement, would lose her pension. The crisis forces each of these people to make a choice.
A sound piece of social realism, Skeleton Crew grabs you from the start in its focus on blue-collar men and women, and their struggle against odds for dignity and self-respect. Morisseau not only furnishes these characters a platform for their travails, she endows them with strong values, big hearts and the opportunity to choose between right and wrong.
Unfortunately, the performance I attended did not soar. Many exchanges lacked a fresh edge. The actors certainly had their characters down, but too often they appeared to be coasting on technique. (This seemed particularly true of Clay, who performed the role to great accolades in Washington, DC in 2017, also under McGregor's direction). Additionally, some of the stage movement was not entirely fluid; in confrontations, actors sometimes would just stand and face each other in an artificial way. And Cheatom's interpretation of Dez struck me as a bit overly churlish and depressive: I needed more glimpses of the intelligence and edge that would secretly attract the strong, self-directed Shanita.
The most compelling moments belong to Woodside, well-cast as a man trying his best in difficult circumstances to do the right thing.
---
Gil Cates Theater at the Geffen Playhouse, 10886 Le Conte Ave., Westwood Village; Tues.-Fri., 8 p.m.; Sat., 3 & 8 p.m. Sun., 2 & 7 p.m.; through July 8. (310) 208-5454 or www.geffenplayhouse.org