Stage Review: "Runaway Home"'s Stormy Emotional Weather
Runaway Home should pack more of a punch than it does. The production has rich and satisfying sequences, most of them generated from the supporting ensemble. Whatever its shortcomings, the play is almost too timely for comfort. Storms batter our coasts while climate deniers reign.

Camille Spirlin and Maya Lynne Robinson in Runaway Home. (Photo: Ed Krieger)
---
Directed by Shirley Jo Finney, Jeremy J. Kamps' Runaway Home takes place in New Orleans in 2008 and revolves around a troubled 14-year-old runaway learning to survive on her own after a physical altercation with her mother prompts her to leave home. It's a sound piece of writing, lyrical in places and with a historical backdrop that reminds us of the painful displacement and disrespect endured by poor people and people of color in the years following Hurricane Katrina. (An indifferent federal bureaucracy initially failed to step up to the plate, leaving homeless or under-housed folks with little or no assistance in rebuilding their lives.)
Kamps's pivotal character, Kali (Camille Spirlin) is a kid with a quick mind, a diary full of poems and lots of attitude. She once won spelling bees in school, but the death of her beloved grandmother during Katrina transformed her into what her mom Eunice (Maya Lynn Robinson) calls "a little monster."  After Eunice slapped her — she read Kali's diary and found out she was pregnant — Kali slapped back. Now she's on the run, scavenging where she can. She finds partial refuge with Armando (Armando Rey), a struggling local shopkeeper who offers Kali food after he finds her pilfering from his store. Her knowledge of survival skills broadens after she meets "Lone Wolf," (Brian Tichnell) a young volunteer who guts houses to prevent the authorities from bulldozing them entirely. Lone Wolf calls himself an anarchist; he talks to Kali about dumpster diving, finding safe places to squat, and "liberating" goods from the local Walmart. This last instruction is significant because down the road Kali decides to "liberate" someone else's gun, which turns out to be an unfortunate choice.
Back home Eunice, increasingly concerned about Kali, is being pressed by her neighbor Shana (Karen Malina White) to become part of a citizens' protest group. Another neighbor, the elderly Mr. Dee (Jeris Poindexter, in a terrific performance), is sorting through his debris-filled trailer and reminiscing about the wife who left him for another after years of putting up with his dalliances.
Given its vital story and timely social context, Runaway Home should pack more of a punch than it does. The production has rich and satisfying sequences, most of them generated from the supporting ensemble: Poindexter as the lonesome, forgetful and emotionally untethered old man; White as the vigorously fired-up, mince-no-words-with-you Shana, and Robinson as the prickly Eunice, whose past pain and heartache are unabashedly laid out for all to see. Eunice has kind impulses too, as when she offers Mr. Dee a slice of cake she baked from her mom's recipe — which he politely chokes down as she watches with benevolent intent.
These are wonderfully textured portrayals, but unfortunately the skill that fashioned them seems absent from Spirlin's repertoire. Hers is a one-note performance in a pivotal role, smoothly rendered but too superficial to be involving. Plus, despite the cocky pose, she's not a convincing teenager. One's interest flags.
As to the production's tech values, lighting designer Jennifer Edwards creates an intriguing effect in which Eunice's head is reflected behind her in elegant silhouette. Her choice of hues is dramatically appealing, but at other times I felt there needed to be more light on the performers, who were sometimes too much in shadow from where I was sitting. Music by composer/sound designer Peter Bayne delivers an appropriately uneasy ambiance.
Still, whatever its shortcomings, the play is almost too timely for comfort.  Storms batter our coasts while climate deniers reign. We seem destined to repeat errors of the past, with the most vulnerable suffering once more from the folly of the powerful.
---
Fountain Theatre, 5060 Fountain Avenue, East Hollywood; Fri.-Sat., 8 p.m.; Sun., 2 p.m.; Mon., 8 p.m.; through November  5. (323) 663-1525 or www.FountainTheatre.com.

A Spiritual Mystery Play Fails to Enlighten
Yusuf Toropov's drama, set in a contaminated, cancer-ridden community, involves a publisher and his brother — a priest struggling against the local archdiocese.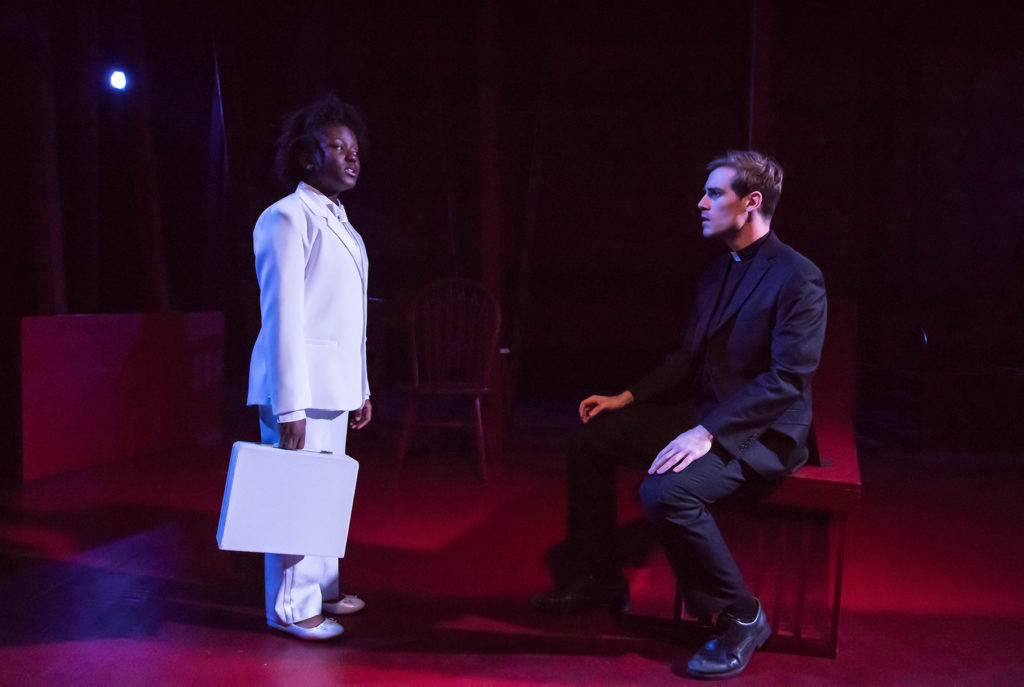 Directed by Chris Fields, Yusuf Toropov's An Undivided Heart, co-produced by the Echo Theater Company and the Circle X Theatre Co., is an aspiring work that aims to be deep but doesn't get there.
The play, running at the Atwater Village Theatre, unfolds on several levels. First, it tells the story of a young Catholic priest who must decide whether or not to publicly expose the pedophiles among his fellow clerics. Second, the work deals with our human struggle to understand why bad things happen with seeming random cruelty (a conundrum whose answers are regularly dispensed by spiritual leaders of all faiths, not very satisfactorily). On yet a third level, the play seeks to express the paradoxical wonder and mystery of life, with an assist from the supernatural.
That's a lot to cover in a little over two hours and, while the production is handsomely staged, its ambitious narrative is diminished by dangling threads, one major improbable setup near the end and too many bits of opaque dialogue.
Tim Wright, Alison Martin and Alana Dietze.
The setting is Holbrook, Massachusetts — a community whose residents have been exposed to contaminants, so cancer is rampant — in the summer of 1992. The story revolves around two brothers, both good guys: Mike (Matthew Gallenstein), a local priest who's written a revelatory book that his superiors want him not to publish, and Max (Tim Wright), an editor, who'd like to help his brother proceed.
When Max arrives at some sort of civic facility (the background particulars of this scene are unclear), he promptly tangles with an angry pregnant clerk named Lynne (Alana Dietz). A few minutes into their altercation, she goes into premature labor, and he rushes her to the hospital — the beginning of a nurturing romance.
Mike, meanwhile, is having strange dreams involving a burning typewriter and a cryptic little girl (Ann'Jewel Lee) who appears to him brandishing a dead cat. The same young person manifests in the dreams of Janice (Tracey A. Leigh, alternating with Jennifer A. Skinner), Max's Buddhism teacher, who is fond of posing riddles. Her favorite: If I am preparing to slice a cat in two, how would you prevent me from doing it?
The narrative shifts between Mike's struggle with his archdiocese, personified by its Cardinal (John Getz, alternating with William Salyers) and Lynne's problems with her dying mom Ruth (Alison Martin, alternating with Sigute Miller), a devout Catholic still in denial over her son's abuse by a priest when he was a youth.
These two storylines are interposed with the baffling dream sequences and Max's (and later Mike's) sessions with the inscrutably smiling Janice and her eschatological brain teasers. One crucial scene that leads to the dramatic climax has Mike looking to entrap an abusive priest (Jeff Alan-Lee, alternating with Jesse Bush) by attending confession with him and pretending to be a pedophile himself. The interchange, in which the priest probes for salacious details, is awkwardly plotted and escalates into over-the-top melodrama.
Cricket Myers' superlative sound design hints at the depth and scope that the playwright himself perhaps had in mind but was unable to attain. Amanda Knehans' set is an effective arrangement of wooden beams, tables and chairs that lighting designer Rose Malone smartly shades with a reddish-orange chroma, like the hues of hell. Elsewhere, she spotlights the players well.
Wright's warm and empathetic Max is highly likable, and he keeps you interested in the scenes he's involved with. Getz is appropriately unctuous as the Cardinal, and Martin draws a richly textured portrait of a not terribly educated housewife, who, buffeted by adversity, still clings to her faith. Michael Sturgis steals the limelight as a singing, simpering cleric. A couple of the other lead performances need refining.
Atwater Village Theatre, 3269 Casitas Ave., Los Angeles; Mon., 8 p.m.; Fri.- Sat., 8 p.m.; Sun., 4 p.m.; through April 22. www.EchoTheaterCompany.com
---
Copyright Capital & Main