Stage Review: Race Relations Fire Up "Dutch Masters"
Greg Keller's play is set in 1992, and opens on a subway traveling north from Manhattan to the Bronx. Steve (Josh Zuckerman), middle-class and white, is reading War of the Worlds, and intent on ignoring the obstreperous behavior of a lanky black man, distinctly non-middle-class, who seems to be eyeing him from across the aisle.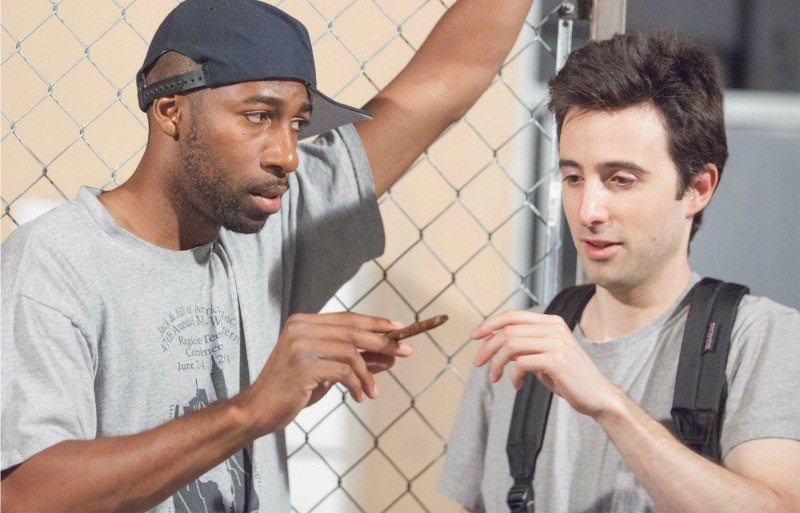 Left to right: Corey Dorris and Josh Zuckerman. (Photo: John Perrin Flynn)
Greg Keller's Dutch Masters, which is receiving an intense and well-crafted West Coast premiere at Rogue Machine Theatre under the direction of Guillermo Cienfuegos, bears superficial resemblance to Edward Albee's The Zoo Story. Both plays are set in New York City. Both portray an encounter between two individuals, one of whom is angry and aggressive and bent on interrogating the other, a passive stranger trying desperately to mind his own business. In each, there's the threat of imminent violence throughout and a suspense that springs from never knowing if and when the volatile character will erupt.
But whereas in Albee's play we never learn precisely what makes Jerry, the aggressive dude, tick, in Dutch Masters Keller makes the source of that ire clear and specific, and spends the entire second half of this 80-minute one-act illuminating where it comes from.
And, much more significantly, whereas Albee's play traditionally involves two white guys, Keller's features a white man and a black one, with the issue of race, as well as class, up front and center.
The play is set in 1992, and opens on a subway traveling north from Manhattan to the Bronx. Steve (Josh Zuckerman), middle-class and white, is reading War of the Worlds, and intent on ignoring the obstreperous behavior of a lanky black man, distinctly non-middle-class, who seems to be eyeing him from across the aisle. Steve's trepidations are realized when the man, Eric (Corey Dorris, in an impressive stage debut), approaches him and begins asking questions that might be innocuous were it not for the rather menacing in-your-face body language he's sporting. Intimidated, and afraid to be deemed racist, Steve agrees to accompany Eric to score weed instead of heading home as he had planned.
After stopping off in (from Steve's standpoint) a dicey neighborhood where they obtain the smoke, then get high, the pair end up in Eric's shabby digs, and Steve finally learns the whys and wherefores of this anxiety-provoking misadventure, which is not the random event he had assumed it to be.
The details of his discovery (which I won't spoil) are ultimately less intriguing than the discomforting gambol which continues to take place between the two men, as Steve, a suburban college kid, fights to control a palpable unease born of white guilt, while Eric struggles with a gut impulse to violently vent on his unwilling guest a rage born of perceived deprivation and loss.
Like Greg Kalleres' Honky, another play about race, which Rogue Machine staged this past spring, Dutch Masters forces us (sophisticated urban theatergoers that we are) to acknowledge feelings and fears we'd rather not. But while Kalleres' play was a satire, Dutch Masters hovers headily close to reality. The performances accentuate that realism: Dorris, adeptly mastering his character's unpredictable shifts from friendly comradery to outright menace (to, later, genuine sorrow), and Zuckerman in the less showy but equally exacting role of someone on an emotional tightrope. That the show flows so seamlessly and with nuanced pacing is to director Cienfuegos' great credit.
Scenic designer and technical director David A. Mauer engineers a remarkable set change mid-production, and the percussive sound that precedes the show (designed by Christopher Moscatiello) augurs the edgy ambiance of what's to come.
---
MET Theatre, 1089 N. Oxford Avenue, East Hollywood; Sat. & Mon., 8:30 p.m.; Sun., 3 p.m.; through Oct. 3. roguemachinetheatre.com/show-info/dutch-masters.

A Spiritual Mystery Play Fails to Enlighten
Yusuf Toropov's drama, set in a contaminated, cancer-ridden community, involves a publisher and his brother — a priest struggling against the local archdiocese.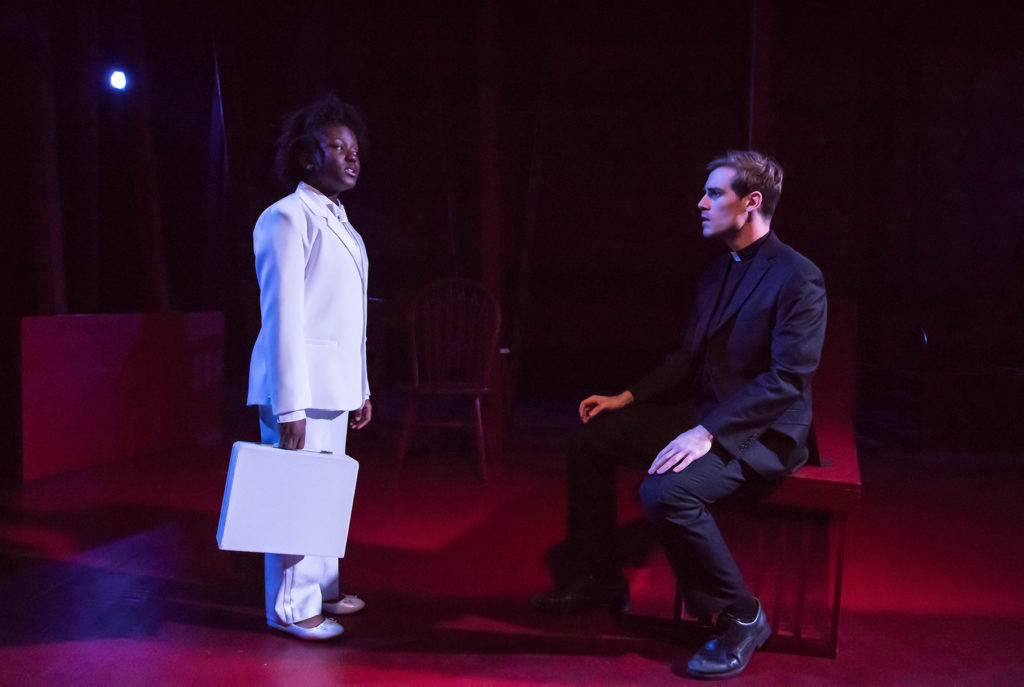 Directed by Chris Fields, Yusuf Toropov's An Undivided Heart, co-produced by the Echo Theater Company and the Circle X Theatre Co., is an aspiring work that aims to be deep but doesn't get there.
The play, running at the Atwater Village Theatre, unfolds on several levels. First, it tells the story of a young Catholic priest who must decide whether or not to publicly expose the pedophiles among his fellow clerics. Second, the work deals with our human struggle to understand why bad things happen with seeming random cruelty (a conundrum whose answers are regularly dispensed by spiritual leaders of all faiths, not very satisfactorily). On yet a third level, the play seeks to express the paradoxical wonder and mystery of life, with an assist from the supernatural.
That's a lot to cover in a little over two hours and, while the production is handsomely staged, its ambitious narrative is diminished by dangling threads, one major improbable setup near the end and too many bits of opaque dialogue.
Tim Wright, Alison Martin and Alana Dietze.
The setting is Holbrook, Massachusetts — a community whose residents have been exposed to contaminants, so cancer is rampant — in the summer of 1992. The story revolves around two brothers, both good guys: Mike (Matthew Gallenstein), a local priest who's written a revelatory book that his superiors want him not to publish, and Max (Tim Wright), an editor, who'd like to help his brother proceed.
When Max arrives at some sort of civic facility (the background particulars of this scene are unclear), he promptly tangles with an angry pregnant clerk named Lynne (Alana Dietz). A few minutes into their altercation, she goes into premature labor, and he rushes her to the hospital — the beginning of a nurturing romance.
Mike, meanwhile, is having strange dreams involving a burning typewriter and a cryptic little girl (Ann'Jewel Lee) who appears to him brandishing a dead cat. The same young person manifests in the dreams of Janice (Tracey A. Leigh, alternating with Jennifer A. Skinner), Max's Buddhism teacher, who is fond of posing riddles. Her favorite: If I am preparing to slice a cat in two, how would you prevent me from doing it?
The narrative shifts between Mike's struggle with his archdiocese, personified by its Cardinal (John Getz, alternating with William Salyers) and Lynne's problems with her dying mom Ruth (Alison Martin, alternating with Sigute Miller), a devout Catholic still in denial over her son's abuse by a priest when he was a youth.
These two storylines are interposed with the baffling dream sequences and Max's (and later Mike's) sessions with the inscrutably smiling Janice and her eschatological brain teasers. One crucial scene that leads to the dramatic climax has Mike looking to entrap an abusive priest (Jeff Alan-Lee, alternating with Jesse Bush) by attending confession with him and pretending to be a pedophile himself. The interchange, in which the priest probes for salacious details, is awkwardly plotted and escalates into over-the-top melodrama.
Cricket Myers' superlative sound design hints at the depth and scope that the playwright himself perhaps had in mind but was unable to attain. Amanda Knehans' set is an effective arrangement of wooden beams, tables and chairs that lighting designer Rose Malone smartly shades with a reddish-orange chroma, like the hues of hell. Elsewhere, she spotlights the players well.
Wright's warm and empathetic Max is highly likable, and he keeps you interested in the scenes he's involved with. Getz is appropriately unctuous as the Cardinal, and Martin draws a richly textured portrait of a not terribly educated housewife, who, buffeted by adversity, still clings to her faith. Michael Sturgis steals the limelight as a singing, simpering cleric. A couple of the other lead performances need refining.
Atwater Village Theatre, 3269 Casitas Ave., Los Angeles; Mon., 8 p.m.; Fri.- Sat., 8 p.m.; Sun., 4 p.m.; through April 22. www.EchoTheaterCompany.com
---
Copyright Capital & Main