Stage Review: Race Relations Fire Up "Dutch Masters"
Greg Keller's play is set in 1992, and opens on a subway traveling north from Manhattan to the Bronx. Steve (Josh Zuckerman), middle-class and white, is reading War of the Worlds, and intent on ignoring the obstreperous behavior of a lanky black man, distinctly non-middle-class, who seems to be eyeing him from across the aisle.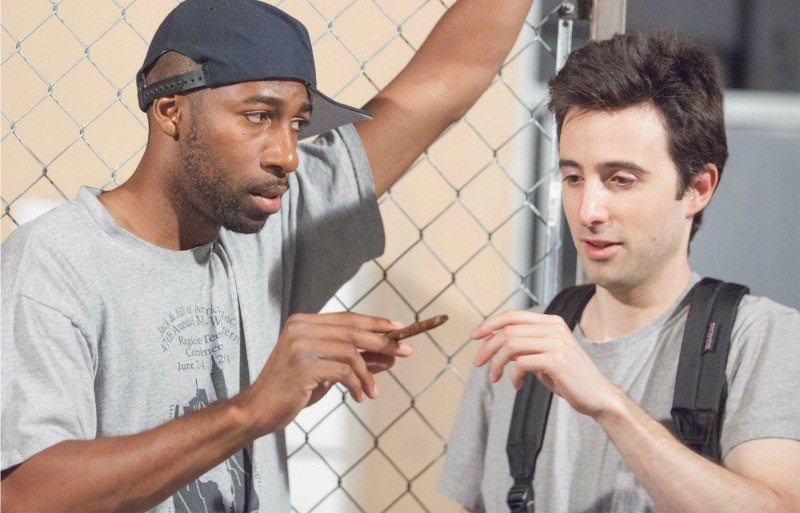 Left to right: Corey Dorris and Josh Zuckerman. (Photo: John Perrin Flynn)
Greg Keller's Dutch Masters, which is receiving an intense and well-crafted West Coast premiere at Rogue Machine Theatre under the direction of Guillermo Cienfuegos, bears superficial resemblance to Edward Albee's The Zoo Story. Both plays are set in New York City. Both portray an encounter between two individuals, one of whom is angry and aggressive and bent on interrogating the other, a passive stranger trying desperately to mind his own business. In each, there's the threat of imminent violence throughout and a suspense that springs from never knowing if and when the volatile character will erupt.
But whereas in Albee's play we never learn precisely what makes Jerry, the aggressive dude, tick, in Dutch Masters Keller makes the source of that ire clear and specific, and spends the entire second half of this 80-minute one-act illuminating where it comes from.
And, much more significantly, whereas Albee's play traditionally involves two white guys, Keller's features a white man and a black one, with the issue of race, as well as class, up front and center.
The play is set in 1992, and opens on a subway traveling north from Manhattan to the Bronx. Steve (Josh Zuckerman), middle-class and white, is reading War of the Worlds, and intent on ignoring the obstreperous behavior of a lanky black man, distinctly non-middle-class, who seems to be eyeing him from across the aisle. Steve's trepidations are realized when the man, Eric (Corey Dorris, in an impressive stage debut), approaches him and begins asking questions that might be innocuous were it not for the rather menacing in-your-face body language he's sporting. Intimidated, and afraid to be deemed racist, Steve agrees to accompany Eric to score weed instead of heading home as he had planned.
After stopping off in (from Steve's standpoint) a dicey neighborhood where they obtain the smoke, then get high, the pair end up in Eric's shabby digs, and Steve finally learns the whys and wherefores of this anxiety-provoking misadventure, which is not the random event he had assumed it to be.
The details of his discovery (which I won't spoil) are ultimately less intriguing than the discomforting gambol which continues to take place between the two men, as Steve, a suburban college kid, fights to control a palpable unease born of white guilt, while Eric struggles with a gut impulse to violently vent on his unwilling guest a rage born of perceived deprivation and loss.
Like Greg Kalleres' Honky, another play about race, which Rogue Machine staged this past spring, Dutch Masters forces us (sophisticated urban theatergoers that we are) to acknowledge feelings and fears we'd rather not. But while Kalleres' play was a satire, Dutch Masters hovers headily close to reality. The performances accentuate that realism: Dorris, adeptly mastering his character's unpredictable shifts from friendly comradery to outright menace (to, later, genuine sorrow), and Zuckerman in the less showy but equally exacting role of someone on an emotional tightrope. That the show flows so seamlessly and with nuanced pacing is to director Cienfuegos' great credit.
Scenic designer and technical director David A. Mauer engineers a remarkable set change mid-production, and the percussive sound that precedes the show (designed by Christopher Moscatiello) augurs the edgy ambiance of what's to come.
---
MET Theatre, 1089 N. Oxford Avenue, East Hollywood; Sat. & Mon., 8:30 p.m.; Sun., 3 p.m.; through Oct. 3. roguemachinetheatre.com/show-info/dutch-masters.

'Skeleton Crew' Is a Play With a Moral Spine
Set in a Detroit automobile outfitting plant, Dominique Morisseau's drama grabs you from the start with its focus on blue-collar men and women, and their struggle for dignity and self-respect.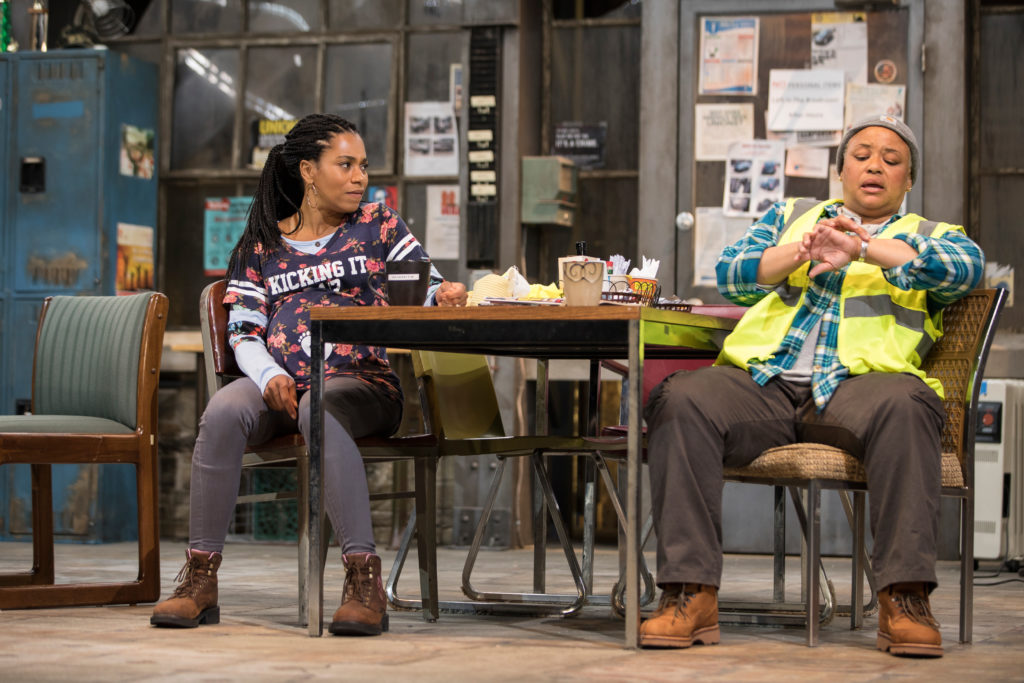 Working-class men and women of color are rarely front and center in today's media and, likewise, are presented all too occasionally on the American stage. So it's buoying to see that trend bucked in playwright Dominique Morisseau's percipient and well-crafted drama, Skeleton Crew. The play is the final installment in her Detroit  Project Trilogy; the first, Paradise Blue, is set in the 1940s amidst displacement caused by urban renewal and gentrification, while the second, Detroit '67, transpires on the eve of the 1967 Detroit riots sparked by a police action.
Directed by Patricia McGregor at Los Angeles' Geffen Playhouse, Skeleton Crew is a play with a moral spine. It takes place in 2008, when the shrinking U.S. auto industry is being further downsized. Morisseau's engaging quartet of characters — Faye (Caroline Stefanie Clay), Dez (Armari Cheatom), Shanita (Kelly McCreary) and Reggie (DB Woodside) – are employed at an automobile outfitting plant. Faye, Dez and Shanita are workers on the line while Reggie (who has a wife and kids, and has pulled himself together after a troubled youth) is their supervisor.
The first three customarily mingle in their break room (designer Rachel Myers' impressively cluttered, dingy and detailed set), trading the sort of familiar barbs and genuine concern for each other common among longtime co-workers. They also face off on philosophy: Upper-middle-aged Faye and the younger, pregnant Shanita take pride in their labor, while Dez, though a good worker, is a malcontent scornful of management and firm in the belief that everyone needs to watch out for himself. He's a thorn in Reggie's side, for while Reggie wants to be supportive of his workers, he must act at the behest of higher management. For his part, Dez resents Reggie's authority, and a palpable unease exists between them.
Besides this male matchup, we're made privy to Dez's attraction to Shanita, who mostly turns away his advances, but every now and then displays a hint of interest. Most poignant is Reggie's regard and affection for the lesbian Faye, which has roots in his boyhood when she loved, and lived, with his now-deceased mom.
These people's various predicaments intensify when rumors spread of the plant's shutdown — a disaster for all, but a particular calamity for the already near-broke Faye who, one year short of retirement, would lose her pension. The crisis forces each of these people to make a choice.
A sound piece of social realism, Skeleton Crew grabs you from the start in its focus on blue-collar men and women, and their struggle against odds for dignity and self-respect. Morisseau not only furnishes these characters a platform for their travails, she endows them with strong values, big hearts and the opportunity to choose between right and wrong.
Unfortunately, the performance I attended did not soar. Many exchanges lacked a fresh edge. The actors certainly had their characters down, but too often they appeared to be coasting on technique. (This seemed particularly true of Clay, who performed the role to great accolades in Washington, DC in 2017, also under McGregor's direction). Additionally, some of the stage movement was not entirely fluid; in confrontations, actors sometimes would just stand and face each other in an artificial way. And Cheatom's interpretation of Dez struck me as a bit overly churlish and depressive: I needed more glimpses of the intelligence and edge that would secretly attract the strong, self-directed Shanita.
The most compelling moments belong to Woodside, well-cast as a man trying his best in difficult circumstances to do the right thing.
---
Gil Cates Theater at the Geffen Playhouse, 10886 Le Conte Ave., Westwood Village; Tues.-Fri., 8 p.m.; Sat., 3 & 8 p.m. Sun., 2 & 7 p.m.; through July 8. (310) 208-5454 or www.geffenplayhouse.org