Stage Review: 'Mutual Philanthropy' in Mount Washington
One of the wryest moments in Karen Rizzo's insightful one-act comes when Lee (Mark Carapezza), a sculptor attending a dinner party with his wife, blinks with bewilderment as he clutches a glass of $2,500-a-bottle Scotch in one hand and a goblet of chichi red wine in the other.

Dinner-party gentrification. (Photo: Lew Abramson)
One of the wryest moments in Karen Rizzo's insightful, 75-minute one-act comes when Lee (Mark Carapezza), a sculptor attending a dinner party with his wife, blinks with bewilderment as he clutches a glass of $2,500-a-bottle Scotch in one hand and a goblet of chichi red wine in the other. This comic split-second (before he gulps the Scotch) is one of many carefully crafted bits that director Dan Bonnell and his ensemble invest in Rizzo's already savvy social drama.
The wine, a Barolo, is presented to the already inebriated Lee by his slithery host, Charles (James MacDonald), an investment banker and potential buyer of one of Lee's sculptures. A guy oozing smug confidence who likes posing hand-on-hip, Charles could not be more different from his unpretentious guest, who makes clear to us early on that he'd rather be home rolling around on the floor with his kids than socializing with this smirky rich dude and his effusive and professionally hospitable wife, Michelle (Brea Bee).
But Lee's own wife, Esther (Xochitl Romero), who is the family breadwinner, has insisted. Esther not only brings home the bacon, she also does the household bookkeeping. She understands just how far behind she and Lee have fallen, and how much they really need that sale to help them stay afloat.
So does Charles. And it's in this context that he and Michelle make an unusual offer to Lee and Esther: a gift of money large enough to reboot their lives. This means her own business for Esther, a studio for Lee, or whatever their hearts desire — and no strings attached, says Charles.
Of course there is no such thing ("If something sounds too good to be true…"), as both Lee and Esther understand in their own separate ways. But instead of politely declining and taking their leave, they hang out (mustn't offend the customer), precipitating a series of maneuverings, manipulations and disclosures that culminate in a dry and painfully ironic catharsis.
Mutual Philanthropy is a great character study, but what gives it heft beyond the power interplay among the four principals is its reflection on what's happening now (and for the past several decades) in our communities at large: the widening gulf between those who have all the material things they need and then some, and the growing number among us who struggle to survive. That the play is set in an L.A. neighborhood, Mount Washington, where gentrification encourages the haves and have-nots to live side by side (till such time as the latter are pushed out, one presumes) —makes the story (conceived by Rizzo and MacDonald) all the more immediate and personally relevant to local audiences.
On the other hand, this is a script whose plethora of two-couple chitchat might have grown tiresome if less subtly calibrated. Under Bonnell's direction, however, there's fine work across the board: MacDonald as the eel-like, disturbingly well-mannered Charles, accustomed to getting everything he wants; Romero as the pragmatic Esther, and the play's ethical spine; and Carapezza as her likable spouse, an artist with his own brand of perennial youthfulness and integrity. The performance I savored most, however, was Bee's Michelle, a flawlessly true-to-life portrait of a privileged woman whose aspiration to do good masks a potpourri of resentments.
Ensemble Theatre Studio/LA, 3269 Casitas Ave., Los Angeles; Thurs., 8 p.m. (Sept. 15 & 22) Fri.-Sat., 8 p.m.; Sun., 3 & 7 p.m.; through Sept. 25. (818) 858-0440 or brownpapertickets.com.

A Spiritual Mystery Play Fails to Enlighten
Yusuf Toropov's drama, set in a contaminated, cancer-ridden community, involves a publisher and his brother — a priest struggling against the local archdiocese.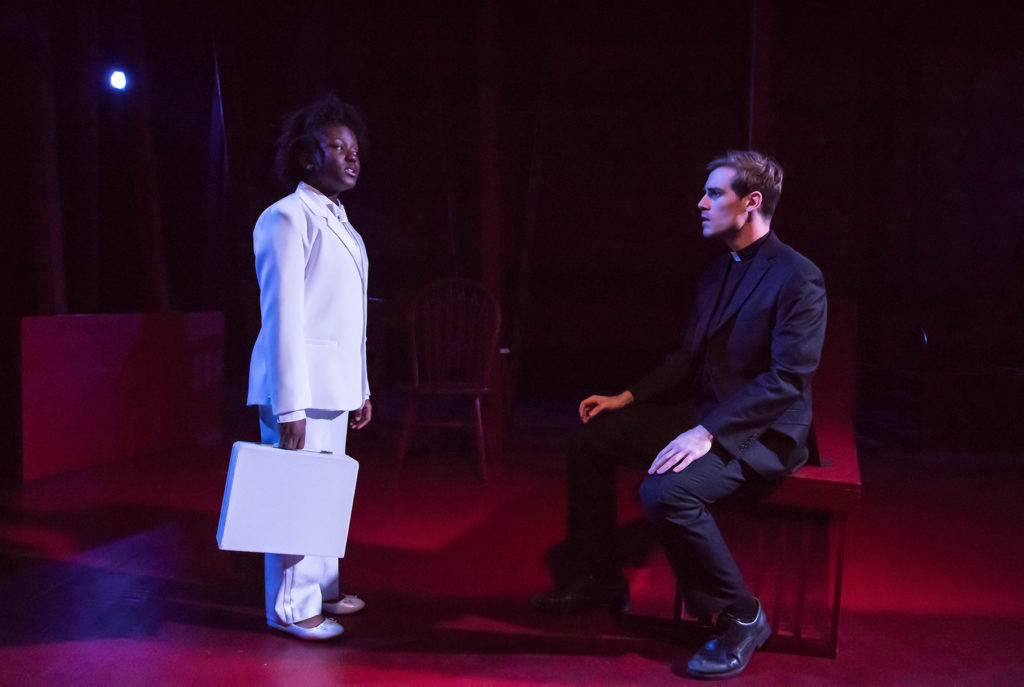 Directed by Chris Fields, Yusuf Toropov's An Undivided Heart, co-produced by the Echo Theater Company and the Circle X Theatre Co., is an aspiring work that aims to be deep but doesn't get there.
The play, running at the Atwater Village Theatre, unfolds on several levels. First, it tells the story of a young Catholic priest who must decide whether or not to publicly expose the pedophiles among his fellow clerics. Second, the work deals with our human struggle to understand why bad things happen with seeming random cruelty (a conundrum whose answers are regularly dispensed by spiritual leaders of all faiths, not very satisfactorily). On yet a third level, the play seeks to express the paradoxical wonder and mystery of life, with an assist from the supernatural.
That's a lot to cover in a little over two hours and, while the production is handsomely staged, its ambitious narrative is diminished by dangling threads, one major improbable setup near the end and too many bits of opaque dialogue.
Tim Wright, Alison Martin and Alana Dietze.
The setting is Holbrook, Massachusetts — a community whose residents have been exposed to contaminants, so cancer is rampant — in the summer of 1992. The story revolves around two brothers, both good guys: Mike (Matthew Gallenstein), a local priest who's written a revelatory book that his superiors want him not to publish, and Max (Tim Wright), an editor, who'd like to help his brother proceed.
When Max arrives at some sort of civic facility (the background particulars of this scene are unclear), he promptly tangles with an angry pregnant clerk named Lynne (Alana Dietz). A few minutes into their altercation, she goes into premature labor, and he rushes her to the hospital — the beginning of a nurturing romance.
Mike, meanwhile, is having strange dreams involving a burning typewriter and a cryptic little girl (Ann'Jewel Lee) who appears to him brandishing a dead cat. The same young person manifests in the dreams of Janice (Tracey A. Leigh, alternating with Jennifer A. Skinner), Max's Buddhism teacher, who is fond of posing riddles. Her favorite: If I am preparing to slice a cat in two, how would you prevent me from doing it?
The narrative shifts between Mike's struggle with his archdiocese, personified by its Cardinal (John Getz, alternating with William Salyers) and Lynne's problems with her dying mom Ruth (Alison Martin, alternating with Sigute Miller), a devout Catholic still in denial over her son's abuse by a priest when he was a youth.
These two storylines are interposed with the baffling dream sequences and Max's (and later Mike's) sessions with the inscrutably smiling Janice and her eschatological brain teasers. One crucial scene that leads to the dramatic climax has Mike looking to entrap an abusive priest (Jeff Alan-Lee, alternating with Jesse Bush) by attending confession with him and pretending to be a pedophile himself. The interchange, in which the priest probes for salacious details, is awkwardly plotted and escalates into over-the-top melodrama.
Cricket Myers' superlative sound design hints at the depth and scope that the playwright himself perhaps had in mind but was unable to attain. Amanda Knehans' set is an effective arrangement of wooden beams, tables and chairs that lighting designer Rose Malone smartly shades with a reddish-orange chroma, like the hues of hell. Elsewhere, she spotlights the players well.
Wright's warm and empathetic Max is highly likable, and he keeps you interested in the scenes he's involved with. Getz is appropriately unctuous as the Cardinal, and Martin draws a richly textured portrait of a not terribly educated housewife, who, buffeted by adversity, still clings to her faith. Michael Sturgis steals the limelight as a singing, simpering cleric. A couple of the other lead performances need refining.
Atwater Village Theatre, 3269 Casitas Ave., Los Angeles; Mon., 8 p.m.; Fri.- Sat., 8 p.m.; Sun., 4 p.m.; through April 22. www.EchoTheaterCompany.com
---
Copyright Capital & Main