Stage Review: Losing an 'American Home'
Playwright Stephanie Alison Walker was among the thousands of homeowners to receive a foreclosure notice in 2008. The experience prompted her to write American Home, a textured melodrama centered on a young couple whose lives come apart once they start to lose the house they love.

Actor Ozioma Akagha. (Photo by Melissa Blue)
The 2007-08 financial crisis and the collapse of the housing bubble created lots of heartache for lots of people. Playwright Stephanie Alison Walker was among the one in 54 homeowners nationwide to receive a foreclosure notice in 2008. The experience prompted her to write American Home, a textured melodrama centered on a young couple whose lives come apart once they start to lose the house they love. The play weaves several similar stories into the mix, and places them in the context of a blame-the-victim mindset, fostered by right-wing media commentators and a "Christian" huckster hawking a gospel of prosperity.
Dana (Ozioma Akagha) and Mike (Jono Eiland) are happily married and have discovered a house they adore. Mike worries that it will stretch them too far, but Dana loves it and convinces him to take the plunge. But after Mike loses his job, they fall behind on their payments, and eventually are in such deep financial trouble that they have no choice but to sell. The ordeal wreaks havoc on their self-respect as individuals, as well as on their marriage.
Florence (Bette Smith), another homeowner in peril, is an elderly widow grown incapable of managing her finances. She's so far eluded eviction thanks to the kindness of Robbie (Marc Barnes) a sheriff's deputy who's been instrumental in postponing the inevitable but can't prevent it altogether. Meanwhile, newscasters (Jennifer Adler and Mel Green) are reporting on a desperate former homeowner (Carol Westheimer) who has chained herself, with a dog leash, to her property, as if somehow that will prevent the bank from seizing it.
Another plot thread involves Preacher Paula (Jessica Kaye Temple), a bejeweled and tireless sermonizer who tells her followers that God wants them to be wealthy and prosper, but that they need to help, the inference being that they need to donate to her coffers. She encourages one of her flock, Marcus (Ethan Rains) to trust the Almighty, buy a house and make his dreams come true. When it doesn't work out for him, he confronts Paula for the disingenuous fraud that she is.
Although the narrative in American Home holds few surprises (and ties up too tidily), its characters are insightfully drawn, and the dialogue has an authentic ring. Director Kate Woodruff moves the performers about the set in a fluid way, and as the open-hearted and effervescent (until she isn't) Dana, Akagha exudes presence and charm. She's the show's greatest asset, and holds our interest when other elements of the production do not.
The other solid performance comes from Rains, who makes Marcus' disappointment and crisis of faith palpable. You can't help rooting for him when he tells the preacher lady off, and you wish this character and his story had more stage time.
But other portrayals are less convincing. As Paula, Temple's still shaky, not yet projecting the larger-than-life arrogance of this kind of con artist. Smith settles for shtick in depicting the cantankerous Florence, while Eiland's Mike is adequate, but lacks interesting layers.
Also, while some plays do fine in bare-bones mode, American Home is one that might benefit from more elaborate tech, specifically a more sophisticated lighting design (the resources at this venue appear limited). Down the road, perhaps in a subsequent staging, some video images might broaden the canvas for a play with a telling comment on our shrinking middle class.
Fremont Centre Theatre, 1000 Fremont Ave., South Pasadena; Thurs.-Sat., 8 p.m.; Sun., 3 p.m.; through September 24. (626) 441-5977, stephaniealisonwalker.com, fremontcentretheatre.com, americanhome.brownpapertickets.com
---
Copyright Capital & Main

'Skeleton Crew' Is a Play With a Moral Spine
Set in a Detroit automobile outfitting plant, Dominique Morisseau's drama grabs you from the start with its focus on blue-collar men and women, and their struggle for dignity and self-respect.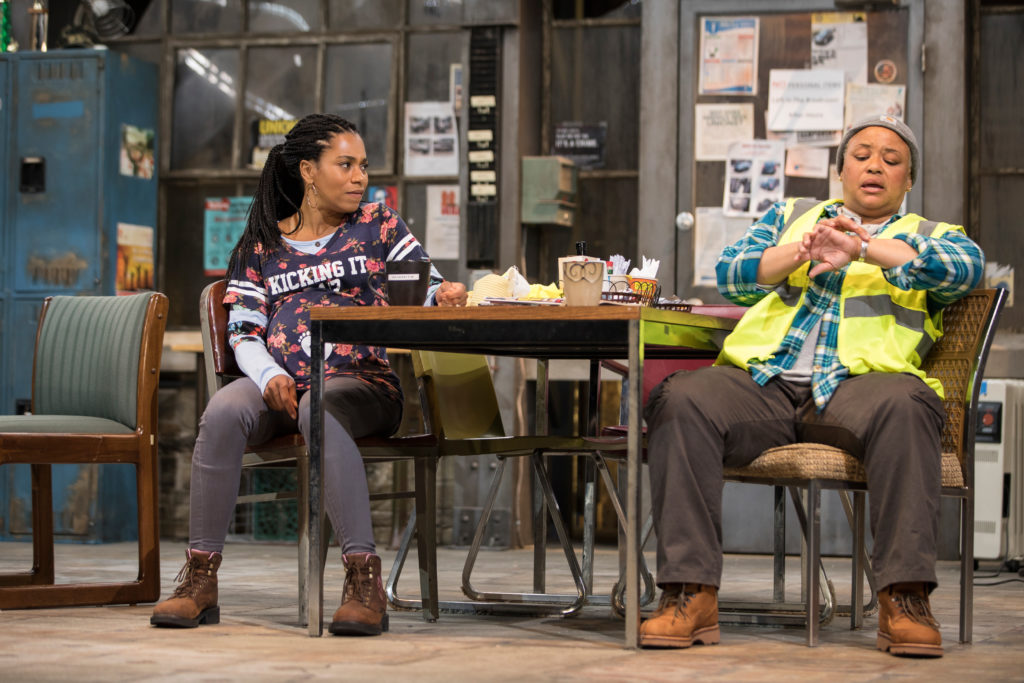 Working-class men and women of color are rarely front and center in today's media and, likewise, are presented all too occasionally on the American stage. So it's buoying to see that trend bucked in playwright Dominique Morisseau's percipient and well-crafted drama, Skeleton Crew. The play is the final installment in her Detroit  Project Trilogy; the first, Paradise Blue, is set in the 1940s amidst displacement caused by urban renewal and gentrification, while the second, Detroit '67, transpires on the eve of the 1967 Detroit riots sparked by a police action.
Directed by Patricia McGregor at Los Angeles' Geffen Playhouse, Skeleton Crew is a play with a moral spine. It takes place in 2008, when the shrinking U.S. auto industry is being further downsized. Morisseau's engaging quartet of characters — Faye (Caroline Stefanie Clay), Dez (Armari Cheatom), Shanita (Kelly McCreary) and Reggie (DB Woodside) – are employed at an automobile outfitting plant. Faye, Dez and Shanita are workers on the line while Reggie (who has a wife and kids, and has pulled himself together after a troubled youth) is their supervisor.
The first three customarily mingle in their break room (designer Rachel Myers' impressively cluttered, dingy and detailed set), trading the sort of familiar barbs and genuine concern for each other common among longtime co-workers. They also face off on philosophy: Upper-middle-aged Faye and the younger, pregnant Shanita take pride in their labor, while Dez, though a good worker, is a malcontent scornful of management and firm in the belief that everyone needs to watch out for himself. He's a thorn in Reggie's side, for while Reggie wants to be supportive of his workers, he must act at the behest of higher management. For his part, Dez resents Reggie's authority, and a palpable unease exists between them.
Besides this male matchup, we're made privy to Dez's attraction to Shanita, who mostly turns away his advances, but every now and then displays a hint of interest. Most poignant is Reggie's regard and affection for the lesbian Faye, which has roots in his boyhood when she loved, and lived, with his now-deceased mom.
These people's various predicaments intensify when rumors spread of the plant's shutdown — a disaster for all, but a particular calamity for the already near-broke Faye who, one year short of retirement, would lose her pension. The crisis forces each of these people to make a choice.
A sound piece of social realism, Skeleton Crew grabs you from the start in its focus on blue-collar men and women, and their struggle against odds for dignity and self-respect. Morisseau not only furnishes these characters a platform for their travails, she endows them with strong values, big hearts and the opportunity to choose between right and wrong.
Unfortunately, the performance I attended did not soar. Many exchanges lacked a fresh edge. The actors certainly had their characters down, but too often they appeared to be coasting on technique. (This seemed particularly true of Clay, who performed the role to great accolades in Washington, DC in 2017, also under McGregor's direction). Additionally, some of the stage movement was not entirely fluid; in confrontations, actors sometimes would just stand and face each other in an artificial way. And Cheatom's interpretation of Dez struck me as a bit overly churlish and depressive: I needed more glimpses of the intelligence and edge that would secretly attract the strong, self-directed Shanita.
The most compelling moments belong to Woodside, well-cast as a man trying his best in difficult circumstances to do the right thing.
---
Gil Cates Theater at the Geffen Playhouse, 10886 Le Conte Ave., Westwood Village; Tues.-Fri., 8 p.m.; Sat., 3 & 8 p.m. Sun., 2 & 7 p.m.; through July 8. (310) 208-5454 or www.geffenplayhouse.org