Stage Review: 'As Straw Before the Wind'
Most Americans have limited knowledge of the history and hardships of ethnic groups and nationalities outside their own (despite the best efforts of progressive educators in some of our urban schools to have it otherwise).

Left to right: Muni Zano, Tita Pambid and Anita Borcia (Michael Helms Photography)
Most Americans have limited knowledge of the history and hardships of ethnic groups and nationalities outside their own (despite the best efforts of progressive educators in some of our urban schools to have it otherwise). With As Straw Before the Wind, Filipino-American playwright Felix Racelis aims to fill some of the gaps that audiences may have when it comes to the Filipino experience. His play informs us of the country's participation in World War II on the American side, of the brutalization of its populace at the hands of the Japanese, and — in the telling of a contemporary story —something of the contribution of Filipino-Americans to our country today. Racelis is also looking to pay homage to some of the women of his mother's generation who worked as nurses during the war.
The play is set in the San Gabriel Valley in 1993. Sixty-five-year-old Filipina immigrant Nene Santos (Tita Pambid), an RN, runs a small long-term care facility with the assistance of her thirtysomething daughter Pilita (Sarnica Lim), who works directly with the patients: changing bedpans, taking blood pressure and doing whatever else is needed to make these older folks comfortable. The residents include Poncing Enrile (Muni Zano) an elderly and cantankerous vet whose greatest pleasure is to pinch and make suggestive advances to the forgiving Pilita. The other resident, Mrs. Borcia (Mildred Novak) dwells mostly in the past with her dead husband Charlie; her fondest indulgence in the here-and-now is a sneaked cigarette, which Pilita provides, along with much coveted lipstick.
Nene's main problem is that she wants to expand her business but lacks the capital to do so. She dreams of a gleaming new facility with many new residents, but is turned down for a business loan. She attempts to garner more income by double-booking Poncing's room, but he protests vehemently, and at one point goes so far as to run away.
Nene's other difficulty — one she hasn't quite confronted — is her daughter's intention to leave. The younger woman has had an offer of marriage from a man who tells her there'll be no need for her to work. Pilita does her job at the care facility dutifully and well, but she's ready to move on. Her mother, however, sees this as a betrayal, and reviles her for this.
Occasional flashbacks to the Japanese invasion of the Philippines and to the trauma and loss Nene underwent as a young girl help transpose the drama to a broader tragical realm.
There's no question that As Straw Before the Wind has the fundamental makings of affecting social drama. The story includes characters in conflict, struggle within the family and without, and meaningful themes — among them, the plight of the elderly, sick and infirm, as well as the effort to apprise people of the contributions made to our country by Filipino soldiers, whose promises of reward for service were largely reneged upon by the U.S. government.
But some plot points seem rather reductive: Nene's over-reactive rage to Pilita's wanting to get on with her life (the younger woman can see 40, for heaven sakes!), or the suggestion of Pilita's culpability when the old man falls into a coma. More significantly detrimental, however, are the last 15 minutes or so, which are never elevated to the grand drama the playwright so clearly is trying to achieve, but register instead as melodramatically overwrought and unconvincing.
As Straw Before the Wind, directed by Lesley Asistio, is best viewed as a work in progress. Tech values, including set, are minimal, although the lighting changes (lighting design by Jim Niedzialkowski) for the flashback scenes are effective, as are the video sequences (by Guillermo Aviles-Rodriguez) at the top which frame the story. There's a lack of polish in the presentation overall; that said, Pambid is both believable and sympathetic as the harried Nene, and Lim is a kind and likable presence.
Ruby Theatre at The Complex, 6476 Santa Monica Boulevard, Hollywood; Fri.-Sat., 8 p.m.; Sun., 3 p.m.; through September 4. Tickets: 800-838-3006 or strawbefore.brownpapertickets.com.

Blindfolds: Iranian Hostage Drama Offers Few Surprises
One of the play's weaknesses is the surfeit of soap-operatic family exchanges that spill into melodramatic shouting matches.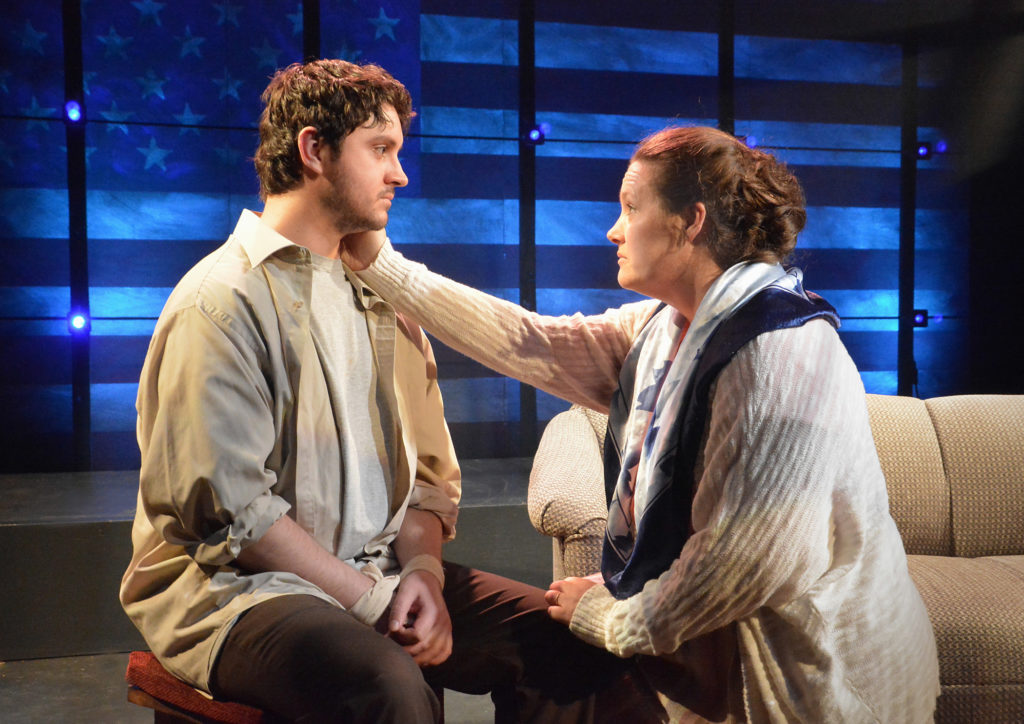 On November 4, 1979, several hundred Iranians, mostly students, stormed the American embassy in Tehran and took 60-odd hostages — 52 of whom were held captive for 444 days. It was a humiliating event for the U.S. government and, in general, a wake-up call for Americans heretofore unaware of the antipathy of many Iranians towards the United States.
Against the wishes of the Carter administration, a mother of one of the hostages, Barbara Timm, flew to Tehran to see her son. Hostage, by Michelle Kholos Brooks, re-imagines the exchange that took place among Barbara (Tracie Lockwood), her captive son Kevin (Zachary Grant) and two of his captors: Tehran Mary (Vaneh Assadourian), a media spokeswoman for her cause and Ebrahim (Satiar Pourvasei), a rifle-wielding guard swift to anger. The drama, some of which takes place in Barbara's mind, shifts between the embassy, where a handcuffed, blindfolded and barefoot Kevin has been doing his best to survive, and Barbara's Wisconsin living room, where she struggles to cope with both a controlling ex-husband and an angry mob outside her home. The latter has gathered to protest a public statement she made critical of the failed rescue attempt to free the hostages — a statement interpreted by "patriots" as her having taken the side of the revolutionaries.
As the drama progresses, scenarios begin to overlap; Kevin, always on Barbara's mind, is physically present onstage as she disputes with her former spouse about the latter's parental responsibility — or lack of it — and whether or not he betrayed her when they were teens, salaciously spreading the word about their intimacy. An argument also ensues between Richard and Barbara's current husband, Ken (Jack Clinton), who accompanied Barbara to Iran and has open-heartedly raised Kevin as his own.
Directed by Elina de Santos, Hostage aims to explain and garner sympathy for both sides, but it offers few surprises or depth. One of its weaknesses is the surfeit of soap-operatic family exchanges that filter attention away from more vital dramatic themes: how far a mother is prepared to go to protect her child and the distance its pivotal character, a Midwestern matron and a Republican, will ideologically travel before the play's catharsis (the dynamic most interesting to us). While these threads, as well as the propensity for intolerance of people on both sides of the cultural divide, are clearly most central, they get obscured for long stretches by melodramatic shouting matches between Kevin's two fathers or the past marital problems of Barbara and Ken.
Grant turns in a well-grounded performance as the palpably fearful Kevin, drilled in compliance and anxious for his mother to understand how precipitous his situation is. But other performances on opening weekend were less persuasive. Lockwood, usually an excellent actor, did not seem entirely comfortable as the maternal lioness the playwright aims to conjure. One problem is the script, which calls for her to assertively challenge Kevin's captors' motives and beliefs — a device for getting us to understand where they are coming from. Some of these confrontations appear as the artifices they are. None of the other actors were able to get past the polemical nature of their roles, either. One hopes they will evolve.
Designer Stephanie Kerley Schwartz's no-frills set features an American flag splayed across the back wall — albeit behind a scrim, an apt reference to the covert power wielded (this time not so successfully) by our government.
Skylight Theatre, 1816½ Vermont Avenue, Los Feliz; Fri.-Sat. & Mon., 8 p.m.; Sun., 2 p.m.; through June 24; (213) 761-7061 or (866) 811-4111.
---
Copyright Capital & Main