Stage Review: 'As Straw Before the Wind'
Most Americans have limited knowledge of the history and hardships of ethnic groups and nationalities outside their own (despite the best efforts of progressive educators in some of our urban schools to have it otherwise).

Left to right: Muni Zano, Tita Pambid and Anita Borcia (Michael Helms Photography)
Most Americans have limited knowledge of the history and hardships of ethnic groups and nationalities outside their own (despite the best efforts of progressive educators in some of our urban schools to have it otherwise). With As Straw Before the Wind, Filipino-American playwright Felix Racelis aims to fill some of the gaps that audiences may have when it comes to the Filipino experience. His play informs us of the country's participation in World War II on the American side, of the brutalization of its populace at the hands of the Japanese, and — in the telling of a contemporary story —something of the contribution of Filipino-Americans to our country today. Racelis is also looking to pay homage to some of the women of his mother's generation who worked as nurses during the war.
The play is set in the San Gabriel Valley in 1993. Sixty-five-year-old Filipina immigrant Nene Santos (Tita Pambid), an RN, runs a small long-term care facility with the assistance of her thirtysomething daughter Pilita (Sarnica Lim), who works directly with the patients: changing bedpans, taking blood pressure and doing whatever else is needed to make these older folks comfortable. The residents include Poncing Enrile (Muni Zano) an elderly and cantankerous vet whose greatest pleasure is to pinch and make suggestive advances to the forgiving Pilita. The other resident, Mrs. Borcia (Mildred Novak) dwells mostly in the past with her dead husband Charlie; her fondest indulgence in the here-and-now is a sneaked cigarette, which Pilita provides, along with much coveted lipstick.
Nene's main problem is that she wants to expand her business but lacks the capital to do so. She dreams of a gleaming new facility with many new residents, but is turned down for a business loan. She attempts to garner more income by double-booking Poncing's room, but he protests vehemently, and at one point goes so far as to run away.
Nene's other difficulty — one she hasn't quite confronted — is her daughter's intention to leave. The younger woman has had an offer of marriage from a man who tells her there'll be no need for her to work. Pilita does her job at the care facility dutifully and well, but she's ready to move on. Her mother, however, sees this as a betrayal, and reviles her for this.
Occasional flashbacks to the Japanese invasion of the Philippines and to the trauma and loss Nene underwent as a young girl help transpose the drama to a broader tragical realm.
There's no question that As Straw Before the Wind has the fundamental makings of affecting social drama. The story includes characters in conflict, struggle within the family and without, and meaningful themes — among them, the plight of the elderly, sick and infirm, as well as the effort to apprise people of the contributions made to our country by Filipino soldiers, whose promises of reward for service were largely reneged upon by the U.S. government.
But some plot points seem rather reductive: Nene's over-reactive rage to Pilita's wanting to get on with her life (the younger woman can see 40, for heaven sakes!), or the suggestion of Pilita's culpability when the old man falls into a coma. More significantly detrimental, however, are the last 15 minutes or so, which are never elevated to the grand drama the playwright so clearly is trying to achieve, but register instead as melodramatically overwrought and unconvincing.
As Straw Before the Wind, directed by Lesley Asistio, is best viewed as a work in progress. Tech values, including set, are minimal, although the lighting changes (lighting design by Jim Niedzialkowski) for the flashback scenes are effective, as are the video sequences (by Guillermo Aviles-Rodriguez) at the top which frame the story. There's a lack of polish in the presentation overall; that said, Pambid is both believable and sympathetic as the harried Nene, and Lim is a kind and likable presence.
Ruby Theatre at The Complex, 6476 Santa Monica Boulevard, Hollywood; Fri.-Sat., 8 p.m.; Sun., 3 p.m.; through September 4. Tickets: 800-838-3006 or strawbefore.brownpapertickets.com.

'Skeleton Crew' Is a Play With a Moral Spine
Set in a Detroit automobile outfitting plant, Dominique Morisseau's drama grabs you from the start with its focus on blue-collar men and women, and their struggle for dignity and self-respect.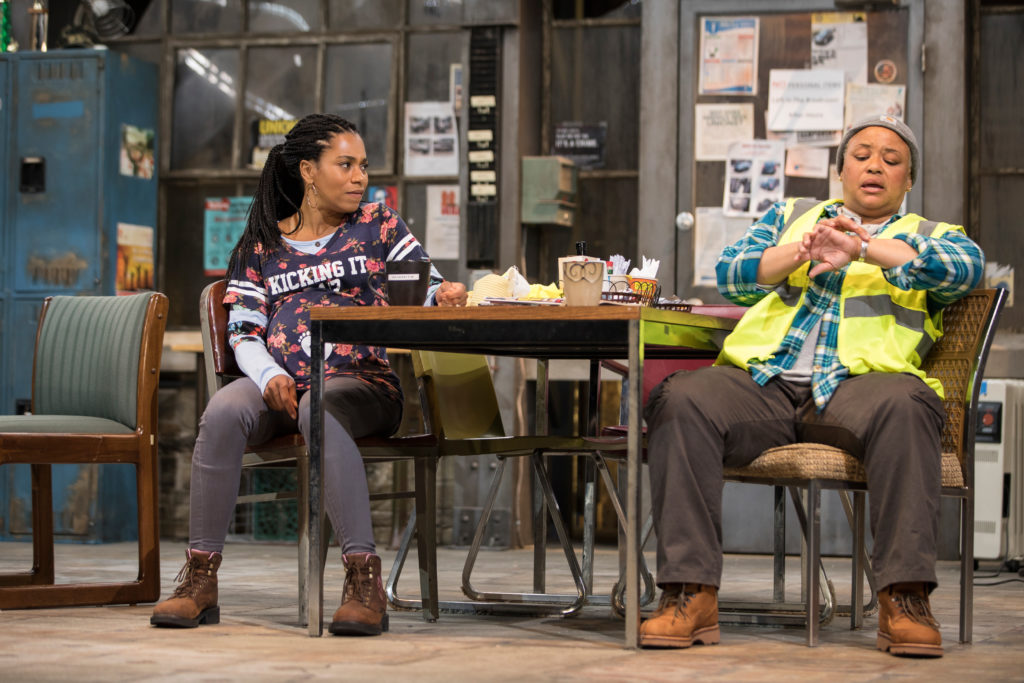 Working-class men and women of color are rarely front and center in today's media and, likewise, are presented all too occasionally on the American stage. So it's buoying to see that trend bucked in playwright Dominique Morisseau's percipient and well-crafted drama, Skeleton Crew. The play is the final installment in her Detroit  Project Trilogy; the first, Paradise Blue, is set in the 1940s amidst displacement caused by urban renewal and gentrification, while the second, Detroit '67, transpires on the eve of the 1967 Detroit riots sparked by a police action.
Directed by Patricia McGregor at Los Angeles' Geffen Playhouse, Skeleton Crew is a play with a moral spine. It takes place in 2008, when the shrinking U.S. auto industry is being further downsized. Morisseau's engaging quartet of characters — Faye (Caroline Stefanie Clay), Dez (Armari Cheatom), Shanita (Kelly McCreary) and Reggie (DB Woodside) – are employed at an automobile outfitting plant. Faye, Dez and Shanita are workers on the line while Reggie (who has a wife and kids, and has pulled himself together after a troubled youth) is their supervisor.
The first three customarily mingle in their break room (designer Rachel Myers' impressively cluttered, dingy and detailed set), trading the sort of familiar barbs and genuine concern for each other common among longtime co-workers. They also face off on philosophy: Upper-middle-aged Faye and the younger, pregnant Shanita take pride in their labor, while Dez, though a good worker, is a malcontent scornful of management and firm in the belief that everyone needs to watch out for himself. He's a thorn in Reggie's side, for while Reggie wants to be supportive of his workers, he must act at the behest of higher management. For his part, Dez resents Reggie's authority, and a palpable unease exists between them.
Besides this male matchup, we're made privy to Dez's attraction to Shanita, who mostly turns away his advances, but every now and then displays a hint of interest. Most poignant is Reggie's regard and affection for the lesbian Faye, which has roots in his boyhood when she loved, and lived, with his now-deceased mom.
These people's various predicaments intensify when rumors spread of the plant's shutdown — a disaster for all, but a particular calamity for the already near-broke Faye who, one year short of retirement, would lose her pension. The crisis forces each of these people to make a choice.
A sound piece of social realism, Skeleton Crew grabs you from the start in its focus on blue-collar men and women, and their struggle against odds for dignity and self-respect. Morisseau not only furnishes these characters a platform for their travails, she endows them with strong values, big hearts and the opportunity to choose between right and wrong.
Unfortunately, the performance I attended did not soar. Many exchanges lacked a fresh edge. The actors certainly had their characters down, but too often they appeared to be coasting on technique. (This seemed particularly true of Clay, who performed the role to great accolades in Washington, DC in 2017, also under McGregor's direction). Additionally, some of the stage movement was not entirely fluid; in confrontations, actors sometimes would just stand and face each other in an artificial way. And Cheatom's interpretation of Dez struck me as a bit overly churlish and depressive: I needed more glimpses of the intelligence and edge that would secretly attract the strong, self-directed Shanita.
The most compelling moments belong to Woodside, well-cast as a man trying his best in difficult circumstances to do the right thing.
---
Gil Cates Theater at the Geffen Playhouse, 10886 Le Conte Ave., Westwood Village; Tues.-Fri., 8 p.m.; Sat., 3 & 8 p.m. Sun., 2 & 7 p.m.; through July 8. (310) 208-5454 or www.geffenplayhouse.org