South L.A. Looks With Wary Hope to a New City Hall
South L.A. is the neediest and most politically challenging part of the city that gets in the news chiefly for the  story of its shifting demographics — from mostly black to mostly Latino. Mayor-elect Eric Garcetti's background fits nicely into that story. He is being touted as the first Jewish mayor, although the heritage he touted openly and often during campaign season was Latino. That's identity politics, technically, but his win was hardly as landmark a moment as were Tom Bradley or Antonio Villaraigosa's victories. But it was effective. Garcetti captured a solid majority of the Latino vote — 60 percent. Every elected official in the country and especially in California and Los Angeles is keenly aware of the upward trend of Latino political influence and the need to address it.
Garcetti didn't really have to do a hard sell because of the Mexican heritage on his father's side—his great-grandfather was killed during the Mexican Revolution—and he speaks fluent Spanish. Of course he's very middle class, raised in the San Fernando Valley and in some ways much more reflective of a Jewish experience in the suburbs than a typical Latino experience in South L.A. But that doesn't hurt him, either. In fact you could call it a perfect combination, representing two of the most significant political groups in the city, if not the country. Jews may be among the smallest percentages of the city's population while Latinos are the biggest, but both groups demand attention and accountability.
Latinos are much newer to the accountability thing, but they're learning fast; immigration reform is the battle cry nationally, but in L.A. it's also jobs, good schools and occasionally immigrant-specific issues like fair laws for street vendors. Let us not forget that Latinos have been the lifeblood of a revived union movement the last 25 years or so, as they have filled every service-sector jobs from janitors to car washers.
In this rapidly evolving scenario, where are African Americans? To be blunt, nowhere.
Blacks haven't been a political priority since the days of Tom Bradley (and we can argue about whether they were a priority even then) and every mayoral candidate since has done the requisite swings through black churches, talking the talk—some better than others–but not much happens afterward. Eric Garcetti did the same thing in going for a vote that is now mostly considered "swing," more a mathematic calculation than a real political concern. What black residents in South Central and Crenshaw need is pretty much what everybody (including their Latino cohorts) in the neighborhood needs—good schools, more jobs and industry, solid infrastructure.
But within the similarities are differences that everyone, including black elected officials, are reluctant to address because they are so politically sensitive. For example, underperforming South L.A. schools that are increasingly Latino don't focus on educational needs of black students whose issues are rooted in historical inequalities, not language differences. Blacks are unemployed and underemployed at higher rates than Latinos, partly because Latinos are preferred hires in many service-sector jobs that dominate the hood. It's a situation that perpetuates itself in the service sector and in another key, more skilled job sector, construction.
There are some reasons to hope that tides will turn and folks will actually come together for the benefit of the whole area. Recognizing that black residents need to articulate an agenda that can be presented to whoever's in the mayor's office, this spring a coalition of South L.A.-based black leaders, the Black Community Clergy and Labor Alliance, came up with such an agenda,  dubbed "the covenant." (Full disclosure: I am involved in the coalition.) During the campaign, the BCCLA met with both Garcetti and Greuel to gauge their potential commitments to specific items of the covenant, which despite its somewhat ethereal name is focused on basic issues such as criminal justice, transportation and economic development.
Garcetti was one of the council members who recently voted to fund a rail stop in Leimert Park Village along the soon-to-built Crenshaw MTA line—something for which black transportation activists have fought long and hard. In his interview with the BCCLA committee, he also pledged to add a South L.A. rep and transit rider to the MTA board. Encouraging signs. At the same time, some blacks have expressed uneasiness that because they voted so heavily for Greuel—71 percent, according to one exit poll—that blacks won't have a voice in City Hall. The assumption that the new mayor will ignore the needs of areas and constituents based strictly on votes cast speaks to the moribund political situation blacks have been in for decades now.
But Garcetti's victory, which suggests a new LA. politics that could begin bridging the gap between the poverty associated with race and the progressive action associated with privilege, could ultimately be a win for South L.A. too.

State Senator Predicts "Sledgehammer Time" If GOP Tax Bill Passes
Holly Mitchell, a leading legislative advocate for children and low-income Californians, says the state may return to the days of budget cutting if the current Congressional Republican tax plan becomes law.

State Senator Holly Mitchell (All photos by Joanne Kim)
Holly Mitchell, the state Senator who represents Los Angeles' heavily blue-collar 30th District, has been called by one colleague the "social conscience of the entire Senate." A personable policy wonk whose career included a stint as chief executive of Crystal Stairs, a child development nonprofit, Mitchell chairs the Senate Budget Committee — the first African-American woman to do so. She recently sat down in Pico-Fairfax with Capital & Main at the Paper and Plastik Cafe to talk about the possible effects of the Republican tax bill on California's poor.
---
Capital & Main: Taking the temperature between now and New Year's, what's your prognosis for the House and Senate tax bills?
Senator Mitchell: The GOP tax plan is a redistribution of wealth from the poor to the rich or semi-rich. It gambles away the health care of poor people and this is unacceptable.
I'm so disappointed with the work of the [U.S.] Senate Budget Committee. I can't imagine being a legislator, getting a report from the Congressional Budget Office that says the things it says about these bills — and voting to pass it. Did they ignore it? Did they not care?
One Senator, when interviewed, expressed concern about the bill's potential to make the deficit skyrocket. When asked if that was enough to make him not vote for it he said, "I'm not sure. I'm still working on it."
Senator Mitchell: The whole point of having the support of fiscal analysts and the Congressional Budget Office, with their independent status, is to provide you with critical data to help you make a decision. How can you say, "Oh yeah, that's bad, but I'm not sure if I'm going to go forward on this or not"? Politics is continuing to trump — lowercase T—what's best.
Is Sacramento concerned?
Senator Mitchell: Am I concerned? Yes! But I think what I'm more concerned about now is the Healthy Families Program.
This is the entitlement for California families who aren't poor enough for Medi-Cal — but don't earn enough to have private insurance.
Senator Mitchell: It provides care for about two million kids [and] requires federal reauthorization. And [Congress] has not reauthorized it. That could have immediate impacts on California's budget. It's a separate process [from the federal tax bills] but they have already missed the deadline.
It's also been said that the tax proposals could undermine affordable housing construction in California because they would affect the credits and tax breaks that developers receive.
Senator Mitchell: Yes, which are critical for developments to pencil out. Given how far behind we are in terms of our housing-unit need, it would be devastating. L.A. County has done amazing things — voters have said yes to Prop M, yes to Prop HHH. All of that could be compromised — this delicate balance where developers can come in, get these credits to build affordable units. We're already behind the eight ball in terms of our need. This would be yet another blow.
Defenders of the tax bill say everybody will get their taxes cut initially. Then by 2027, according to the Congressional Budget Office, middle- and low-income people will experience a net loss.
Senator Mitchell: They claim that they're protecting "the middle class" — folks who make $100,000 and over. But that's not how we define the middle class in California—here the salary threshold is much lower. What they claim is good news, I think, masks the bad news. And they're rushing it through the process.
What steps are needed to analyze and create a response for a new federal tax plan's effect on California?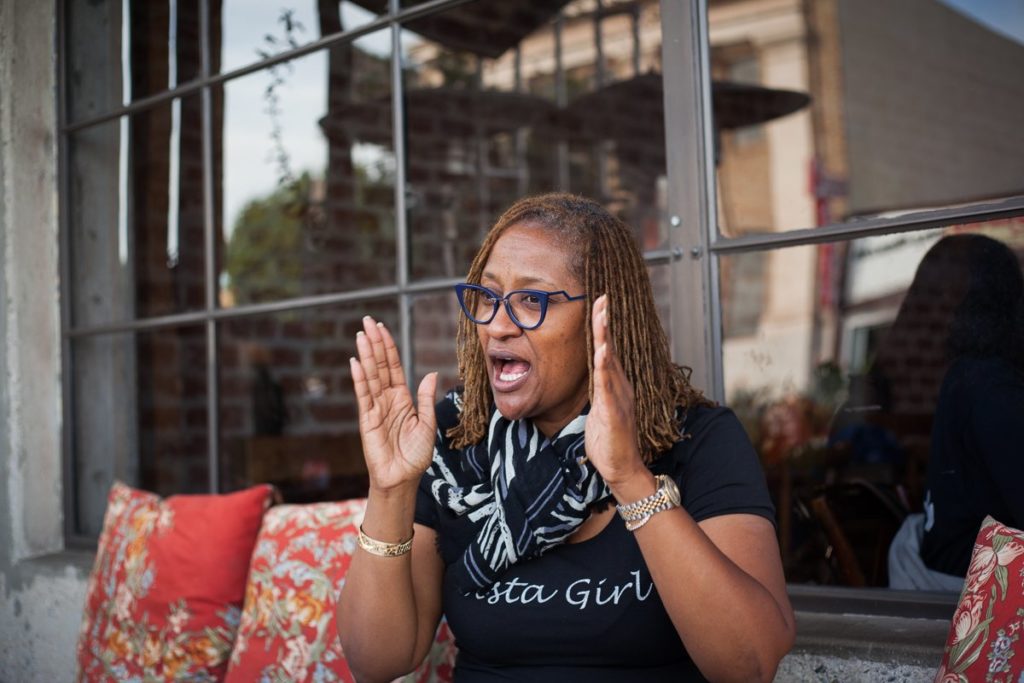 Senator Mitchell: It will be a process. Unlike [the U.S. Senate], I will rely on our Department of Finance, the Legislative Analyst's Office, the Senate Budget Committee staff to have discussions, to have a full budget hearing.
What's your sense of the tax proposals' potential effect on the state's economic health?
Senator Mitchell: How we earn income as a state government could be severely impacted. We are socking money away into rainy-day funds to try to prepare for the time at which our recovery will slow down — [but] we couldn't save enough to prepare for these [federal] proposals and the kind of hole they could blow in the state's general fund.
What's your plan if California does take a financial hit?
Senator Mitchell: As budget chair, I would be forced, as painful as that would be, to go back to the days of cutting. We may not be able to use a scalpel. It may be sledgehammer time — it would be devastating. In terms of the trend we've experienced with investments in K through 12, early education, the investments we have made in the last couple of years in the University of California and Cal State University systems — all these investments that we've made to expand access to services, would be impacted.
We fund Opti-Cal and Dental-Cal [for eye and dental care] — those are the kinds of core, basic human services that we could potentially have to roll back again. Medi-Cal funding helps undergird and support our overall health-care delivery system. If that went away, everything would be compromised.
---
Copyright Capital & Main