Solar-Powered Festival Heats Up Boyle Heights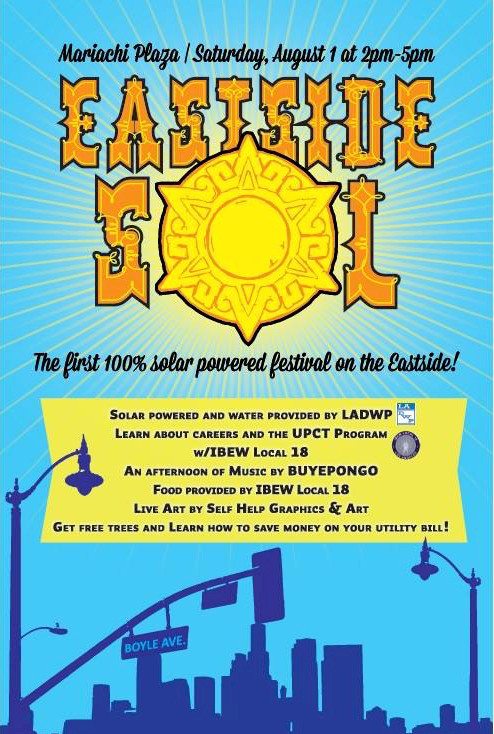 Billed as the area's first 100 percent solar-powered festival, EastSide Sol heated up Mariachi Plaza in Boyle Heights on Saturday. Under the scorching sun, activists, residents and community leaders gathered to explore how low-income and minority communities like theirs can be part of the growing green economy.
On the surface, EastSide Sol was a festive celebration. The crowd danced to funky live music by pan-Latin band Buyepongo, ate taquitos and pupusas provided by neighborhood restaurant Un Solo Sol and enjoyed live mural painting by Self-Help Graphics. But at the event's core was a conversation about economics and the environment, and how to deal with the increasing realities of climate change.
In City Council Member Jose Huizar's opening remarks to the crowd, he said "Oftentimes in the environmental movement, when we're looking to preserve our planet, our earth and find alternative forms of energy, the Eastside is left out of the discussion." The need to include low-income and minority areas in environmental efforts was an ongoing theme of the day. A catalyst for the festival was the release of research by the Repower LA Coalition showing Latino neighborhoods like Boyle Heights receive only 1% of all residential solar panel rebates, despite strong support for solar power in the community.
One goal of the festival was to raise awareness about Community Solar, a developing program from the Los Angeles Department of Water and Power that will install solar panels on public properties. Households that are unable to put solar panels on their own roofs for various reasons will be able to purchase clean solar energy through the program, which will be a useful step towards the city's commitment to be completely off of coal by 2025.
Ashley Thomas, a researcher for Repower LA, looks at the journey towards clean energy as a puzzle that the DWP is trying to assemble. The missing pieces of this puzzle include not only low-income neighborhoods, but also renters. Solar power is not easily accessible for people who aren't homeowners of traditional, single-family homes, with enough income to pay for the installation of solar panels.
"I really think that it's important that we invest in clean and green energy," Thomas said. "It's important for our community as a whole in LA, it's important for our world and it's important for our economic development. It's important for a lot of different reasons. But really there are so many communities that haven't been invested in as much as other communities. There are a lot of communities that have taken advantage of solar energy for example, and communities like the one that we're in in Boyle Heights that just haven't had access for a ton of different reasons."
One organization working to reverse that trend is Grid Alternatives, a nonprofit that installs solar panels. Michael Kadish, the executive director of Grid Alternatives, represented the organization at EastSide Sol. He said that the organization has finished panel installations for 900 low-income households in and around Los Angeles, and reduced electricity bills for these families by as much as eighty to ninety percent.
Elizandro Umaña, the career development coordinator at LA CAUSA YouthBuild, detailed his involvement in another effort as he mixed red paint with yellow to make orange for the sun he was about to add to a Self-Help Graphics mural. Youthbuild, Umaña explained, is providing job training for young people from low-income backgrounds through a program especially for the installation of solar panels.
"What we're trying to do is get them essentially a living wage, but much more than that, get them a job where they can get a retirement and health benefits, and a really good career," he said.
Umaña also expressed worry that technology and industry have caused extreme damage to the environment in Boyle Heights. "This is one of the most polluted communities in L.A. city and county because of all the different manufacturing and warehouses and things like that. Just down the street we have Exide Technologies. The majority of this earth is polluted, and many of the residents, they don't even know that if they grow something in their backyard, they're really not supposed to be eating that. So this is one of the communities that is disenfranchised, that has low resources, it's one of the communities that has been getting the least resources or funding in terms of being able to provide solar energy."
A goal of the event was to rally Boyle Heights residents so that they can have their voices heard, not just in order to improve their health and lower their electric bills, but to give them a place in the fight against climate change.
"People really need to start embracing and recognizing that solar is the solution for a lot of our problems," said Aura Vasquez, environmental activist, community organizer and MC for Saturday's event. "In East L.A. we have one of the highest asthma rates in Southern California, and I think solar can really help with that. I also think it can really benefit people in terms of lowering their bill when you can generate your own electricity and you don't have to pay to get it, to generate your own electricity can be pretty revolutionary." Vasquez talked about the the health and financial benefits of solar, but didn't stop there.
"How are we gonna protect our environment for future generations, and how are we really being part of the solution against climate change? I think our families here all understand, and especially the families of these communities that are already recycling things, and are already drying their clothes in the sun, that are already benefitting from solar energy actually. So how we can take it one step ahead and really benefit a community that needs it the most? That's why I think these types of events are important, to educate, to advocate, for more of these types of programs here."
Images courtesy EastSide Sol.