Social Workers Ramp Up Strike Today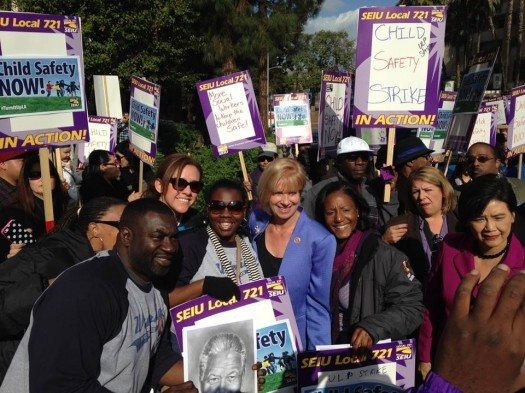 U.S. Reps Janice Hahn (c) and Judy Chu (r) at Dec. 6 rally.
Last week Los Angeles County Children's Social Workers went on strike after contract talks with the county broke down. At the heart of the conflict are claims made by the CSWs that the Department of Public Social Services and the L.A. County Board of Supervisors have refused to include in a new labor agreement a binding commitment to reduce the number of employee caseloads. The CSWs, represented by the Service Employees International Union Local 721, say the caseload numbers "greatly exceed acceptable industry standards."
This morning at 11 a.m., union members, along with community and faith leaders, will take their complaints to field offices of the five supervisors: Gloria Molina, Zev Yaroslavsky, Don Knabe, Mark Ridley-Thomas and Mike Antonovich. The chief focus of Monday's strike rallies will be Molina's El Monte office, at 3400 Aerojet Avenue.
Local 721 claims the support of U.S. Congresswomen Janice Hahn and Judy Chu, who addressed a large rally last Friday at the Wilshire Center headquarters of the Department of Children and Family Services. The union has demanded "that the Board of Supervisors put child safety first by (1) reducing sky-high social worker-to-child ratios, and (2) hiring and training hundreds of new social workers to better protect children."
According to a Los Angeles Times piece, "two-thirds of social workers and their supervisors" were absent from work December 5 and 6, the strike's first two days.