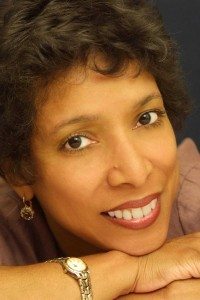 No one ever said housemaid or domestic.  Pride matters more
And here's the truth of it:  she was Tantie, a grand-mothering
substitute chained to Miss B., a former Hollywood come-hither
and Tantie's final mystery.  I couldn't name a single movie
Miss B had starred in but Mother told us she was a 1st-class bitch.
Thirty years later, watching late night television, I recalled:
I met that bitch once.  Ill-preserved on celluloid, she fluttered
there amidst her ersatz brood but not in the same way I'd seen
her flutter decrees upon my Tantie.  And my Tantie, once a muck-
a-muck in her own right (having flown an airplane solo in days when
most women and Negroes were grounded) half-fluttered in return—
to make sure her family had dimes and nickels.  Tantie didn't tell us
she was Miss B's maid and I never knew a thing about it until I saw
this black-and-white movie with Miss B—half a star among stars—
given third place billing—nearly unrecognizable as the cold shrew
I remembered flaunting dipped pearls, telling me
to look and admire because I would never own anything
quite like them.  Tantie calmly laced Miss B's tea (with what?—
we never knew) so that Miss B napped a little longer on afternoons
when Tantie fed us sugar-cubes, spoke softly of days when she'd soared.
———————————————
Source:  Beg No Pardon (2007), published by Perugia Press.
Lynne Thompson is the author of Beg No Pardon (Perugia Press, 2007) and the forthcoming Start With a Small Guitar (What Books Press, 2013). Her work has been widely published and is forthcoming in the African American Review and Prairie Schooner; she is also the Reviews & Essays editor of Spillway.