Smog Check: Central Valley Congressmen Refuse to Clear the Air
Both ozone and particulate pollution are attributed to oil and gas production, agribusiness, mega-dairies, power generation, heavy equipment and truck traffic – many of the Central Valley's major businesses.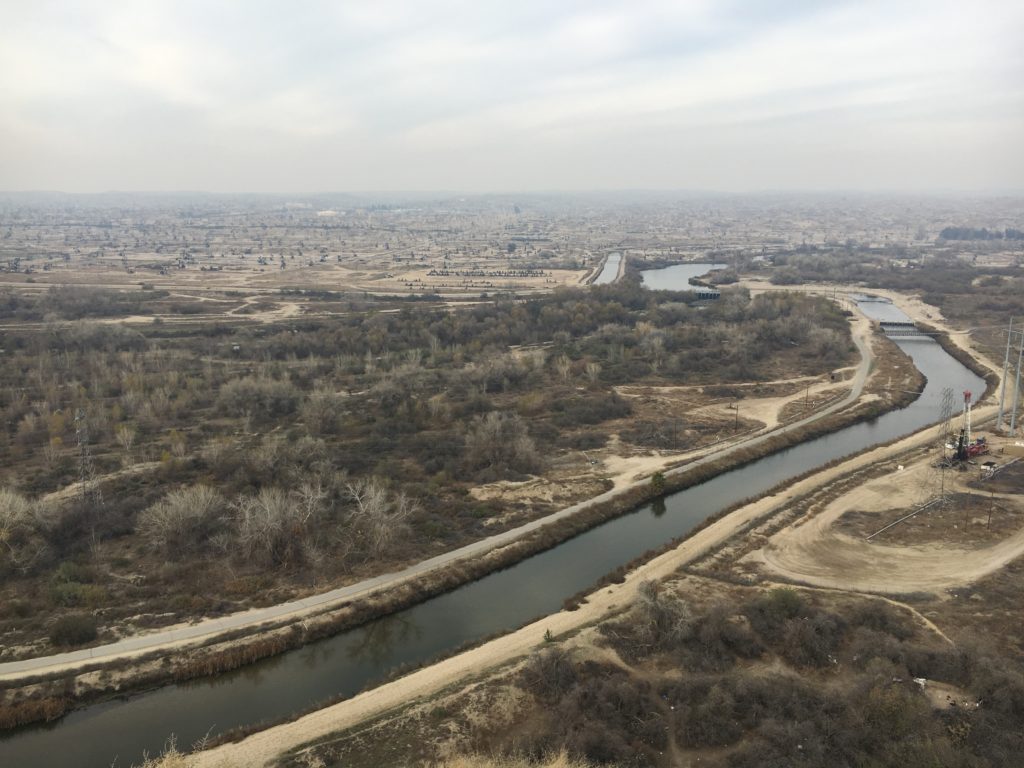 According to the American Lung Association, Bakersfield has some of the worst air in the country with regard to the two principal ingredients that make smog.
---
When you stand on Bakersfield's Panorama Bluffs, the Central Valley's chronic air quality problems hit you right in the face. A thick, blue-gray aerial sauce lays over the Kern River below and the massive, 9,000-well oilfield to the north, a smog that sweeps up the bluff. The haze smells of oil and cow manure and stings the eyes.

On the day I visited, the Environmental Protection Agency warned residents that the air was "Unsafe for Sensitive Groups" like children and the elderly, who were advised to limit outdoor activity. Unfortunately, these EPA "action days" are the new normal here. According to the American Lung Association's "State of the Air 2017" report, Bakersfield has some of the worst air in the country with regard to the two principal ingredients that make smog. The city ranks Number One for short-term spikes in fine particle pollution, or PM2.5, and Number Two for ozone (after Los Angeles).

Ozone forms in the atmosphere as the combination of nitrogen oxides, or NOx, and volatile organic compounds, or VOCs, that mix in the presence of sunlight. PM2.5 is a tiny particle produced by diesel engines and wood-burning, and by the conversion of NOx and sulfur dioxides, among other chemicals, into particles. Both are dangerous to health and contribute to asthma, lung disease and other ailments.

"It's like this most days," said Debbie Saltello, 50, who was walking from Bakersfield College, which sits at the top of the bluffs directly south of the oilfields. "That's why we're always sick. People really want to do something about this, and we need to be fighting for cleaner air. But each of us only has time to do so much."

Saltello felt like she needed to do something, because her representative in Congress was voting the other way. In 2017, congressmen whose districts lie in the Central Valley voted for a little-known new bill, the Ozone Standards Implementation Act, or HR 806, which critics say guts the EPA's ability to set healthy ozone and particulate-matter standards, and delays the implementation of clean-air solutions.

The bill, which passed the House and is now in the U.S. Senate's Environment and Public Works Committee as S263, delays the implementation of 2015 National Ambient Air Quality Standards until October 2024, and permanently changes the EPA's air quality review from a five-year to a 10-year cycle. More important, the proposed measure allows the EPA to consider "technological feasibility" when the agency sets these standards. Currently, the EPA must set standards "requisite to protect public health with an adequate margin of safety," even if those goals are hard to attain, thus challenging districts and industry to innovate.

Republicans in this conservative swath of the state supported the bill, including House Majority Leader Kevin McCarthy of Bakersfield, Devin Nunes of Visalia, Jeff Denham of Modesto and David Valadao of Hanford. It was a mostly partisan vote, with only 11 Republicans voting against the bill and only four Democrats voting for it. One Democrat, however, was Jim Costa, whose Fresno district – along with Bakersfield, Visalia, Modesto and Hanford – is routinely among the Top Six worst cities in the U.S. for year-round PM2.5 spikes and ozone.

Costa, Nunes, Denham, Valadao and McCarthy declined to be interviewed for this story, but the bill's sponsor, Rep. Pete Olson of Sugar Land, Texas – a Houston  suburb that is also a center for oil and gas production and has its own claims on having the nation's most polluted air – said his bill was necessary because the EPA was creating red-tape bottlenecks, and he wanted to see fewer communities struggle with the fines and penalties for being in "non-attainment" of the standards. The 2015 NAAQS, which are the latest released, were met by a barrage of litigation and President Trump's EPA chief, Scott Pruitt, created a task force to explore ways to ease compliance.

"In recent years, we have seen the Environmental Protection Agency's inability to issue rulemakings and guidance in a timely way on air quality standards," said Olson in an email interview. "Communities are left with uncertainty and a lack of implementation guidance, while job creators and local businesses are left dealing with the regulatory difficulties of trying to expand in a 'non-attainment' area." Further, Olson claimed, districts were punished for air pollution that might not be their fault. "We have seen significant issues with how the EPA handles emissions outside the control of localities. The State of Texas has spent years struggling to avoid being penalized for pollution caused by natural events like forest fires. It is also worth noting that a significant portion of pollution in the Western U.S. is either naturally occurring or comes from as far away as China."

Olson denied that his bill will hurt health standards.

Paul Billings, senior vice president for advocacy at the American Lung Association, said the bill was driven by the American Petroleum Institute, the National Association of Manufacturers and other groups that lobby on behalf of big polluters.

"Oh, you mean the Smoggy Skies Act?" Billings asked in reply to a question about the legislation. "This bill is really designed to repeal the fundamental health premise of the Clean Air Act, or, I would say, rip the lungs out of that law. Currently, the standards are based on the health science: 'Requisite to protect public health with an adequate margin of safety.' In this legislation, they impose a technological feasibility test. Not having doctors and scientists tell us what levels harm health, but to allow engineers and economists to discuss whether or not it is feasible to meet these standards. This is kind of like diagnosing a patient by what it will cost to cure the patient, rather than by what ails the patient."

In their published dissent, House Energy and Commerce Committee 

Democrats called the bill a "compilation of attacks that in reality strikes at the heart of the CAA [Clean Air Act]," adding: "This bill would undermine decades of progress on cleaning up air pollution and protecting public health from all criteria pollutants – not just ozone."

Bakersfield's Rep. McCarthy, who sponsored versions of this bill for years, provided a statement to Capital & Main, which reads in part: "…the Obama Administration's regulation [meaning the 2015 NAAQS] will saddle our communities with punitive fines for failing to meet a near-impossible task of complying with a standard so unrealistic it is approaching naturally occurring background ozone levels…. This bill makes the right reforms, without sacrificing air quality that will help our communities be healthy and thrive."
The Lung Association's "State of the Air 2017" report notes that air quality has been getting progressively better throughout the country since the passage of the 1970 Clean Air Act, even as it remains unhealthful: Los Angeles still has the nation's worst ozone problem, but the numbers have been steadily improving. But that has required increasingly more stringent quality standards.
Dolores Barajas-Weller, director of the Central Valley Air Quality Coalition, a clean-air advocacy group, says the San Joaquin Valley Air Pollution Control District has resisted clean-air strategies proposed by her group. The district's executive director, Seyed Sadredin, is well-known for wanting to soften the very law he's supposed to uphold: He submitted a white paper on that subject to the Trump transition team, and testified in support of HR 806 in committee hearings, while the California Air Resources Board and many other agencies in charge of air quality opposed the bill.
"[The District] say they've left it all on the table, but they haven't," Barajas-Weller said.
Wood-burning and the widespread charbroiling of restaurant foods, for example, could be more strictly regulated, she said, and agricultural burning could be replaced by offering incentives to growers in the valley to chip, mulch and compost their waste. Similarly, the waste water that is a byproduct of oil and gas extraction is a major source of VOCs and needs addressing. Farm equipment can be transitioned from diesel to clean energy. And biomass energy facilities need to be more strictly controlled.
"The Rio Bravo biomass facility here in Fresno is the top PM2.5 source for the entire county, and it's located in one of the poorest unincorporated communities," said Barajas-Weller. "The governor signed a five-year bill to bring in all of the forests affected by the tree mortality issues, trucking them down on diesel trucks and burning them in a disadvantaged community."
"With respect to particulate matter and ozone, it's very disheartening that the congressional Republicans, now that they're in power, are working tirelessly to gut to protections in the Clean Air Act," said José Gurrola, mayor of the Kern County town of Arvin, located just south of Bakersfield. "Here in Kern County, we saw over the holidays a period of about 10 days where particulate-matter pollution was so bad that we hadn't seen that kind of pollution since the 1990s."
Gurrola, who was elected in 2016 on an environmental platform, sees vast opportunity for the valley in the process of air cleanup. He wants smart growth, mass transit, tractors and oilfield equipment running off clean energy, and subsidies for electric vehicles targeted directly to the Central Valley.
"Rather than weaken the standards of the Clean Air Act," Gurrola said, "I think that [Congress] should provide more resources to the Valley Air District, to provide more incentives for both industry and the community to work together to improve the air."
---
Copyright Capital & Main
The Climate Summit's Inconvenient Truth: People Need Jobs
Co-published by Fast Company
Much of the recent gathering in San Francisco involved corporate and government backslapping — noble but too easily mocked.
Co-published by Fast Company
Amid the swell of protesters demanding California put an end to oil, and a police force growing irritated with their monotonous chanting ("I'm going to be singing that one in my sleep," said one officer), I met Theodore Hunt. It was not a chance meeting. Earlier, on the first day of the Global Climate Action Summit at San Francisco's Moscone Center, I had rented an electric-assist bike to get to a lunch meeting, navigating the downtown streets by way of Google Maps with my iPhone in the bike's basket. In a rush to lock up the bike outside the restaurant, I left my phone behind.
Hunt was my savior. When I called my number on a borrowed phone, he answered, and promised to leave the phone for me later at the office of the bike company. But the office was far, and I needed my phone, so instead I tracked him down using an iPad and the Find Your iPhone app. When the tiny phone icon showed up at a building across the street, I scurried down three flights of escalators, borrowing phones along the way to sync up my coordinates with Hunt. Cops, security guards, random strangers — by the time we all spotted a tall African-American man on a bright red bike waving from across Third Street, it seemed all of San Francisco had become invested in our saga. When Hunt and I made the handoff and I hugged him with gratitude, a small cheer went up.
It was a magically reassuring moment during an international gathering of climate activists, elected officials and corporate leaders who had come here committed to holding the United States to the terms of the 2015 Paris Climate Agreement, Trump and his administration be damned.
Much of the summit was simple corporate and government backslapping — noble but too easily mocked. What does it matter if General Electric presents its climate ideals when the corporation refuses to back down on plans for a new coal plant in Kenya? Starbucks might have banned plastic straws, but emissions still accumulate in the long lines at its many drive-throughs. And McDonald's? Really?
For protesters outside the fences, maintaining global temperature below the point-of-no-return threshold means that, in some cases, entire industries have to be shut down. "We have to keep 80 percent of the fossil-fuel reserves that we know about underground," the noted author and climate warrior Bill McKibben has written. "If we don't—if we dig up the coal and oil and gas and burn them—we will overwhelm the planet's physical systems, heating the Earth far past the red lines drawn by scientists and governments."
The problem with that strategy is that with those industries, oil and coal, come many thousands of well-paying, often union jobs. "Climate strategies that leave coal miners' pension funds bankrupt, power plant workers unemployed, construction workers making less than they do now," said AFL-CIO President Richard Trumka in a speech on opening day, "fundamentally undermine the power of the political coalition needed to address the climate crisis." The issue of the climate versus jobs will be used by the foes of both labor and clean energy to divide the country, Trumka noted. It already has.
In the near term, if oil extraction were to suddenly come to an end in California, 30,000 people would lose their livelihoods, and thousands more will be out of work in places where industries depend on California oil. In the long term, jobs wouldn't be available to a new generation full of people like Theodore Hunt — smart, honest and capable, but not necessarily pre-armed with the privilege and educational credentials to parlay those qualities into a six-figure job. Hunt, who is 28 and single, told me he works as much as he can: As a mechanic servicing the city's network of electric bikes, he can earn as much as $800 on a busy week. If he meshes his maintenance duties with a food-delivery service, like Uber Eats, he might make $1,200 in a week — a decent living wage almost anywhere besides San Francisco, where he can't afford to live.
But the big weeks are rare, and if Hunt gets sick, or injured, or takes a mental-health break, he doesn't get paid at all. He belongs to the 8.5 percent of California workers whom the University of California, Berkeley Labor Center calls the "unincorporated self-employed." He gets paid when he delivers a meal or services a bike. He does not get paid when he stops to eat lunch. If he wants health insurance, he must buy it himself.
Hunt likes his job: The hours vary, he gets to be outside, he interacts with people. Like so many other "green" jobs, Hunt's is many times more pleasant and safer than mining coal, or working on an oil rig. But it's not a steady living on which to buy a house or support a family.
Nor is installing solar panels on rooftops, a job that generally pays $14 to $20 and hour, rarely with benefits. Trumka told the summit that 4,000 megawatts of solar had been installed in the San Joaquin Valley over the last two decades. "Fifteen million job-hours of union work, at union wages and with union benefits, made that possible," he said. But once those plants are built, it takes only a few people to keep them operating, and no one has to mine the fuel. The same math applies to wind farms: Once the turbines are up, most of the work is done.
Paul Getsos, national director of the People's Climate Movement, has spent more than a decade thinking through what it means to bring the labor movement into the climate fight by way of a just transition for workers. He organized in disadvantaged communities around the Obama administration's stimulus package. Later, he assessed green jobs for the Center for Community Change, and found that "the promise of 'green jobs' wasn't fulfilled for a lot of communities. There's a very narrow view of what a 'green job' is." The solution to the worker-transition conundrum for a 100 percent clean energy economy is to expand that definition. "Manufacturing electric cars is a 'green job,' said Getsos. "Rebuilding infrastructure in North Carolina to keep people safe from coal ash — that's a 'green job.'"
Retrofitting homes and business to use less energy is also a green job — and one of the best, according to Getsos: "[Energy efficiency] is one of the areas where there is access to new jobs that don't require higher education." It's also ripe for job growth. In New York City, a mandate to retrofit the city's buildings — which account for two-thirds of the city's greenhouse gas emissions — will yield 17,000 jobs between now and 2030.
Energy efficiency isn't a big field in some of the smaller towns where dirty fossil-fuel plants exist. In Centralia, Washington, where a coal plant employing 300 workers making $80,000 a year will begin shutting down in 2020, environmentalists and labor negotiated an agreement with the city and the plant operator, TransAlta, to invest $55 million in worker retraining and community development in exchange for an expedited permit to build a natural gas plant on the same site. (Natural gas isn't perfect, but for the climate it's better than coal.)
Legislators could also intervene with laws granting benefits and collective bargaining rights to people like Theodore Hunt. As smart technology expands further into transportation and utilities, some necessary jobs will become more fluid for employers and less rewarding for workers. California Assemblymember Lorena Gonzalez Fletcher has introduced two bills over the past few years to give contract employees workers' compensation benefits and the right to form and join unions, and Assemblymember Evan Low last session brought up a bill that would guarantee contract workers portable benefits. None have yet made it to the governor's desk.
"We can't just say 'green jobs'," Getsos said. "We need to say green jobs, good jobs and worker access."
Those principles might be as consequential to the clean-energy economy as are the protesters' demands.
---
Copyright Capital & Main