Setting the Record Straight: L.A.'s Activist Video Archive
For Oneil Cannon, breaking the color line of L.A.'s lily-white printers' union didn't simply mean facing a night of scalding verbal abuse during his first union hall meeting – moments before it began he'd been refused service at knifepoint at a nearby restaurant. Jackie Goldberg says her activist's DNA was shaped less by Berkeley's celebrated Free Speech Movement than by a little-noticed women's conference held the year before the U.C. campus erupted. Peter Douglas' journey from the frozen roads of war-torn Poland to Redondo Beach's balmy Esplanade led the father of California's Coastal Act to become a "radical pagan heretic."
These and more than 40 other reminiscences by Southern California social activists have been recorded by Julie Thompson and her husband, Brogan de Paor, as part of an ambitious yet shoestring-funded project called the Activist Video Archive. So far the couple's subjects have also included Haskell Wexler, Cheri Gaulke, Rodolfo Acuña and Peg Yorkin.
While many progressives may believe they have a personal relationship with history, they have left a surprisingly thin record of their work – an information gap that the mainstream media show little inclination to fill.
Julie Thompson and Brogan de Paor
"The sense of history in the U.S. is about 10 minutes long – on a good day," says Thompson, an executive producer of the film Nebraska and a former manager of singer Holly Near. "This is a project of historical memory. We do these long interviews to learn what formed people's politics and how they organized for social change."
She and de Paor, a veteran filmmaker, had been kicking around the idea of creating a local history video project for about a decade when, three and a half years ago, their company, Sundays Well Productions, was hired for a job that pushed them to take the first steps.
"To make a living we were interviewing activists who were being honored at dinners such as the Liberty Hill Foundation  dinner or Physicians for Social Responsibility," Thompson tells Capital & Main. "Then Hamilton Fish was out here for the Nation Institute, which was honoring Bob Scheer. Bob gave us a list of 40 people to interview, including Gore Vidal, Alice Waters and Ron Dellums."
Thompson and de Paor decided the time was right to begin their own project.
"The idea," says Thompson, "is to eventually make this a searchable database for the activist or historian or sociologist who can go to it to learn about the Port Huron Statement or the war in El Salvador or the women's movement in the late 1960s and early 1970s. Right now we're just collecting interviews – I research, Brogan shoots."
Another goal is to have the interviews, which typically require four to eight hours of questioning, transcribed and available for reading.
Thompson and de Paor's main challenges – time and money – are the ones faced by anyone trying to capture and bottle elusive history. The couple operate out of their two-bedroom Santa Monica apartment, which also doubles as their editing studio. The falling price of recording technology keeps their costs down, but their Poverty Row budget limits what they can do. It would cost, for example, about $28,000 to transcribe their current inventory, so they make do with having interns transcribe only the most recent interviews.
Thompson and de Paor have raised $210,000 over the past three years, which allows them to work on 10 to 12 interviews per year. Thompson says they hope to partner with an institution with the resources to fund future interviews and curate the archive. For now, however, they must raise money through house parties and small individual donations.
More critical, however, is the race against time to interview older activists while the subjects are still alive, lucid and eager to talk. Thompson remembers the determination of longtime California Coastal Commissioner Peter Douglas, who was stricken with cancer, to drive himself to his interview two weeks before his death.
"History is always spun by the people in power," she says. "As that happens, important voices get spun in a different direction and discredited. We think that dissent and the old-fashioned notion that one person making a difference is what made this country great."

'Skeleton Crew' Is a Play With a Moral Spine
Set in a Detroit automobile outfitting plant, Dominique Morisseau's drama grabs you from the start with its focus on blue-collar men and women, and their struggle for dignity and self-respect.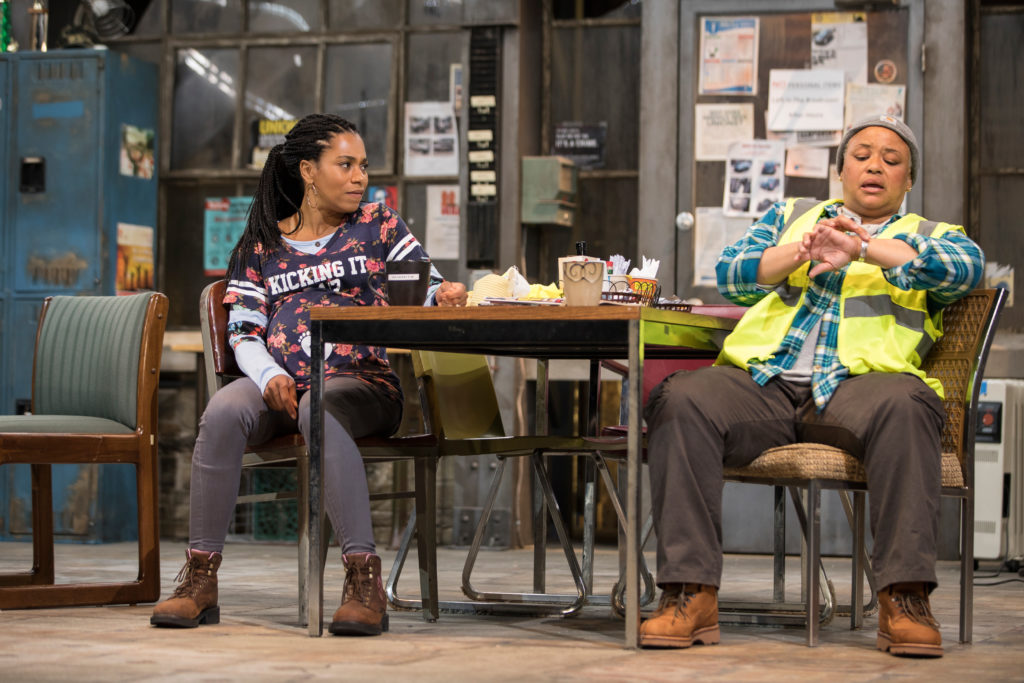 Working-class men and women of color are rarely front and center in today's media and, likewise, are presented all too occasionally on the American stage. So it's buoying to see that trend bucked in playwright Dominique Morisseau's percipient and well-crafted drama, Skeleton Crew. The play is the final installment in her Detroit  Project Trilogy; the first, Paradise Blue, is set in the 1940s amidst displacement caused by urban renewal and gentrification, while the second, Detroit '67, transpires on the eve of the 1967 Detroit riots sparked by a police action.
Directed by Patricia McGregor at Los Angeles' Geffen Playhouse, Skeleton Crew is a play with a moral spine. It takes place in 2008, when the shrinking U.S. auto industry is being further downsized. Morisseau's engaging quartet of characters — Faye (Caroline Stefanie Clay), Dez (Armari Cheatom), Shanita (Kelly McCreary) and Reggie (DB Woodside) – are employed at an automobile outfitting plant. Faye, Dez and Shanita are workers on the line while Reggie (who has a wife and kids, and has pulled himself together after a troubled youth) is their supervisor.
The first three customarily mingle in their break room (designer Rachel Myers' impressively cluttered, dingy and detailed set), trading the sort of familiar barbs and genuine concern for each other common among longtime co-workers. They also face off on philosophy: Upper-middle-aged Faye and the younger, pregnant Shanita take pride in their labor, while Dez, though a good worker, is a malcontent scornful of management and firm in the belief that everyone needs to watch out for himself. He's a thorn in Reggie's side, for while Reggie wants to be supportive of his workers, he must act at the behest of higher management. For his part, Dez resents Reggie's authority, and a palpable unease exists between them.
Besides this male matchup, we're made privy to Dez's attraction to Shanita, who mostly turns away his advances, but every now and then displays a hint of interest. Most poignant is Reggie's regard and affection for the lesbian Faye, which has roots in his boyhood when she loved, and lived, with his now-deceased mom.
These people's various predicaments intensify when rumors spread of the plant's shutdown — a disaster for all, but a particular calamity for the already near-broke Faye who, one year short of retirement, would lose her pension. The crisis forces each of these people to make a choice.
A sound piece of social realism, Skeleton Crew grabs you from the start in its focus on blue-collar men and women, and their struggle against odds for dignity and self-respect. Morisseau not only furnishes these characters a platform for their travails, she endows them with strong values, big hearts and the opportunity to choose between right and wrong.
Unfortunately, the performance I attended did not soar. Many exchanges lacked a fresh edge. The actors certainly had their characters down, but too often they appeared to be coasting on technique. (This seemed particularly true of Clay, who performed the role to great accolades in Washington, DC in 2017, also under McGregor's direction). Additionally, some of the stage movement was not entirely fluid; in confrontations, actors sometimes would just stand and face each other in an artificial way. And Cheatom's interpretation of Dez struck me as a bit overly churlish and depressive: I needed more glimpses of the intelligence and edge that would secretly attract the strong, self-directed Shanita.
The most compelling moments belong to Woodside, well-cast as a man trying his best in difficult circumstances to do the right thing.
---
Gil Cates Theater at the Geffen Playhouse, 10886 Le Conte Ave., Westwood Village; Tues.-Fri., 8 p.m.; Sat., 3 & 8 p.m. Sun., 2 & 7 p.m.; through July 8. (310) 208-5454 or www.geffenplayhouse.org