Seeing Green: Is an Underground Industry Going Legit?
It's fascinating to watch an industry attempt to define and structure itself as it comes together. Imagine Silicon Valley in the late 1990s, nuclear power in the 1960s, alcohol in the 1930s, or the auto industry in the 1900s and 1910s.
I got to see shades of this recently when I visited the High Times Medical Cannabis Cup, held at L.A. Center Studios. Despite the carnival atmosphere, this was essentially a trade show for an industry in its inception. A friend had to deliver some union materials to a labor-friendly vendor, and I tagged along, chatting with representatives from all segments of the industry.
Most press accounts have caricatured the industry as a joke. But with potential national revenue that could be as large as $120 billion annually (estimating the true size is notoriously difficult), and with boosters predicting potential California employment in the tens of thousands, this is an industry that deserves to be taken seriously, whatever you think about the way that cities are (or aren't) regulating dispensaries. (Let's hope that my editors don't undercut this point by giving this piece some goofy pun for a title, like "Seeing Green.")
While dispensaries remain the most visible part of the industry, setting foot inside the Cannabis Cup dispelled any notion that dispensaries represent the industry. I was struck instead by the diversity, with different segments jockeying for power. In addition to dispensaries, you have testing labs, which establish potency and test for contaminants. You have suppliers, such as growers, but also hardware suppliers: grow lights, bongs, vaporizers, humidity-control devices, containers, cleaners (both for your bong and for your pee), and cutsie tchotchkes. You have industry associations, trade publications, and even directories that act as gatekeepers, charging other businesses thousands of dollars a month for listings. You have lawyers, consultants and doctors. You have the boosters and content-creators with their television and Web-based shows. (As I walked around, I also saw the expected political booths, with people barking for their pet causes: A sign on one booth read "arrest Wall Street bankers, not medical marijuana providers"; another booth collected signatures for a "Hemp and Health Initiative;" and, of course, the Ron Paul Revolution had a presence.)
There is also a lot of innovation, with people working to fundamentally change the way that patients interact with pot. The smoking of buds appears to remain the dominant mode for now, but there was a lot of creativity on display as entrepreneurs work to expand the forms of cannabis and the types of delivery systems — from wax concentrates and cannabis oils, to edibles, candies and pills, to topical sprays and massage oils. (Some of these provide medicinal qualities without the associated high.)
And while this event was open to the public – perhaps no other industry has such a close tie with the ultimate customer – it was, more than anything, an opportunity for some parts of the industry to sell to other parts of the industry. And boy, was everyone a salesperson. Belying the laid-back caricature, the reps I met uniformly spoke excitedly – and fast, always fast, and with much confusing jargon – about how their product was revolutionary.
After dropping off the union materials and talking with a dozen or so reps from all parts of the industry, we headed out just as the doors were opening to the public. ("Hey, who wants to smoke this?" a bushy-Afro'd rep yelled to the incoming crowd, holding up something called The Incredibowl.) I was struck by a few thoughts.
First, there is a great opportunity here for workers to get a fair shake. Rarely does an industry come into formation with labor having a seat at the table, but that's what we may be seeing here. The UFCW already represents about 1,000 workers at about 10 dispensaries in the Bay Area and in ancillary marijuana enterprises. As the industry continues to grow, mature and stabilize, workers – at all levels and in all segments of the industry – should share in the growth and the benefits. Hopefully we will soon see some organizing activity here in Southern California.
Second, policy-makers at the state and local level need to do more to remove the regulatory uncertainty surrounding the industry. Move forward with regulation, yes, just move forward. More than anything else, businesses require certainty and predictability. One disappointing trend I noticed at the Cannabis Cup was that much of the technological innovation seemed to be coming from Colorado, not California. We have an opportunity to capture billions of dollars of economic activity in the state, but the current landscape needs to be more encouraging of investment.
Finally, the industry still has some growing up to do. They seem stuck in between a self-image of industry-as-responsible-business and industry-as-outsider-cowboy. Vendors were frustratingly defensive when I asked them about the wisdom of flouting streetcorner "medical evaluations." Or when they insisted that the industry could self-regulate. Or when they said that unionization was fine for that other segment of the industry but not for their segment.
Government, industry and labor should recognize that there is a bargain to be struck that can result in growing the economic pie for the entire region (mmm . . . pie). Such opportunities don't come along often, so let's ditch the infighting and bad puns and take a more sober approach.

'Skeleton Crew' Is a Play With a Moral Spine
Set in a Detroit automobile outfitting plant, Dominique Morisseau's drama grabs you from the start with its focus on blue-collar men and women, and their struggle for dignity and self-respect.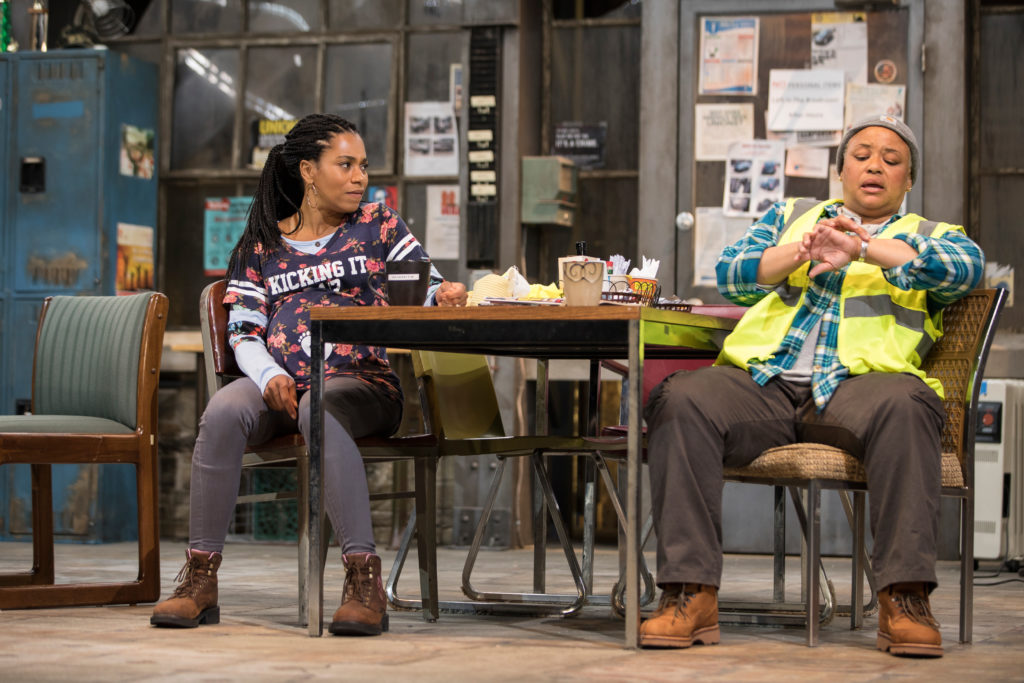 Working-class men and women of color are rarely front and center in today's media and, likewise, are presented all too occasionally on the American stage. So it's buoying to see that trend bucked in playwright Dominique Morisseau's percipient and well-crafted drama, Skeleton Crew. The play is the final installment in her Detroit  Project Trilogy; the first, Paradise Blue, is set in the 1940s amidst displacement caused by urban renewal and gentrification, while the second, Detroit '67, transpires on the eve of the 1967 Detroit riots sparked by a police action.
Directed by Patricia McGregor at Los Angeles' Geffen Playhouse, Skeleton Crew is a play with a moral spine. It takes place in 2008, when the shrinking U.S. auto industry is being further downsized. Morisseau's engaging quartet of characters — Faye (Caroline Stefanie Clay), Dez (Armari Cheatom), Shanita (Kelly McCreary) and Reggie (DB Woodside) – are employed at an automobile outfitting plant. Faye, Dez and Shanita are workers on the line while Reggie (who has a wife and kids, and has pulled himself together after a troubled youth) is their supervisor.
The first three customarily mingle in their break room (designer Rachel Myers' impressively cluttered, dingy and detailed set), trading the sort of familiar barbs and genuine concern for each other common among longtime co-workers. They also face off on philosophy: Upper-middle-aged Faye and the younger, pregnant Shanita take pride in their labor, while Dez, though a good worker, is a malcontent scornful of management and firm in the belief that everyone needs to watch out for himself. He's a thorn in Reggie's side, for while Reggie wants to be supportive of his workers, he must act at the behest of higher management. For his part, Dez resents Reggie's authority, and a palpable unease exists between them.
Besides this male matchup, we're made privy to Dez's attraction to Shanita, who mostly turns away his advances, but every now and then displays a hint of interest. Most poignant is Reggie's regard and affection for the lesbian Faye, which has roots in his boyhood when she loved, and lived, with his now-deceased mom.
These people's various predicaments intensify when rumors spread of the plant's shutdown — a disaster for all, but a particular calamity for the already near-broke Faye who, one year short of retirement, would lose her pension. The crisis forces each of these people to make a choice.
A sound piece of social realism, Skeleton Crew grabs you from the start in its focus on blue-collar men and women, and their struggle against odds for dignity and self-respect. Morisseau not only furnishes these characters a platform for their travails, she endows them with strong values, big hearts and the opportunity to choose between right and wrong.
Unfortunately, the performance I attended did not soar. Many exchanges lacked a fresh edge. The actors certainly had their characters down, but too often they appeared to be coasting on technique. (This seemed particularly true of Clay, who performed the role to great accolades in Washington, DC in 2017, also under McGregor's direction). Additionally, some of the stage movement was not entirely fluid; in confrontations, actors sometimes would just stand and face each other in an artificial way. And Cheatom's interpretation of Dez struck me as a bit overly churlish and depressive: I needed more glimpses of the intelligence and edge that would secretly attract the strong, self-directed Shanita.
The most compelling moments belong to Woodside, well-cast as a man trying his best in difficult circumstances to do the right thing.
---
Gil Cates Theater at the Geffen Playhouse, 10886 Le Conte Ave., Westwood Village; Tues.-Fri., 8 p.m.; Sat., 3 & 8 p.m. Sun., 2 & 7 p.m.; through July 8. (310) 208-5454 or www.geffenplayhouse.org