Scalia Gets Airbrushed Treatment in John Strand's Play
Playwright John Strand's presentation of Antonin Scalia as not the "monster" his critics make him out to be may hold some truth, but it's surely an incomplete one.

Edward Gero and Jade Wheeler (Photo by Jim Cox Photography)
In John Strand's play, The Originalist, the late Supreme Court Associate Justice Antonin Scalia (Edward Gero) is presented as a lovable curmudgeon — rather like the tough, gruff but charismatic professor you might have had back in your university days. To appreciate the character, and the play, you need to be willing to suspend your knowledge of the sum damage of Scalia's opinions on civil rights and the democratic process, something this writer found difficult to do. Director Molly Smith has termed the evening "historical fiction," but to my mind "fictional history" would be more accurate — unsettling because of its potential to distract people from historical fact.
The narrative is structured around a debate between Scalia and a young woman he hires to clerk for him – a character, Strand has said, he conceived after interviews with several of Scalia's clerks, who spoke of his warmth and openness to other (well-argued!) points of view.
The time is 2012. Cat (Jade Wheeler), a Harvard law school graduate, is a gay woman of color, although her sexual orientation isn't revealed right away. When asked about her political leanings, Cat tells Scalia she's a "flaming" liberal — but instead of being put off, the justice seems impressed by her honesty and willingness to work for a hardcore "originalist" such as himself. (Scalia defined originalism as interpreting the Constitution "not [by] what current society, much less the court, thinks it ought to mean, but what it meant when it was adopted.") As time goes on, they build a complex relationship, with Scalia lending her emotional support when her father falls ill. Cat's major triumph is getting him to insert a tempering phrase into his outraged dissent when the high court strikes down a section of the anti-gay Defense of Marriage Act, which he passionately supports.
Strand's theme, expressed in the dichotomy between these two characters, is the importance of listening to, and respecting, those with opposing political viewpoints. Scalia and Cat argue about many things besides DOMA: Roe v. Wade, gun control and the capital punishment of a minor (which Scalia defends), to mention a few. Most fundamentally they clash over the nature of the Constitution, which in the play Scalia pronounces as "dead, dead, dead," while Cat argues that, as a living document, it must change with the times.
It's hard to take issue with the play's intent — to foster compromise in a world where acrimony holds sway — or to challenge Strand's presentation of Scalia as not the "monster" his critics make him out to be. Still, while this airbrushed depiction of the man — funny and compassionate beneath a cantankerous exterior — may hold some truth, it's surely an incomplete one. It's one thing to cut slack for a retro grandad with a world view from another century. It's another when you're depicting someone with Scalia's power and influence, whose rulings have negatively affected the lives of so many. (This is, after all, a jurist who opposed granting new trials to prisoners after fresh evidence pointed to their innocence, on the grounds that nothing in the Constitution warranted it.) To ignore this aspect of Scalia's legacy, while touting this as a debate about American law and the foundation of our republic is, to me, disingenuous.
Gero, who originated the role in the Arena Stage production in Washington in 2015, is very good; he's sharp, funny when he needs to be, and consistently watchable. Wheeler's rather thankless task is to lob questions at him to elicit information about both Scalia's personal life and his legal opinions. Unfortunately, this performer hasn't developed much of a persona beyond that, and to that extent the play's didactic elements are underscored.
---
Pasadena Playhouse, 39 S. El Molino Avenue, Pasadena; Tues.- Fri., 8 p.m.; Sat., 4 & 8 p.m.; Sun., 2 p.m. (no performances April 18 & 25; one Sunday evening performance at 7 p.m., April 30); PasadenaPlayhouse.org or (626) 356-7529. Through May 7.

'Skeleton Crew' Is a Play With a Moral Spine
Set in a Detroit automobile outfitting plant, Dominique Morisseau's drama grabs you from the start with its focus on blue-collar men and women, and their struggle for dignity and self-respect.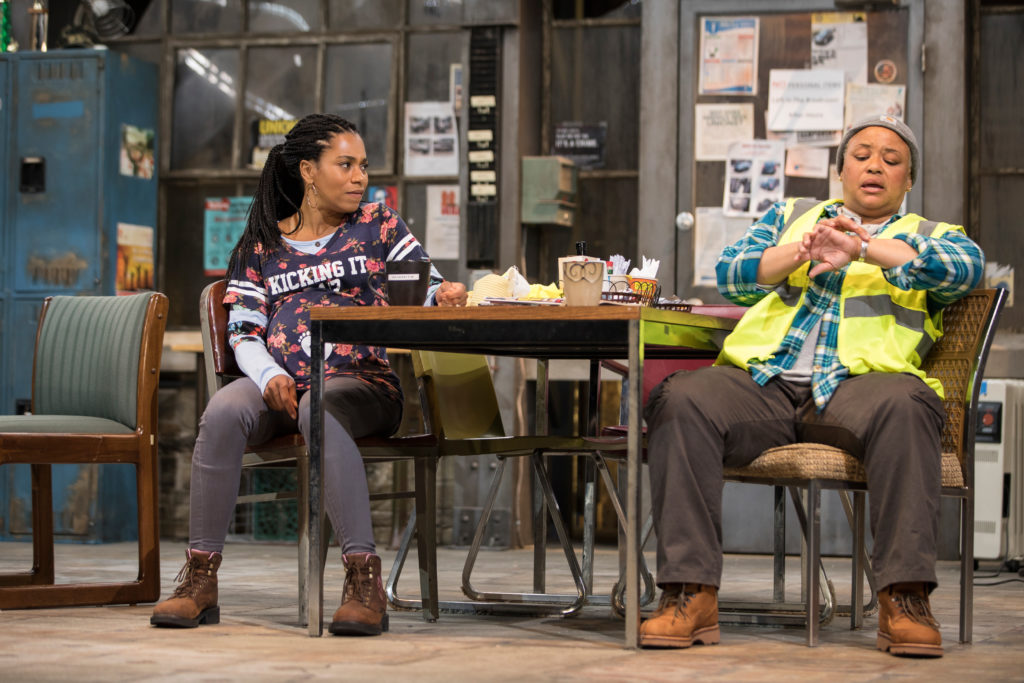 Working-class men and women of color are rarely front and center in today's media and, likewise, are presented all too occasionally on the American stage. So it's buoying to see that trend bucked in playwright Dominique Morisseau's percipient and well-crafted drama, Skeleton Crew. The play is the final installment in her Detroit  Project Trilogy; the first, Paradise Blue, is set in the 1940s amidst displacement caused by urban renewal and gentrification, while the second, Detroit '67, transpires on the eve of the 1967 Detroit riots sparked by a police action.
Directed by Patricia McGregor at Los Angeles' Geffen Playhouse, Skeleton Crew is a play with a moral spine. It takes place in 2008, when the shrinking U.S. auto industry is being further downsized. Morisseau's engaging quartet of characters — Faye (Caroline Stefanie Clay), Dez (Armari Cheatom), Shanita (Kelly McCreary) and Reggie (DB Woodside) – are employed at an automobile outfitting plant. Faye, Dez and Shanita are workers on the line while Reggie (who has a wife and kids, and has pulled himself together after a troubled youth) is their supervisor.
The first three customarily mingle in their break room (designer Rachel Myers' impressively cluttered, dingy and detailed set), trading the sort of familiar barbs and genuine concern for each other common among longtime co-workers. They also face off on philosophy: Upper-middle-aged Faye and the younger, pregnant Shanita take pride in their labor, while Dez, though a good worker, is a malcontent scornful of management and firm in the belief that everyone needs to watch out for himself. He's a thorn in Reggie's side, for while Reggie wants to be supportive of his workers, he must act at the behest of higher management. For his part, Dez resents Reggie's authority, and a palpable unease exists between them.
Besides this male matchup, we're made privy to Dez's attraction to Shanita, who mostly turns away his advances, but every now and then displays a hint of interest. Most poignant is Reggie's regard and affection for the lesbian Faye, which has roots in his boyhood when she loved, and lived, with his now-deceased mom.
These people's various predicaments intensify when rumors spread of the plant's shutdown — a disaster for all, but a particular calamity for the already near-broke Faye who, one year short of retirement, would lose her pension. The crisis forces each of these people to make a choice.
A sound piece of social realism, Skeleton Crew grabs you from the start in its focus on blue-collar men and women, and their struggle against odds for dignity and self-respect. Morisseau not only furnishes these characters a platform for their travails, she endows them with strong values, big hearts and the opportunity to choose between right and wrong.
Unfortunately, the performance I attended did not soar. Many exchanges lacked a fresh edge. The actors certainly had their characters down, but too often they appeared to be coasting on technique. (This seemed particularly true of Clay, who performed the role to great accolades in Washington, DC in 2017, also under McGregor's direction). Additionally, some of the stage movement was not entirely fluid; in confrontations, actors sometimes would just stand and face each other in an artificial way. And Cheatom's interpretation of Dez struck me as a bit overly churlish and depressive: I needed more glimpses of the intelligence and edge that would secretly attract the strong, self-directed Shanita.
The most compelling moments belong to Woodside, well-cast as a man trying his best in difficult circumstances to do the right thing.
---
Gil Cates Theater at the Geffen Playhouse, 10886 Le Conte Ave., Westwood Village; Tues.-Fri., 8 p.m.; Sat., 3 & 8 p.m. Sun., 2 & 7 p.m.; through July 8. (310) 208-5454 or www.geffenplayhouse.org