Saving Private Enterprise: Director Jacob Kornbluth on His New Robert Reich Film
After their critically acclaimed 2013 documentary, Inequality for All, Jacob Kornbluth and Robert Reich reunited to make Saving Capitalism, which explores the expanding economic and political power of America's wealthy.

Saving Capitalism  begins streaming on Netflix November 21.

Jacob Kornbluth had never had a job — not even an internship — by the time he graduated from college. When he applied to scoop ice cream at Double Rainbow, he was turned down. But he was used to feeling marginalized. Growing up 

in Manhattan and then in rural Michigan, he didn't have many friends and got beat up a lot. Both parents, wealthy in intellect but poor in assets, passed away by the time he was 18. All his grandparents too. With a life so rich in adversity, and unable to secure gainful employment, Kornbluth did what any young intellectual would do. He became a writer.

That led to directing some theater. In the early 2000s, inspired by the emotionally gritty films of British director Mike Leigh, he made a couple of feature comedies that not that many people saw. Then, with the economics of documentaries changing, he turned to the realm of nonfiction films to express himself. He grabbed a camera and followed Bill Clinton's former Secretary of Labor, Robert Reich, on his mission to raise awareness about America's widening economic gap. The resulting 2013 doc, Inequality for All, was no joke, both in its message and to critics, who lauded the film. But for Kornbluth and Reich there were some issues they touched on that still needed to be addressed. So they reunited in Saving Capitalism, a Netflix-streaming feature documentary that underscores the expanding economic power — and resulting political might — of America's wealthy. Nearly 30 years after someone decided against putting an ice cream scooper in his hands, Kornbluth sat down with Capital & Main to discuss politics and economics.
---
Capital & Main: The obvious divisions in this country are political ideology, race and gender, but it seems that few people focus that much on class.
Kornbluth: Well, I think the other divisions you mentioned are very real and meaningful, certainly, and I had started looking at class and economic divisions in Inequality for All. But I began to think that we were missing the story of power. As economic inequality grows, so does the concentration of political power, leaving a lot of people across the economic spectrum feeling like the game is rigged against them. You really see this line cutting across political viewpoints.
---

"As economic inequality grows, so does the concentration of political power, leaving a lot of people across the economic spectrum feeling like the game is rigged against them."

---
Perhaps the moment in the film that underscores that most is when you juxtapose footage of protesters in the Tea Party with those in the Occupy movement, and they are saying virtually the same things.
Kornbluth: Right. I certainly don't agree with a lot of the people in the Tea Party. But I have some empathy and I think we all need to see the connection between when economic inequality widens, this really does affect people and it changes the sort of reality that they live in. So basically, of those in the top 10 percent [economically], you see Republicans and Democrats disagree on just about everything — but the economy is essentially working for them. I don't think Americans like to see themselves as a country where class is that much at the forefront, in the way they do in Europe, but when you see the economic division spilling over into these other areas like politics, and it's really changing the way politics function on a meaningful level, I don't think you can ignore it anymore.
In the past, politicians had to play to the center to be successful. But in this last election, Trump didn't play to the middle and was able to get 60 million votes. People used to think that political ideology runs along a spectrum, but we see that [Bernie] Sanders and Trump supporters had a lot in common and that political ideology is really more circular.
Kornbluth: The political model has fundamentally changed into something that looks a lot more like a circle than like [a set of] polar opposites. We started making a film that was going to introduce that concept in 2015, before this election happened, when Hillary Clinton was the leader on the Democratic side and Jeb Bush was the leader on the Republican side, and it turned out we ran into that change as it happened.
---

"If you cede the system to the wealthy and powerful, and you don't fight back, then it's not going to get any better."

---
Your film and Reich's book are called Saving Capitalism. Some have said Marx was wrong about communism but he was right about capitalism, that eventually it would devour itself and spin out of control because of greed, and that is what we are seeing now. So why should we save it?
Kornbluth: It's a really important question. I mean, you're talking to the son of very left-leaning parents. One thing that Reich has taught me, is to forget the "ism" for a moment and just look at rules of an economic system. Stop thinking that capitalism is going to save or hurt us, and stop thinking socialism is going to save us or hurt us and start thinking that we have one economic political system and let's think about all the rules that go into it and examine them one by one, and ask, Who do those rules benefit and who do they hurt?
You see that the rules of our economic system are written by the people with the power to write them, and then over the last 40 or 50 years all of those rules have gone more towards the wealthy and the powerful and away from regular people. Well, it wasn't always like that in America.
But that system does keep breaking.
Kornbluth: You are absolutely right. But I think it's actually important, though, for people who think that maybe the materialism and greed of capitalism is fundamental and unchangeable [not to give up]. That's sort of like permission to check out, to say, "This system is broken and therefore I won't engage." And I think one of the crucial problems with that is if you cede the system to the wealthy and powerful, and you don't fight back, then it's not going to get any better.
A recent poll said that more millennials believe in socialism than capitalism. And more believed in fascism than capitalism, too. What does that say? Are millennials just fed up, or maybe more idealistic, or are they just more naïve?
Kornbluth: There's a bunch of ways to read something like that. One way to say it is [that] a lot of people feel like the game is rigged, which is true, and they are sick of it. They don't feel like their voices are heard. But there is a very important question which is, What is capitalism, specifically? If it's simply the free exchange of private property, then every country in the world today is some version of a capitalist country, or on some sort of a capitalism/socialism spectrum. You sort of can decide what you want to call it.
---

"This economic and political situation that we're in is unique — it means that we don't get to go back to normal."

---
But people forget, that in the past there was Ross Perot, and John Anderson to a lesser degree. Perot was an extremely viable candidate who had a chance of winning, before he imploded. There has been a bubbling of this discontent in every generation. Could one make the argument that the way a forest needs to burn to regenerate, you need a Trump to have both sides react and act — is this the equivalent of a political forest fire that could signal a regrowth for the country?
Kornbluth: I'd phrase it slightly differently. You certainly have seen bubbling of this growing anti-establishment wave [besides] Ross Perot, with Pat Buchanan on the right, when he was running his campaigns in the '90s. And you see in our film that in '92 Reich thought that they had a real chance to fix a systemic problem with the economy that was broken, that an increasing amount of gains from growth were going to the top. And he thought that this was going to be a long-term problem going forward. But I think the film's thesis is that this is not the same, but that, in fact, this economic and political situation that we're in is unique and it means that we don't get to go back to normal.
To your second point, I hear this argument sometimes from people on the left who say, "Maybe this Trump presidency is what we need to really have the progressive revolution that we've been waiting for." There may be some truth to that, but don't underestimate the threat to the economy and to democracy that we're experiencing right now.
There was a really poignant moment in the film, when Reich is talking to students about the regret he has, and it seems he may even be on the verge of tears. Tell me about that moment.
Kornbluth: You have a guy who's been fighting for 40 or 50 years, engaging in a political system and trying to in a very genuine way help out regular people around the country. And you look up after you've been at it for so long and you see a shorter time ahead of you than you have behind you and you say, "Wow, it's gotten worse. I can't say that all of the efforts that I've made have fixed it and what do we do with that? How do we answer to those questions?"
Reich is the same age as Donald Trump; and Hillary and Bill Clinton, and Clarence Thomas, were all at Yale when Reich attended. He's seen what his generation has done. I think that there's some answers he has to give about what [this generation] did to get us to where we are. I think he genuinely is torn, he's worried. He's fighting every day give his best to turn this system around but I think he's worried that time is running out.
You see in your film his ability to talk and connect with all types of people with differing politics than his own. What is it about him that lets him connect with people so well?
Kornbluth: Firstly, I think it's rare to see somebody who's that smart and successful who is that genuine, and I think that genuine quality, that sort of humanity, really comes across in him. It makes him an extraordinary screen presence. I've dealt with a lot of famous people in my time and I've never met anyone more grounded than him. But the real secret sauce, which makes him somebody that, if he didn't exist you'd want to invent, is that he's an unbelievable intellect and an unbelievable communicator. He can take complex issues and boil them down in a way that makes it easy for anybody to understand and not feel dumbed-down to. The smartest economists that I've talked to, the biggest idea people who I've talked to, are not always the best communicators.
Obviously, he did a lot of great work when he served the White House, but it's almost like his second act has been more powerful and more meaningful. Maybe because he's not hamstrung by the restrictions of working in the system?
Kornbluth: He was a Secretary of Labor in Clinton's administration but, honestly, how many labor secretaries can most Americans name? One of the most amazing and unique things about him is he has embraced social media in a way that a lot of his contemporaries haven't. I run a nonprofit with him, Inequality Media, and we make short videos for the Internet. Those videos in the last few years have been seen over 250 million times.
He is as motivated, passionate and driven as are people a quarter of his age. He runs me [and] everybody at our organization ragged, and he's 71 years old. He still feels like it's his legacy and he wants to do his best to fix the things that he sees are broken.
---
Copyright Capital & Main
Why 24 Hour Fitness Is Going to the Mat Against Its Own Employees
Co-published by Fast Company
24 Hour Fitness' policies have brought the fitness chain in the crosshairs of the National Labor Relations Board, which has said the company's employee arbitration agreements violate federal labor law.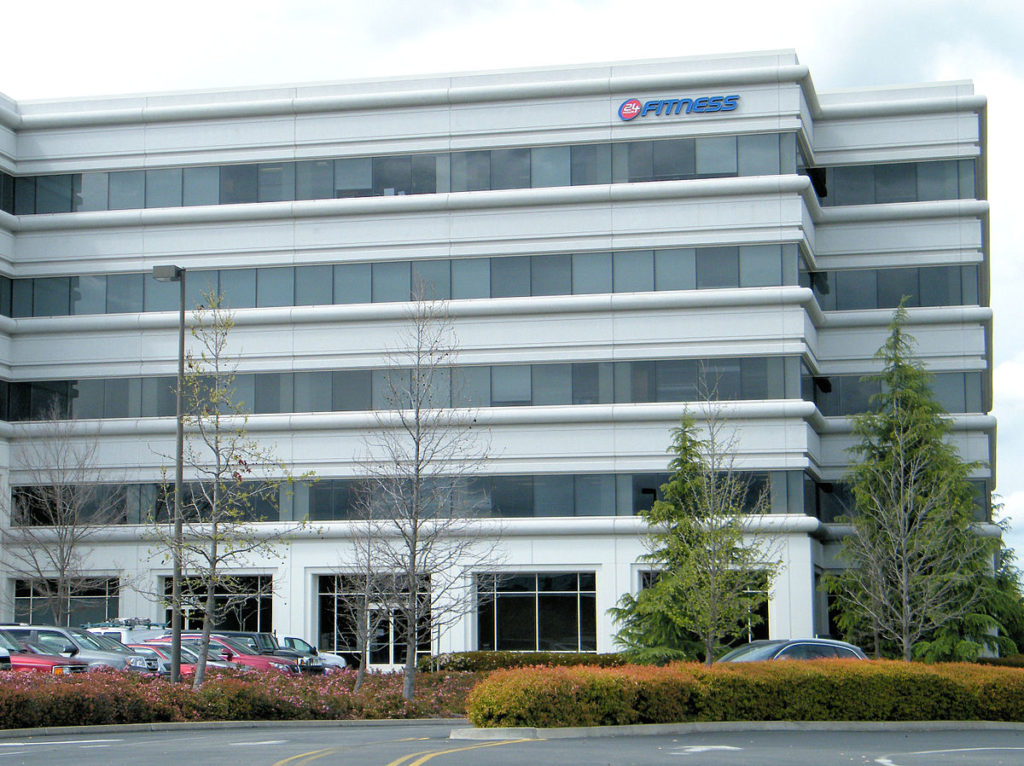 ---
Relentless pressure to sign up new members made one man question the chain's commitment to changing people's lives.
---
Co-published by Fast Company
On its website, 24 Hour Fitness says it has thousands of job openings. That's great news for fitness buffs hunting for work. Or is it?
Disgruntled former employees of the San Ramon, California-based company have filed hundreds of cases over almost two decades, some resulting in settlements in the millions of dollars.
And the large payouts appear to have made 24 Hour Fitness one of the nation's more aggressive advocates for curtailing workers' ability to defend their rights in court, labor lawyers say. That advocacy has also put the almost four-million-member-strong fitness chain in the crosshairs of the National Labor Relations Board, which has said the firm's employee arbitration agreements violate federal labor law.
The company's dispute with the NLRB may make it to the U.S. Supreme Court, which could hear oral arguments next term as to whether the contracts the firm asks workers to sign when they are hired violate historic worker protections put in place as part of New Deal legislation adopted in the 1930s. Those contracts ask employees to waive their right to come together to file class action lawsuits.
---
Attorney:  "24 Hour Fitness has been pretty aggressive in stripping workers of their rights."
---
Some workers say the company's single-minded focus on selling memberships caused it to run afoul of wage and hour law.
"We worked basically 8 to 8 every day no matter what, and if you got a lunch break it was usually at the club, or you went out and came right back," said Gabe Beauperthuy, a former general manager, who worked in fitness centers in Colorado before leaving the company in 2006.
At first, Beauperthuy said, he loved the work and embraced the company's philosophy of personal transformation. But the long days and relentless pressure to sign up new members made him question the company's commitment to changing people's lives, and even his own priorities. He developed a single-minded focus on bringing in the "almighty dollar" for the company because, he explained, "you're a product of your environment."
"I'm thankful that I realized that, and I'm thankful that I'm no longer there," said Beauperthuy, now a competitive amateur wrestler and coach.
24 Hour Fitness declined to comment for this story.
Beauperthuy was one of more than 900 managers, sales counselors and trainers to bring a collective action lawsuit under the Fair Labor Standards Act, alleging the company had misclassified them and denied them overtime pay. After the class was decertified and following seven years of litigation, the group settled for $17.5 million in 2013, according to published reports. The company settled another lawsuit involving thousands of California employees for $38 million, the nation's sixth largest wage and hour class action settlement of 2006.
Those cases may have made 24 Hour Fitness more steadfast in defending their employee arbitration agreement that asks employees to waive their right to bring class action lawsuits in NLRB v. 24 Hour Fitness, which the U.S. Supreme Court may review next year, depending on the outcome of a related case. The fact that 24 Hour Fitness has an employee arbitration agreement with a "class action waiver" does not make it unusual. But the company has been especially aggressive in defending its arbitration agreement in the courts, labor advocates say.
"Historically, there have been a few companies who went out of their way to fight and defend arbitration," says Cliff Palefsky, a San Francisco attorney who filed the unfair labor practice case resulting in the NLRB's finding that 24 Hour Fitness had violated the law. "They've been pretty aggressive in stripping workers of their rights."
About 60 million people—more than half of the non-union private sector workforce—are covered by mandatory arbitration agreements, according to an Economic Policy Institute study. These agreements require employees to resolve disputes through private arbitrators chosen by employers, rather than go through the courts.
An estimated 25 million of these arbitration agreements also include class action waivers, like those used by 24 Hour Fitness, in which employees give up their rights to band together to bring class action suits to address workplace disputes in the courts.
The contract language has received attention in recent months as the "Me Too" campaign has gained steam, and advocates pointed to the difficulty of raising workplace concerns individually in confidential arbitration proceedings that are crafted by the employer. Last year, U.S. Rep. Cheri Bustos (D-IL) introduced a bi-partisan bill that would prevent companies from keeping sexual harassment and sex discrimination claims from going to court, where the proceedings are typically in the public record.
A landmark case expected to be decided by the U.S. Supreme Court this term, National Labor Relations Board v. Murphy Oil USA, will determine whether class action waivers will be a continuing feature of employment contracts. It will also decide the fate of NLRB's dispute with 24 Hour Fitness.
"If the NLRB loses Murphy Oil, then our case would suffer the same fate, essentially," says Palefsky. In its Supreme Court brief, 24 Hour Fitness distinguishes its employment agreements from those at issue in the Murphy Oil case because the fitness employees are given 30 days to opt out of the class action ban.
But Palefsky counters that the rarely-used "opt out" provision is irrelevant because a worker's right to act collectively is one that cannot be signed away.
The argument about class action waivers might seem an academic one to job seekers if 24 Hour Fitness is now complying with the law.
There have been 621 employment cases filed in the federal courts against 24 Hour Fitness since 2000. On a per-establishment basis, that's more than eight times as many as have been filed against its competitor, Gold's Gym, during the same time period, according to a Capital & Main review of federal court records.
The disproportionately large number of cases is likely linked to the battle that took place between 24 Hour Fitness and Beauperthuy's attorney, Richard Donahoo, who continued to fight for his 900 or so clients even after a federal judge in San Francisco granted a 24 Hour Fitness motion in 2011 to decertify the class. (The judge's ruling that the plaintiffs' claims were not sufficiently similar prevented the case from moving forward as a collective action—not the class action decertification language–but the effect was similar.)
"Many times that means it's the death of the case because people don't want to proceed individually," said Donahoo, who is based in Orange County. "Attorneys can't do it economically."
Nevertheless, Donahoo and his colleagues decided to "swallow hard" and fight for each plaintiff individually. They filed hundreds of individual petitions in federal court to compel the company to arbitrate claims in Northern California, where 24 Hour Fitness is headquartered, and successfully fended off 24 Hour Fitness's efforts in 21 federal courts across the country to force the arbitration proceedings to take place near the clubs where each of the former employees had worked.
"Our case became a 'careful what you wish for' scenario for the company," Donahoo said. The company ultimately agreed to a settlement that resolved the individual claims at once.
Since then, 24 Hour Fitness has changed ownership. AEA Investors LP, a New York-based private equity firm, Fitness Capital Partners of Palm Beach, Florida, and the Toronto-based Ontario Teachers' Pension Plan purchased the firm in 2014 in a leveraged buyout. But reasons remain to be concerned about the practice of the fitness company, which employs about 20,000 workers and operates in a highly competitive industry.
In November, the company agreed to pay restitution and settled a lawsuit for $1.3 million filed by Orange County prosecutors, stemming from allegations the company increased annual renewal rates on prepaid memberships beginning in 2015 in violation of its contracts with customers. Customers were sold prepaid memberships and charged upfront fees with the guarantee of a low life-time renewal rate in 2006 but saw their rates rise as much as 300 percent nine years later, according to the Orange County Register. The company admitted no wrongdoing in the settlement agreement.
Last May, the ratings agency Moody's changed 24 Hour Fitness' investment outlook from "stable" to "negative." In justifying the downgrade, the report pointed to the growing number of fitness centers and the fact that the company is highly leveraged. The purchase of the company in 2014 was financed with $1.35 billion in debt, about 75 percent of the total cost, according to the Moody's report.
Moody's also singled out rising labor costs due to increases in the minimum wage in many of the regions where 24 Hour Fitness operates, suggesting the company employs a large number of low wage workers. Most of the clubs are concentrated in three states — California, Texas and Colorado.
"The company should be able to offset some of the pressure from minimum wage increases by using labor optimization, and reallocating the labor force within clubs based upon their age and member profile," according to Moody's report.
The economic pressures 24 Hour Fitness faces may explain the experience of one Ms. Randle, a former Kids' Club attendant, who asked that her first name not be used. She worked at a 24 Hour Fitness in Orange County from 2014 to 2016.
She said managers told her not to leave her post to take a break or use the rest room during her four-hour shift because the other staff on duty lacked the necessary clearance to work with children. She complained to managers and eventually to the human resources department, but had to file a complaint with the California Labor Commissioner's Office to resolve the issue and secure back pay for missed rest breaks, she said.
Ms. Randle thought that one of her co-workers endured repeated urinary tract infections that could have been caused by not being able to take bathroom breaks. Randle felt the managers lacked proper training. "They were always focused on selling memberships," she said. "They didn't care too much about their employees."
---
Roxane Auer provided additional research for this story.
Copyright Capital & Main