Santa Monica Dreaming: Trouble in Rent-Controlled Paradise
Wikimedia
If absence makes the heart grow fonder, distance makes reality look rosier. From a long way off Santa Monica appears like a liberal's fantasy of justice in paradise. After all, we have a tough rent control law and we've had a mostly enlightened city council, government and school board for more than three decades. But from up close, the picture's not that sweet.
A recent hotel approval exposed the reality. A developer wanted some special consideration for the 710 Wilshire hotel project that was oversized and out of conformance with zoning standards. Hotel workers in the city wanted to guarantee a decent wage for the people who would work in the new hotel as well as those who would build it. The city staff likes hotels because they provide an easy source of revenue. But the developer wouldn't budge on the wage issues.
He wasn't willing to require an operator to pay a decent income to hard-working, low-income families – or guarantee decent health-care coverage. The hotel got the green light from the city council, the workers' under-paid labor and health benefits will  make this project profitable to the developer, while residents will put up with the traffic and fallout from increased density.
Meanwhile down the street a Santa Monica College security officer pepper-sprayed students trying to get into a college board meeting. They were upset over a plan by the administration to hold summer classes with a two-tier cost system: One level offered classes as usual, but the second would be open only to people who could pay a steep tuition, similar to a private college's. The goal was availability of classes for students who needed credits to graduate and transfer. The impact was felt by students going to school on a shoestring and who are worried about  going  deeper into debt.
Almost the same week an African American girl was stomped into unconsciousness by a couple of Latinas during lunch at Santa Monica High School. Racial tensions there have made "Samo High," a rough ride for students for a long time. Administrators and the school board step up programs to deal with this turmoil when a crisis hits, then efforts lag, so it happens all over again.
In fact, it happened early last fall when a young African American man on the wrestling team was "hazed" by a couple of white kids on the team who used a hangman's rope. Hazing is, apparently, a normal activity for the swim team, but the noose – which the white kids say meant nothing to them beyond a nebulous prank – brought up some bitter images for African American parents in Santa Monica.
Activists continue to push this issue, calling for the implementation of proven programs to combat inter-racial conflict, ethnic-sensitive curriculum and cross-racial dialogues. I am assured that something is in the works, but in the meantime people wait and the kids continue to act out.
Add to these matters the constant pressure in the state capitol from various landlord associations to end rent control statewide, and residents can see that the One Percent in Santa Monica hasn't relented at all. In fact, the "vacancy decontrol" requirement written into state law and governing all rent control ordinances in the state already guarantees that, at best, rent control will be reduced to rent stabilization within a generation. Meanwhile the steep property values along the coast offer the incentive for developers to buy and tear down rentals and replace them with condos.
The people of Santa Monica – whether low-wage workers, poor students, people of color or renters – cannot depend on the elected officials to save us from ourselves. They help much of the time, but we must save ourselves. Only our involvement as advocates, along with our votes and our hard work on our own behalf, will make the future of Santa Monica as rosy as it looks from a distance.
(Note: An earlier version of this post incorrectly identified the athletic team involved in a hazing incident as a swim team; it was in fact a wrestling team.)

A Woman's Art Is Never Done: The Feminae Exhibition
A striking juxtaposition between the past and present courses throughout the small gallery. Celia Blomberg's "International Women's Day March 8" can't help but make one think of 2017's Women's March, which occurred 37 years after the print's first appearance.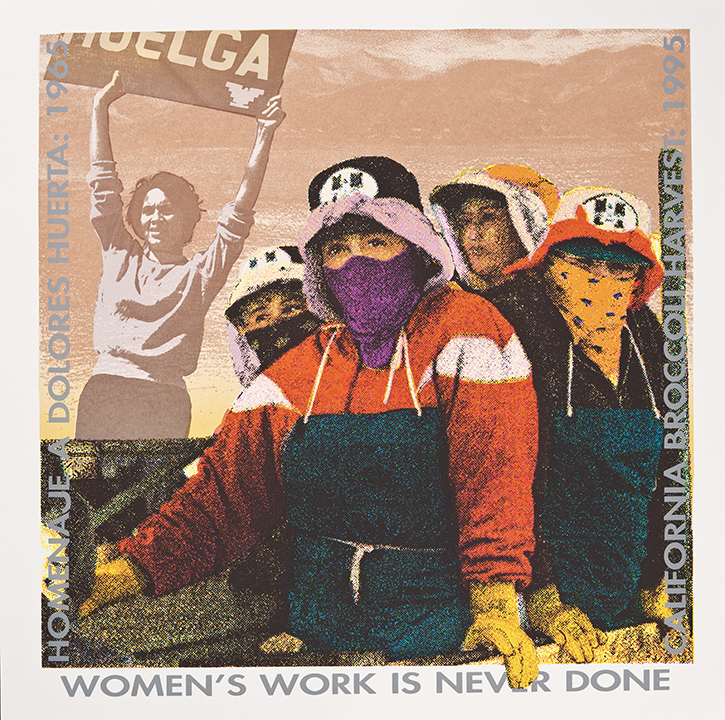 Among the 50-plus works in the Feminae: Typographic Voices of Women By Women exhibit is Yolanda Lopez's "Women's Work is Never Done." Lopez's title is particularly ironic, given the exhibit's gender-based subject matter. The show spans work from the past 50 years, making it easy to understand how much society is still grappling with its themes of gender inequality. Culled from the archives of the Center for the Study of Political Graphics, the graphic images of protest, persuasion and empowerment are truly works of art in their own right.
However, political posters aren't made to merely spruce up walls, but to help figuratively bring barriers down as well.
Two silkscreens from the 1970s, Liliana Porter and John Schneider's "This Woman is Vietnamese" and See Red Woman's Workshop's "So Long As Women Are Not Free People Are Not Free," are particularly powerful, underscoring, as they do, the fact that the subjugation and persecution of women crosses borders and cultures as an unfortunate shared global experience. These two pieces' stark simplicity exemplifies most of the work in the exhibit. In the former, a New York Times photo of a distraught Vietnamese woman with a gun held to her head is centered above these basic words typed out in a typewriter font: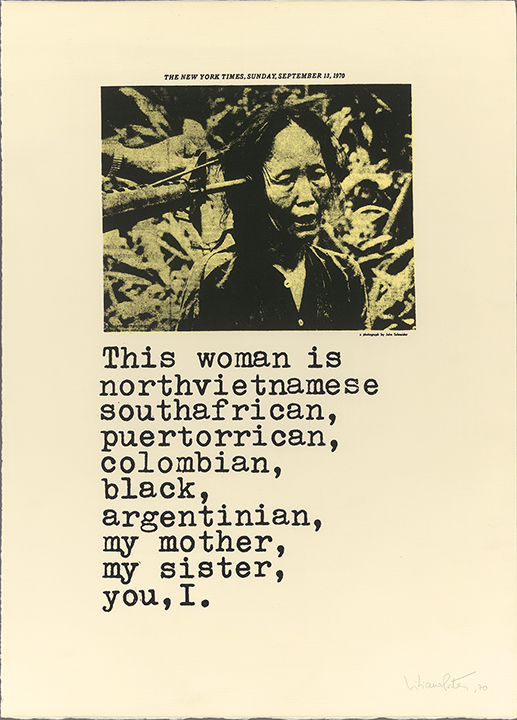 This woman is
northvietnamese
southafrican
puertorrican,
colombian,
black,
argentinian,
my mother,
my sister,
you, I.
By juxtaposing the photo with these words, the creators take the plight of this woman and immediately globalize her pain. In the latter, three female demonstrators are silkscreened in red onto a yellow background. They are marginalized by being stuck in the lower left third of the poster, but two of them are raising their fists skyward and their mouths are open, screaming in defiance. Its non-serif, eponymous type reads: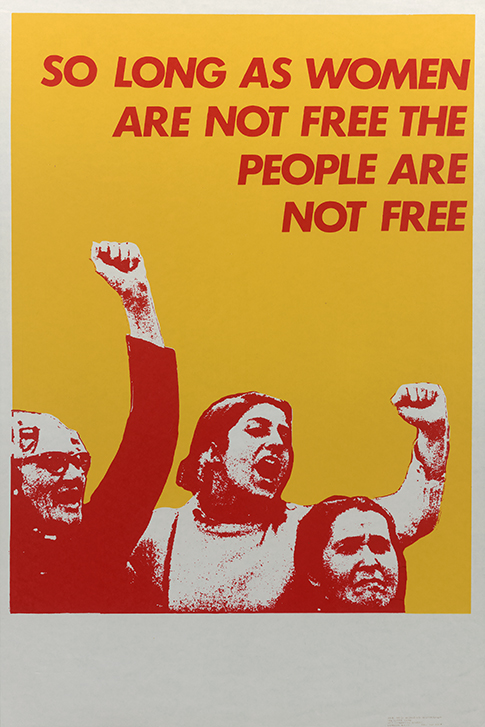 SO LONG AS WOMEN
ARE NOT FREE THE
PEOPLE ARE
NOT FREE
This piece's message takes the global message even farther, making the plight of women a human one — a common theme in the exhibition.
There is also a striking juxtaposition between the past and present that seethes throughout the small gallery. Celia Blomberg's "International Women's Day March 8" can't help but make one think of 2017's Women's March that would take place 37 years later. See Red Woman's Workshop's 1977 "Black Women Will Not Be Intimidated" could easily be repurposed to address the recent spate of blue-on-black brutality. Notable works by Barbara Kruger, Sister Corita Kent and the Guerilla Girls are also included.
Ironically , while it can be surmised that most of these works were made as populist posters to be distributed at the time as banners of protest, their beautiful simplicity and nostalgic elegance probably have resulted in the originals (mostly now found in art museums) sporting hefty vintage-resale prices.
But it is not just the art that has stood the test of time. The fact that the issues addressed in the show — feminism, choice, gender equality, war, immigration, police brutality or violence against women — are all issues at the forefront of debate in 2018 ultimately engenders conflicting feelings.
On one the hand, it is inspiring to see a vibrant exhibit that showcases such diversity in artistic styles, no doubt spawned by the diversity of the artists' own backgrounds. On the other hand, there is a realization that while there has been some progress over the past half century, there is so much work to be done.
Art Center's Hoffmitz Milken Center for Typography, 950 South Raymond Ave., Pasadena; through May 15.
---
Copyright Capital & Main