Santa Monica Dreaming: Trouble in Rent-Controlled Paradise
Wikimedia
If absence makes the heart grow fonder, distance makes reality look rosier. From a long way off Santa Monica appears like a liberal's fantasy of justice in paradise. After all, we have a tough rent control law and we've had a mostly enlightened city council, government and school board for more than three decades. But from up close, the picture's not that sweet.
A recent hotel approval exposed the reality. A developer wanted some special consideration for the 710 Wilshire hotel project that was oversized and out of conformance with zoning standards. Hotel workers in the city wanted to guarantee a decent wage for the people who would work in the new hotel as well as those who would build it. The city staff likes hotels because they provide an easy source of revenue. But the developer wouldn't budge on the wage issues.
He wasn't willing to require an operator to pay a decent income to hard-working, low-income families – or guarantee decent health-care coverage. The hotel got the green light from the city council, the workers' under-paid labor and health benefits will  make this project profitable to the developer, while residents will put up with the traffic and fallout from increased density.
Meanwhile down the street a Santa Monica College security officer pepper-sprayed students trying to get into a college board meeting. They were upset over a plan by the administration to hold summer classes with a two-tier cost system: One level offered classes as usual, but the second would be open only to people who could pay a steep tuition, similar to a private college's. The goal was availability of classes for students who needed credits to graduate and transfer. The impact was felt by students going to school on a shoestring and who are worried about  going  deeper into debt.
Almost the same week an African American girl was stomped into unconsciousness by a couple of Latinas during lunch at Santa Monica High School. Racial tensions there have made "Samo High," a rough ride for students for a long time. Administrators and the school board step up programs to deal with this turmoil when a crisis hits, then efforts lag, so it happens all over again.
In fact, it happened early last fall when a young African American man on the wrestling team was "hazed" by a couple of white kids on the team who used a hangman's rope. Hazing is, apparently, a normal activity for the swim team, but the noose – which the white kids say meant nothing to them beyond a nebulous prank – brought up some bitter images for African American parents in Santa Monica.
Activists continue to push this issue, calling for the implementation of proven programs to combat inter-racial conflict, ethnic-sensitive curriculum and cross-racial dialogues. I am assured that something is in the works, but in the meantime people wait and the kids continue to act out.
Add to these matters the constant pressure in the state capitol from various landlord associations to end rent control statewide, and residents can see that the One Percent in Santa Monica hasn't relented at all. In fact, the "vacancy decontrol" requirement written into state law and governing all rent control ordinances in the state already guarantees that, at best, rent control will be reduced to rent stabilization within a generation. Meanwhile the steep property values along the coast offer the incentive for developers to buy and tear down rentals and replace them with condos.
The people of Santa Monica – whether low-wage workers, poor students, people of color or renters – cannot depend on the elected officials to save us from ourselves. They help much of the time, but we must save ourselves. Only our involvement as advocates, along with our votes and our hard work on our own behalf, will make the future of Santa Monica as rosy as it looks from a distance.
(Note: An earlier version of this post incorrectly identified the athletic team involved in a hazing incident as a swim team; it was in fact a wrestling team.)

'Skeleton Crew' Is a Play With a Moral Spine
Set in a Detroit automobile outfitting plant, Dominique Morisseau's drama grabs you from the start with its focus on blue-collar men and women, and their struggle for dignity and self-respect.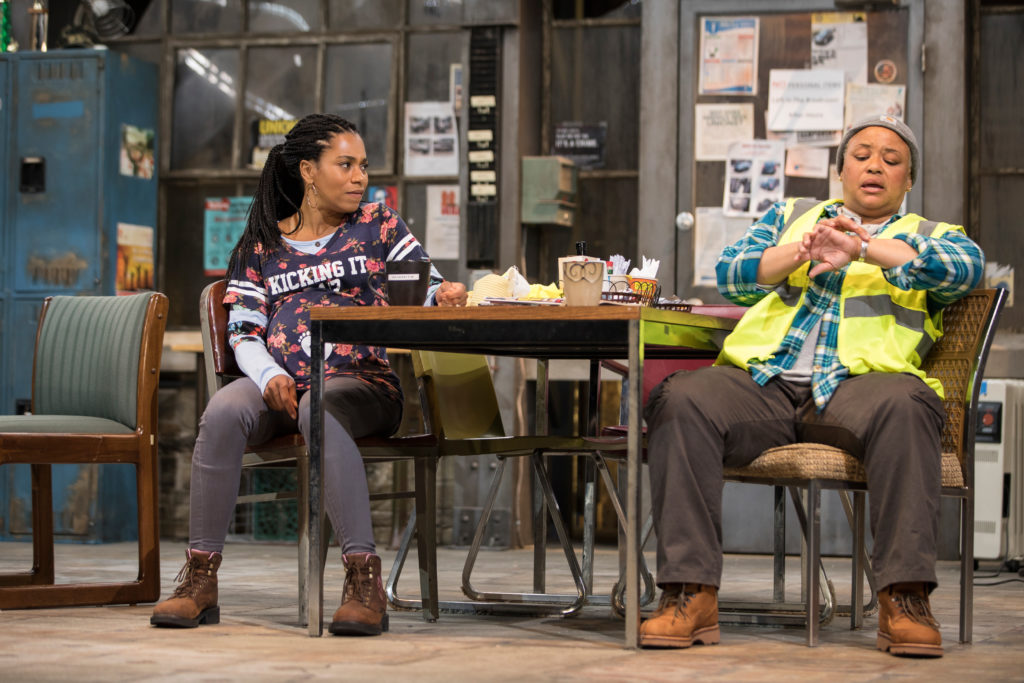 Working-class men and women of color are rarely front and center in today's media and, likewise, are presented all too occasionally on the American stage. So it's buoying to see that trend bucked in playwright Dominique Morisseau's percipient and well-crafted drama, Skeleton Crew. The play is the final installment in her Detroit  Project Trilogy; the first, Paradise Blue, is set in the 1940s amidst displacement caused by urban renewal and gentrification, while the second, Detroit '67, transpires on the eve of the 1967 Detroit riots sparked by a police action.
Directed by Patricia McGregor at Los Angeles' Geffen Playhouse, Skeleton Crew is a play with a moral spine. It takes place in 2008, when the shrinking U.S. auto industry is being further downsized. Morisseau's engaging quartet of characters — Faye (Caroline Stefanie Clay), Dez (Armari Cheatom), Shanita (Kelly McCreary) and Reggie (DB Woodside) – are employed at an automobile outfitting plant. Faye, Dez and Shanita are workers on the line while Reggie (who has a wife and kids, and has pulled himself together after a troubled youth) is their supervisor.
The first three customarily mingle in their break room (designer Rachel Myers' impressively cluttered, dingy and detailed set), trading the sort of familiar barbs and genuine concern for each other common among longtime co-workers. They also face off on philosophy: Upper-middle-aged Faye and the younger, pregnant Shanita take pride in their labor, while Dez, though a good worker, is a malcontent scornful of management and firm in the belief that everyone needs to watch out for himself. He's a thorn in Reggie's side, for while Reggie wants to be supportive of his workers, he must act at the behest of higher management. For his part, Dez resents Reggie's authority, and a palpable unease exists between them.
Besides this male matchup, we're made privy to Dez's attraction to Shanita, who mostly turns away his advances, but every now and then displays a hint of interest. Most poignant is Reggie's regard and affection for the lesbian Faye, which has roots in his boyhood when she loved, and lived, with his now-deceased mom.
These people's various predicaments intensify when rumors spread of the plant's shutdown — a disaster for all, but a particular calamity for the already near-broke Faye who, one year short of retirement, would lose her pension. The crisis forces each of these people to make a choice.
A sound piece of social realism, Skeleton Crew grabs you from the start in its focus on blue-collar men and women, and their struggle against odds for dignity and self-respect. Morisseau not only furnishes these characters a platform for their travails, she endows them with strong values, big hearts and the opportunity to choose between right and wrong.
Unfortunately, the performance I attended did not soar. Many exchanges lacked a fresh edge. The actors certainly had their characters down, but too often they appeared to be coasting on technique. (This seemed particularly true of Clay, who performed the role to great accolades in Washington, DC in 2017, also under McGregor's direction). Additionally, some of the stage movement was not entirely fluid; in confrontations, actors sometimes would just stand and face each other in an artificial way. And Cheatom's interpretation of Dez struck me as a bit overly churlish and depressive: I needed more glimpses of the intelligence and edge that would secretly attract the strong, self-directed Shanita.
The most compelling moments belong to Woodside, well-cast as a man trying his best in difficult circumstances to do the right thing.
---
Gil Cates Theater at the Geffen Playhouse, 10886 Le Conte Ave., Westwood Village; Tues.-Fri., 8 p.m.; Sat., 3 & 8 p.m. Sun., 2 & 7 p.m.; through July 8. (310) 208-5454 or www.geffenplayhouse.org