Santa Ana: Living Behind Cardboard Walls
Isabelle Lopez, her husband and their dog live in a tiny room, perhaps 130 square feet, in the impoverished Lacy neighborhood in the Orange County city of Santa Ana.

Isabelle Lopez inside her room rental.
All photos by Ted Soqui
Isabelle Lopez, her husband and their dog live in a tiny room, perhaps 130 square feet, in the impoverished Lacy neighborhood in the Orange County city of Santa Ana. The room has cardboard walls, which Lopez's husband painted white to provide at least an illusion they were solid. On those walls, she has tacked family photos and a large reproduction of a painting titled Angel de la Guarda, surrounded by cutout paper butterflies.
See More Stories in Capital & Main's Affordable Housing Series
The dank, fetid-smelling room is infested with bugs, mice and cockroaches. It is also crowded – dominated by the couple's bed, at the foot of which sits a tiny fridge and two little shelves for non-perishable food, a case of bottled water on the floor, a large set of shelves containing bric-a-brac, DVDs and a television. A blanket hangs in place of a door leading out to the hallway, where another family, including children, lives on old cots. "This is my castle," she laughs bitterly. "I got my kitchen, my living room, my dining room, my guest room."Isabelle, disabled, mentally ill and surviving on disability checks, lives in an old, green-painted wooden two-bedroom house that has been illegally subdivided to enable roughly 20 people to live there.
Many of the residents (though not Isabelle) are undocumented and afraid to protest their living conditions because they fear that they will be evicted or brought to the attention of immigration authorities. It's a reasonable concern since, they say, their landlord has told them they will be reported if they "snitch" about their abysmal living conditions. They are part of a huge pool of undocumenteds  (69 percent of all undocumented residents in the state) — who are classified as "burdened renters" — paying more than 30 percent of their income on rent. Ineligible for federally funded Section 8 vouchers or for housing in subsidized units developed with federal dollars, they are, says local councilwoman Michele Martinez, easy prey for slum landlords. "It's a major problem," Martinez acknowledges. "We have a huge undocumented population."
All of the residents in the green house share one bathroom whose walls and floor are covered in mold, with a shower so small that Isabelle, a large lady, can't bend down to clean her feet. Oftentimes she can't even get into the bathroom, because so many people are waiting in line to use it. She showers every four or five days, and often uses a commode in her bedroom in place of the toilet. She also frequently is hospitalized with lung problems that are quite possibly exacerbated by the mold.
According to a 2014 Los Angeles Times report, more than half of the top one percent of most crowded census tracts in the U.S. are in the city of Los Angeles and in Orange County. When Santa Ana's authorities surveyed renters for the Housing Element report, they found 43 percent reported living in overcrowded housing.
The Housing Authority has no public housing of its own – a result of the 1980s mania for privatizing public housing. It also has a deeply inadequate supply of Section 8 vouchers. Strapped for cash by federal cuts to housing assistance, the city currently only provides 2,700 tenant-based housing vouchers and has a wait list that took eight years to run through before it was recently opened up again. In 2015, when the Housing Authority briefly reopened the list for the month of July, 16,375 people applied. Overwhelmed, the city once again shut down the wait list. Orange County as a whole has nearly 50,000 people awaiting Section 8 vouchers.
Moreover, explains Santa Ana's Community Development Agency's housing division manager, Judson Brown, because the vouchers will only pay up to a certain amount, they tend to be inadequate to cover market rents in Orange County's soaring real estate market; making matters worse, many landlords avoid renting to voucher recipients, because if they do rent to them they are subjected to a more rigorous inspection regimen for housing code violations than are landlords who refuse these tenants. And because there is a use-it-or-lose-it practice with these vouchers (if recipients don't find apartments and start drawing on the vouchers within a specified period of time they lose the benefit), only about one in three families who receives these coveted vouchers ever actually manages to sign leases on apartments.
Brown has heard of one octogenarian woman who looked at 61 housing units; not one of them was willing to rent to her at an amount her $890 voucher would let her afford. In a tight rental market, it's easier to rent to people who can pay cash, don't know their rights, and won't report landlords for housing code violations.
Santa Ana also has assertive developers who have very effectively pushed back against the city's Inclusionary Housing Ordinance – which once mandated that 15 percent of units in new developments be set aside for affordable housing, but which has been diluted over the past couple of years. It's got to the point where the ordinance is now a toothless tiger that allows developers to pay fees in lieu of building affordable units and to create all sorts of exemptions to the ordinance. What affordable housing is built uses low-income housing tax credits issued by the federal government to nonprofits, which can pass them along to developers looking to reduce their tax burden in exchange for the developers helping to build a number of affordable housing units. However, the resulting housing is mostly tailored to the lower-middle class rather than the poor.
Many units require that renters earn 50 percent of an area's median income – which in a well-to-do region such as Orange County puts such housing out of reach of day laborers, construction workers, gardeners and many of the other jobs largely filled by Santa Ana's immigrant population.
In fact, of the 16 housing developments currently in the pipeline in Santa Ana, only two will be affordable to low-income residents – and yet surveys of renters in the city have found that roughly 60 percent of them are low-income.
To adequately meet the demand for low-income housing, Judson Brown estimates that his city would need to build 1,200 units for the homeless and at least another 5,000 for its low-income renters. The city would also have to receive, he calculates, $64 million a year more from the federal government for affordable housing and $14.4 million to house its homeless. Michele Martinez believes the figure is even higher, ranging up towards a total of $100 million. In reality, however, only a couple of hundred affordable housing units are in the pipeline – filling, Martinez says with an unhappy laugh, barely one-thirtieth of the need.
"Our state's commitment to affordable housing through the redevelopment funding was our indicator that our state is committed to providing affordable housing," notes Brown. "When those funds were cut and not replaced with an Affordable Housing Trust Fund or additional funding for tax credits, it demonstrated [California] is not fully committed to providing affordable housing. It's not a housing crisis, it's a [lack of] affordable housing epidemic."
Isabelle Lopez receives $849 per month in disability payments and hands over $550 of that to her landlord. It's far more than she would pay for well-maintained, quality affordable housing – where tenants pay only one third of their total income in rent – or for public housing; it's more than she would pay for an apartment were she on Section 8, which subsidizes market rents for low-income renters. But so far she has spent patient decades just to get on the city's waiting list; and, now that she is finally on it, might well wait years more to get a place. At roughly $4 per square foot, her slum home costs her more than renters pay per square foot in many desirable neighborhoods of Manhattan.
Around the corner, Amalia Orantes, her husband and four of their adult children, all share a small two-bedroom apartment, paid for from the earnings of two of her children — 24-year-old Jose and 22-year-old Eunice, both of whom get non-benefitted work through temp agencies, assembling medical equipment.
Until the 2008-9 housing crisis, the couple owned a house. When both lost their jobs, he in construction and she for a company manufacturing bulletproof vests, they couldn't make home payments and sold off their cars and went through their savings trying to keep their home. When that ran out, they missed mortgage payments. A company scammed them into parting with $3,000 to help them renegotiate their loan. But the loan wasn't renegotiated and the Orantes ended up homeless. Eventually, with the kids finding low-wage work, the family came up with just enough money to rent the slum apartment they are all now crammed into.
From the outside, the Orantes' apartment complex looks fairly well-to-do – as do many low-income complexes in Southern California — the walls cream-colored adobe, the grounds adorned by palm trees. Inside, however, is a different story. Amalia's bedroom is so damp, a line of mold runs along the line where the ceiling meets the walls. When it rains, water drips from the damp ceiling onto her and her husband's heads.
Some days, maggots crawl out of the electricity outlets. The floor in the bathroom sags with rot. And on hot days, red ants and bees swarm into the apartment. One of her sons, the teenage Gerzon, is so allergic to the mold that he is permanently on an array of medications and nasal inhalers. Amalia's daughter Araceli now lives in a nearby apartment and works during the day. Her toddler daughter is looked after by Amalia, but has mold-triggered rashes all over her little legs. Amalia herself continually gets sick, coming down with lung ailments and colds. She shivers as we talk in the dank apartment, sniffles and hugs her upper body.
"It's not impossible to leave this place," says Jose. "But there are a lot of obstacles out there. It's pretty hard." His sister, Eunice, is less optimistic. "I feel like it's impossible. I work, I go to school. I work a lot. But the money – I don't get to see it. Because it goes on bills. I can't really save money."
Another family whom I meet, the parents undocumented, live in a two-bedroom apartment that they rent at $1,300 a month. They can't afford that on the father's earnings from construction work and the mother's jobs cleaning houses and waitressing at a local Denny's. Their combined incomes place them well above the federally defined poverty line, but, in reality, well below the level needed to meet average rents in a market such as Orange County's. So the two adults and two children all live in one room, and they rent out the second bedroom, on a monthly basis, to a parade of strangers.
Yet another family of five, mixed status – the mother undocumented, the father documented, the children citizens — lives in a tiny room in a house rented by the woman's mother. The woman and her daughter sleep in a double bed; next to the bed is a bunk, on top of which sleeps the husband, and on the bottom the two sons.
Recently, Isabelle Lopez's 8-year-old grandson came to visit her in her cardboard-walled room. She recalls his arrival: "He said, 'How come you're poor? How come you can't be like other grandmas and have a house?' I got so sad. The rest of my grandchildren don't want to come over because [their school friends] make fun of them, because of where I live. Society these days says, 'You're poor because you want to be poor, you're lazy, you don't want to do nothing for yourselves.' That's what they think."

Is a Conflict-Minerals Law Helping or Harming African Miners?
A Dodd-Frank rule requires Silicon Valley tech companies and others to reveal whether minerals in their supply chains fund conflicts in Central Africa. Why do some progressives oppose this requirement?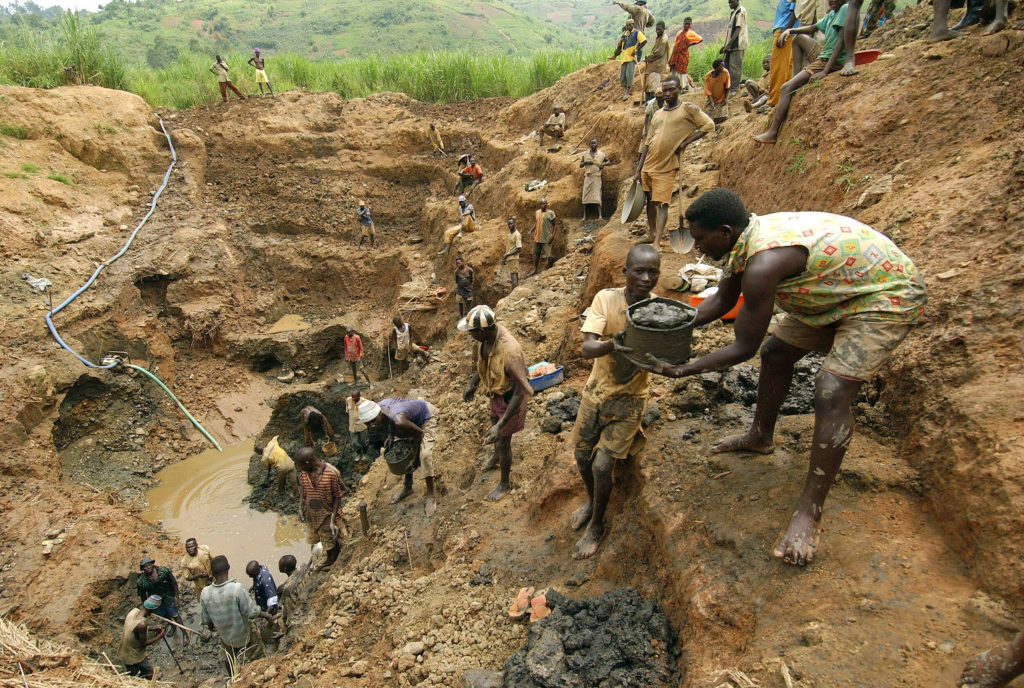 ---
The conflict-minerals law's opponents include progressive journalists and academics who say the rule rests on an overly simplistic analysis of a complex crisis.
---
By the end of next month Intel, HP and more than a thousand publicly traded companies are expected to report to the U.S. Securities and Exchange Commission on whether the minerals in their cellphones, laptops or other products were used to fund armed conflict in Central Africa.
This, despite concerted attempts by the Trump administration and Republicans in Congress to do away with an Obama-era rule that requires them to reveal whether their supply chains include tin, tantalum, tungsten or gold from the Democratic Republic of Congo (DRC) and surrounding countries.
The survival of Section 1502 of the Dodd-Frank Wall Street Reform and Consumer Protection Act may look at first glance like a case of blue-state resistance with California's tech companies—backed by their ethically minded consumers—standing strong against Republicans bent on destroying progressive, forward-looking regulations.
---
"The legislation has actually made the situation worse for these [miners]."
---
"Tech companies are the ones leading the way," says Annie Callaway, deputy director of advocacy at the Enough Project, a Washington, DC-based human rights organization that led the campaign to pass the conflict mineral law. Their due diligence efforts have been among the best arguments against those who say the law is too burdensome, she says.
But the law's opponents include progressive journalists and academics who say the rule rests on an overly simplistic analysis of a complex crisis. Some say it has done more harm than good to Eastern Congolese mining communities, whose livelihoods are already precarious.
The law has deprived "very vulnerable populations, already very poor people, of their sole means of livelihood," says Séverine Autesserre, a political science professor at Barnard College and Columbia University, and a former humanitarian aid worker who studies the DRC. "The legislation has actually made the situation worse for these people."
The law seems to have staying power, nonetheless. Eight years after its passage, tech companies have changed their sourcing practices, making it unlikely that the law's repeal would alleviate companies' concerns about having their products associated with violent militias, supporters and a critic of the measure say.
There are "very strong business reasons" to maintain the relationships and programs connected to Dodd-Frank, according to Michael Rohwer, who worked on conflict minerals for the Electronic Industry Citizenship Coalition, now known as the Responsible Business Alliance.
Companies increasingly recognize the efficiencies as well as the "risk mitigation" benefits, says Rohwer, now with BSR, a non-profit business network focused on sustainability.
The risks of sourcing from the DRC were made clear to companies in 2008 when U.S. human rights organizations launched a campaign that highlighted the role that the minerals found in jewelry and electronics play in funding violence, including sexual violence used as a weapon of war against women and girls, in the eastern DRC.
---
The goals of multinational companies—and their ethically-minded consumers—are not identical to those of any region, war-torn or otherwise.
---
That campaign drafted high profile celebrities, like actors Ben Affleck and Robin Wright, as well as idealistic college students eager to leverage their buying power and social media prowess to help a region that has seen millions die over the last two decades in the deadliest conflict since World War II.
Last fall, the Enough Project, a lead organization in the campaign, released a progress report that ranked the 20 largest jewelry retail and consumer electronics companies—industries that consume the most tin, tantalum, tungsten and gold–on their sourcing practices. Four of the five best performers—in terms of responsible sourcing practices–were Silicon Valley-based tech companies, with Apple securing the lead spot.
Thus far, the rule has withstood a lawsuit brought by the National Association of Manufacturers, a threatened executive order and House legislation aimed at its elimination. (The biggest threat to the rule remains the attachment of a rider to a continuing resolution in Congress, according to Arvind Ganesan of Human Rights Watch.)
The law has also withstood criticism from more than 70 critics who signed an open letter in 2014 that blamed Dodd-Frank for driving some unemployed miners to join militias or to turn to smuggling, and for misunderstanding the cause of the conflict. Last year, a journalist completed a two-part investigative series that found that the law imposed a monopoly on miners that suppressed prices and forced some to trade their wares illegally.
Both the rule's advocates and critics agree that its roll-out was problematic. The DRC's president, Joseph Kabila, instituted a six-month ban on mining shortly after the law was passed in 2010 but before it was implemented. A United Nations Working Paper, published in 2016, attributed a child mortality increase of 143 percent in mining communities to the implementation of the Dodd-Frank conflict mineral rule.
The Enough Project's Callaway argues that most of the criticism of the Dodd-Frank rule relies on information from 2014 and earlier, in the aftermath of its implementation. "Since then, there's been tons of progress," she says. She points out that of miners producing tin, tantalum and tungsten, 79 percent of those surveyed in 2016 by the International Peace Information Society are no longer working under threat of armed groups and that less violence can pave the way for other improvements, "once the conflict is out of the mines."
But "overall, armed presence at mining sites has persisted over the last years in eastern DRC," according to the study by the Belgian International Peace Information Service that Callaway cites. That's because the majority of gold mines – the most important mining sector in the region – remain under the influence of armed actors, even as the tin, tantalum and tungsten mines have seen dramatic reductions in violence, according to the report.
The law has supporters from the region. Representatives from more than a 100 Congolese civil society organizations signed letters in support in of the rule when SEC commissioner Michael Piwowar opened up public comment to explore whether it should be implemented early last year. "The people who are most impacted by these changes are saying please don't mess with this," Callaway said.
Ben Radley, a British doctoral student, who helped make a 2015 documentary sharply critical of the Enough Project, remains a skeptic of the law. But he argues that repealing it would also constitute "a backward step" and a futile one at a time when the DRC and the European Union are creating sourcing standards for mining.
It's very difficult to measure the impacts of the law because information is so hard to come by in the region, adds Radley, who lives in Kinshasa. "The numbers are so easily manipulated from both sides of the debate" because of lack of quality data, he says.
Furthermore, the Dodd-Frank rule is not the only force affecting miners' livelihoods for better or worse. The price of minerals has been falling in recent years. Meanwhile, a U.N. peacekeeping force of 18,000, the world's largest, is stationed in the eastern part of the country.
The laws' critics say there are lessons to be learned for consumers and businesses that want to make a positive difference in the region. Autesserre would like to see Western advocacy groups do a much better job consulting Congolese mining communities as they develop their policy agenda. Radley suggests that advocates focus on labor and human rights issues instead of ensuring products are "conflict free."
The Enough Project's report calls for increased investment in "livelihood projects" on the part of end-user companies doing business in the region. So far, such investment has been inadequate . Apple, Microsoft Corp., Google, Signet and Tiffany contributed a paltry $500,000 toward improvements in Congolese mining communities in the last fiscal year, a mere "rounding error of the more than $3 trillion combined market capitalization of the 20 companies Enough ranked," as the report points out.
Most of the due diligence work conducted by multinational corporations happens outside the DRC, at smelters, the factories that extract the minerals from the ore. Radley says companies would have more credibility if they undertook the more resource-intensive approach of working directly at the mine site, where advocates hope to improve conditions.
Some companies are already moving in that direction. Bloomberg reported in February that Apple is in negotiations to secure cobalt, a mineral used in batteries, directly from miners. Cobalt is not covered under the Dodd-Frank rule, but a 2016 investigation conducted by Amnesty International found cobalt was mined by child laborers.
Still, the goals of multinational companies—and their ethically-minded consumers—are not identical to those of any region, war-torn or otherwise. Perhaps partly with the tangled politics and human rights landscape of Central Africa in mind, Apple pledged last April to one day end its reliance on mining entirely and make products only from renewable resources or recycled material.
That has BSR's Rohwer feeling optimistic. "I'm eager to see more companies get involved in product reuse, repair, refurbishment and recycling," he says. "I think that would be a huge benefit for the tech sector."
---
Copyright Capital & Main