Sanctuary State: Jeff Sessions' California Problem
State officials argue that the state's sanctuary laws make Californians safer. The acting ICE director argues the laws have made immigration enforcement more dangerous.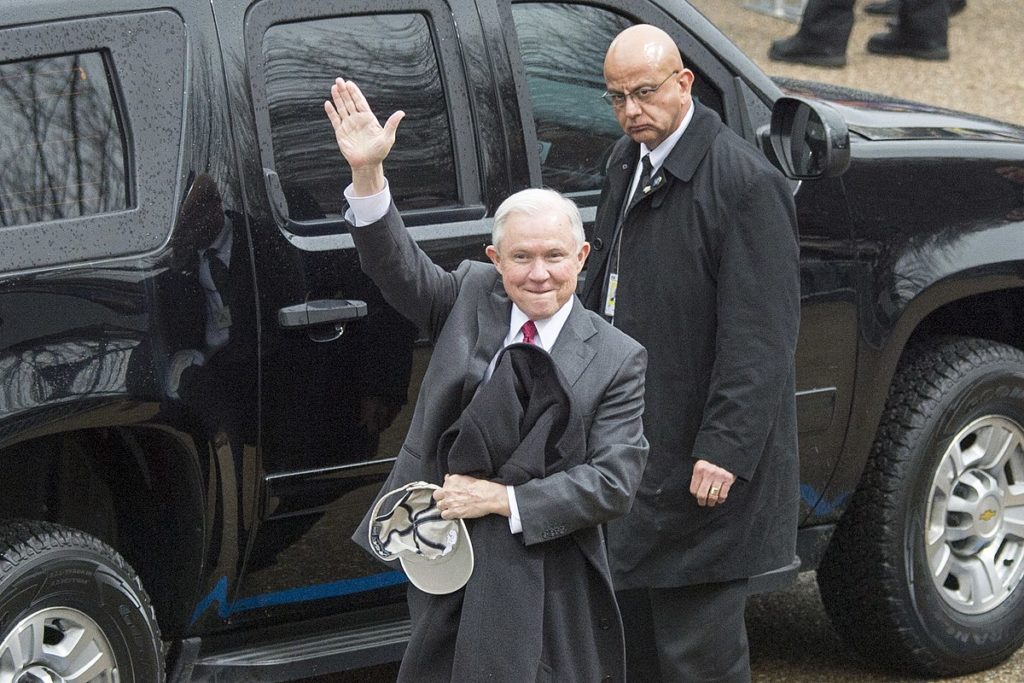 United States Attorney General Jeff Sessions attacked California on its own turf Wednesday, a day after he slapped the state with a lawsuit that challenges the constitutionality of three laws aimed at shielding immigrants from the Trump administration's deportation surge.
"California, we have a problem," Sessions told police officers at a meeting in Sacramento before publicly scolding Oakland Mayor Libby Schaaf for warning residents of imminent Immigration and Customs Enforcement (ICE) raids two weeks ago. "How dare you needlessly endanger the lives of our law enforcement just to promote a radical open-borders agenda?" Sessions said, noting that acting ICE Director Thomas Homan argued that by warning residents of raids, the mayor let 800 wanted criminals go free.
---
The Pew Research Center reports the deportation surge has meant a 30 percent jump in ICE arrests nationwide in fiscal year 2017.
---
But ICE statistics show that in 2017, the agency largely arrested people with minor convictions. Traffic offenses (including DUI and others) were the biggest category by far, followed by drug crimes, and immigration offenses, like re-entering the country illegally. The Pew Research Center reported that the Trump administration's deportation surge has meant a 30 percent increase overall in ICE arrests nationwide in fiscal year 2017 from the previous year. Arrests in ICE's San Diego region rose 24 percent, while they went up 10 percent in the Los Angeles area and nine percent in ICE's San Francisco region.
State Senate Bill 54, the so-called sanctuary state law, largely bars state and local police, and other agencies from collaborating with ICE, while SB 450 aims to protect employees from ICE raids in the workplace. It requires employers to deny access to ICE officers who don't have a warrant to inspect employee records and requires employers to notify workers if such an inspection is underway. Assembly Bill 103 gives the state power to oversee immigration detention facilities in California and bars cities and counties from contracting with ICE to house immigration detainees or to expand existing detention facilities.
"The pushback through SB 54 is [that] we're not going to engage in this," said Angela Chan, a Bay Area-based attorney with the Asian Law Caucus who worked closely with California Senate President Pro Tem Kevin de León to pass SB 54. "It doesn't stop enforcement. But it does have an impact in reducing it because we're not going to be complicit."
State officials and immigrant rights activists argue that the state's sanctuary laws make Californians safer. They argue that immigrants can report crime or testify in court without fear of being deported because local and state police are barred from immigration enforcement. They point out that the state cannot keep ICE from making arrests, but it can ensure that police and sheriff's deputies keep an arms-length distance from immigration enforcement.
But acting ICE director Homan, in a declaration supporting the lawsuit, argued that California has made immigration enforcement more dangerous by forcing officers to make arrests in the community, rather than in the safer confines of local jails, and he offered of examples of undocumented immigrants who were released from jail only to re-offend. Homan also revealed the depth of previous cooperation between ICE and local law enforcement as he decried the denial of access ICE officers previously had to jails in San Diego and Monterey counties, and to lists of foreign-born inmates in San Joaquin, Fresno and Sacramento county jails.
The city of Escondido, Homan wrote, had discontinued a joint operation with ICE that led to more than 300 arrests in fiscal year 2017 alone, while Orange County no longer allows its sheriff's deputies to be cross-trained and used as ICE officers. He also noted that an ICE effort to contract with seven California counties – Sutter, Solano, Placer, Shasta, Fresno, Stanislaus and San Mateo – to house ICE detainees and expand detention in the four counties that currently house ICE detainees in local jails "was totally frustrated by AB 103." Requests to expand detention in the four counties that currently house ICE detainees in local jails were also declined.
The federal government is asking for an injunction to stop California from enforcing provisions of its sanctuary state laws. It argues that the state has illegally usurped the U.S. government's authority on immigration.
Chapman University constitutional law professor John Eastman predicts the government will prevail because the state is " interfering with federal law," Eastman said. "Mr. Becerra missed part of Constitutional Law 101 – McCulloch v. Maryland." In the landmark 1818 Supreme Court case, "The court held the federal government was supreme and couldn't be interfered with," Eastman noted.
Loyola law professor Kathleen Kim disagreed with Eastman's analysis. She argued from a states' rights position, claiming that California has the right to "allocate state resources in a way that optimizes public safety by reducing fear among our residents, whether citizens or non-citizens, and that goal is directly tied to the necessity to disentangle local police from immigration enforcement."
State Senator Nancy Skinner, who authored SB 450, told Capital & Main that the state legislative counsel thoroughly vetted her bill and the others to ensure they'd pass legal muster.
"The governor didn't sign bills he believed were unlawful. He signed them on the basis that lawyers that drafted and negotiated them were well aware of the respective powers of the federal government and the state," Skinner said.
The case has been assigned to U.S. District Court Judge John Mendez in Sacramento. Mendez is a former assistant U.S. attorney and California Superior Court judge who was appointed by President George W. Bush in 2007, and confirmed by the senate the following year.
---
Copyright Capital & Main
Blue State/Red District: What Do the Suburbs Want?
Seven Republican congressional districts in California went for Hillary Clinton in 2016. CA-4 was not one of them but Democrats are hoping to unseat Tom McClintock in November.

---
CA-4's Gold Country counties are recipients of an urban exodus fueled by affordable housing, a desire for good schools and the expansion of high-tech jobs into suburbia.
---
On the day of her funeral, Barbara Bush's image beamed down from an electronic billboard along Interstate 80 outside of Sacramento, along with a quote: "Believe in something bigger than yourself." Her image and words lasted five seconds before an insurance ad flashed up.
As an unofficial welcome to California Congressional District 4, which includes suburban and exurban Placer and El Dorado counties, plus several other rural and sparsely populated counties, the former first lady's image is apt. Her husband and son both carried the district by wide margins in the presidential elections of 1988, 1992, 2000 and 2004. While no friend of the Bushes, Donald Trump won the district with 54 percent of the vote to Hillary Clinton's 39 percent.
---
---
There are seven congressional districts in California with Republican incumbents that Clinton won but CA-4 is not one of them. What gives Democrats buoyancy here is the general chaos of the Trump presidency, along with positive results of special elections elsewhere in the country, and some solid-looking candidates running in the CA-4 Democratic primary. Conservative Republican Tom McClintock, who actually lives 15 miles outside of District 4, first won the seat in 2008, when his Democratic opponent got within 1,800 votes. In the last four races, he has beaten every challenger by at least a 20 percent vote margin.
If CA-4 is dicey as a flippable district, part of the reason is because of demographics (it has relatively few Latinos or Asians) and because, in many ways, McClintock's hard-line anti-immigration policies and close hewing to President Trump fit the district's conservative tilt. According to the Kaiser Family Foundation, over 26,000 people in CA-4 were enrolled in an Affordable Care Act (ACA) health plan in 2017 and another 49,000 gained coverage from the expansion of Medicaid. McClintock voted against the January 2017 congressional budget resolution to repeal Obamacare – a resolution that Trump supported – only because it did not go far enough in repealing the ACA. The political analysis site FiveThirtyEight has McClintock, some of whose largest contributors are real estate developers with projects in his district, voting in line with Trump's wishes about 86 percent of the time.
McClintock has shown no sympathy for DACA (Deferred Action for Childhood Arrivals) students, describing the program as an "unconstitutional usurpation of legislative authority," and he is a reliable vote against a woman's right to have an abortion. The large mega churches that often accompany suburban sprawl, like Bayside Church in Granite Bay, with its 12,000 members, help anchor the district's culturally conservative base with a mixture of Christian/New Age uplift and entrepreneurial flair.
On a recent Friday afternoon, while watching her son play Little League baseball at a Roseville park, Heather McCarthy reflected on why she has become increasingly active in politics. "I've never been concerned that our political system could be taken over by billionaires and corporate interests," she said, "so it has been a wake-up call for me."
McCarthy, a Roseville real estate agent, participated in the Sacramento Women's March last January, but has not followed the congressional race closely. She has a college degree, is not particularly ideological and is concerned that the Trump tax reduction, which McClintock supported, will mainly benefit the wealthy and explode the deficit. "I don't think the average person realizes how disproportionate the benefit is, or how the Republican Party that used to be fiscally conservative has abandoned that." she added.
Two articulate women candidates, Jessica Morse and Regina Bateson, have experience in policymaking and have demonstrated an ability to attract supporters and raise money, and now lead a field of four Democratic primary contenders. In rural Calaveras County, where Mark Twain invented his story about jumping frogs, ordained minister and Democratic Party activist Mickey Williamson outlined the long-shot logic of her party's campaign at a park in Angels Camp. Williamson says the political atmosphere feels different this year: "The [Democratic] candidates are moving up and down the district, events are happening, thousands of dollars are being raised. It's just a different ball game than we have ever had before."
Williamson has a worry, however: That after the June 5 primary, supporters of the losing candidates will stay home, replicating some of the internecine fighting that characterized the Clinton/Sanders contest and which continues to roil the Democratic Party throughout the country.
While most of CA-4 is rural, the key geographic areas where the majority of voters live, and where elections are won or lost, are found along the I-80 and I-50 corridors — places whose dairy farms and orchards not too long ago reached to the outskirts of Sacramento. The cows have been replaced by "Tuscan"-style housing estates with names like Serrano Village, and by retirement communities, large retail centers, high-tech business parks — and relatively few people of color. Over 70 percent of the congressional vote will come from here.
Ricardo Calixtro holds a Bible as he stops to talk in front of St. Patrick's Catholic Church after services one April Sunday. An anti-abortion banner hangs on the front of the church asking for prayers for the unborn. He says that the abortion issue is the first priority for him and that it would be difficult to vote for someone who does not share that position.
Calixtro, a registered Democrat who lives in Murphys, a town tucked in the Sierra foothills, works three jobs as a bartender, baker and house cleaner. "I don't mind working hard," he says, "but it's hard for a regular Joe trying to make it on minimum wage." Calixtro voted for Bernie Sanders in the 2016 Democratic primary and, later, for the Libertarian Gary Johnson for president.
When told that McClintock agrees with him on abortion but is opposed to raising the minimum wage because it would "hurt minorities," Calixtro becomes speechless for a long half minute. "Wow, that's a tough one," he finally responds. He says he is contemplating leaving the area for better opportunities: "I've heard Oklahoma and Kentucky are good states to live in right now."
Calixtro is not the stereotypical working-class voter duped by "cultural" issues instead of watching out for his own economic interests. Yet President Trump has triggered feelings and responses that are pulling many voters away from single issues like guns and religion that previously determined their vote.
Others are sticking with Trump and McClintock despite the president's seemingly daily scandals. In Placerville, an old gold-mining town along the route to Lake Tahoe, Trump supporter and former correctional officer Robin McMillan Hebert was concerned that gun rights and public safety were under threat. "I believe in law and order, otherwise there would be chaos — and I don't believe in chaos," she said. "Sacramento is a good example. There have been a lot of recent protests there." A registered Republican, she compares President Trump's treatment of women to Bill Clinton and John F. Kennedy's. "I'm not going to expect someone to be perfect when I myself can't be perfect."
In Roseville, a man who works for the city utility company and is a member of the International Brotherhood of Electrical Workers, talked about the threat of outsiders.
"I'm tired of seeing cities burning down, and all the lawlessness," he said, directing traffic for his crew of municipal workers. "It started with Occupy Wall Street." He added that homeless people were like cats: "If you feed them they keep coming back."
The man, who refused to give his name, said his wife is a vice principal at a local public school, and claimed she "got emotional" last January and went to the local Women's March. He believes it was organized "not to defend women but to hate Trump." He also thinks that homosexuality is morally wrong and is "pushed in your face" by liberals.
He said he supports McClintock but is reluctant to talk publicly about electoral politics because he thinks liberals will "throw a brick" at him if he expresses his opinions. "Now we have to accept transgender. Come on."
Placer and El Dorado counties are recipients of the flight from cities — an exodus fueled by affordable housing, the desire for good schools and the expansion of high-tech jobs into suburban and exurban environments. Indeed, the suburbs surrounding Sacramento were among the top 25 growth areas in the country between 2015 and 2017.
---
Retiree: "Men have screwed it up a bit,
let's put some smart ladies in there."
---
The evolution of such suburbs is complex. In general suburbs are becoming more diverse and increasingly polarized economically, and more people are living in them today than in cities.
Following the June primary, Democratic frontrunners Morse or Bateson will have to work to attract significant numbers of Republican moderates and those with no party preference if Democrats are to pull off another Conor Lamb-type upset and topple McClintock. And since registered Republicans outnumber Democrats by over 60,000 voters, many Republicans will also have to stay home in November for such a reversal to occur.
Two local residents — former Republicans who intend to vote for a Democrat — explained why they think it's possible for a Democrat to win here.
Jack Chittick stands on his front lawn in Sun City, a retirement community in Roseville built by Del Webb. Instead of carpool lanes, Sun City has lanes for golf carts. Chittick, an 84-year-old retiree who was a top executive at the Pirelli Tire Company, points to the hardcore Republicans who walk past his house to the golf course across the street. "I like the cleanliness of this place," he says, "the golf course, the big homes, the shopping areas and the good hospitals."
He doesn't think McClintock represents the average person in the district and wants a congressperson who can make the tax structure fair for the middle class. Reflecting on his life, he admits he got "carried away" with his career as a corporate manager and the values that came with it. "I had achieved everything by myself," he once believed, "so why couldn't everyone?" But he had a change of heart when his wife started working with the homeless, and pointed out to him that the challenges they face were enormous.
"Democrats have a 50-50 chance," he says, handicapping the race. "Men have screwed it up a bit, let's put some smart ladies in there," he adds, referring to Morse and Bateson. "I'm sure they couldn't do worse, and they could do a lot better."
Bob Toste is another Roseville retiree and former Republican, who "bought into the trickle down theory" before it registered with him that birth determines economic class more than any other factor. He is careful about who he talks to about politics in his neighborhood, especially on immigration issues. Toste wants someone who is sympathetic to the undocumented immigrant students called Dreamers and is angered by McClintock's vote to repeal Obamacare. "I have good health insurance, having retired from a utility. But health insurance for our nation is very important for me. And trying to go back on that right now is horrendous," he said.
If the Republican National Committee and its well-funded conservative political action committees pour money into CA-4 after the June primary to shore up McClintock, it will be an indication that the party brand is in deep trouble.
Come November here, Barbara Bush's billboard admonition might come to pass. Sun City retiree Jack Chittick also wants voters to believe in something bigger than themselves – a change of political heart in District 4.
---
Video and images by Kelly Candaele.
Copyright Capital & Main