Sanctuary State: Jeff Sessions' California Problem
State officials argue that the state's sanctuary laws make Californians safer. The acting ICE director argues the laws have made immigration enforcement more dangerous.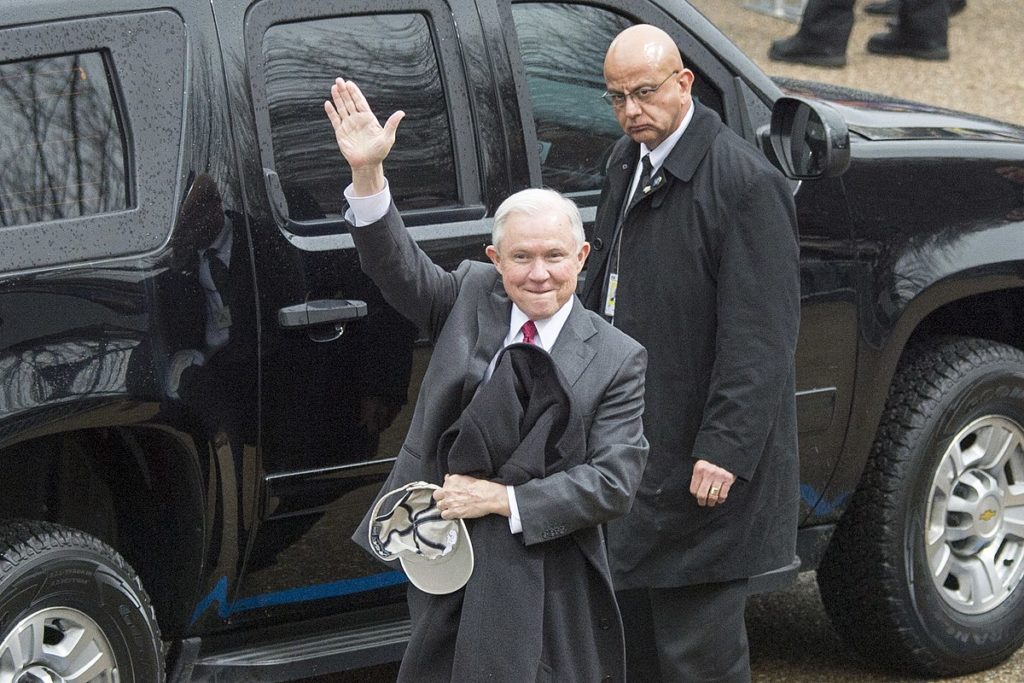 United States Attorney General Jeff Sessions attacked California on its own turf Wednesday, a day after he slapped the state with a lawsuit that challenges the constitutionality of three laws aimed at shielding immigrants from the Trump administration's deportation surge.
"California, we have a problem," Sessions told police officers at a meeting in Sacramento before publicly scolding Oakland Mayor Libby Schaaf for warning residents of imminent Immigration and Customs Enforcement (ICE) raids two weeks ago. "How dare you needlessly endanger the lives of our law enforcement just to promote a radical open-borders agenda?" Sessions said, noting that acting ICE Director Thomas Homan argued that by warning residents of raids, the mayor let 800 wanted criminals go free.
---
The Pew Research Center reports the deportation surge has meant a 30 percent jump in ICE arrests nationwide in fiscal year 2017.
---
But ICE statistics show that in 2017, the agency largely arrested people with minor convictions. Traffic offenses (including DUI and others) were the biggest category by far, followed by drug crimes, and immigration offenses, like re-entering the country illegally. The Pew Research Center reported that the Trump administration's deportation surge has meant a 30 percent increase overall in ICE arrests nationwide in fiscal year 2017 from the previous year. Arrests in ICE's San Diego region rose 24 percent, while they went up 10 percent in the Los Angeles area and nine percent in ICE's San Francisco region.
State Senate Bill 54, the so-called sanctuary state law, largely bars state and local police, and other agencies from collaborating with ICE, while SB 450 aims to protect employees from ICE raids in the workplace. It requires employers to deny access to ICE officers who don't have a warrant to inspect employee records and requires employers to notify workers if such an inspection is underway. Assembly Bill 103 gives the state power to oversee immigration detention facilities in California and bars cities and counties from contracting with ICE to house immigration detainees or to expand existing detention facilities.
"The pushback through SB 54 is [that] we're not going to engage in this," said Angela Chan, a Bay Area-based attorney with the Asian Law Caucus who worked closely with California Senate President Pro Tem Kevin de León to pass SB 54. "It doesn't stop enforcement. But it does have an impact in reducing it because we're not going to be complicit."
State officials and immigrant rights activists argue that the state's sanctuary laws make Californians safer. They argue that immigrants can report crime or testify in court without fear of being deported because local and state police are barred from immigration enforcement. They point out that the state cannot keep ICE from making arrests, but it can ensure that police and sheriff's deputies keep an arms-length distance from immigration enforcement.
But acting ICE director Homan, in a declaration supporting the lawsuit, argued that California has made immigration enforcement more dangerous by forcing officers to make arrests in the community, rather than in the safer confines of local jails, and he offered of examples of undocumented immigrants who were released from jail only to re-offend. Homan also revealed the depth of previous cooperation between ICE and local law enforcement as he decried the denial of access ICE officers previously had to jails in San Diego and Monterey counties, and to lists of foreign-born inmates in San Joaquin, Fresno and Sacramento county jails.
The city of Escondido, Homan wrote, had discontinued a joint operation with ICE that led to more than 300 arrests in fiscal year 2017 alone, while Orange County no longer allows its sheriff's deputies to be cross-trained and used as ICE officers. He also noted that an ICE effort to contract with seven California counties – Sutter, Solano, Placer, Shasta, Fresno, Stanislaus and San Mateo – to house ICE detainees and expand detention in the four counties that currently house ICE detainees in local jails "was totally frustrated by AB 103." Requests to expand detention in the four counties that currently house ICE detainees in local jails were also declined.
The federal government is asking for an injunction to stop California from enforcing provisions of its sanctuary state laws. It argues that the state has illegally usurped the U.S. government's authority on immigration.
Chapman University constitutional law professor John Eastman predicts the government will prevail because the state is " interfering with federal law," Eastman said. "Mr. Becerra missed part of Constitutional Law 101 – McCulloch v. Maryland." In the landmark 1818 Supreme Court case, "The court held the federal government was supreme and couldn't be interfered with," Eastman noted.
Loyola law professor Kathleen Kim disagreed with Eastman's analysis. She argued from a states' rights position, claiming that California has the right to "allocate state resources in a way that optimizes public safety by reducing fear among our residents, whether citizens or non-citizens, and that goal is directly tied to the necessity to disentangle local police from immigration enforcement."
State Senator Nancy Skinner, who authored SB 450, told Capital & Main that the state legislative counsel thoroughly vetted her bill and the others to ensure they'd pass legal muster.
"The governor didn't sign bills he believed were unlawful. He signed them on the basis that lawyers that drafted and negotiated them were well aware of the respective powers of the federal government and the state," Skinner said.
The case has been assigned to U.S. District Court Judge John Mendez in Sacramento. Mendez is a former assistant U.S. attorney and California Superior Court judge who was appointed by President George W. Bush in 2007, and confirmed by the senate the following year.
---
Copyright Capital & Main