San Francisco Professors and Students Face Staggering Rents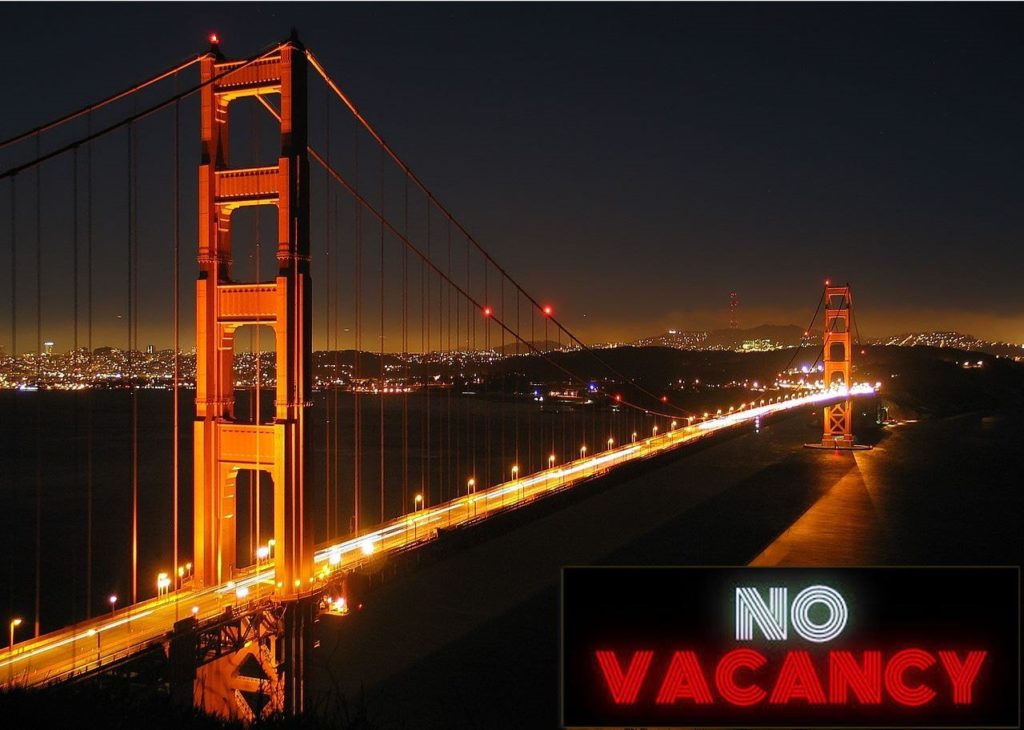 For some people, renting a house or apartment in San Francisco is easy. If your gross pay adds up to $200,000 a year, for example, you might feel fine about sinking a third of this year's salary into a bright, one-bedroom South Beach loft, or a two-bedroom loft with a view in the Castro District . On less money – say, around $100,000 in take-home pay –  you could reasonably afford a Union Square studio, or a 550-square-foot studio for $2,800 in Pacific Heights. Even if you invest no more than a third of your income in rent (the traditionally recommended ceiling), you could live in a one-bedroom apartment in Ingleside, near the San Francisco State University campus. You would have options.
But say you actually work on campus — as a teacher, librarian or groundskeeper. Say you want to go to school there, and not have to commute more than a dozen miles in the morning. Or maybe you'd like to attend campus events. The average salary for faculty at any California State University (CSU) campus is $45,000 before taxes and other deductions; more than half the system's lecturers, professors and instructors make closer to $38,000. If you're willing to spend half your salary on rent, you might find a studio in your price range. But you might not find a landlord willing to rent to you.
"The Bay Area market is utterly against someone who takes home only $3,500 a month," reports Ernita Joaquin, an assistant professor of public affairs at San Francisco State, who spent the summer looking for an apartment close to campus. Out of the 10 property owners she contacted who had advertised apartments in the $1,200 to $1,500 range, "only one replied to give the exact address," she says, despite Joaquin offering up her LinkedIn profile showing her academic credentials. That single offer was a "very tiny square room with mildewy corners, filthy carpet and no kitchen" – for $975 a month. The room was in a basement, near the garage. Joaquin eventually settled into a situation with two roommates.
For San Francisco State students, the situation can be even more grim. Transfer student Erick Gaona has found it easier to take the $50 Megabus home to Los Angeles every weekend than to find a place to live. "I'm an environmental science major that commutes from L.A.," he says. "I don't know if I'm a hypocrite or doing my part." On weekdays, he says, he joins the line of fellow students on Junipero Serra Boulevard who sleep in their cars, with an occasional respite in a hostel or a shower at a gym.
San Francisco's current housing crisis is nothing new; rents and home-owning availability have been driving middle-class workers away from the city for years. Certainly salaries in the high-tech industry are partly to blame for the long-term trend, which began just after the 2008 recession. But recently things have become way worse: The median monthly rent for a two-bedroom in San Francisco jumped to $3,500 this year, up nearly 13 percent from the year before,  making San Francisco the priciest rental market in the country, more forbidding than New York City.
Housing advocates finger another culprit: Airbnb, and other short-term rental networks catering to tourists. Such companies allow property owners to rent out rooms, apartments and houses for less than 30 days, and in so doing, theoretically earn  $10,000 a month or more per unit. By some estimates, as many as 12,000 housing units in the city have been listed on various vacation-rental sites, even though only 700 homeshares have been officially registered with the city, as required by an ordinance passed in February. Nearly 2,000 units have been taken off the rental market, and as much as 40 percent of the vacant units in the city's Mission District have been dedicated to vacation rentals.
The same law that requires Airbnb and other vacation-rental hosts to register their units also limits short-term tourist rentals to 90 days out of the year for "unhosted" rentals, where the owner isn't onsite. But the law is meaningless, says Dale Carlson, co-founder of Share Better SF, which advocates for restraints on the vacation-rental market. That's because hosted rentals, where the owner is present, have no limits.
"The people at the City Planning Department," he says, "which is charged with enforcing this law, say 'How in the world are we supposed to know if a host is sleeping in her own bed at night?' There's no way to enforce that law."
The short-term rental trend "has affected the housing crisis immensely," says Jennifer Fieber of the San Francisco Tenants Union, not only by making it hard to find an affordable place to live, but also challenging to stay there. "Breach evictions," often for small infractions of hidden rules in poorly worded leases, have doubled since 2010; evictions overall are up by nearly 60 percent and a report by the city's legislative analyst's office found that the neighborhoods with the most commercial hosts also had high numbers of evictions. The Tenants Union has consequently added its name to Share Better SF's list of organizations supporting a measure on the city's November ballot, Proposition F, which would limit short-term rentals to 75 days a year, whether or not there's a host on site. "Airbnb is no longer in the business of 'home sharing,'" Carlson writes on Share Better SF's website. "In fact, the company is giving home sharing a bad name."
It's also contributing to an overall erosion of neighborhood cohesion and campus life, says Sheila Tully, president of the California Faculty Association's San Francisco State University chapter. (The CFA is a financial supporter of Capital & Main.)
"I know students and faculty [at San Francisco State] who commute from as far away as Merced" — four counties away and a three-hour commute even in moderate traffic. "It's hard for them to attend union meetings or campus rallies," she says. "I hand out flyers to my students for events I know they'll never be able to attend."
If Proposition F passes, it may alleviate that situation somewhat. But San Francisco still won't be affordable for most CSU system teachers, says Djibril Diop, the California Faculty Association's director of government relations. "Only faculty from [California State University] Stanislaus and Bakersfield can get by on what they make teaching," Diop says. "On $38,000 a year working full-time, it's hard to afford living anywhere."
---
Golden Gate Bridge photo by Daniel Schwen