San Francisco Professors and Students Face Staggering Rents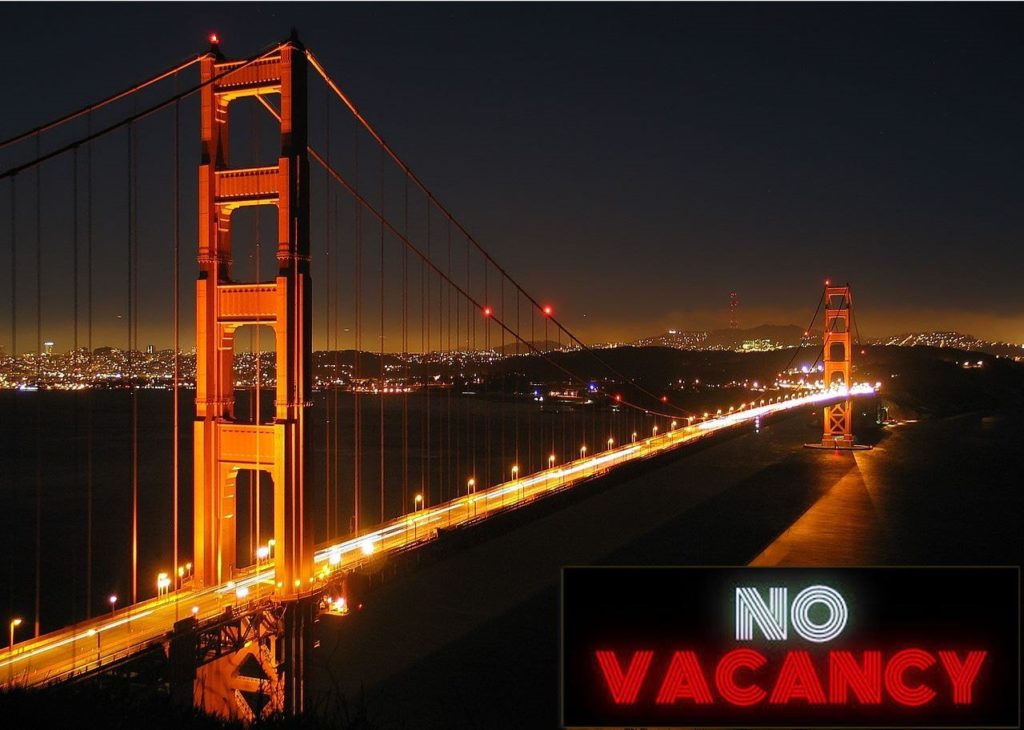 For some people, renting a house or apartment in San Francisco is easy. If your gross pay adds up to $200,000 a year, for example, you might feel fine about sinking a third of this year's salary into a bright, one-bedroom South Beach loft, or a two-bedroom loft with a view in the Castro District . On less money – say, around $100,000 in take-home pay –  you could reasonably afford a Union Square studio, or a 550-square-foot studio for $2,800 in Pacific Heights. Even if you invest no more than a third of your income in rent (the traditionally recommended ceiling), you could live in a one-bedroom apartment in Ingleside, near the San Francisco State University campus. You would have options.
But say you actually work on campus — as a teacher, librarian or groundskeeper. Say you want to go to school there, and not have to commute more than a dozen miles in the morning. Or maybe you'd like to attend campus events. The average salary for faculty at any California State University (CSU) campus is $45,000 before taxes and other deductions; more than half the system's lecturers, professors and instructors make closer to $38,000. If you're willing to spend half your salary on rent, you might find a studio in your price range. But you might not find a landlord willing to rent to you.
"The Bay Area market is utterly against someone who takes home only $3,500 a month," reports Ernita Joaquin, an assistant professor of public affairs at San Francisco State, who spent the summer looking for an apartment close to campus. Out of the 10 property owners she contacted who had advertised apartments in the $1,200 to $1,500 range, "only one replied to give the exact address," she says, despite Joaquin offering up her LinkedIn profile showing her academic credentials. That single offer was a "very tiny square room with mildewy corners, filthy carpet and no kitchen" – for $975 a month. The room was in a basement, near the garage. Joaquin eventually settled into a situation with two roommates.
For San Francisco State students, the situation can be even more grim. Transfer student Erick Gaona has found it easier to take the $50 Megabus home to Los Angeles every weekend than to find a place to live. "I'm an environmental science major that commutes from L.A.," he says. "I don't know if I'm a hypocrite or doing my part." On weekdays, he says, he joins the line of fellow students on Junipero Serra Boulevard who sleep in their cars, with an occasional respite in a hostel or a shower at a gym.
San Francisco's current housing crisis is nothing new; rents and home-owning availability have been driving middle-class workers away from the city for years. Certainly salaries in the high-tech industry are partly to blame for the long-term trend, which began just after the 2008 recession. But recently things have become way worse: The median monthly rent for a two-bedroom in San Francisco jumped to $3,500 this year, up nearly 13 percent from the year before,  making San Francisco the priciest rental market in the country, more forbidding than New York City.
Housing advocates finger another culprit: Airbnb, and other short-term rental networks catering to tourists. Such companies allow property owners to rent out rooms, apartments and houses for less than 30 days, and in so doing, theoretically earn  $10,000 a month or more per unit. By some estimates, as many as 12,000 housing units in the city have been listed on various vacation-rental sites, even though only 700 homeshares have been officially registered with the city, as required by an ordinance passed in February. Nearly 2,000 units have been taken off the rental market, and as much as 40 percent of the vacant units in the city's Mission District have been dedicated to vacation rentals.
The same law that requires Airbnb and other vacation-rental hosts to register their units also limits short-term tourist rentals to 90 days out of the year for "unhosted" rentals, where the owner isn't onsite. But the law is meaningless, says Dale Carlson, co-founder of Share Better SF, which advocates for restraints on the vacation-rental market. That's because hosted rentals, where the owner is present, have no limits.
"The people at the City Planning Department," he says, "which is charged with enforcing this law, say 'How in the world are we supposed to know if a host is sleeping in her own bed at night?' There's no way to enforce that law."
The short-term rental trend "has affected the housing crisis immensely," says Jennifer Fieber of the San Francisco Tenants Union, not only by making it hard to find an affordable place to live, but also challenging to stay there. "Breach evictions," often for small infractions of hidden rules in poorly worded leases, have doubled since 2010; evictions overall are up by nearly 60 percent and a report by the city's legislative analyst's office found that the neighborhoods with the most commercial hosts also had high numbers of evictions. The Tenants Union has consequently added its name to Share Better SF's list of organizations supporting a measure on the city's November ballot, Proposition F, which would limit short-term rentals to 75 days a year, whether or not there's a host on site. "Airbnb is no longer in the business of 'home sharing,'" Carlson writes on Share Better SF's website. "In fact, the company is giving home sharing a bad name."
It's also contributing to an overall erosion of neighborhood cohesion and campus life, says Sheila Tully, president of the California Faculty Association's San Francisco State University chapter. (The CFA is a financial supporter of Capital & Main.)
"I know students and faculty [at San Francisco State] who commute from as far away as Merced" — four counties away and a three-hour commute even in moderate traffic. "It's hard for them to attend union meetings or campus rallies," she says. "I hand out flyers to my students for events I know they'll never be able to attend."
If Proposition F passes, it may alleviate that situation somewhat. But San Francisco still won't be affordable for most CSU system teachers, says Djibril Diop, the California Faculty Association's director of government relations. "Only faculty from [California State University] Stanislaus and Bakersfield can get by on what they make teaching," Diop says. "On $38,000 a year working full-time, it's hard to afford living anywhere."
---
Golden Gate Bridge photo by Daniel Schwen
California Ramps Up College Education Behind Bars
Co-published by the American Prospect
Prisons have been called universities of crime. What if they became, instead, actual universities?
---
A 2014 law is turning state lockups into de facto institutions of higher learning.
---
Co-published by the American Prospect
In January 2017, Peter Fulks, a former police officer, stepped inside the California Correctional Institution (CCI), a sprawling supermax prison of more than 4,000 inmates, located just west of the foothill community of Tehachapi. The previous year, Fulks had accepted a teaching job at Cerro Coso Community College, which serves the sparsely populated eastern end of Kern County. The baby-faced 32-year-old had only a semester under his belt when he had volunteered to take his course about criminal justice inside a criminal justice facility, part of a daring experiment in California to provide face-to-face college courses to people behind bars.
Fulks wasn't sure what to expect at CCI. He admired the idea of teaching prisoners, and believed education could be transformative, but he was also prepared for resistance. "I was ready to argue for four months straight," he said. The first day was rocky. After he announced that he would be dividing the inmates into groups, a man at the back of the classroom interjected, "Professor, I believe we have already established our groups." Fulks looked at his new students, who had organized their seating arrangements by race, as so much else was organized inside the prison, and let it be.
---
Inmate: "Everywhere I turned, people were talking about what classes they have, what homework they had due, how many units they needed to complete their degree. I had to see what this was all about."
---
Like Fulks, his students seemed to believe in the value of education—they had signed up for his intro course, after all—but he sensed they were skeptical that anything positive could come from their time in prison. (And for good reason, Fulks conceded.) The skepticism didn't last. During the semester, they studied the history of prisons, analyzed the budget of the California Department of Corrections and Rehabilitation (CDCR), and wrote letters to elected officials regarding various public safety bills. The inmates were enthusiastic and sharp, and they were soon high-fiving and chest-bumping each other without regard to the institution's racial order.
"I got to see in front of my eyes a complete breakdown of the prison's subculture," Fulks told me. He also saw a side of the criminal justice system that hadn't been visible from the perspective of a beat cop: the talent, drive and dreams of the people he had once put away. After that first semester, he set out with his colleagues to scale up the program and has turned Cerro Coso into what is likely the largest provider of face-to-face college education in the nation. This academic year, 10 full-time and 36 part-time Cerro Coso instructors will teach more than 1,200 inmates at CCI and another state prison located in Kern County, the California City Correctional Facility.
*   *   *
Fulks and Cerro Coso stand at the forefront of a remarkable effort to turn California's prisons into de facto institutions of higher learning, made possible by the passage, in 2014, of state Senate Bill 1391. Inmates had previously been mostly limited to GED, career technical and correspondence programs, but the new law allowed community college professors to teach inside prisons and be compensated for instructing inmates as if they were students on the outside. Though the experiment has been operating largely below the radar, the results have been striking: In the fall of 2018, nearly 5,000 inmates from all security clearance levels took face-to-face college courses. That's more than in any other state, and more than the total number of students enrolled in the federal Second Chance Pell Pilot Program, which began under the Obama administration in 2016.
---
Prison Teacher: "You are entering an area
of supreme control, of which you have none."
---
There is plenty of evidence to support bringing higher education classes into prisons. Nearly all inmates will eventually be released, and a comprehensive 2013 RAND Corporation study found that inmates who participated in educational programs lowered their chances of recidivating by 43 percent. The RAND study also found that each dollar invested in correctional education returns between four and five dollars. And prisoners are often hungry to learn: Thus far, incarcerated students in California who take community college courses are consistently receiving higher grades than their campus counterparts.
One inmate, a student of Fulks who didn't want to include his name, wrote that he had been transferred to a prison for disciplinary reasons. He described himself as a "multi-striker" who had first entered prison in 1993. After his transfer, he noticed "a buzz around the facility that I have never experienced in this environment. Everywhere I turned, people were talking about what classes they have, what homework they had due, how many units they needed to complete their degree. I had to see what this was all about and signed up for whatever I could get."
Last fall, he took five courses, including art history and psychology, and is on track to earn his associate degree later this year. "For the first time in a long time, I don't feel like a 'lost cause,'" he concluded, adding that he was "on the right path to becoming a success story [and a human being again]."
*   *   *
"People talk about reduced recidivism, safer communities, and saving money, and those things are true," said Rebecca Silbert, a senior fellow at the Opportunity Institute in Berkeley and co-director of a statewide initiative, Renewing Communities, that supports providing higher education in prison. "But, fundamentally, this matters because we are a nation that believes in opportunity for all. What is the point of public higher education, if not to create opportunity for the public—meaning all of us, even those who made bad decisions in the past?"
Silbert has been heartened by what California has been able to achieve in a relatively short period. Still, challenges remain. Textbooks are expensive, especially for inmates who might earn only 25 cents an hour. Much of the administrative work is labor intensive and unfunded—to register students, someone has to physically travel to the prison yard with a clipboard. And professors must learn how to design lesson plans that don't require the Internet and avoid assigning banned books, which in California include such titles as Dante's Inferno and Freud for Beginners. There are delicate relationships, as well, to manage between CDCR and the California Correctional Peace Officers Association, the union that represents prison guards. As a teacher in a prison, Fulks told me, "You are entering an area of supreme control, of which you have none."
However, both Fulks and Silbert feel that California is on the right path and can provide a model for other states. Fulks told me that he had recently returned to teach a more advanced course to his initial students, a handful of whom have earned their associate degrees and want to pursue a PhD program. To meet this demand, Cerro Coso will soon be bringing in doctoral students from the University of California, Los Angeles, who will mentor inmates during their final year in prison and help place them into a bachelors-to-PhD program upon their release.
Fulks laughed, thinking about this prison-to-PhD pipeline: "That has happened zero times with my students on the outside."
---
Copyright Capital & Main