San Francisco-Based Veritas Investments Accused of Harassing Renters
Tenants in Los Angeles and San Francisco claim they are being targeted by their corporate landlord.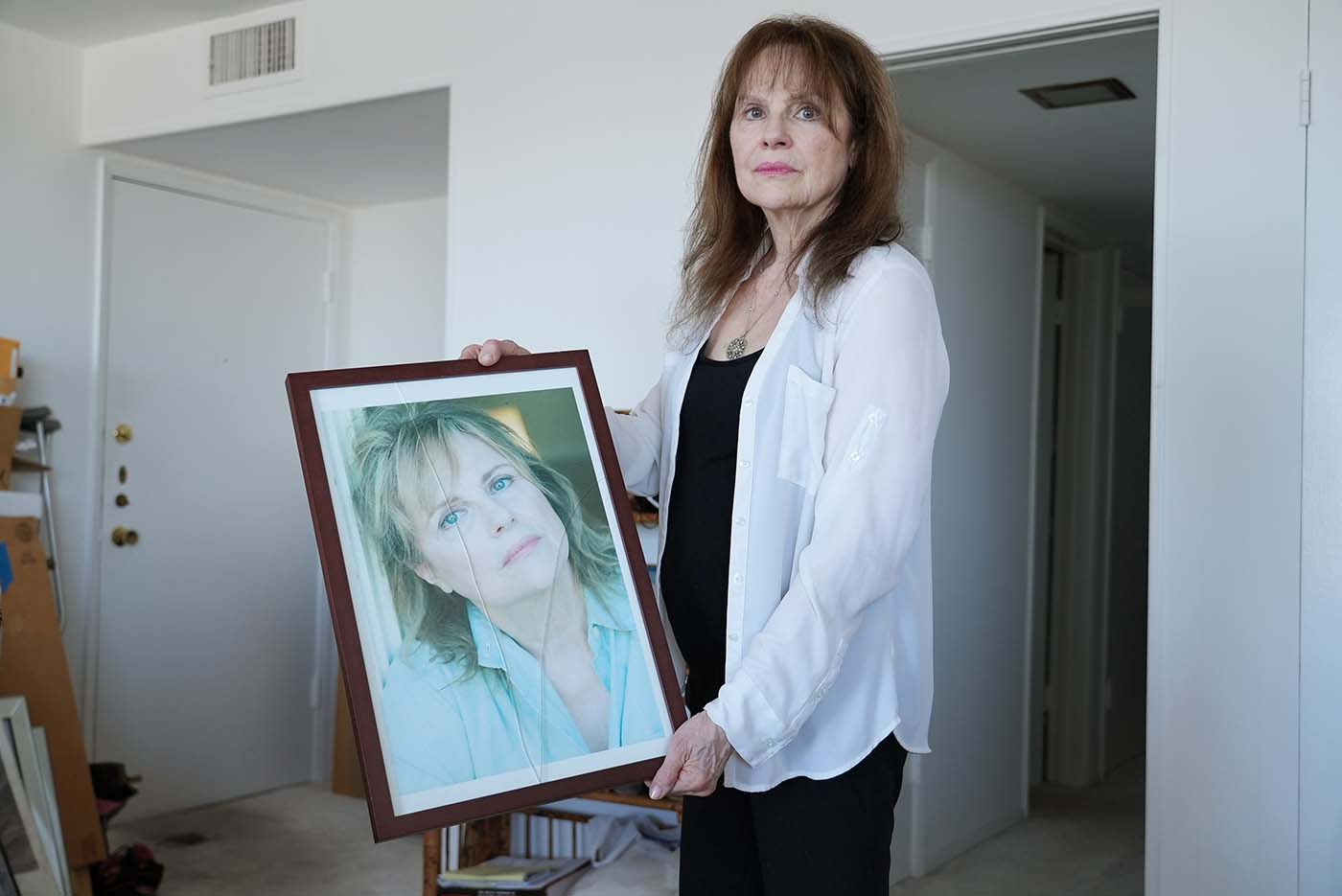 As actress and opera singer Janice Lynde returned to her West Hollywood apartment after back-to-back lung surgeries, construction in her building was shaking her rent controlled unit so vigorously that pictures jumped from walls, statues toppled and lost their limbs, and crystal and china shattered inside her cupboards.
Lynde's new landlord, the San Francisco-based corporation Veritas Investments, was the source of the commotion. The largest landlord in San Francisco, Veritas acquired the Sherwood Apartments on De Longpre Avenue in 2020 as part of a Los Angeles expansion for the company that frightened tenant organizers: 106 renters in San Francisco have sued Veritas, accusing the company of harassing tenants out of rent stabilized units with construction and other tactics. In the last year, tenants at multiple Los Angeles buildings have told Capital & Main that they are also being targeted by Veritas, which the firm denies. Lynde's building is the latest target.
---
---
 
Tenant harassment complaints spiked during the pandemic in Los Angeles, primarily at the hands of mom-and-pop landlords, according to Los Angeles' Eviction Defense Network. Veritas, its critics say, is a different beast, combining harassment with global financial backing from hedge funds, pension funds and other anonymous investors.
The company now owns at least 34 buildings in Los Angeles through shell companies, according to state business records. The properties are mostly concentrated on the city's Westside. Tenants in six buildings have reported harassment to either Capital & Main or the Los Angeles Tenants Union: 8440 De Longpre Ave. in West Hollywood, 300 San Juan Ave. in Venice Beach, 3240 Fay Ave. in Culver City, 9619 W. Olympic Blvd. in Beverly Hills and 1937 Argyle Ave. and 1844 N. Harvard Blvd. in Hollywood.
The De Longpre building is old and in need of repair, the company argued through a spokesperson, with "serious water intrusion issues impacting multiple units throughout the building." The city of West Hollywood approved all capital improvements to the building, the spokesperson says, and Veritas has been in regular communication with tenants about renovations. The company declined Capital & Main requests to interview CEO Yat-Pang Au as well as members of its executive team.
"As for the false narrative that we 'attempt to force residents from their homes,' nothing could be further from the truth," the spokesperson says.
 
"Bloody Torture and Hell"
Janice Lynde once played opera houses across the world. She was the "beautiful if not for those glasses" concert pianist on The Young and the Restless, and Eve in Applause, based on the film All About Eve, on Broadway, where she clashed with Lauren Bacall before thriving opposite co-star Anne Baxter, who encouraged her to wear heels even though she would dwarf the Academy Award winner. "Dahling," Baxter said, "it's up to me to meet your presence. Wear whatever you like."
Those years were a dream. "I was 19," Lynde sighs.
The summer's construction took singing from Lynde, too. A ringing in her ears has persisted for weeks, even after the drilling abated, making controlling the sound of her voice in her head and chest very difficult, she says.
While the rest of the world contended with the coronavirus, Lynde was diagnosed with eye cancer. A miracle surgery saved her life, but another scan found two more cancers, one in each lung. (Lynde is now cancer free.)
In March, April and May of 2021, Lynde recovered from lung surgery as construction thundered through her rent stabilized unit from 8 to 5, five days a week. As in other Veritas buildings, the company maintains the work is routine remodeling of an old building, while tenants say the construction is unusually loud and relentless.
"This is Bloody Torture & Hell!!!" Lynde wrote on May 18 to building manager David Emmanuel, who oversees multiple Veritas buildings in Los Angeles on behalf of property managers Moss & Company. The letter was one of dozens sent by Lynde and others to the San Fernando Valley-based building management firm. "How can I be relocated into a hotel?" she asked.
Emmanuel promised to ask management. Even though the Sherwood is located across the street from a Best Western where the building's previous owners used to put up tenants during emergencies, Veritas and Moss & Company finally paid for a hotel for Lynde on June 16, nearly a month later. (Lynde also turned a hotel offer down on another occasion, she says, because the offer came in the late afternoon and construction was set to resume in the morning.)
 
---
In March, April and May of 2021, Janice Lynde recovered from lung surgery as construction thundered through her rent stabilized unit from 8 to 5, five days a week.
---
 
"We have been serving the communities of the greater Los Angeles area for 60 years," Moss & Company wrote to Capital & Main in an email. "We understand that work associated with property improvements can be inconvenient, however, the new, updated renovations will be enjoyed by all residents."
Nearly all of the units in the Sherwood are rent stabilized, with tenants paying significantly under market rate prices. Lynde pays just over $1,400 for a two bedroom, two bathroom apartment with a floorplan around 1,700 square feet. Veritas has listed vacant units in the building for nearly $5,000 on Apartments.com.
On top of the construction, Veritas is slow in addressing tenant complaints, Sherwood occupants say, an accusation also leveled at the company by 106 plaintiffs in San Francisco as well as tenants elsewhere in Los Angeles. Bay Area tenants complained of floods, leaks and fires; broken elevators; water, power and gas shutoffs; unaddressed mold growth and presence of asbestos; and work crews that tramp dirt and debris through the building and break windows and walls, seemingly by accident. That the incidents tend to come in packs rather than individually fuels suspicions of a plot.
The company argues that it acquires buildings in poor condition, which is often the case. But tenants at Sherwood and other properties say that before Veritas, problems were managed by an on-site party. When Veritas takes over, the company often removes previous building management, and issues begin to escalate. The Sherwood Apartments has no on-site manager.
At the Sherwood, construction projects begin but never end, tenants say, with workers abandoning their tasks to focus on another issue in the building, leaving rooms unfinished and hallways without their carpets. In April 2020, a fire broke out in a transformer next to the building, and when the fire department arrived, firefighters found the fire door locked, according to tenant John Boucher. Earlier this summer, the parking lot flooded after the pool pump broke. Soldering work on pipes filled the building with smoke, making it smell like a casino, says Lynde. The elevator broke and broke again, on one occasion trapping three people inside. (Two escaped, according to Boucher, the last liberated by the firefighters who ripped off the doors.) Construction workers drove a tree branch through a tenant's window.
Meanwhile, construction crews renovated apartments and waterproofed showers and the roof with a molten tar that sent tenants to the doctor, and some into spells of vomiting.
"The main complaint remains the same," Boucher wrote in an email to Moss & Company and West Hollywood city officials. "There is no live-in onsite manager as required by state law."
"Moss & Co. is relying on all the Tenants to act as de facto managers and report all maintenance issues to you," he continued. "Including the fact that the front stairwell has no working lightbulbs in it from floor 2 upward."
California law says buildings with more than 16 units must have on-site managers. The Sherwood has 24 units.
Two statues of Lynde's fell and broke during the construction, one of which was appraised at nearly $80,000. "My life's savings," she says. A Veritas spokesperson told Capital & Main the company would compensate her for the statues but that Lynde was not cooperating with their requests for further information, a claim she denies. (Lynde now intends to invoice them for the $80,000.)
 
---
Within days of workers laying tar in the apartment next to John Boucher, he went to the doctor complaining of extreme fatigue, a headache, body aches and tightness in the chest.
---
 
One night, after weeks of construction, Lynde tried to sing again but the ringing in her ears was too loud. Finally, she broke down.
"I've been through two different kinds of cancer in one year," she says. "I've recovered from all of them. That night I said to my friend, I think I should check myself into the ER on suicide watch."
Then came the tar. In May, construction workers began waterproofing apartments with a substance that made multiple tenants fall ill. Within days of workers laying the tar in the apartment next to writer Boucher, he went to the doctor complaining of extreme fatigue, a headache, body aches, a runny nose and tightness in the chest, he says.
When Veritas began to use the tar, the tenants above Boucher confused its stench for a fire, grabbing their computers, passports, and Chili, their pet chinchilla, and running into the street.
Days later, the smell would still pour out of Boucher's closets when he opened them. Even after multiple complaints from tenants about the tar to Moss & Company, workers continued to use the substance, carrying it in open, plastic buckets up the Sherwood stairwells to the roof.
Veritas says it completed its waterproofing in accordance with city guidelines.
For Lynde, the tar was particularly ill timed. She informed Moss & Company that she was recovering from lung surgery on April 6, and then pleaded with management to cease its use of the tar in subsequent months. In an email to building manager David Emmanuel on May 13, Lynde explained that she had slept next to an air purifier on her bathroom floor, which was more ventilated than her bedroom and where the smell was less intense. Then she repeated her request for a hotel, which Emmanuel ignored again, placing her in a hotel for the first time on June 16.
"It was like Pittsburgh in the 19th century," says tenant Arshavir Blackwell, standing in front of the Sherwood with his dog on a blinding Saturday morning. "Let's get Charles Dickens out to write about this. Where are the child laborers?"
 
A Landlord Without Property 
The largest landlord in San Francisco says it doesn't own any buildings.
"Veritas manages properties on behalf of those who do legally own them," an unnamed spokesperson told Capital & Main. "It does not consider itself an owner of properties because it isn't; it manages properties on behalf of owners."
The spokesperson declined to name Veritas' investors, the real owners of its buildings like the Sherwood in West Hollywood: faceless financial backers whose pricey California assets Veritas so closely oversees.
 
---
Typically, rent stabilized real estate is too messy to be profitable for institutional investors, but that's where Veritas comes in, according to CEO Yat-Pang Au.
---
 
In the past, investors have included Baupost Group, a hedge fund founded at Harvard Business School, where Veritas CEO Yat-Pang Au got his MBA, and Canadian real estate company Ivanhoé Cambridge.
Typically, rent stabilized real estate is too messy to be profitable for institutional investors, but that's where Veritas comes in according to Yat-Pang Au, who told the San Francisco Business Times that he sees himself as a "translator for big investors that want to ride the city's rent boom."
Veritas' expertise in rent stabilized apartment markets allowed Canada's Ivanhoé Cambridge to invest in the unwieldy assets, according to president Sylvain Fortier. "The efficiency on the cost front is not as simple as owning one large property," Fortier told the San Francisco Business Times in a profile of Veritas CEO Au. "You need an expert in that niche, and this is what Veritas brings to the table."
Veritas CEO Au acknowledged to the San Francisco Business Times that his company relies on flipping rent stabilized units. But the key, he said, was patience; his investors had unusually long-term investment horizons, "looking for returns over a decade or longer."
"We tend to look for buildings that have a more transient tenant profile — but transience can mean 10 years or two years, you never know," Au told the Business Times. "We honor and respect the stability that rent control provides for our residents, and we just wait."
Veritas' Los Angeles expansion is backed by the Texas Permanent School Fund, a $46.6 billion fund that supports public elementary and secondary education in Texas. The fund supplied "Veritas Investments Los Angeles Multifamily Partners IB," a Veritas-controlled fund, with a $90 million investment in 2020.
Texas Permanent did not respond to multiple requests for comment.
Veritas has also taken out bridge loans on its buildings in San Francisco, which are divided into "disbursed" and "undisbursed" loan packages, Veritas employees explained to the San Francisco Rent Board in 2018. The company appeared before the rent board that day to petition the city for rent increases in the form of "pass-throughs," when a landlord can pass on the costs of building improvements to tenants. The disbursed loan Veritas receives upfront, its lawyers explained, but only unlocks its "undisbursed" loan if the building meets certain performance targets. Brad Hirn of the Bay Area's Housing Rights Committee, which organizes Veritas tenants and represented tenants in the 2018 rent board meeting, says this structure incentivizes the company to repay loans as quickly as possible by expelling tenants. (Performance in a multifamily property, according to Hirn, can only refer to rent. The building has no other way to "perform.")
According to a Veritas spokesperson, undisbursed loans are used for needed capital improvement repairs "informed by third-party reports" assessing the building's condition before purchase. Repairs may be needed over a prolonged period. "A building manager has no influence over the items which are included," the spokesperson said.
 
---
Veritas' Los Angeles expansion is backed by the Texas Permanent School Fund, a $46.6 billion fund that supports public elementary and secondary education in Texas.
---
 
However, the company's explanation is out of sync with rent board testimony from Veritas employees, who told Administrative Law Judge Adena Gilbert that building performance unlocked further money.
"The additional 4.2 [million] is available to the property, or the borrower, for what we consider [to be] future earn-outs," Veritas Director of Capital Markets Terry Dela Cruz told the rent board. "If the property performs above and beyond expectations, per se, as noted in the loan agreement."
"Then it sounds like it's a reward for excellent performance, but it's still a loan," Gilbert said. "It's not a gift."
"It's still a loan," Dela Cruz said.
Later in the meeting, Dela Cruz insisted the loan structure was normal.
"This is not an uncommon process," she said. "There are banks who do the additional [loan] because they believe in the property, and future funding is built into a lot of the loans that we do."
"Ok, well this is my 24th year," Judge Gilbert replied. "I haven't seen this. I'm a little stumped, and it's not enough to say, 'We see this a lot,' because I've been doing this a long time and I've never seen this."
Issuing the loans could indicate the banks believe Veritas can execute its profit strategy, says USC assistant professor of real estate finance Moussa Diop, stressing he is unfamiliar with the company. "[The banks] say, OK, we are lending against cash flows, we are willing to lend against more cash that you are generating in the future but just show us you are generating that cash," Diop speculates. "You need to show certain performance, and the performance is based on your ability to convert some units to market."
"This is just the bank managing risk," he says.
 
Familiar Stories 
Visit Veritas' Los Angeles properties and you will meet a variety of tenants curious about their new landlord, the one who took over without warning last year, sending the old property manager on his way for other work. Most say their building has been quiet — if something is going on, it hasn't started yet.
But every so often, tenants nod in recognition when told about the complaints at De Longpre Avenue.
Four tenants at 1937 Argyle Street in Hollywood say the story resonates with their own experiences in the building located blocks from the 101 freeway and the Church of Scientology's Celebrity Center on Franklin Avenue.
"I could not believe how loud it was," one woman says of the construction in the building. Water and gas shutoffs as frequently as once or twice a month have also distressed tenants, who say Moss & Company leaves the water off as long as it legally can. As at De Longpre, construction workers begin repairs and then fail to finish the projects, leaving walls half-painted and hallway lights swinging on cords from their sockets.
Her neighbor, who also asked to remain anonymous, says the building has slowly emptied as tenants endured deafening construction.
Asked if he is being targeted by Veritas, the neighbor grimaces.
"One-thousand percent," he says.
---
 
Copyright 2021 Capital & Main