'Rosie the Riveter' Model Dies — Rockwell Painting Owned by Walmart Museum
She was the perfect patriotic icon: Sassy yet dignified, brawny yet feminine – a massive rivet gun cradled on her lap, feet resting on a copy of Mein Kampf. And all the while she holds a sandwich as Old Glory ripples in the background. Mary Doyle Keefe, a Vermont telephone operator who posed for Norman Rockwell's immortal Rosie the Riveter painting, first publicly seen on a 1943 Saturday Evening Post cover, died Tuesday at the age of 92. At the time of her brush with fame, Keefe was Rockwell's neighbor and a little embarrassed that the artist had pumped iron into the painted arms of the petite 19-year-old.
Rosie the Riveter had too much whimsy and restraint for it to fade into kitsch or agitprop oblivion. Like J. Howard Miller's equally famous "We Can Do It!" poster, with which it is sometimes confused, Rosie the Riveter would live on as a signifier of national unity and, eventually, of feminist power. And, like another 1943 work, Ben Shahn's Welders, Rockwell's painting became a tribute to the strength and dignity of labor.
It is with some irony, then, that Rosie the Riveter is now part of the permanent collection of the Bentonville, Arkansas art museum that was created by an heir to the Walmart fortune – a company synonymous with the degradation of labor and the disrespect of working people. The Crystal Bridges Museum of American Art was established by Alice Walton, who marshaled the enormous financial resources of the Walton Family Foundation to build it. And, not unlike a typical big-box Walmart store plunked down in any American town, Crystal Bridges cost Arkansas and Bentonville a lot of money in lost tax revenue – an estimated $17 million.
It is sad to note the passing of Mary Doyle Keefe, and to know the cruel truth that Rosie the Riveter was bought by one of the richest women in America and is kept in a museum that Walmart built. What would Rosie say?

A Woman's Art Is Never Done: The Feminae Exhibition
A striking juxtaposition between the past and present courses throughout the small gallery. Celia Blomberg's "International Women's Day March 8" can't help but make one think of 2017's Women's March, which occurred 37 years after the print's first appearance.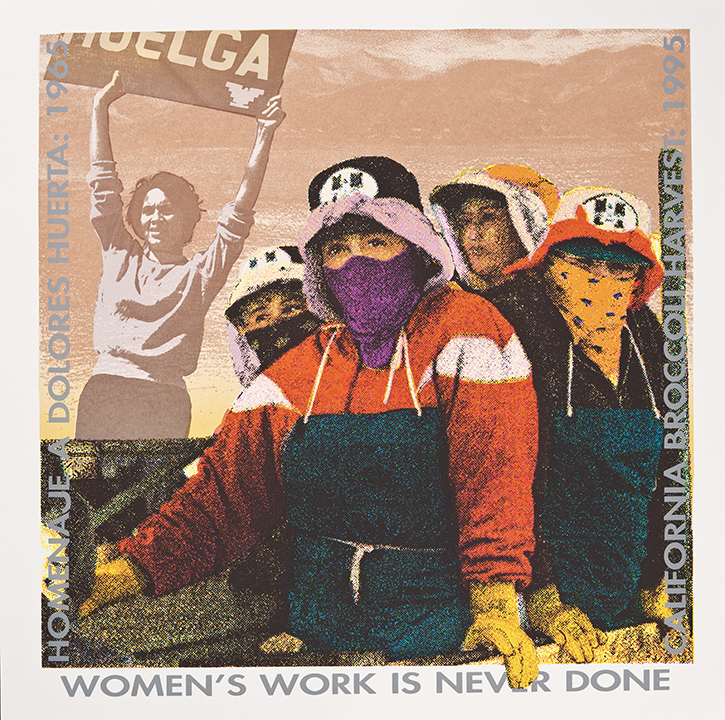 Among the 50-plus works in the Feminae: Typographic Voices of Women By Women exhibit is Yolanda Lopez's "Women's Work is Never Done." Lopez's title is particularly ironic, given the exhibit's gender-based subject matter. The show spans work from the past 50 years, making it easy to understand how much society is still grappling with its themes of gender inequality. Culled from the archives of the Center for the Study of Political Graphics, the graphic images of protest, persuasion and empowerment are truly works of art in their own right.
However, political posters aren't made to merely spruce up walls, but to help figuratively bring barriers down as well.
Two silkscreens from the 1970s, Liliana Porter and John Schneider's "This Woman is Vietnamese" and See Red Woman's Workshop's "So Long As Women Are Not Free People Are Not Free," are particularly powerful, underscoring, as they do, the fact that the subjugation and persecution of women crosses borders and cultures as an unfortunate shared global experience. These two pieces' stark simplicity exemplifies most of the work in the exhibit. In the former, a New York Times photo of a distraught Vietnamese woman with a gun held to her head is centered above these basic words typed out in a typewriter font: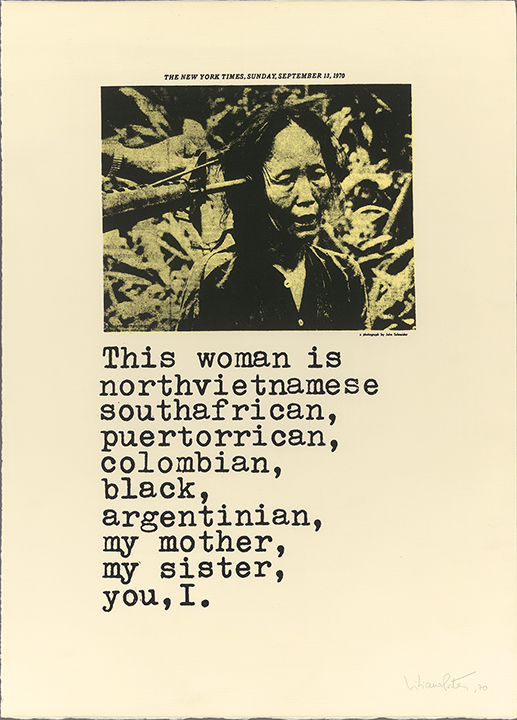 This woman is
northvietnamese
southafrican
puertorrican,
colombian,
black,
argentinian,
my mother,
my sister,
you, I.
By juxtaposing the photo with these words, the creators take the plight of this woman and immediately globalize her pain. In the latter, three female demonstrators are silkscreened in red onto a yellow background. They are marginalized by being stuck in the lower left third of the poster, but two of them are raising their fists skyward and their mouths are open, screaming in defiance. Its non-serif, eponymous type reads: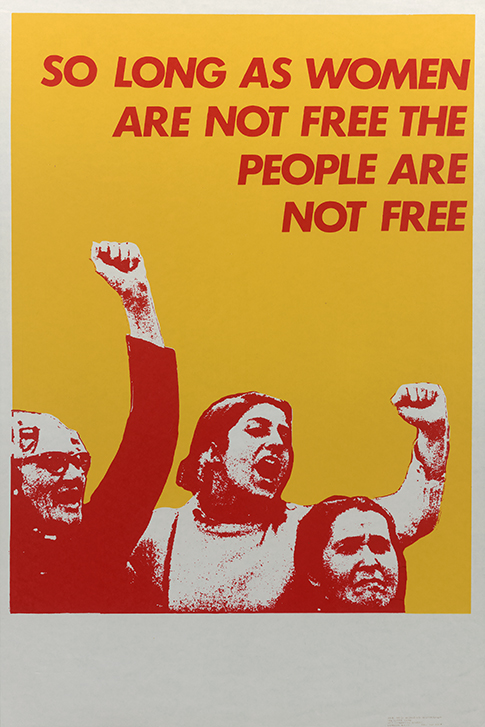 SO LONG AS WOMEN
ARE NOT FREE THE
PEOPLE ARE
NOT FREE
This piece's message takes the global message even farther, making the plight of women a human one — a common theme in the exhibition.
There is also a striking juxtaposition between the past and present that seethes throughout the small gallery. Celia Blomberg's "International Women's Day March 8" can't help but make one think of 2017's Women's March that would take place 37 years later. See Red Woman's Workshop's 1977 "Black Women Will Not Be Intimidated" could easily be repurposed to address the recent spate of blue-on-black brutality. Notable works by Barbara Kruger, Sister Corita Kent and the Guerilla Girls are also included.
Ironically , while it can be surmised that most of these works were made as populist posters to be distributed at the time as banners of protest, their beautiful simplicity and nostalgic elegance probably have resulted in the originals (mostly now found in art museums) sporting hefty vintage-resale prices.
But it is not just the art that has stood the test of time. The fact that the issues addressed in the show — feminism, choice, gender equality, war, immigration, police brutality or violence against women — are all issues at the forefront of debate in 2018 ultimately engenders conflicting feelings.
On one the hand, it is inspiring to see a vibrant exhibit that showcases such diversity in artistic styles, no doubt spawned by the diversity of the artists' own backgrounds. On the other hand, there is a realization that while there has been some progress over the past half century, there is so much work to be done.
Art Center's Hoffmitz Milken Center for Typography, 950 South Raymond Ave., Pasadena; through May 15.
---
Copyright Capital & Main