"Riots" or "Rebellion": What We Learned from 1992
Painting: "Burning Palm Tree," by Mark Vallen
The 20th anniversary of the Los Angeles riots has triggered a number of fascinating reports examining the underlying causes of the unrest and the changes (in attitudes and actions) that have taken place in the past two decades.
Scholars at the University of Southern California produced a report called L.A. Rising: The 1992 Civil Unrest, the Arc of Social Justice Organizing, and the Lessons for Today's Movement Building. Their counterparts at L.A.'s Loyola Marymount University, published 20th Anniversary of the Los Angeles Riots Survey. And my colleagues at the Los Angeles Alliance for a New Economy (on whose board I proudly serve) published a series of reflections by L.A. activists called Rage and Reflection: Meditations on LA's 1992 Civil Unrest and the Ongoing Transformation of a City. (I weighed in on this topic 10 years ago with an article in the National Civic Review, "America's Urban Crisis a Decade After the L.A. Riots").
Even the word "riots" is controversial. Since the urban upheavals of the 1960s, academics and activists have debated whether such events should be called "riots," "uprisings," "rebellions," "civil disorders," or "civil unrest."
What we call them is less important than how we think about them. In my new book, The 100 Greatest Americans of the 20th Century: A Social Justice Hall of Fame, which Nation Books is publishing this month, I write the following:
Riots are expressions of hot anger — outrage about social conditions — but they are not truly political protests. They do not have a clear objective, a policy agenda, or a strategy for bringing about change. They only bring more hardship. The Los Angeles riots in April 1992 left 55 people dead and caused more than $1 billion in property damage in inner-city neighborhoods.
Social protest movements, in contrast, reflect cold anger. They are intentional, organized, and strategic. Activists carefully select the target to raise public awareness about an issue. A handful of people may engage in nonviolent civil disobedience, which could result in fines and jail time, but most participants find other ways to contribute to the cause. They attend rallies and marches, donate money, make phone calls and lick envelopes, distribute leaflets, write letters to newspapers, meet with and lobby elected officials, and encourage friends to vote.
Riots occur when people are hopeless. Protest takes place when people are hopeful — when people believe not only that things should be different but also that they can be different. The major protests during the 20th century — the women's suffragists who chained themselves to the fence outside the White House in the early 1900s, the farmers who showed up at their neighbors' homes during the Depression and stopped banks from carrying out foreclosures, the auto workers who occupied the Flint, Michigan, GM plant in 1937 to protest wage cuts and layoffs, the college students who waged sit-ins at segregated lunch counters in the early 1960s, the antiwar activists who protested the Vietnam War by disrupting military induction centers and defense contractors' offices, and the environmentalists who blocked the construction of nuclear power plants in the 1970s — helped bring about much-needed change.
The most recent link in this chain of change is Occupy Wall Street. It began last September as a form of civil disobedience and protest, not a riot. Although a handful of anarchists within the Occupy movement sought to escalate the protest by resorting to violence, the overwhelming number of Occupiers resisted that tactic in favor of militant but peaceful protest.
As it spread around the country, the Occupy movement has had incredible ripple effects, changing public opinion, getting the media to pay more attention to the concentration of wealth and inequalities of income, encouraging some politicians to challenge the banks and big business, and emboldening existing community groups and unions to push harder.
The latest wave of mass protests at various corporate headquarters and shareholder meetings led by the 99% Spring Coalition, along with the recent protest at Treasury Secretary Tim Geithner's house, underscores the importance of activist groups using protest as part of an overall strategy to wrest concessions from powerful people and institutions, not an end in itself.
What brings about positive change — especially for the poor and working class — is the slow, gradual, difficult work of union organizing, community organizing, and participation in electoral politics. The 1992 L.A. civil unrest was a wake-up call. But to the extent that Los Angeles is a better city today than it was 20 years ago, it is due to the grassroots activists — and their allies among foundations, media, clergy and public officials — who have worked in the trenches pushing for change against difficult obstacles. That's the lesson we should take from these reports on the legacy of the L.A. riots.
(This feature first appeared on the Huffington Post. It has been reposted with the author's permission.)
The Power of the Poster
Carol Wells, the founder of the Center for the Study of Political Graphics in Los Angeles, talks to Capital & Main about the enduring power of political art.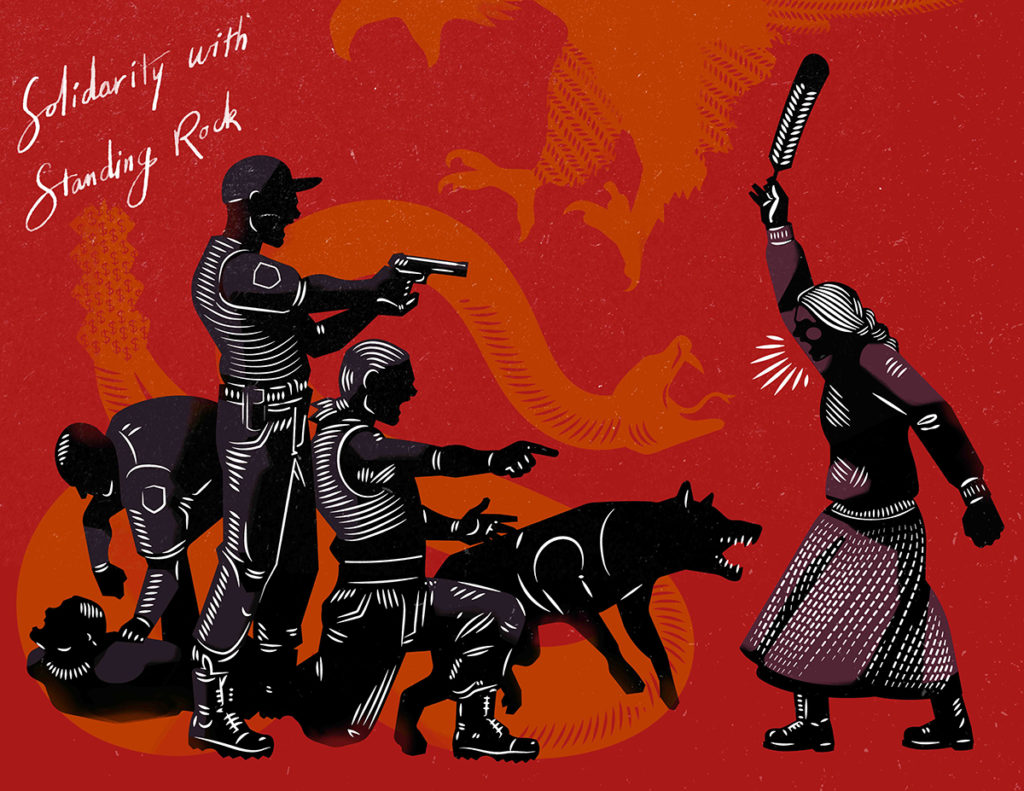 Carol Wells remembers the exact moment she discovered her calling. An art historian at the time, she was on a trip to Nicaragua with her friend David Kunzle, a UCLA art history professor, who was collecting political posters to add to his burgeoning collection. While staying with friends, Wells watched a neighbor's 8-year-old son approach a poster on the wall, stare at it intently, and then start to silently mouth the words. Wells was struck by how engaged the boy was. "In that moment I became obsessed with collecting posters."
Now over 40 years later, Wells is the founder and executive director of the Center for the Study of Political Graphics in Los Angeles. Wells has amassed approximately 90,000 posters, building one of the largest collections of its kind in the world. The Center shares its collection with the public in part through curated exhibits. This year the CSPG has produced Feminae: Typographic Voices of Women by Women and its latest is To Protect & Serve? Five Decades of Posters Protesting Police Violence, running through July 15 at the Mercado La Paloma in downtown Los Angeles.
Since that encounter in Nicaragua in 1981, Wells' obsession with collecting posters hasn't waned. In CSPG's nondescript West L.A. office space, Wells pulls out poster after poster, lecturing passionately on the backstory and cultural impact of each, including one that superimposes text from a New York Times interview with a shocking image of the My Lai massacre ("Q: And babies? A: And babies."). Recently, she managed to sit down with C&M to discuss her passion.
---
Capital & Main: So, you were an art history professor, you happen to see a kid on a trip, and suddenly your life was changed forever?
Carol Wells: Yeah, I'm in Nicaragua alone in the living room with this kid. He's looking around, and all of a sudden, he sees the poster. It was pretty big, bright green, a thick outlines of a woman holding a big basket of coffee beans. And the text in Spanish said, "In constructing the new country, we are becoming the new woman." I see him walk over to the poster and I'm watching him mouth the words. It was a pretty sophisticated concept, so I doubt he figured it out. But I literally had this epiphany: "Oh my God. That's how posters work." You're going about your daily life, and all of a sudden something breaks through the bubble, and it grabs your attention. It's the graphic, it's the color, it's the combination, and it pulls you out of your head and into that poster and it makes you ask a question. "Why is this here? What is this about? What does this mean?" And every time you ask a question, you're a different person than you were before you asked the question.
How many posters do you get a year?
We get between two to five thousand a year donated from all over the world. The bulk of our collection is [from] 1945 and later.
I assume technology has probably hurt the art form, but has it helped get the messages out?
Most people think that, and it's actually not true. Since the internet age started, there's actually a poster renaissance of works on paper. Because you can't walk with your computer monitor in a demonstration. You can't plant your monitor on your lawn.
And you can't put a laptop on the wall…
Exactly. You want to hear a really great story? Truthdig.org published a cartoon [made by] a political cartoonist named Mr. Fish. It was during the Arab spring, and he had superimposed Che Guevara with the stylized beard and King Tut's face, but it had Che's beret. And it [was titled], "Walk like an Egyptian." So, it was a reference to the music, but [it was also] a reference to what was going on the streets of Cairo. I sent it out as our poster of the week to 9,000 people. The very next day, somebody took a photograph on the street of Cairo, with somebody holding a piece of paper with that image on it. A poster can literally go around the world and people will print it out.
What struck me in viewing your exhibits is how many of these posters could still be used today, not only artistically but also, sadly, in the timeliness of their messages.
We had this fabulous poster by Yolanda Lopez, a Bay Area artist, which she first did in 1978. It depicts a young man in Aztec garb pointing a finger like Uncle Sam saying, "Who's the illegal alien, PILGRIM?" And it's a great poster, it's simple, not too many words, funny, provocative. So, we had an exhibit at UCLA in the mid '90s and there were 4 or 5 high school students standing around this poster saying, "Wow, you've got posters up to the minute." And I went over to them and I said, "Look at the date. This is before you were born."
Is that one of your goals with the exhibitions? To show the evergreen nature of this work?
Absolutely. I mean that's why we did the police abuse exhibition now. It basically goes back five decades. It's 50 years of posters protesting police abuse. Mainly in the United States, but also internationally.
What's the goal for CSPG?
Well the aim right now is really to digitize the collection and get it online. We have 10% of the collection digitized. But the mission is to collect and to document, because stories get lost. All the exhibitions, they're showing massacres, they're showing genocide, they're showing police abuse, they're showing all of these horrible things. And people often ask me, "How can you look at this stuff all day long?" I said, "Because the poster artists are optimists. They believe people can change if they have the information."
Yes, that's the reason why they're doing it, right?
That's why they're doing it, and that's why I'm doing this, because I believe that people can change if they knew the truth.
And what happens 20, 50 years from now?
Well, my goal is to stay independent, because the other option is to become part of the university. Universities, for all the fabulous things that they do, they also censor. We did an exhibition at USC in 1992 on the 500 years since Columbus, and how the legacy of racism and exploitation and genocide continues. And one of the board of trustees was Italian and took [the exhibit] as an affront to Columbus. It really wasn't about Columbus, it was about colonialism. And he ordered it down.
Do you have a favorite poster?
I'm always amazed at the creativity and vision of artists. Every week I'll say, "Oh my God, how do they think of that?" But it's always still going to be the poster I saw that kid trying to figure out. It has to be my favorite one because that one changed my life.
What makes a perfect poster?
The right balance between aesthetics and message. If you only rely on the corporate press, the New York Times and L.A. Times, for your information, you're not going to get the side from the street, from the movement, from the activists. The posters are primary historical documents that are recording the issues that were at the time, and the passions that were at the time, and the divisions that were at the time. You're not going to get it anyplace else.
---
Copyright Capital & Main