"Riots" or "Rebellion": What We Learned from 1992
Painting: "Burning Palm Tree," by Mark Vallen
The 20th anniversary of the Los Angeles riots has triggered a number of fascinating reports examining the underlying causes of the unrest and the changes (in attitudes and actions) that have taken place in the past two decades.
Scholars at the University of Southern California produced a report called L.A. Rising: The 1992 Civil Unrest, the Arc of Social Justice Organizing, and the Lessons for Today's Movement Building. Their counterparts at L.A.'s Loyola Marymount University, published 20th Anniversary of the Los Angeles Riots Survey. And my colleagues at the Los Angeles Alliance for a New Economy (on whose board I proudly serve) published a series of reflections by L.A. activists called Rage and Reflection: Meditations on LA's 1992 Civil Unrest and the Ongoing Transformation of a City. (I weighed in on this topic 10 years ago with an article in the National Civic Review, "America's Urban Crisis a Decade After the L.A. Riots").
Even the word "riots" is controversial. Since the urban upheavals of the 1960s, academics and activists have debated whether such events should be called "riots," "uprisings," "rebellions," "civil disorders," or "civil unrest."
What we call them is less important than how we think about them. In my new book, The 100 Greatest Americans of the 20th Century: A Social Justice Hall of Fame, which Nation Books is publishing this month, I write the following:
Riots are expressions of hot anger — outrage about social conditions — but they are not truly political protests. They do not have a clear objective, a policy agenda, or a strategy for bringing about change. They only bring more hardship. The Los Angeles riots in April 1992 left 55 people dead and caused more than $1 billion in property damage in inner-city neighborhoods.
Social protest movements, in contrast, reflect cold anger. They are intentional, organized, and strategic. Activists carefully select the target to raise public awareness about an issue. A handful of people may engage in nonviolent civil disobedience, which could result in fines and jail time, but most participants find other ways to contribute to the cause. They attend rallies and marches, donate money, make phone calls and lick envelopes, distribute leaflets, write letters to newspapers, meet with and lobby elected officials, and encourage friends to vote.
Riots occur when people are hopeless. Protest takes place when people are hopeful — when people believe not only that things should be different but also that they can be different. The major protests during the 20th century — the women's suffragists who chained themselves to the fence outside the White House in the early 1900s, the farmers who showed up at their neighbors' homes during the Depression and stopped banks from carrying out foreclosures, the auto workers who occupied the Flint, Michigan, GM plant in 1937 to protest wage cuts and layoffs, the college students who waged sit-ins at segregated lunch counters in the early 1960s, the antiwar activists who protested the Vietnam War by disrupting military induction centers and defense contractors' offices, and the environmentalists who blocked the construction of nuclear power plants in the 1970s — helped bring about much-needed change.
The most recent link in this chain of change is Occupy Wall Street. It began last September as a form of civil disobedience and protest, not a riot. Although a handful of anarchists within the Occupy movement sought to escalate the protest by resorting to violence, the overwhelming number of Occupiers resisted that tactic in favor of militant but peaceful protest.
As it spread around the country, the Occupy movement has had incredible ripple effects, changing public opinion, getting the media to pay more attention to the concentration of wealth and inequalities of income, encouraging some politicians to challenge the banks and big business, and emboldening existing community groups and unions to push harder.
The latest wave of mass protests at various corporate headquarters and shareholder meetings led by the 99% Spring Coalition, along with the recent protest at Treasury Secretary Tim Geithner's house, underscores the importance of activist groups using protest as part of an overall strategy to wrest concessions from powerful people and institutions, not an end in itself.
What brings about positive change — especially for the poor and working class — is the slow, gradual, difficult work of union organizing, community organizing, and participation in electoral politics. The 1992 L.A. civil unrest was a wake-up call. But to the extent that Los Angeles is a better city today than it was 20 years ago, it is due to the grassroots activists — and their allies among foundations, media, clergy and public officials — who have worked in the trenches pushing for change against difficult obstacles. That's the lesson we should take from these reports on the legacy of the L.A. riots.
(This feature first appeared on the Huffington Post. It has been reposted with the author's permission.)

'Skeleton Crew' Is a Play With a Moral Spine
Set in a Detroit automobile outfitting plant, Dominique Morisseau's drama grabs you from the start with its focus on blue-collar men and women, and their struggle for dignity and self-respect.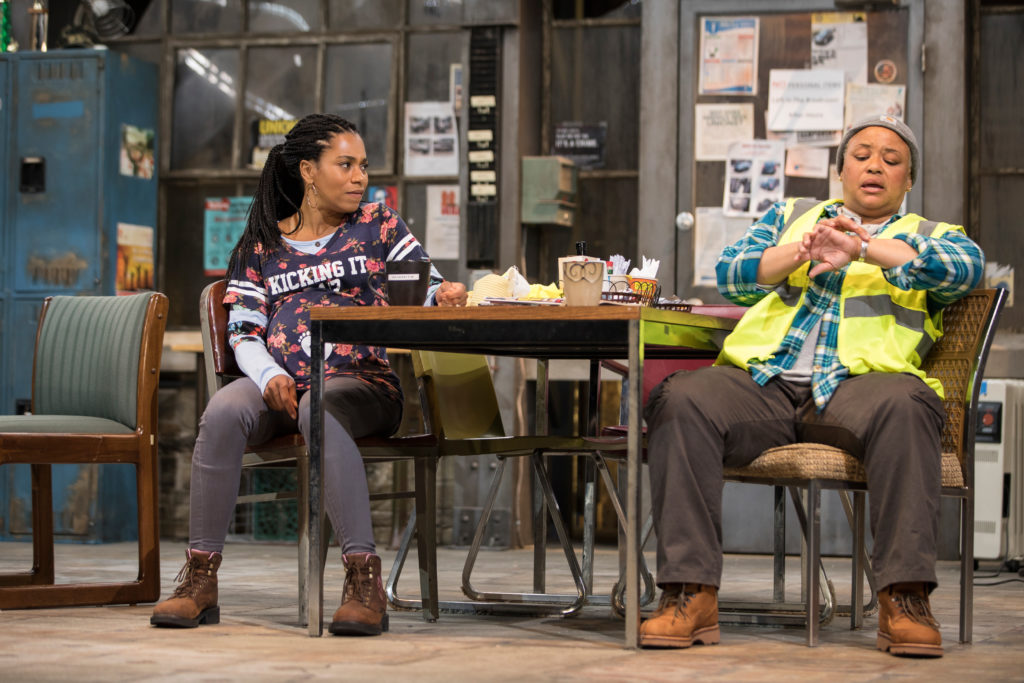 Working-class men and women of color are rarely front and center in today's media and, likewise, are presented all too occasionally on the American stage. So it's buoying to see that trend bucked in playwright Dominique Morisseau's percipient and well-crafted drama, Skeleton Crew. The play is the final installment in her Detroit  Project Trilogy; the first, Paradise Blue, is set in the 1940s amidst displacement caused by urban renewal and gentrification, while the second, Detroit '67, transpires on the eve of the 1967 Detroit riots sparked by a police action.
Directed by Patricia McGregor at Los Angeles' Geffen Playhouse, Skeleton Crew is a play with a moral spine. It takes place in 2008, when the shrinking U.S. auto industry is being further downsized. Morisseau's engaging quartet of characters — Faye (Caroline Stefanie Clay), Dez (Armari Cheatom), Shanita (Kelly McCreary) and Reggie (DB Woodside) – are employed at an automobile outfitting plant. Faye, Dez and Shanita are workers on the line while Reggie (who has a wife and kids, and has pulled himself together after a troubled youth) is their supervisor.
The first three customarily mingle in their break room (designer Rachel Myers' impressively cluttered, dingy and detailed set), trading the sort of familiar barbs and genuine concern for each other common among longtime co-workers. They also face off on philosophy: Upper-middle-aged Faye and the younger, pregnant Shanita take pride in their labor, while Dez, though a good worker, is a malcontent scornful of management and firm in the belief that everyone needs to watch out for himself. He's a thorn in Reggie's side, for while Reggie wants to be supportive of his workers, he must act at the behest of higher management. For his part, Dez resents Reggie's authority, and a palpable unease exists between them.
Besides this male matchup, we're made privy to Dez's attraction to Shanita, who mostly turns away his advances, but every now and then displays a hint of interest. Most poignant is Reggie's regard and affection for the lesbian Faye, which has roots in his boyhood when she loved, and lived, with his now-deceased mom.
These people's various predicaments intensify when rumors spread of the plant's shutdown — a disaster for all, but a particular calamity for the already near-broke Faye who, one year short of retirement, would lose her pension. The crisis forces each of these people to make a choice.
A sound piece of social realism, Skeleton Crew grabs you from the start in its focus on blue-collar men and women, and their struggle against odds for dignity and self-respect. Morisseau not only furnishes these characters a platform for their travails, she endows them with strong values, big hearts and the opportunity to choose between right and wrong.
Unfortunately, the performance I attended did not soar. Many exchanges lacked a fresh edge. The actors certainly had their characters down, but too often they appeared to be coasting on technique. (This seemed particularly true of Clay, who performed the role to great accolades in Washington, DC in 2017, also under McGregor's direction). Additionally, some of the stage movement was not entirely fluid; in confrontations, actors sometimes would just stand and face each other in an artificial way. And Cheatom's interpretation of Dez struck me as a bit overly churlish and depressive: I needed more glimpses of the intelligence and edge that would secretly attract the strong, self-directed Shanita.
The most compelling moments belong to Woodside, well-cast as a man trying his best in difficult circumstances to do the right thing.
---
Gil Cates Theater at the Geffen Playhouse, 10886 Le Conte Ave., Westwood Village; Tues.-Fri., 8 p.m.; Sat., 3 & 8 p.m. Sun., 2 & 7 p.m.; through July 8. (310) 208-5454 or www.geffenplayhouse.org