Rick Scott Invested in the Same Financial Firms As Florida's Pension System
Co-published by MapLight
For most of his time in office, Florida's governor has shielded his investments from public view. A new disclosure shows Rick Scott and his wife have invested at least $18 million in financial firms managing money for the state's pension system that he oversees.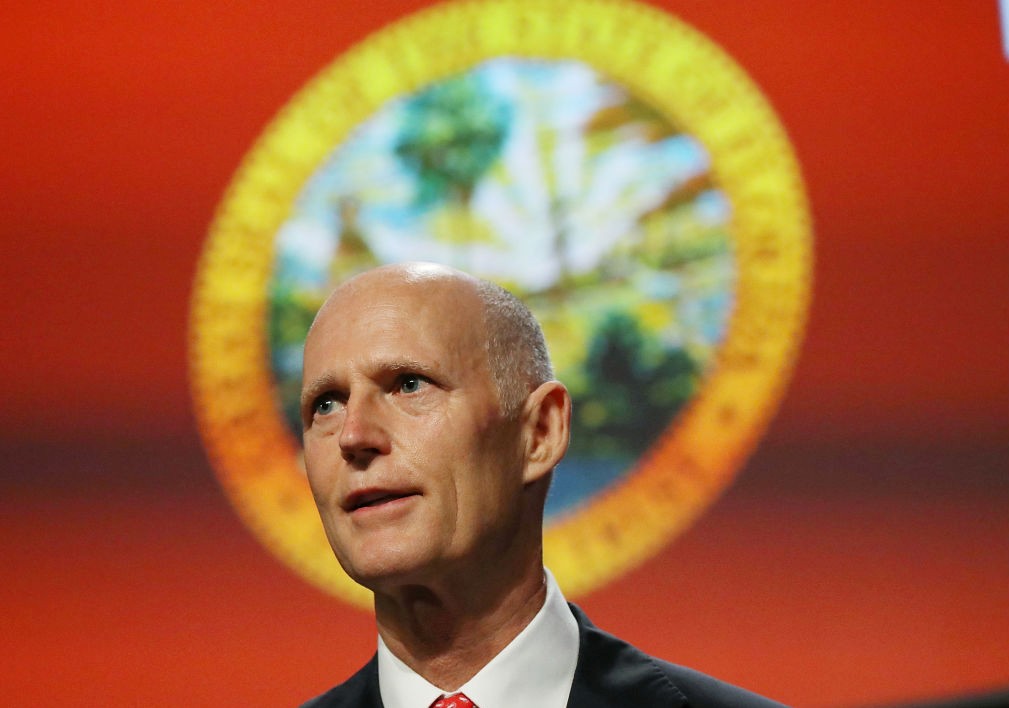 ---
Former SEC Lawyer: "There needs to be an investigation into whether the state is subsidizing Rick Scott's personal returns."
---
Co-published by MapLight
Florida Gov. Rick Scott and his wife have invested at least $18 million in three financial firms managing money for the state's pension system that Scott oversees — a situation that intertwines the governor's personal finances with his responsibility for supervising state employees' retirement savings.
The investments were first divulged in a federal financial disclosure form that Scott filed as part of his U.S. Senate campaign in July. For most of his time in office, Scott has shielded his investments from public view, and only reported their overall value in his blind trust.
The terms of Scott's investments remain undisclosed. The firms' own corporate documents say they can give certain investors special preferences not afforded to other investors — and experts have in recent years argued that hedge funds, private equity firms, and other "alternative investments" are giving such preferences to elite investors. One former Securities and Exchange Commission attorney told MapLight and Capital & Main that Scott must disclose whether he is being given such preferences.
---
Critics have raised questions about how blind the Scott family trusts really are.
---
Florida ethics laws are supposed to prohibit state officials from entering into contractual relationships with companies that do business with their agencies. However, after Scott became governor in 2011, state ethics officials said he and his family members could put their assets into a blind trust to avoid conflicts of interest and still maintain their investments in companies operating in Florida.
Critics have raised questions about how blind the Scott family trusts really are. Scott placed one of his longtime business associates in charge of managing his blind trust. The Tampa Bay Times reported that Scott's blind trust has invested with a private equity firm tied to a high-speed rail project in Florida. The trust also had an indirect interest in a cancer treatment company that received tax breaks from Scott's administration.
---
"The question is whether Rick Scott is being allowed to invest on better terms than the state pension fund."
---
"When Governor Scott was elected, he put all of his assets in a blind trust, which is managed by an independent financial professional who decides what assets are bought, sold or changed," said Scott campaign spokesperson Lauren Schenone. "The rules of the blind trust prevent any specific assets or the value of those assets within the trust from being disclosed to the governor, and those requirements have always been followed."
Scott is one of three state officials who serve as trustees for the Florida State Board of Administration, which manages a $160 billion fund for roughly 400,000 retirees. Scott, Attorney General Pam Bondi, and Chief Financial Officer Jimmy Patronis oversee lucrative state investment deals granted to cash-hungry Wall Street firms.
The three firms that have received $325 million worth of Florida pension investments have allowed the Scott family's blind trusts to simultaneously invest their personal fortunes in these funds. Scott's investments in the funds did not appear in a 2014 disclosure itemizing his holdings. His campaign did not say when the investments were made.
"There are no ethics rules that prohibit or limit a trustee from investing in funds also invested in by the SBA," said SBA spokesperson John Kuczwanski, though he added that trustees are subject to Florida's general code of ethics. Kuczwanski said that the governor has no involvement in specific pension investment decisions.
Don Hinkle, a Democratic lawyer, filed a lawsuit last year alleging that the governor has failed to comply with the state's blind trust and financial disclosure laws. He said he was surprised by the news that Scott had invested in the same firms as the Florida pension system.
"I would think that he would have avoided investments where the state of Florida's money is propping his up," Hinkle told MapLight and Capital & Main.
In 2011, a few months after Scott became governor, the SBA committed $150 million to Highline Capital Partners, a New York-based hedge fund. Scott's financial disclosure shows that his family's trusts have invested at least $4 million in the same Highline fund as the state.
The SBA also committed $100 million in 2015 to a hedge fund managed by Canyon Capital Advisors, a Los Angeles-based firm created by veterans of the notorious investment bank Drexel Burnham Lambert, which was driven into bankruptcy as a result of illegal and unethical trading practices. Scott and his family have invested at least $12 million in Canyon funds, according to his financial disclosure.
Before Scott became governor, the SBA invested $75 million with VSS, a New York-based private equity firm that was launched by a co-founder of Psychology Today. Scott and his wife, Ann, have invested more than $2.2 million in another VSS fund. A spokesperson for VSS said the firm doesn't comment on its investors.
All three firms' SEC filings say they can offer certain investors special fee terms or other benefits not offered to other investors.
"Alternative investment funds have the ability to offer every investor different fees at a different rate of return, so the question is whether Rick Scott is being allowed to invest on better terms than the state pension fund," said former SEC attorney Edward Siedle, whose Florida-based firm conducts forensic investigations of state pension systems.
"If you give one investor an advantage, another investor has to be disadvantaged," Siedle said. "That means there needs to be an investigation into whether the state is actually subsidizing Rick Scott's personal returns and whether the governor enjoys advantages that are harming the retirees."
Schenone, Scott's spokesperson, said that his blind trust has "been upheld multiple times by the State Commission on Ethics and the court system. Governor Scott has also followed the requirements of all state and federal financial filings."
She noted that former Florida Republican Gov. Jeb Bush and Scott's 2010 Democratic opponent Alex Sink had also used blind trusts, although Scott's campaign attacked Sink for hers at the time.
"Blind trusts sound good but can run afoul of state laws requiring public officials to disclose their personal finances," a Scott campaign ad said in 2010. "[But] simply moving large amounts of money into a blind trust does not magically erase the knowledge of what you own."
---
This piece was reported by Andrew Perez of MapLight and David Sirota of Capital & Main, and published in partnership with the Florida Center for Investigative Reporting. 
Cuomo Kept Fossil Fuel Pipeline Alive, Then Hired Pipeline's Lobbyist to Run Reelection Bid
Co-published by WNYC New York Governor Andrew Cuomo's administration delayed — rather than blocked — a fracked-gas pipeline project just before Cuomo hired Maggie Moran, a registered lobbyist for the pipeline's parent company, to run his reelection campaign.

Despite questions about special interests and revolving doors, Cuomo decided to hire a registered lobbyist to run his campaign.
---

Co-published by WNYC
New York Governor Andrew Cuomo hired a lobbyist for a natural-gas pipeline company to run his re-election campaign at the same time his administration was throwing a potential lifeline to the company's controversial New Jersey-New York pipeline project.
Less than three months before the administration postponed a decision on the project, the fossil fuel company in question also donated $100,000 to a Democratic Party governors' organization that supports Cuomo, government records show.
Cuomo spokesperson Rich Azzopardi asserted that there was no link between the lobbying, the donations and the administration's pipeline decisions.
"Protecting New Yorkers and our environment are this administration's top priorities, which is why decisions on individual projects are made at the agency level by career public servants who conduct a rigorous review of the facts and the science," Azzopardi said.
The company — Transco, a subsidiary of The Williams Companies, a Tulsa-based fossil fuel conglomerate — has been seeking permission from Cuomo administration regulators since June of 2017. The project is a 23-mile natural gas pipeline from Old Bridge, New Jersey to Rockaway, New York.
---
Cuomo touts his environmental record but has also declined to reject fossil fuel industry campaign cash.
---
As residential customers seek to switch from heating oil to natural gas, Williams has argued that the pipeline expansion is necessary to "help ensure that reliable gas supplies are available to support these conversions." The company says the project will displace about 900,000 barrels of heating oil a year and reduce CO2 emissions in New York City and Long Island.
Critics say the location of the pipeline puts the waters and shores of Lower New York Bay at risk of contamination and other environmental damage, and that it will continue the region's reliance on fossil fuels, thereby setting back the fight against climate change.
Just this week, New York City Comptroller Scott Stringer called for the project to be terminated — echoing local activists who have demanded a permanent halt to the project.
Cuomo's Department of Environmental Conservation (DEC) temporarily denied a water quality certification for the pipeline in April. But the ruling also allowed the company to re-submit the proposal for approval "without prejudice" — a maneuver that keeps the embattled project alive. The company submitted a new application in May — and Cuomo has declined to answer questions about whether or not he agrees with Stringer that the proposal should be blocked.
Amid the intensifying battle over the pipeline, Williams hired lobbying firm Kivvit to advocate for its interests in Albany last fall, according to state ethics records. Among the lobbyists registered to represent Williams is Maggie Moran, a well-known operative who advised his gubernatorial campaign in 2010.
In June, while she was registered as a pipeline lobbyist, Cuomo hired her to take the reigns of this year's campaign. Moran took over two months after Joe Percoco, who ran both of Cuomo's previous campaigns, was convicted on federal corruption charges — one of several corruption scandals that have dogged the Cuomo administration in recent months. She took a leave of absence from Kivvit when she joined the campaign, a spokesman says.
---
In the last few years, Cuomo's administration has faced multiple corruption scandals, fueling critics' assertions that he is too close to Albany influence peddlers.
---
State records show that Moran, who declined an interview request, began lobbying on behalf of Williams in September 2017 — three months after Williams first submitted its pipeline proposal to Cuomo administration regulators. Those records also show that Moran's lobbying has been specifically targeted at the executive branch that Cuomo heads. Kivvit's website says Moran "oversees all aspects of Kivvit's day-to-day operations" and Kivvit has continued to lobby for Williams in 2018. Kivvit's managing director is former Cuomo communications director Rich Bamberger.
As Cuomo administration regulators were reviewing the pipeline, Williams made two donations totaling $100,000 to the Democratic Governors Association, which lists Cuomo as a member of its leadership team and which has provided the campaign with polling research.
Internal Revenue Service records show that in February, one $50,000 donation came from Williams Companies and another $50,000 contribution came from the "Williams Transcontinental Gas Pipeline Company" — which is the overseer of the pipeline project before Cuomo's administration. The New York Times on Friday reported that in that same month, Cuomo traveled to a Washington, D.C. DGA event on a chartered plane — and the association paid $10,725 for his trip.
Soon after the Williams donations to the DGA and Cuomo's trip to the DGA event, the DGA gave more than $20,000 to Cuomo's campaign, according to state disclosure records.
A Cuomo campaign spokesperson, Abbey Collins, said the governor did not solicit Williams' contribution to the DGA.
Azzopardi, the spokesman for the governor's office, said: "At no point did the agency or the governor's office get approached on this project by Kivvit — any suggestion otherwise would be a trip into tinfoil hat country."
The company has given regularly to both the Democratic and Republican governors' associations in the past.
Timeline
June 30, 2017 – Transco, a Williams subsidiary, submits an initial application to the New York Department of Environmental Conservation for a water permit for the NESE pipeline.
September, 2017 – The Williams Companies hires public-affairs firm Kivvit to represent the pipeline project to the Cuomo administration.
Feb. 13, 2018 – The Williams Companies make a $50,000 contribution to the Democratic Governors Association, which lists Andrew Cuomo on its leadership team.
Feb. 21, 2018 – Transco makes a separate $50,000 contribution to the DGA.
April 20, 2018 – Under pressure from environmental groups to permanently block the NESE, the state instead keeps the project alive by dismissing Transco's application "without prejudice."
May 17, 2018 – Transco resubmits the water permit application, effectively delaying a final decision on the project until 2019.
May-June, 2018 – New York State ethics records show that Maggie Moran, managing partner at public affairs firm Kivvit, was registered to lobby for Williams on "Energy Issues."
June 13, 2018 – The DGA makes a $20,166.66 contribution to Cuomo's reelection campaign.
June 15, 2018 – Cuomo hires Moran to run his campaign, according to Politico.
The 2018 donations appear to be among the company's largest ever to the DGA. The DGA has said corporate donations to the group cannot be earmarked to specific campaigns or candidates, and therefore there is no link between donations and public-policy influence.
Williams spokesperson Keith Isbell declined to discuss the company's lobbying activities, its relationship with Moran or its donations to the DGA on the record.
"New York's energy demands continue to grow at a startling rate," he said. "The Northeast Supply Enhancement project is a critical step toward ensuring New York has the infrastructure in place to meet that demand with a mix of energy sources that are reliable, affordable and clean."
In the last few years, Cuomo has faced multiple corruption scandals, fueling critics' assertions that he is too close to Albany influence peddlers. Percoco, one of his closest aides, was convicted in March on federal corruption charges, and in July several other top Cuomo allies were found guilty of perpetrating a massive bid-rigging scheme.
Despite questions about special interests and revolving doors, Cuomo decided to hire a registered lobbyist to run his campaign amid the corruption trials. That decision follows Cuomo's 2015 hiring of lobbyist William Mulrow to serve as his top aide in Albany.
Cuomo appointed Mulrow chairman of his reelection campaign last year, and Mulrow returned to his job at Blackstone, a Wall Street colossus that also has had fossil fuel-related business before Cuomo's administration.
Cuomo is now facing a spirited Democratic primary challenge from actress Cynthia Nixon, who has demanded an end to pipeline approvals. During the campaign, the governor has touted his environmental record, including his formation of the U.S. Climate Alliance with other blue-state governors following the Trump administration's withdrawal from the Paris Agreement last year. The Cuomo administration has also rejected two other proposed pipeline projects.
But Cuomo has declined to reject fossil fuel industry campaign cash, and earlier this year affirmed his support for natural gas development — even as environmental groups continue to pressure his administration to block proposals for new gas-fired plants and pipeline projects around the state.
In the NESE pipeline fight, the Cuomo administration denied Williams' subsidiary Transco a water quality certification, citing "potentially significant environmental impacts that raised serious concerns."
"The construction of the project could have significant water quality impacts in New York State," said Cuomo DEC appointee Thomas Berkman in a letter released just weeks after Nixon entered the primary race against the governor. "This includes potentially significant impacts from the resuspension of sediments and other contaminants, as well as to habitats due to the disturbance of shellfish beds and other benthic resources. In addition, the construction of the Project could potentially impact Atlantic sturgeon and other protected species."
However, because state regulators rejected the application "without prejudice," the state allowed Williams to resubmit its proposal in May. That has raised fears among environmental activists that Cuomo's administration is delaying a decision on the pipeline until after next week's gubernatorial primary and the general election in November.
According to bi-monthly reports filed with the state's Joint Commission on Public Ethics, Moran was registered to lobby the executive branch of New York State government on behalf of Williams as recently as May and June of this year — just as the pipeline's water quality permit was resubmitted, and just before she joined the Cuomo campaign as manager.
Cuomo campaign spokeswoman Abbey Collins said "Maggie was not on the campaign when the decision was made by the governor's administration."
She said Moran's firm handled media relations and advertising for the company but didn't lobby the legislature or the executive branch. She said it was required to register as a lobbyist by new rules about companies that have contact with the press.
In a letter filed with state ethics regulators, an official from the Williams Companies said the conglomerate hired Moran's firm to "engage in communications activities to the general public that spur communications to the executive and legislative branches of New York State government."
Williams is not the only Moran client with business before Cuomo. State records show that as of June, Moran has also been registered to lobby "administrative branches of New York State government" on behalf of Vertex Pharmaceuticals, which is currently negotiating with the New York Department of Health over the price of its cystic fibrosis drug Orkambi. Records show that Vertex hired Kivvit in May of this year, immediately following a state panel's recommendation that New York's Medicaid program impose a price cap on Orkambi.
Another of Moran's clients at Kivvit is Tesla. The electric carmaker is the parent company of SolarCity, whose state-funded RiverBend factory is at the center of the ongoing Buffalo Billion probe. That investigation has seen Percoco convicted in federal court on three counts of bribery and fraud, and another former Cuomo aide, Todd Howe, plead guilty on similar charges.
Kivvit clients have contributed at least $544,000 to Cuomo's campaigns since 2014, according to state campaign finance disclosures. Moran herself has donated $10,000 to Cuomo since 2015, records show.
In addition to approval from the Cuomo administration, Williams' NESE pipeline also needs approval from the Federal Energy Regulatory Commission (FERC), whose five commissioners — four of whom are appointees of President Trump — are expected to issue a ruling on whether the project can move forward later this month.
The agency in March issued a report finding that the project "would result in some adverse environmental impacts" including "long-term impacts on air quality and noise" from a compressor station. However, the same report also asserted that most of the "impacts would be temporary and occur during construction."
A coalition of environmental and citizens groups, Stop the Williams Pipeline, submitted more than 6,000 comments in opposition to the pipeline to the FERC during its public comment period. The group is also collecting signatures on a petition its members plan to submit to Cuomo later this year.
In announcing his opposition to the pipeline this week, New York City Comptroller Scott Stringer said he was concerned about the impact on many of the region's sensitive ecosystems.
"The 23-mile pipeline would extend from New Jersey, along the Staten Island coast, past Coney Island and into the Rockaways," he said in a statement. "Allowing the construction of the pipeline risks damage to many of New York's most precious habitats and natural assets, including New York Harbor, Jamaica Bay, and the Rockaways' many beaches."
---
Copyright Capital & Main