Return of the Fat Man: Catching Up With Lionel Rolfe
Lionel Rolfe steps gingerly into the Musso & Frank Grill, his bespectacled gaze searching the landmark Hollywood eatery – but not for former regulars like Charles Bukowski, Gore Vidal or Rolfe's friend, Life magazine photographer Phil Stern. They've left this room forever.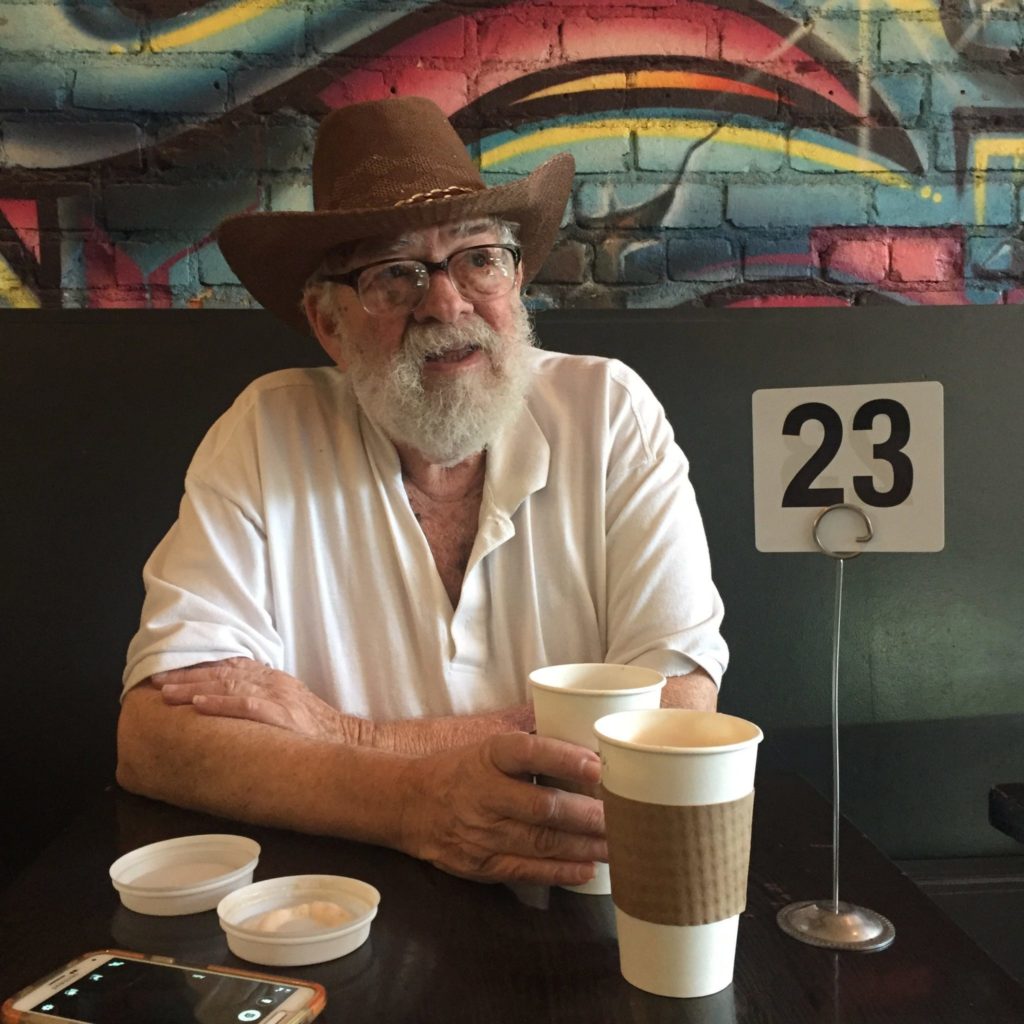 Writer Lionel Rolfe refueling in a coffee shop. (Photo: Phoebe Sudrow)
Lionel Rolfe steps gingerly into the Musso & Frank Grill, his bespectacled gaze searching the landmark Hollywood eatery – not for regulars like Life magazine photographer Phil Stern (a frequent lunch companion whose subjects included James Dean, Marilyn Monroe and JFK); or for Charles Bukowski, with whom Rolfe survived a few escapades; or Gore Vidal, who could once be found seated by the bar with a gin and tonic, his respirator parked tableside. They've left this room forever. Instead, Rolfe is looking for an electrical outlet. His very own respirator, towed behind on wheels, needs plugging in.
"I'm a wreck!" he says, apologetic, but charmingly betrayed by a sly smile from behind his gray beard. His dinner companions—veteran journos themselves, and well into their first martinis—understand. Decades of cigarettes, cigars, alcohol, late night deadlines, multiple marriages and other occupational hazards, to which journalists in the pre-no-gluten-era were prone, have taken their toll on Rolfe.
Nonetheless, at 74, Rolfe has published his tenth book, The Fat Man Returns: The Elusive Hunt for California Bohemia & Other Matters. The jacket copy for the essay collection promises readers "…Yoga teacher Indra Devi, dying Sierra glaciers, the coffee house scene of the '60s in Venice, labor organizing, Echo Park bohemians, the decline of the Los Angeles Times, the once-famous L.A. Free Press, and other matters of great import."
While "great import" may be taken tongue-in-cheek, the book takes the reader on serious journeys from the Orthodox Jewish realm of Brooklyn, where the author goes seeking his roots, to a cousin's Australian vineyard, a murder on a Canyon Country animal rescue ranch and a poignantly sexy, platonic affair with actress Susan Anspach.
The blurb barely skims the surface of a career, the likes of which journalism, on its current trajectory into the digital cloud, may never again encompass. "One of the last frontier journalists," according to Tony Newhall, former associate publisher of the San Francisco Chronicle, where Rolfe worked for a spell. Newhall warmly described the journeyman reporter to me over the phone. Frontier journalism rarely pays a pension, unfortunately, and Rolfe survives frugally on Social Security and Medicare, although tonight my colleague and I are treating him to anything he likes.
"I like a lot of things," he says with a rueful glance at Musso's king-size menu. "I just can't have 'em."
Rolfe was born into a world-famous classical music family: His uncle was international violin star Yehudi Menuhin, and his mother Yaltah and Aunt Hepzibah were also renowned concert pianist prodigies. It was perhaps the more down-to-earth worldview of his father, a judge, as well as an infatuation with leftist politics, that moved Rolfe in another direction. Inspired by Upton Sinclair, Jack London, John Steinbeck and his own grandfather's allegiance to the Industrial Workers of the World, Rolfe embarked on a Golden State vocation harkening back to Bret Harte, Ambrose Bierce and Mark Twain. He toiled since age 19 for daily and weekly gazettes—the Turlock Journal and Livermore Independent, as well as the mainstream Los Angeles Times, Herald Examiner and edgier rags like the Los Angeles Free Press—that all came rolling off hot presses up and down California.
He recounts how he was fired from his first job at the Pismo Beach Times, in the small Central Coast town once known as the "Clam Capital of the World." Rolfe's articles investigating local school board corruption irked town figures active in the John Birch Society, resulting in a competing paper's headline: "Reporter's Red Links Disclosed."
It turned out that a few years earlier Rolfe had joined the American Communist Party "for about six months," he says. He'd sold copies of the party's paper, the People's World, sat at the feet of Southern California party chair Dorothy Healey. "I used to visit her down in South Central," he recalls, where the party office was located. They were heady times for activists in the arts, and Rolfe received creative advice from screenwriter Alvah Bessie, one of the blacklisted Hollywood Ten.
The waiter arrives and Rolfe wants the Crab Louie, but tells the waiter he can't have salt. Doctor's orders.
"Have you had the Louie here before?" the waiter asks.
"Many times."
"Was it a problem?"
"No," says Rolfe, "but I was younger then."
He ends up with the grilled salmon. He's trying to lose weight.
Rolfe's other authored or co-authored books include Bread & Hyacinths: The Rise & Fall of Utopian Los Angeles, Death & Redemption in London & L.A., Literary L.A., and Fat Man on the Left: Four Decades in the Underground, to which the current volume is a sequel. The title riffs on Rush Limbaugh—the fat man on the Right, of course—who Rolfe pilloried in a profile for the Chronicle long before the talk-radio heavy became the Tea Party standard bearer. If prescience is what journalists get credited for after enough bylines add up to something like history, one could say Rolfe saw the future when he wrote that Limbaugh "…parlayed nothing more than the rehashed Republicanism that they used to use against President Franklin Delano Roosevelt's New Deal in the '30s, into an army of true believers who took over Congress."
"And now you have this guy Trump," says Rolfe. "When you're a good radical you keep fighting that fight. You get older, you get tired."
Rolfe has never won a Pulitzer, but his copy—described to me as "prolific" and "flamboyant" by Jon Newhall, who hired Rolfe to work at the family-run Newhall Signal—filled countless column inches for many editors over the years. The research on his books and reporting dating from 1964 on multifarious subjects currently reside in nine linear feet of boxes in the USC Libraries Special Collections, and one may ask: Beyond a Dropbox in the Cloud and ephemeral Twitter feeds, can the increasingly online Fourth Estate look forward to bequeathing such a legacy to posterity?
"I'm feeling kind of discouraged now, with the state of journalism," says Rolfe softly, as my colleague and I stare into our martinis, contemplating journalism's future in the Snapchat era of intangible news — fake, real, whatever.
"The basic thing," he says, on a more hopeful note, "is keeping a certain spirit alive, a desire to change things and not to take things as they are." His latest book, he declares, "is my testimony to the free life."
But as Hollywood likes a sequel to the sequel, will the Fat Man on the Left return again?
"Anything is possible," Rolfe smiles.
---
Link to Rolfe's books on Amazon.com

Blindfolds: Iranian Hostage Drama Offers Few Surprises
One of the play's weaknesses is the surfeit of soap-operatic family exchanges that spill into melodramatic shouting matches.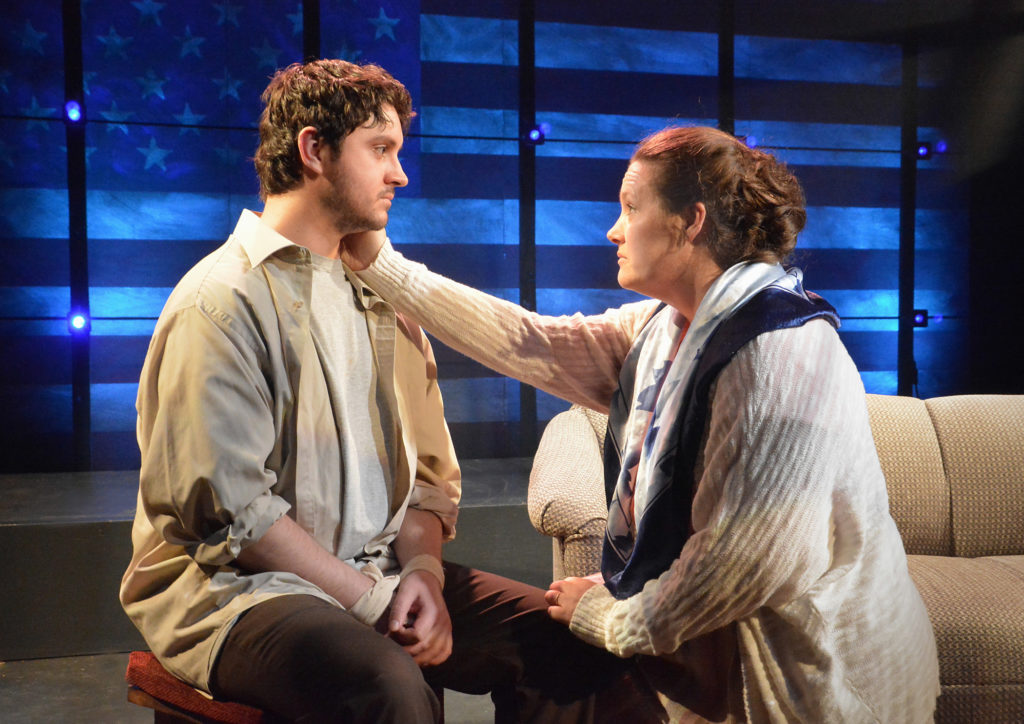 On November 4, 1979, several hundred Iranians, mostly students, stormed the American embassy in Tehran and took 60-odd hostages — 52 of whom were held captive for 444 days. It was a humiliating event for the U.S. government and, in general, a wake-up call for Americans heretofore unaware of the antipathy of many Iranians towards the United States.
Against the wishes of the Carter administration, a mother of one of the hostages, Barbara Timm, flew to Tehran to see her son. Hostage, by Michelle Kholos Brooks, re-imagines the exchange that took place among Barbara (Tracie Lockwood), her captive son Kevin (Zachary Grant) and two of his captors: Tehran Mary (Vaneh Assadourian), a media spokeswoman for her cause and Ebrahim (Satiar Pourvasei), a rifle-wielding guard swift to anger. The drama, some of which takes place in Barbara's mind, shifts between the embassy, where a handcuffed, blindfolded and barefoot Kevin has been doing his best to survive, and Barbara's Wisconsin living room, where she struggles to cope with both a controlling ex-husband and an angry mob outside her home. The latter has gathered to protest a public statement she made critical of the failed rescue attempt to free the hostages — a statement interpreted by "patriots" as her having taken the side of the revolutionaries.
As the drama progresses, scenarios begin to overlap; Kevin, always on Barbara's mind, is physically present onstage as she disputes with her former spouse about the latter's parental responsibility — or lack of it — and whether or not he betrayed her when they were teens, salaciously spreading the word about their intimacy. An argument also ensues between Richard and Barbara's current husband, Ken (Jack Clinton), who accompanied Barbara to Iran and has open-heartedly raised Kevin as his own.
Directed by Elina de Santos, Hostage aims to explain and garner sympathy for both sides, but it offers few surprises or depth. One of its weaknesses is the surfeit of soap-operatic family exchanges that filter attention away from more vital dramatic themes: how far a mother is prepared to go to protect her child and the distance its pivotal character, a Midwestern matron and a Republican, will ideologically travel before the play's catharsis (the dynamic most interesting to us). While these threads, as well as the propensity for intolerance of people on both sides of the cultural divide, are clearly most central, they get obscured for long stretches by melodramatic shouting matches between Kevin's two fathers or the past marital problems of Barbara and Ken.
Grant turns in a well-grounded performance as the palpably fearful Kevin, drilled in compliance and anxious for his mother to understand how precipitous his situation is. But other performances on opening weekend were less persuasive. Lockwood, usually an excellent actor, did not seem entirely comfortable as the maternal lioness the playwright aims to conjure. One problem is the script, which calls for her to assertively challenge Kevin's captors' motives and beliefs — a device for getting us to understand where they are coming from. Some of these confrontations appear as the artifices they are. None of the other actors were able to get past the polemical nature of their roles, either. One hopes they will evolve.
Designer Stephanie Kerley Schwartz's no-frills set features an American flag splayed across the back wall — albeit behind a scrim, an apt reference to the covert power wielded (this time not so successfully) by our government.
Skylight Theatre, 1816½ Vermont Avenue, Los Feliz; Fri.-Sat. & Mon., 8 p.m.; Sun., 2 p.m.; through June 24; (213) 761-7061 or (866) 811-4111.
---
Copyright Capital & Main