Return of the Fat Man: Catching Up With Lionel Rolfe
Lionel Rolfe steps gingerly into the Musso & Frank Grill, his bespectacled gaze searching the landmark Hollywood eatery – but not for former regulars like Charles Bukowski, Gore Vidal or Rolfe's friend, Life magazine photographer Phil Stern. They've left this room forever.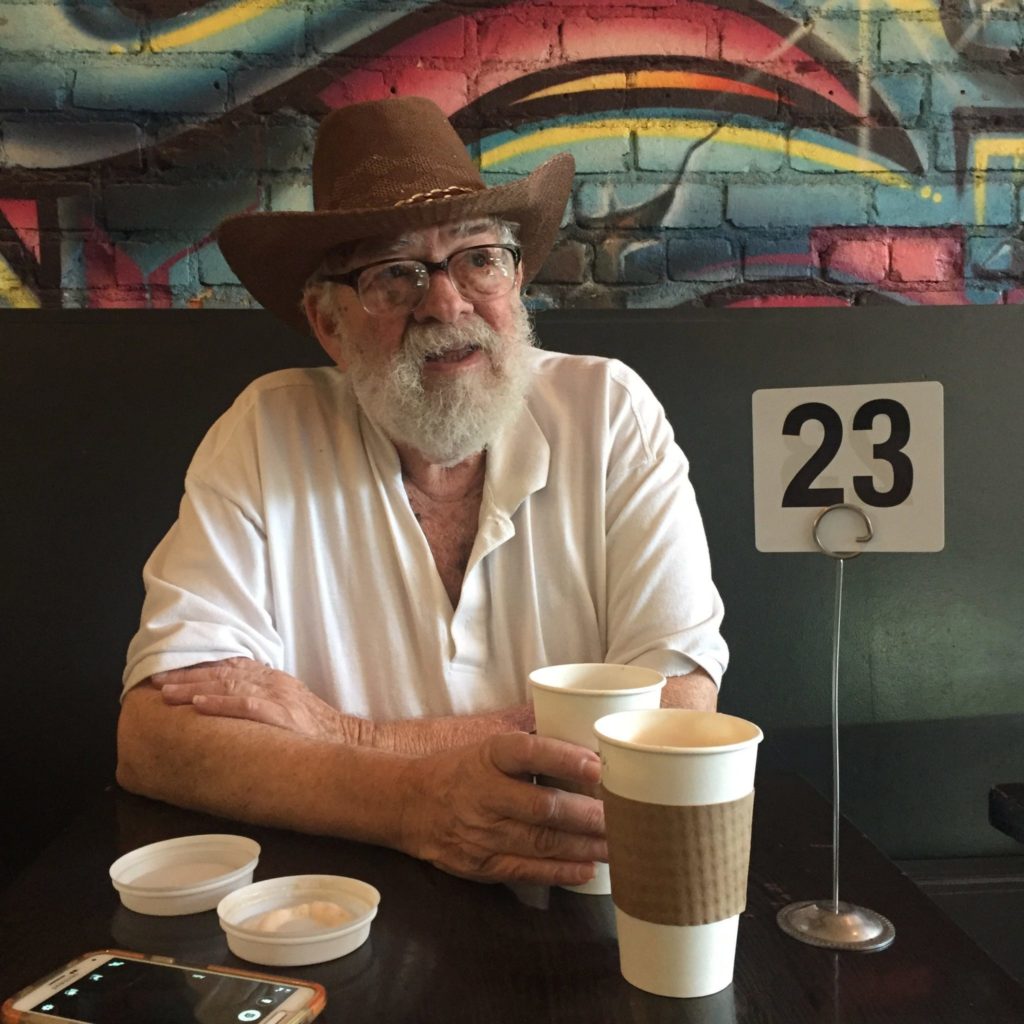 Writer Lionel Rolfe refueling in a coffee shop. (Photo: Phoebe Sudrow)
Lionel Rolfe steps gingerly into the Musso & Frank Grill, his bespectacled gaze searching the landmark Hollywood eatery – not for regulars like Life magazine photographer Phil Stern (a frequent lunch companion whose subjects included James Dean, Marilyn Monroe and JFK); or for Charles Bukowski, with whom Rolfe survived a few escapades; or Gore Vidal, who could once be found seated by the bar with a gin and tonic, his respirator parked tableside. They've left this room forever. Instead, Rolfe is looking for an electrical outlet. His very own respirator, towed behind on wheels, needs plugging in.
"I'm a wreck!" he says, apologetic, but charmingly betrayed by a sly smile from behind his gray beard. His dinner companions—veteran journos themselves, and well into their first martinis—understand. Decades of cigarettes, cigars, alcohol, late night deadlines, multiple marriages and other occupational hazards, to which journalists in the pre-no-gluten-era were prone, have taken their toll on Rolfe.
Nonetheless, at 74, Rolfe has published his tenth book, The Fat Man Returns: The Elusive Hunt for California Bohemia & Other Matters. The jacket copy for the essay collection promises readers "…Yoga teacher Indra Devi, dying Sierra glaciers, the coffee house scene of the '60s in Venice, labor organizing, Echo Park bohemians, the decline of the Los Angeles Times, the once-famous L.A. Free Press, and other matters of great import."
While "great import" may be taken tongue-in-cheek, the book takes the reader on serious journeys from the Orthodox Jewish realm of Brooklyn, where the author goes seeking his roots, to a cousin's Australian vineyard, a murder on a Canyon Country animal rescue ranch and a poignantly sexy, platonic affair with actress Susan Anspach.
The blurb barely skims the surface of a career, the likes of which journalism, on its current trajectory into the digital cloud, may never again encompass. "One of the last frontier journalists," according to Tony Newhall, former associate publisher of the San Francisco Chronicle, where Rolfe worked for a spell. Newhall warmly described the journeyman reporter to me over the phone. Frontier journalism rarely pays a pension, unfortunately, and Rolfe survives frugally on Social Security and Medicare, although tonight my colleague and I are treating him to anything he likes.
"I like a lot of things," he says with a rueful glance at Musso's king-size menu. "I just can't have 'em."
Rolfe was born into a world-famous classical music family: His uncle was international violin star Yehudi Menuhin, and his mother Yaltah and Aunt Hepzibah were also renowned concert pianist prodigies. It was perhaps the more down-to-earth worldview of his father, a judge, as well as an infatuation with leftist politics, that moved Rolfe in another direction. Inspired by Upton Sinclair, Jack London, John Steinbeck and his own grandfather's allegiance to the Industrial Workers of the World, Rolfe embarked on a Golden State vocation harkening back to Bret Harte, Ambrose Bierce and Mark Twain. He toiled since age 19 for daily and weekly gazettes—the Turlock Journal and Livermore Independent, as well as the mainstream Los Angeles Times, Herald Examiner and edgier rags like the Los Angeles Free Press—that all came rolling off hot presses up and down California.
He recounts how he was fired from his first job at the Pismo Beach Times, in the small Central Coast town once known as the "Clam Capital of the World." Rolfe's articles investigating local school board corruption irked town figures active in the John Birch Society, resulting in a competing paper's headline: "Reporter's Red Links Disclosed."
It turned out that a few years earlier Rolfe had joined the American Communist Party "for about six months," he says. He'd sold copies of the party's paper, the People's World, sat at the feet of Southern California party chair Dorothy Healey. "I used to visit her down in South Central," he recalls, where the party office was located. They were heady times for activists in the arts, and Rolfe received creative advice from screenwriter Alvah Bessie, one of the blacklisted Hollywood Ten.
The waiter arrives and Rolfe wants the Crab Louie, but tells the waiter he can't have salt. Doctor's orders.
"Have you had the Louie here before?" the waiter asks.
"Many times."
"Was it a problem?"
"No," says Rolfe, "but I was younger then."
He ends up with the grilled salmon. He's trying to lose weight.
Rolfe's other authored or co-authored books include Bread & Hyacinths: The Rise & Fall of Utopian Los Angeles, Death & Redemption in London & L.A., Literary L.A., and Fat Man on the Left: Four Decades in the Underground, to which the current volume is a sequel. The title riffs on Rush Limbaugh—the fat man on the Right, of course—who Rolfe pilloried in a profile for the Chronicle long before the talk-radio heavy became the Tea Party standard bearer. If prescience is what journalists get credited for after enough bylines add up to something like history, one could say Rolfe saw the future when he wrote that Limbaugh "…parlayed nothing more than the rehashed Republicanism that they used to use against President Franklin Delano Roosevelt's New Deal in the '30s, into an army of true believers who took over Congress."
"And now you have this guy Trump," says Rolfe. "When you're a good radical you keep fighting that fight. You get older, you get tired."
Rolfe has never won a Pulitzer, but his copy—described to me as "prolific" and "flamboyant" by Jon Newhall, who hired Rolfe to work at the family-run Newhall Signal—filled countless column inches for many editors over the years. The research on his books and reporting dating from 1964 on multifarious subjects currently reside in nine linear feet of boxes in the USC Libraries Special Collections, and one may ask: Beyond a Dropbox in the Cloud and ephemeral Twitter feeds, can the increasingly online Fourth Estate look forward to bequeathing such a legacy to posterity?
"I'm feeling kind of discouraged now, with the state of journalism," says Rolfe softly, as my colleague and I stare into our martinis, contemplating journalism's future in the Snapchat era of intangible news — fake, real, whatever.
"The basic thing," he says, on a more hopeful note, "is keeping a certain spirit alive, a desire to change things and not to take things as they are." His latest book, he declares, "is my testimony to the free life."
But as Hollywood likes a sequel to the sequel, will the Fat Man on the Left return again?
"Anything is possible," Rolfe smiles.
---
Link to Rolfe's books on Amazon.com
Filmmaker Adam McKay Talks About Dick Cheney and the Imperial Presidency
"Our democracy at its root is about the throne," says the creator of Vice. "But what Cheney tried to do was bring the power back to one person on that throne."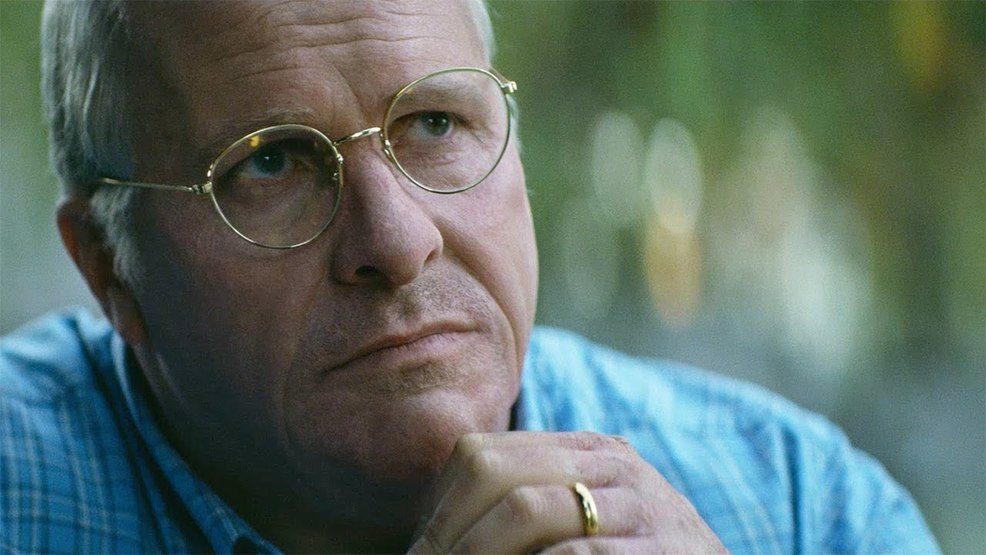 Vice President Dick Cheney quickly faded into the background after leaving the Bush White House in 2009. But while many may not remember the ins and outs of Cheney's record, the recent film Vice argues that he was one of the most powerful and influential architects of the current world, and that Cheney intensified the emergencies facing America today.
Capital & Main reporter David Sirota spoke with Vice screenwriter and director Adam McKay, who had taken on the project after winning an Academy Award for screenwriting on his previous movie, The Big Short.
Vice has been nominated for eight Oscars, including Best Picture — but has also generated its share of controversy. McKay discusses some of the criticism of the film here, along with the twists and turns of the life of Cheney, who rose to become arguably the most potent vice president in American history. The following interview excerpt has been edited for concision and clarity.
---
David Sirota: Do you believe that we are today living in the world that Dick Cheney created?
Adam McKay: Without a doubt, yeah. Trump is a force of charisma, but not in a good way. He's perfect for the 24-hour news cycle — no one knows how to dominate it better than him.
But the actual structural changes that happen to our government, to regulations, to the way we view democracy, to the way the American people interact with government … those changes happened under the hand [of] a grand master of bureaucratic knowledge, Dick Cheney. You look at the Middle East. You look into visions that were widened. I'd definitely go to that period and I say at the center of it, expanding executive power, was Dick Cheney.
There's a scene in the movie where a young Cheney is depicted as not all that partisan — it almost made it seem like him choosing a job with a Democratic or Republican lawmaker was completely random. Is that true to life?
It's not that far off. Cheney's dad was an FDR Democrat. [Dick Cheney] had no interest in politics at all through high school…The first time he really started getting any taste for feet-on-the-floor politics was when he was getting [his] master's up in the University of Wisconsin. He did intern for a Republican, handed out buttons and stuff. We interviewed some people from his early days. He was not an ideologically driven guy.
What he knew was that when he went to D.C. he needed a rocket ship. He needed to get something going. Lynne wasn't entirely happy about him taking this fellowship. She wanted him to get a Ph.D. and become a professor. That was what she always pictured that they would do. So he had to get something going quick when he got to D.C. because he wasn't making any money. And if you wanna get something going quick in the late '60s in Washington, D.C., Donald Rumsfeld was your guy.
What do you think radicalized Dick Cheney and made him such an ideologue?
The first radicalization was just the environment he kind of came of age in, which was the Nixon White House and the Ford White House, which were all about executive power — the imperial presidency. And then his conversation about the unitary executive theory with a young [Antonin] Scalia, who was a lawyer in the Justice Department.
Everything that I found with Cheney goes back to the unitary executive theory. You look at his minority opinion that he wrote on the Iran-Contra affair with David Addington. They actually have several lines in it where they say the president has monarchical-like powers.
The radicalization of Cheney, to me, is two steps. Number one is the political environment he grew up in, [and then] introduction to the unitary executive — [which] was weaponized by 9/11. Especially when he said, "Give me all the unfiltered intelligence." A lot of Washington insiders said, "Anyone who would do that — [it] would drive them crazy." One guy described it as like "listening to Led Zeppelin full volume, 24 hours a day."
So I think he was already an extreme right-winger who then came into collision course with this very traumatic event, 9/11.
Your movie depicts Cheney as motivated by the acquisition of power — but do you believe he had specific policy goals beyond that?
As far as policy goals go, war is the key to being able to use these sorts of unparalleled powers. Some legal scholars would call [these] insane powers. So I always felt like Cheney was putting together these pieces of power to expand his own power … which I do believe made him a power addict … His wife's desire for power, and by extension, America's desire for power, which did fit neatly with the neocons.
But I also think invading Iraq did two things. It activated the unitary executive theory — [if] writings from the DOJ [Department of Justice] that came about at that time were filled with references to the unitary executive theory.
And yes, the oil too, was a part of it. Cheney also is an oil guy. He grew up in an oil state, Wyoming That was his whole life. All his friends are oil guys. I always look at Cheney as a right-hand man, and I think that he serves power: Sometimes that power is oil barons, other times that power is a presidency — the notion of a powerful presidency.
So I think Iraq was sort of a mishmash of ideas. I think it was unitary executive and I think it was definitely oil, and I think it was most of all expansion of executive power and a show of force to the world.
What are the most significant and lasting parts of Cheney's legacy?
I would just say in general, those eight years of Bush and Cheney were so dispiriting that they made a lot of people kind of give up on government. And the fact that we can't fix something that really can be improved pretty easily and pretty quickly, like the opioid epidemic or like gun safety laws. Those are things that 30, 40 years ago we would've had bills passed on the issue. We would've seen fewer deaths within a year, within two years. Even the assault weapon ban, you saw deaths go down after that…
Then, obviously, the Middle East is just a wreck. Our friend, Adam Davidson, had a friend of his, a journalist, go to Iraq recently and come back and just say, "It's awful. It's completely undone." And obviously, with what happened in Syria, ISIS, all that kind of stuff. Those are the clear, kind of bad effects of Cheney and I would say the rise of this particular form of the Republican Party.
Much of your film resurrects events that have been forgotten in the American psyche, because we have this tendency to venerate leaders the moment they leave office. It's as if presidents and their administrations suddenly get immunity from retrospective scrutiny. Why do you think that is?
I feel a lot of this goes back to the pardoning of Nixon. That's a bad, bad thing. I think he should've done some time. I think it's important to not imbue these leaders with king-like mystical properties. Do you remember Jerry Lewis saying, "We should never criticize the president"?
I think we just like the idea of powerful people. We like the idea of a king. We like the idea of these celebrities that get treated like kings. Why did the Bushes keep getting elected to office? Why did the Kennedys keep getting elected to office after several of them did pretty terrible things? We just like that idea. We like the idea that some people's blood is more special than ours. I don't know why. It's really deranged…
Our democracy at its root is about the throne. What they tried to do with the Constitution, the original people that wrote it, was break up the power so you don't have one crazy guy sitting in the throne. But what Cheney tried to do was bring the power back to one person on that throne…
I guess my answer is democracy is still really new, and clearly it's not going well right now. And I think we're going to have to have a whole moment where we look at it and fix a bunch of stuff because parts of it aren't working too well.
Many people say Donald Trump's administration is the worst in American history. After doing a movie on Cheney and the Bush administration, do you agree?
Everyone wants things to be ranked and compared to each other. The real answer is that there is a safe that was filled with diamonds that represent our democracy and checks and balances. They couldn't get a goon like Donald Trump to go in and crack the safe because he doesn't even read books. Like he's not an educated guy.
So they had to go get an expert like Dick Cheney to go in there. Dick Cheney went in, he cracked the safe, he took all the jewels out of the safe, he exited the store, he left the front door wide open. Then after an hour some stray dogs wandered into the store and started crapping all over the place and peeing everywhere. And then when the owner went in, one of the dogs bit him and he said, "These dogs are the worst."
That, to me, is Cheney versus Trump. Yeah. Cheney cracked the safe, Trump is the strange bizarre dude who wandered in (and) took a crap in the store…The police arrest the street guy because look, he took a crap. He's in the store. Meanwhile, Cheney is across town giving W. Bush one diamond while he takes the other 99 and W. Bush is delighted with the one diamond.
---