RePower LA: Taking a Community's Temperature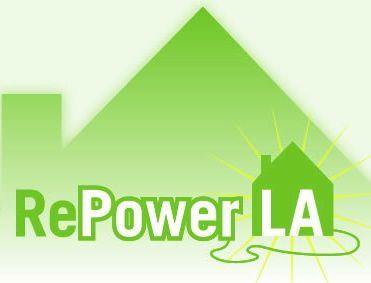 The recent summer was a time of troubled reflection for many families confronted by the kind of financial obligations that arise from an increase in energy use. They spent warm, restless nights worrying about the difficult decisions they'd have to make about how to spend their limited resources. As a canvasser for RePower LA,  I was a first-hand witness to the struggles that Los Angeles residents are facing in their attempts to provide a decent-quality life for their families.
RePower LA is a coalition of community organizations, environmentalists, small businesses and the International Brotherhood of Electrical Workers Local 18 that has been advocating for energy efficiency programs that create good jobs and provide services to struggling communities. During the long heat wave my fellow canvassers and I walked neighborhoods in Northeast Los Angeles to raise awareness about three existing and soon-to-be created energy efficiency programs, and to find people who could benefit from them. Weatherization is included in these programs, a process that involves keeping heat either in or out of homes, depending on the season.
Small businesses owners, who were able to survive the economic crisis to keep their doors open, still face the challenge of keeping their businesses afloat – and struggle to remain current on their bills while also retaining their staffs. Many times while listening to them recall the numerous costs that they were facing, I detected an undeniable isolation that results from being weighed down and stunted by an enduring financial hardship. In these moments, I felt fortunate that I was speaking with them to offer support in the form of energy efficiency services and jobs that would also help to protect the environment.
On a sweltering day in Highland Park, I spoke with a young father who told me about his struggle to provide a nice, safe and affordable place to raise his toddler-aged daughter. The apartment where he resides is in an older building that hasn't been updated in decades and where the rent was still high. He shared his frustration at not having updated features that could compensate for, and counterbalance the high cost of rent. Eventually, he would tell me that he was unable to purchase diapers for his daughter because he had to pay his rent.
I also spoke with an El Sereno resident who expressed a sincere concern for the well-being of his neighborhood and shared a clear understanding of community issues. Despite his initial skepticism that this kind of program could exist free-of-cost, I saw his stoic demeanor soften as I explained the platform of the RePower LA campaign. He went from non-interest to being obviously invested. Although he himself had already made the weatherization upgrades to his home that would be offered by the Los Angeles Department of Water and Power, he was glad that these services would be offered to other residents who could not afford them and was especially pleased that the work would be done by union workers.
On another occasion, I spoke with a small business owner who was in the process of filing for bankruptcy. In spite of his situation, he expressed gratitude that this kind of a service existed to help mitigate costs and wished that he had known about it earlier.
In all of the interactions that I had over the course of the month I spent canvassing for RePower LA, I realized that for many it wasn't just about saving money, although that is certainly a very important and central part of this conversation. Many of the residents and small business owners that I spoke with they were taken aback by the level of care and concern demonstrated by an energy efficiency program that lowers customer bills, helps the environment and creates jobs.
Through our conversations, they grew to understand that the RePower LA campaign's coalition model meant that this was an effort created by the community for the community. I consistently received thanks, and was offered water and food on numerous occasions. The people I met were touched that someone they didn't know cared about them and their quality of life. In those moments, I observed a renewed sense of a shared commitment to creating a world that worked for everyone. Utilizing energy efficiency, residents felt like they would not only help themselves, but would also help to protect the environment for future generations.
Working with the RePower LA Coalition, the LADWP has already completed about 5,000 home upgrades and plans to continue this work along with more energy efficiency work in small businesses. The department is pursuing these programs as part of its plan to reach a 10 percent energy savings goal over the next year. With RePower LA's input, the LADWP has passed a statement of principles committing it to equitable services and good jobs as the department pursues its energy efficiency goals, while it intends to hire people from neighborhoods – like the one in Northeast Los Angeles – as Utility Pre Craft Trainees to do the work.
These are difficult times for the entire country, but for low-income residents, small business owners and seniors there has been no reprieve from the anxiety of consistently rising energy costs until now. RePower LA is an investment in Angelenos that also serves as a reminder that we as a people rise and fall together. I've seen people's faces light up and their cynicism and disenchantment melt away as they realized that there would be no false hopes in this campaign. I am inspired by the efforts of RePower LA as it serves the community and promotes empowerment through neighborhood engagement, drawing on the diversity of its coalition members.
Laura Nieto is an organizer and translator with LAANE's RePower LA project, as well as a community resident.