Renters Revved Up for Rally and March
Renters across the country are having an increasingly difficult time keeping a roof over their heads, with Californians who search for affordable housing finding the task a particularly challenging one.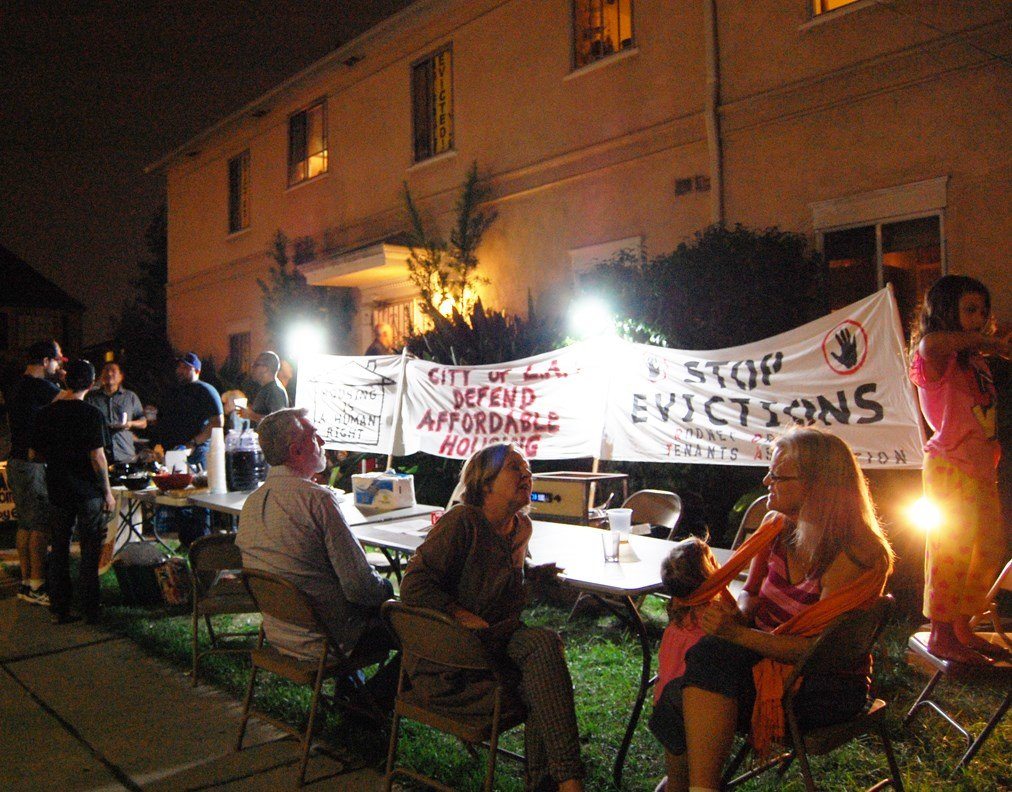 Anti-eviction party, Los Feliz (Photo: Bill Raden)
Renters across the country are having an increasingly difficult time keeping a roof over their heads, with Californians who search for affordable housing finding the task a particularly challenging one. State rents increased by 0.7 percent from April to May, up 3.8 percent over last year, according to the June 2016 California Rent Report, published by apartmentlist.com. Rent Jungle, an online site for apartment seekers, lists the average rate for one-bedroom apartments in Los Angeles at $2,299 a month as of August 2016, and Forbes recently designated Los Angeles as the fifth-worst city in the country for renters.
To raise public awareness about the crisis in affordable housing, soaring rents and Ellis Act evictions, the activist group Tenants Together (TT) is co-organizing, with Homes for All, a National Renters Day of Action September 22 (#RentersDayOfAction or #RenterPower). The Thursday event will involve 10 cities in California and 45 others throughout America to press the following demands:
A freeze on all unjust evictions and rent increases.
The establishment of both a national livable rent standard to restrict rents to 30 percent of a family's income, and of a living wage for all workers.
The right of all tenants to organize and bargain collectively with landlords without fear of discrimination, retaliation or eviction.
The transfer of vacant, foreclosed and underused land to community control through community land trusts and cooperatives to meet the needs of communities of color and working class communities. The coalition claims these groups, which were hit hard by the foreclosure crisis and the current eviction epidemic, have historically been victimized by such policies as disinvestment and redlining.
Angelenos will rally at Lafayette Park at noon, then march to the location of an "undisclosed political target," to be followed by a sit-in, street theater and the sharing of stories about displacement and gentrification. Capital & Main interviewed Tenants Together's acting director, Aimee Inglis, about the Day of Action.
Capital & Main: Why a National Day of Action?
Aimee Inglis: This demonstration seeks to lift up the voices of renters across the country who are tired of politics as usual and demand transformative change. Ever since the foreclosure crisis, the number of tenants nationally and across California has been increasing. It is necessary that tenants work toward stabilizing their places of residence and communities, despite being unable to own a home. Earlier this year in April, Homes for All convened tenant organizers from over 50 cities across the country, who unanimously decided to do a coordinated Day of Action this September because our issues were not being discussed at the national level. Rarely are housing issues addressed, and even more rarely are tenant issues spoken about or their voices heard.
Why was your organization created?
Tenants Together is a coalition of activist organizations that emerged in 2008 as a leader in the statewide movement to defeat Proposition 98, a dangerous initiative which would have effectively eliminated rent control throughout California. Since then, TT has been developing organizational advocates and organizations that focus on housing protections for California tenants.
What are your immediate goals?
Our comprehensive approach has increased statewide momentum toward the realization of housing justice while addressing core issues of anti-displacement and habitability. Tenants in California are disproportionately low-income, immigrants, the disabled and people of color. Our work of protecting and advancing housing rights is essential to promoting safe, stable, equitable communities and to mitigating poverty.
What other groups are you partnered with?
We are a member of the Homes for All campaign of the national group Right to the City Alliance. Tenants Together has over 40 member organizations in California rooted in working-class [communities] and communities of color.
What happens after Friday?
We regularly use direct action as an organizing tactic, and we usually have lobby days annually since we do state-level work, but we don't have other actions planned in the near future. Many of our local actions have been endorsed by labor and community partners, including several measures for rent control that will be on the ballot in California for November 2016.