Reflective and Proactive in Our Senior Years
I've recently found myself fascinated (and a little obsessed) with the lives of three superstar women who aren't afraid to expose their weaknesses to a world that is only familiar with their strengths.
Gloria Steinem and Jane Fonda were each interviewed on TV in the same week that a DVD arrived from Netflix, Eleanor Roosevelt—An American Experience.
Of the many traits they have in common, the one that struck my interest was that they each developed such a late-career sense of self-esteem. Each acknowledged that she didn't come into her personal comfort zones until she was in her 70s.
"Me too," I kept mumbling, "me too.,"
Now in my 80s, I am convinced that these may be the most fulfilling years for some of us.
Each of these remarkable women speak about childhood wounds.
Gloria's dad was absent and as a youngster she was left to care for her mentally ill mother. The two of them lived alone in a small apartment.
Jane never got enough of her movie star father.  Her mom, too, was mentally ill. When Jane was seven her mother killed herself by slitting her throat.
Eleanor's beautiful mother didn't keep it a secret that Eleanor was so unattractive she might never find a husband. Her handsome, charming, womanizing alcoholic dad, whom Eleanor adored, just wasn't there for her.
No one, it seems, was there to assure these children that they were loveable, appreciated or uniquely valuable.
Is it possible that the need to prove their value motivated them to do such extraordinary good, and that the communities they created and supported  fulfilled the love that they missed in their family lives? I suspect so.
Surely there is research on famous contributing adults who came from more idyllic families, but they are not the three people who I bumped into this past summer. Come to think of it, I rarely bump into any of the former types.  Most of my friends are more or less like me; not as traumatized as Gloria, Jane and Eleanor, but not always comfortable about our childhoods.  And, when young, hoping we would do better for our kids when we created new families of our own.
Gloria's TV interview motivated me to go to the library and check out Revolution from Within" Book of Self-Esteem (Little Brown, 1992). Lunch at the Santa Monica library outdoor café is an additional motivation.
I couldn't put the book down.  She not only restates the usual feminist mantra, "the personal is political," she emphasizes that the political makes the personal.  She reminds us that we are all born unique.   Anyone who has known even two infants knows how different they can be.  And then, very early, we get into systems that have no room for uniqueness; it's conform or fail.  No wonder most of us, at sometime, have endured the shame of asking, "What's wrong with me? I don't belong, I don't fit in—nobody understands me."
This book is a scholarly treasure yet an easy read —  filled with facts and fascinating vignettes.
It is a blend of Gloria's own experience and parables from the lives of others as diverse as Gandhi, Julie Andrews, Marilyn Monroe, Hitler and kids from Spanish Harlem, plus research on the meaning of self-esteem in this country and around the world.
She concludes that self-esteem, or lack of it, is created in childhood — but it's never too late to develop it.  She underlines the importance of un-learning and of disrespecting the education that so often disrespects us.
Yea, Gloria!
Finally she takes us on a journey through nature, spirituality and the new discoveries of the human brain to show that anything is possible: "Untapped potential," she writes, "is in all of us to grow and change."
Let me assure you – if New Age touchy-feely turns you off —  worry not. You will be okay with this extraordinary book. Gloria herself says, "If you learn a tenth as much from this book as I have, I'll be a happy writer." I'm about to send paperback copies to my adult grandchildren (who may not be totally familiar with Gloria).
Last week I attended a meeting of the Interfaith Communities United for Justice and Peace—one of my favorite organizations.  They are committed to their mission: "Religious Communities Must Stop Blessing War and Violence." I asked a number of older people what was the most comfortable stage of their lives.
Overwhelmingly they replied with such answers as:
"Now."  "I finally know and respect who I am—that's freedom."
and:
"There is something about having survived the highs and lows. Our joys and sadness make us know we are survivors and very little frightens us."
These were older women at a political meeting, clear on their convictions, comfortable in their communities and committed to being proactive rather than reactive. They reflected the thoughts of Gloria, Jane and Eleanor – that age and experience give us new opportunities for empowerment.
The Power of the Poster
Carol Wells, the founder of the Center for the Study of Political Graphics in Los Angeles, talks to Capital & Main about the enduring power of political art.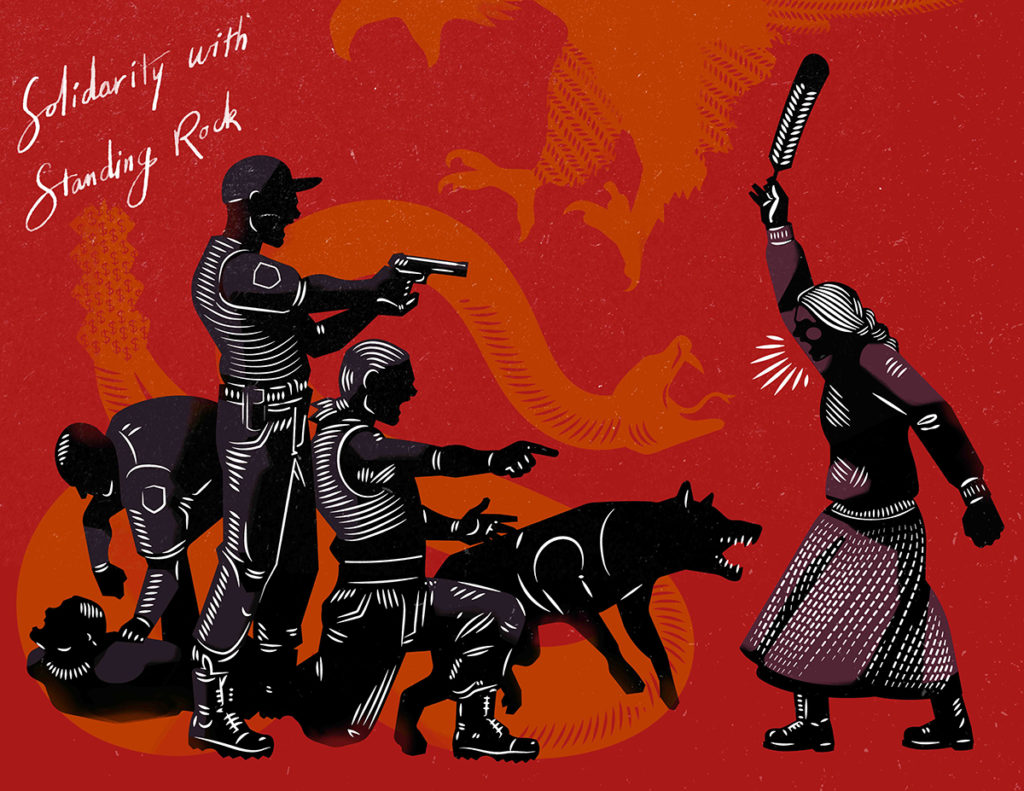 Carol Wells remembers the exact moment she discovered her calling. An art historian at the time, she was on a trip to Nicaragua with her friend David Kunzle, a UCLA art history professor, who was collecting political posters to add to his burgeoning collection. While staying with friends, Wells watched a neighbor's 8-year-old son approach a poster on the wall, stare at it intently, and then start to silently mouth the words. Wells was struck by how engaged the boy was. "In that moment I became obsessed with collecting posters."
Now over 40 years later, Wells is the founder and executive director of the Center for the Study of Political Graphics in Los Angeles. Wells has amassed approximately 90,000 posters, building one of the largest collections of its kind in the world. The Center shares its collection with the public in part through curated exhibits. This year the CSPG has produced Feminae: Typographic Voices of Women by Women and its latest is To Protect & Serve? Five Decades of Posters Protesting Police Violence, running through July 15 at the Mercado La Paloma in downtown Los Angeles.
Since that encounter in Nicaragua in 1981, Wells' obsession with collecting posters hasn't waned. In CSPG's nondescript West L.A. office space, Wells pulls out poster after poster, lecturing passionately on the backstory and cultural impact of each, including one that superimposes text from a New York Times interview with a shocking image of the My Lai massacre ("Q: And babies? A: And babies."). Recently, she managed to sit down with C&M to discuss her passion.
---
Capital & Main: So, you were an art history professor, you happen to see a kid on a trip, and suddenly your life was changed forever?
Carol Wells: Yeah, I'm in Nicaragua alone in the living room with this kid. He's looking around, and all of a sudden, he sees the poster. It was pretty big, bright green, a thick outlines of a woman holding a big basket of coffee beans. And the text in Spanish said, "In constructing the new country, we are becoming the new woman." I see him walk over to the poster and I'm watching him mouth the words. It was a pretty sophisticated concept, so I doubt he figured it out. But I literally had this epiphany: "Oh my God. That's how posters work." You're going about your daily life, and all of a sudden something breaks through the bubble, and it grabs your attention. It's the graphic, it's the color, it's the combination, and it pulls you out of your head and into that poster and it makes you ask a question. "Why is this here? What is this about? What does this mean?" And every time you ask a question, you're a different person than you were before you asked the question.
How many posters do you get a year?
We get between two to five thousand a year donated from all over the world. The bulk of our collection is [from] 1945 and later.
I assume technology has probably hurt the art form, but has it helped get the messages out?
Most people think that, and it's actually not true. Since the internet age started, there's actually a poster renaissance of works on paper. Because you can't walk with your computer monitor in a demonstration. You can't plant your monitor on your lawn.
And you can't put a laptop on the wall…
Exactly. You want to hear a really great story? Truthdig.org published a cartoon [made by] a political cartoonist named Mr. Fish. It was during the Arab spring, and he had superimposed Che Guevara with the stylized beard and King Tut's face, but it had Che's beret. And it [was titled], "Walk like an Egyptian." So, it was a reference to the music, but [it was also] a reference to what was going on the streets of Cairo. I sent it out as our poster of the week to 9,000 people. The very next day, somebody took a photograph on the street of Cairo, with somebody holding a piece of paper with that image on it. A poster can literally go around the world and people will print it out.
What struck me in viewing your exhibits is how many of these posters could still be used today, not only artistically but also, sadly, in the timeliness of their messages.
We had this fabulous poster by Yolanda Lopez, a Bay Area artist, which she first did in 1978. It depicts a young man in Aztec garb pointing a finger like Uncle Sam saying, "Who's the illegal alien, PILGRIM?" And it's a great poster, it's simple, not too many words, funny, provocative. So, we had an exhibit at UCLA in the mid '90s and there were 4 or 5 high school students standing around this poster saying, "Wow, you've got posters up to the minute." And I went over to them and I said, "Look at the date. This is before you were born."
Is that one of your goals with the exhibitions? To show the evergreen nature of this work?
Absolutely. I mean that's why we did the police abuse exhibition now. It basically goes back five decades. It's 50 years of posters protesting police abuse. Mainly in the United States, but also internationally.
What's the goal for CSPG?
Well the aim right now is really to digitize the collection and get it online. We have 10% of the collection digitized. But the mission is to collect and to document, because stories get lost. All the exhibitions, they're showing massacres, they're showing genocide, they're showing police abuse, they're showing all of these horrible things. And people often ask me, "How can you look at this stuff all day long?" I said, "Because the poster artists are optimists. They believe people can change if they have the information."
Yes, that's the reason why they're doing it, right?
That's why they're doing it, and that's why I'm doing this, because I believe that people can change if they knew the truth.
And what happens 20, 50 years from now?
Well, my goal is to stay independent, because the other option is to become part of the university. Universities, for all the fabulous things that they do, they also censor. We did an exhibition at USC in 1992 on the 500 years since Columbus, and how the legacy of racism and exploitation and genocide continues. And one of the board of trustees was Italian and took [the exhibit] as an affront to Columbus. It really wasn't about Columbus, it was about colonialism. And he ordered it down.
Do you have a favorite poster?
I'm always amazed at the creativity and vision of artists. Every week I'll say, "Oh my God, how do they think of that?" But it's always still going to be the poster I saw that kid trying to figure out. It has to be my favorite one because that one changed my life.
What makes a perfect poster?
The right balance between aesthetics and message. If you only rely on the corporate press, the New York Times and L.A. Times, for your information, you're not going to get the side from the street, from the movement, from the activists. The posters are primary historical documents that are recording the issues that were at the time, and the passions that were at the time, and the divisions that were at the time. You're not going to get it anyplace else.
---
Copyright Capital & Main