Reflective and Proactive in Our Senior Years
I've recently found myself fascinated (and a little obsessed) with the lives of three superstar women who aren't afraid to expose their weaknesses to a world that is only familiar with their strengths.
Gloria Steinem and Jane Fonda were each interviewed on TV in the same week that a DVD arrived from Netflix, Eleanor Roosevelt—An American Experience.
Of the many traits they have in common, the one that struck my interest was that they each developed such a late-career sense of self-esteem. Each acknowledged that she didn't come into her personal comfort zones until she was in her 70s.
"Me too," I kept mumbling, "me too.,"
Now in my 80s, I am convinced that these may be the most fulfilling years for some of us.
Each of these remarkable women speak about childhood wounds.
Gloria's dad was absent and as a youngster she was left to care for her mentally ill mother. The two of them lived alone in a small apartment.
Jane never got enough of her movie star father.  Her mom, too, was mentally ill. When Jane was seven her mother killed herself by slitting her throat.
Eleanor's beautiful mother didn't keep it a secret that Eleanor was so unattractive she might never find a husband. Her handsome, charming, womanizing alcoholic dad, whom Eleanor adored, just wasn't there for her.
No one, it seems, was there to assure these children that they were loveable, appreciated or uniquely valuable.
Is it possible that the need to prove their value motivated them to do such extraordinary good, and that the communities they created and supported  fulfilled the love that they missed in their family lives? I suspect so.
Surely there is research on famous contributing adults who came from more idyllic families, but they are not the three people who I bumped into this past summer. Come to think of it, I rarely bump into any of the former types.  Most of my friends are more or less like me; not as traumatized as Gloria, Jane and Eleanor, but not always comfortable about our childhoods.  And, when young, hoping we would do better for our kids when we created new families of our own.
Gloria's TV interview motivated me to go to the library and check out Revolution from Within" Book of Self-Esteem (Little Brown, 1992). Lunch at the Santa Monica library outdoor café is an additional motivation.
I couldn't put the book down.  She not only restates the usual feminist mantra, "the personal is political," she emphasizes that the political makes the personal.  She reminds us that we are all born unique.   Anyone who has known even two infants knows how different they can be.  And then, very early, we get into systems that have no room for uniqueness; it's conform or fail.  No wonder most of us, at sometime, have endured the shame of asking, "What's wrong with me? I don't belong, I don't fit in—nobody understands me."
This book is a scholarly treasure yet an easy read —  filled with facts and fascinating vignettes.
It is a blend of Gloria's own experience and parables from the lives of others as diverse as Gandhi, Julie Andrews, Marilyn Monroe, Hitler and kids from Spanish Harlem, plus research on the meaning of self-esteem in this country and around the world.
She concludes that self-esteem, or lack of it, is created in childhood — but it's never too late to develop it.  She underlines the importance of un-learning and of disrespecting the education that so often disrespects us.
Yea, Gloria!
Finally she takes us on a journey through nature, spirituality and the new discoveries of the human brain to show that anything is possible: "Untapped potential," she writes, "is in all of us to grow and change."
Let me assure you – if New Age touchy-feely turns you off —  worry not. You will be okay with this extraordinary book. Gloria herself says, "If you learn a tenth as much from this book as I have, I'll be a happy writer." I'm about to send paperback copies to my adult grandchildren (who may not be totally familiar with Gloria).
Last week I attended a meeting of the Interfaith Communities United for Justice and Peace—one of my favorite organizations.  They are committed to their mission: "Religious Communities Must Stop Blessing War and Violence." I asked a number of older people what was the most comfortable stage of their lives.
Overwhelmingly they replied with such answers as:
"Now."  "I finally know and respect who I am—that's freedom."
and:
"There is something about having survived the highs and lows. Our joys and sadness make us know we are survivors and very little frightens us."
These were older women at a political meeting, clear on their convictions, comfortable in their communities and committed to being proactive rather than reactive. They reflected the thoughts of Gloria, Jane and Eleanor – that age and experience give us new opportunities for empowerment.

'Skeleton Crew' Is a Play With a Moral Spine
Set in a Detroit automobile outfitting plant, Dominique Morisseau's drama grabs you from the start with its focus on blue-collar men and women, and their struggle for dignity and self-respect.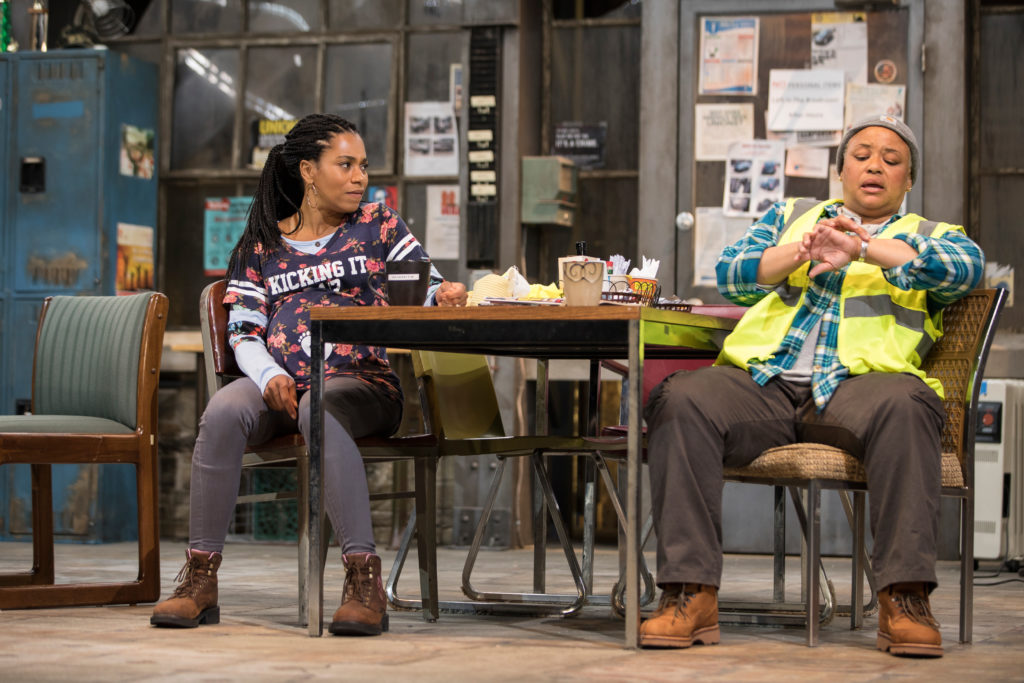 Working-class men and women of color are rarely front and center in today's media and, likewise, are presented all too occasionally on the American stage. So it's buoying to see that trend bucked in playwright Dominique Morisseau's percipient and well-crafted drama, Skeleton Crew. The play is the final installment in her Detroit  Project Trilogy; the first, Paradise Blue, is set in the 1940s amidst displacement caused by urban renewal and gentrification, while the second, Detroit '67, transpires on the eve of the 1967 Detroit riots sparked by a police action.
Directed by Patricia McGregor at Los Angeles' Geffen Playhouse, Skeleton Crew is a play with a moral spine. It takes place in 2008, when the shrinking U.S. auto industry is being further downsized. Morisseau's engaging quartet of characters — Faye (Caroline Stefanie Clay), Dez (Armari Cheatom), Shanita (Kelly McCreary) and Reggie (DB Woodside) – are employed at an automobile outfitting plant. Faye, Dez and Shanita are workers on the line while Reggie (who has a wife and kids, and has pulled himself together after a troubled youth) is their supervisor.
The first three customarily mingle in their break room (designer Rachel Myers' impressively cluttered, dingy and detailed set), trading the sort of familiar barbs and genuine concern for each other common among longtime co-workers. They also face off on philosophy: Upper-middle-aged Faye and the younger, pregnant Shanita take pride in their labor, while Dez, though a good worker, is a malcontent scornful of management and firm in the belief that everyone needs to watch out for himself. He's a thorn in Reggie's side, for while Reggie wants to be supportive of his workers, he must act at the behest of higher management. For his part, Dez resents Reggie's authority, and a palpable unease exists between them.
Besides this male matchup, we're made privy to Dez's attraction to Shanita, who mostly turns away his advances, but every now and then displays a hint of interest. Most poignant is Reggie's regard and affection for the lesbian Faye, which has roots in his boyhood when she loved, and lived, with his now-deceased mom.
These people's various predicaments intensify when rumors spread of the plant's shutdown — a disaster for all, but a particular calamity for the already near-broke Faye who, one year short of retirement, would lose her pension. The crisis forces each of these people to make a choice.
A sound piece of social realism, Skeleton Crew grabs you from the start in its focus on blue-collar men and women, and their struggle against odds for dignity and self-respect. Morisseau not only furnishes these characters a platform for their travails, she endows them with strong values, big hearts and the opportunity to choose between right and wrong.
Unfortunately, the performance I attended did not soar. Many exchanges lacked a fresh edge. The actors certainly had their characters down, but too often they appeared to be coasting on technique. (This seemed particularly true of Clay, who performed the role to great accolades in Washington, DC in 2017, also under McGregor's direction). Additionally, some of the stage movement was not entirely fluid; in confrontations, actors sometimes would just stand and face each other in an artificial way. And Cheatom's interpretation of Dez struck me as a bit overly churlish and depressive: I needed more glimpses of the intelligence and edge that would secretly attract the strong, self-directed Shanita.
The most compelling moments belong to Woodside, well-cast as a man trying his best in difficult circumstances to do the right thing.
---
Gil Cates Theater at the Geffen Playhouse, 10886 Le Conte Ave., Westwood Village; Tues.-Fri., 8 p.m.; Sat., 3 & 8 p.m. Sun., 2 & 7 p.m.; through July 8. (310) 208-5454 or www.geffenplayhouse.org