Reed Hastings: Netflix CEO Goes Nuclear on Public Schools
Hastings' preferred school reforms, such as heavy use of streaming technologies and data collection, resemble the way he built Netflix. And his critics say that could be part of the problem.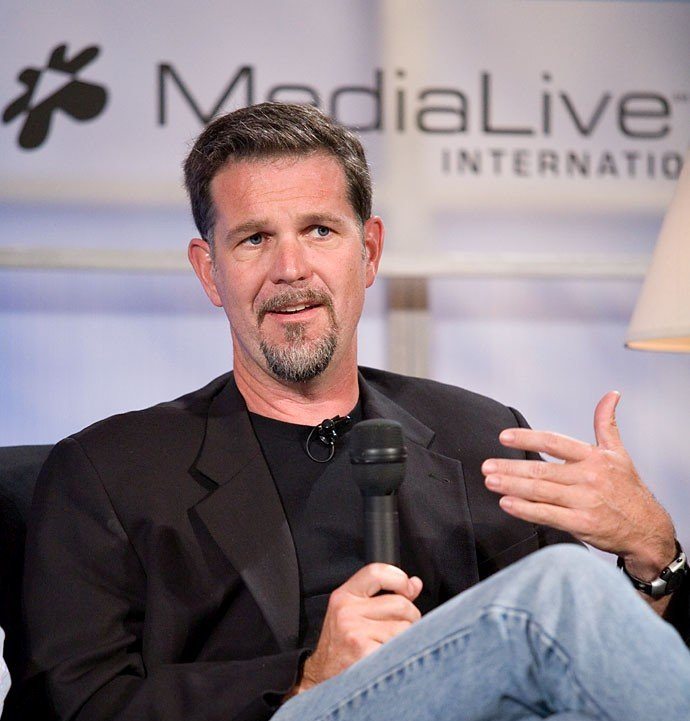 Netflix CEO and charter school supporter Reed Hastings has donated nearly $9 million this year to the independent expenditure committee of EdVoice, which is backing pro-charter candidate Marshall Tuck for state superintendent of public instruction. Tuck is running against Assemblymember Tony Thurmond in what has become the most expensive race ever for state school superintendent. Supporters of Tuck have raised far more cash than those of Thurmond, giving Tuck a more than two-to-one advantage. Thurmond's largest source of support is teachers unions. (Disclosure: The teachers unions supporting Thurmond are financial supporters of this website.)
Hastings' lavish spending has raised concerns among critics who worry that the sort of technologies and efficiencies he used to build his Silicon Valley empire and is now applying to education might not work for the nation's schoolchildren.
These concerns were raised in 2014, when Hastings, at a California Charter Schools Association meeting, asserted that public schools are hobbled by having elected schoolboards.
"Let's think large-scale," says Brett Bymaster, a Silicon Valley electrical engineer who broke the story about Hastings' school board comments on his blog about Rocketship, a charter school chain supported by Hastings. "You have someone who is contributing millions and millions of dollars to local and statewide political races and who was the former president of the state school board — whose stated goal is to end democracy in education. That is deeply disturbing."
Hastings, who growing up attended public and private schools, first became interested in education after college. He ditched his plan to serve in the Marine Corps and joined the Peace Corps, teaching high school math in Swaziland before returning to the States and earning his master's degree in computer science from Stanford University. "I'm not good at following orders," said Hastings in a 2015 EducationNext profile. "There were no rules at all [in the Peace Corps]. Just use your initiative."
After the success of his first start-up, the debugging program maker Pure Software, made him a multimillionaire in 1995, Hastings decided to use some of his wealth to tackle the problems he saw in the nation's schools. "I started… trying to figure out why our education is lagging when our technology is increasing at great rates and there's great innovation in so many other areas—health care, biotech, information technology, moviemaking," he told the Wall Street Journal. "Why not education?"
His efforts began in 1998, when he and Don Shalvey, who'd helped launch California's first charter school, set their sights on abolishing California's 100-charter school cap. According to The Founders, an e-book about the early years of the charter school movement published by the pro-charter news organization The 74, Hastings personally gathered petitions at supermarkets for a ballot initiative to lift the restriction. Instead of passing that initiative, Hastings and Shalvey convinced the state Legislature to act. "Not only did a bill pass that essentially green-lighted an unlimited number of charter schools…but the bill included a provision barely noticed at the time, certainly not by the unions: A single board of directors could oversee multiple charters," notes The Founders. That provision would allow Hastings and Shalvey, who is now deputy director of education at the Bill & Melinda Gates Foundation, to launch Aspire Public Schools, the nation's first charter network, which now operates 40 schools in California and Tennessee.
Hastings had less success when Democratic Governor Gray Davis named him to the state Board of Education in 2000. While president of the board, he aggressively pushed for English-language instruction for immigrant students, adopting a policy that limited federal funding for elementary schools that weren't teaching at least two-and-a-half hours in English every day. That rule, later overturned, was part of what education observers say was a lengthy dismantling of California's bilingual education programs. Hasting's stance on the matter caused Democratic legislators to block his reappointment in 2004, despite the fact that he was a key Democratic donor. "Just because [Hastings] and right-wing Republicans thought it was a good idea to force immigrant children to speak only English in school, he gets to derail bilingual education for a decade?" says Karen Wolfe, a California parent and founder of PSconnect, a community group that advocates for traditional public schools. "That's not disruption. That's destruction."
The fact that California Charter Academy, one of the country's largest charter school operators, collapsed and left 6,000 California students without a school during his board tenure, did little to sway Hastings' enthusiasm for publicly financed yet privately run schools. Along with helping to fund the Rocketship and Aspire charter programs, he's served on the boards of the California Charter Schools Association and the KIPP Foundation, the largest network of charter schools in the country. And much of Hastings' school reform efforts have focused on technological solutions. He helped launch NewSchools Venture Fund, which has invested $250 million in education entrepreneurs and "ed tech" products. He's also been a major backer of DreamBox Learning, which develops the math software used in Rocketship schools, and the Khan Academy, an online teaching video clearinghouse.
But so far, the outcomes of many of these ed tech ventures have been mixed. Khan Academy has been criticized for including fundamental math errors in some of its instructional videos. And while DreamBox once championed a Harvard University study that found that use of its math software was associated with test achievement gains in grades three through five, the study itself noted it could not be ruled out that the gains were "due to student motivation or teacher effectiveness, rather than to the availability of the software." What's more, the user data collected by programs developed at Khan Academy, DreamBox and other companies are fueling concerns over student privacy.
More broadly, education experts are worried about the impact of minimally staffed, call center-like computer learning labs on the nation's students and teachers, especially as this approach becomes more commonplace in the name of cost savings and innovation. (In a 2012 Washington Post article, former Rocketship CEO John Danner noted that "Rocketeers" could eventually spend 50 percent of their school day in front of computers.)
"The younger a kid is, the more critically important it is that they construct their own knowledge and figure out how the universe works, and they literally cannot get that from a computer screen," says Launa Hall, a former Virginia elementary school teacher who now writes and consults on education issues. "Reed Hastings had an opportunity to have a rich and nuanced education and he talks about how the Peace Corps were so awesome because there were no rules. So his heart might be in the right place, but he might have forgotten his own roots in how he came to value education."
Hastings' preferred school reforms, such as heavy use of streaming technologies and data collection, resemble the way he built Netflix. And critics say that could be part of the problem. Netflix's workplace culture, which involves employees taking as much vacation as they like and choosing their own stock-to-cash ratios, has been hailed as groundbreaking. But some say Netflix, like many Silicon Valley companies, offers these perks not because it wants to reform labor conditions across the board, but because it's a smart business move, allowing it to attract better candidates for top positions. As noted in a widely shared PowerPoint presentation on Netflix company culture that Hastings made public in 2009, "We're like a pro sports team, not a kid's recreational team. Netflix leaders hire, develop and cut smartly, so we have stars in every position."
It's why when Netflix became the first major U.S. company to offer unlimited paid family leave for both male and female employees, it was criticized for extending the policy only to its white-collar employees, not blue-collar workers in charge of customer service and DVDs. And while Microsoft has required that many of its contractors and vendors provide their workers with sick days and vacation time and Google has demanded that its shuttle bus contractors pay better wages, so far Netflix has ignored calls for improved working conditions for its contract workers, says Derecka Mehrens, co-founder of Silicon Valley Rising, a campaign to raise pay and create affordable housing for low-wage workers in the tech industry.
Mehrens sees a similar class bias in Hastings' approach to public education. "We see profound consequences, both political and economic, when technology industry leaders take action from a position of privilege and isolation from the very communities they desire to help," she says. "When tech industry leaders like Reed Hastings call for an elimination of school boards or for more privatization of public schools, they block low-income people from using the one instrument that the powerful can't ignore – their vote."
Hastings' end goal for California appears to be the near-total replacement of traditional public schools with charter schools. In his 2014 speech where he discussed abolishing elected school boards, Hastings pointed to New Orleans – whose school system was largely taken over by the State of Louisiana after the devastation of Hurricane Katrina and converted to the country's first predominantly charter public school system – as a model:
"So what we have to do is to work with school districts to grow steadily, and the work ahead is really hard because we're at eight percent of students [in charters] in California, whereas in New Orleans they're at 90 percent, so we have a lot of catchup to do… So what we have to do is continue to grow and grow… It's going to take 20-30 years to get to 90 percent of charter kids."
When Hastings announced a new $100 million Hastings Fund for education grants in 2016, he named as CEO Neerav Kingsland, who previously helmed New Schools for New Orleans, a nonprofit that helps fund and support New Orleans' charters. "It's about backing great educators who want to scale great schools," says Kingsland of the new venture. "There's a huge focus on quality education, focusing on doing what needs to be done to serve great students." He adds that the Hastings Fund is not just about backing charters: "The neighborhood school is this idealistic 1950s idea, but for a lot of people enrollment in neighborhood schools is a sentence into educational disenfranchisement. Maybe charters are not the right answer and there are other ways of getting around it, but to say that what we have is okay is out of touch at best, malevolent at worst."
By some measures, what Kingsland and others accomplished with New Orleans' charter experiment has been a success. Over the past half-decade, the city boasted the greatest improvement in test scores of any urban school system ever. But the program still has a long way to go: In 2014, just 57 percent of students in grades three through eight scored a passing grade on state accountability tests, significantly below statewide and national averages.
In 2016 the Louisiana Legislature voted to return partial oversight of city schools to local school boards, a move even charter advocates like Kingsland supported. The development is at odds with Hastings' contention that locally elected school boards are part of the problem.
"This is a part of our democracy," says Vernon Billy, executive director and CEO of the California School Boards Association. "Whether it's electing school boards or city council members or congressional representatives, that is our process in this country. It may not be as timely as some people would like, but when you look at the fact that roughly 90 percent of our children go to public schools nationwide and in California as well, and this country is ultimately one of the most successful countries in the world, we must be doing something right."
Even as supporters continue to pour money into charter schools, critics have succeeded in raising fundamental questions about the charter model, leading groups like the National Association for the Advancement of Colored People to call for a moratorium on the expansion of privately managed charters schools. In California, test scores have fallen sharply at some charter schools, including Rocketship and Aspire campuses, while demands for greater charter accountability and oversight have increased.
Undeterred, Hastings and other school reform-minded tech billionaires want to inject the start-up mentality into the country's schools, using high-tech solutions to replace human labor and disrupting longtime management and oversight approaches in the name of efficiency. But to Brett Bymaster in San Jose, that's not the right approach. After all, roughly half of all start-ups fail. What happens to the children who get caught in those failures, like the students left without a school when California Charter Academy folded?
"I have been through several successful Silicon Valley start-ups. I am as techy as they come," says Bymaster. "But ultimately the problems in our schools are people problems. Technology doesn't solve people problems. People solve people problems."
---
Copyright Capital & Main