Redevelopment Measure SB 1 Temporarily Withdrawn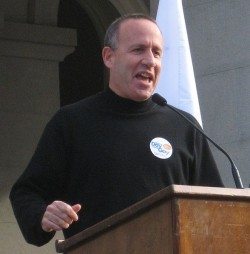 California's relationship with redevelopment just got more complicated, now that state Senate President Pro Tem Darrell Steinberg (D-Sacramento) has temporarily withdrawn SB 1.
Steinberg had fought hard for his personally authored bill, which would have replaced California's old system of community redevelopment agencies (CRAs), which were dissolved in 2011, with Sustainable Community Investment Authorities. Yet as the legislature's fall session began, he calculated there was a strong possibility of Governor Jerry Brown vetoing the measure. (Last year Brown vetoed SB 1156, an earlier incarnation of Steinberg's legislation.)
Steinberg withdrew the bill September 12, just as SB 1 was headed back to the Assembly for further discussion.
SB 1's tactical withdrawal puts on hold the hopes of cities to build healthy, sustainable economies. Despite occasional planning mistakes made by some CRAs in the past, there is still an urgent need for rational urban planning that benefits all communities, not just private commerce.
As the Los Angeles Times pointed out in a September 22 editorial, SB 1 will mend the institutional dysfunction built into the old CRAs because "the authorities' boards would be appointed by the government participants, and would serve four-year terms and be bound by state ethics, open-meeting and public records laws. The authorities would be subject to financial and performance audits, with penalties for failure to comply."
The Times also noted that SB 1 offers these new benefits:
"[It] would foster a new kind of redevelopment based on cooperation, instead of competition, among governments trying to share tax dollars to spark economic development."
"As the project's completion boosts property tax, the state would continue to get its share rather than lose it to old-style diversion."
"Mandatory investments in below-market-rate housing — one of the original purposes of redevelopment — would be increased from the 20 percent required under old-school CRAs to 25 percent. That's important, given the dire need in California for affordable homes."
Steinberg will be termed out of office in 2014. However, Mark Hedlund, a spokesman for Steinberg, told Frying Pan News, "This is the first year of a two-year session, so the bill is still active for next year." In other words, SB 1 doesn't even need to be reintroduced. "We are working with the administration," continued Hedlund, "to be sure the final measure is something the Governor is willing to sign. We hope to move forward when we reconvene in January."