Recounting the Japanese-American Internments in a Musical
Stamped by their government as enemy aliens, the Kimura family is uprooted from their home and re-housed in a barracks-like setting where they are treated like criminals.

Produced by East West Players at the Japanese American Cultural Center, Allegiance features noted performer-activist George Takei, and draws inspiration from his personal experience in a Japanese-American internment camp during World War II.
One of the more shameful, racially-motivated episodes in U.S. history, the forced internment of approximately 120,000 people of Japanese descent commenced in February 1942 on the executive order of President Franklin Roosevelt, and only terminated seven months after Japan surrendered and the last of 10 relocation centers shut its gates.
The internees, two-thirds of whom were American citizens, were stripped of their property and dignity, and required to fill out trick questionnaires to assess their loyalty. Failure to comply or give the politically correct response often resulted in imprisonment. Young men of draft age filled out a separate form, indicating whether they were willing to serve in the military — in a segregated unit. Some said yes, others did not. The questionnaire — how to respond and even whether or not to do so — further rent an already divided and disheartened community.
Allegiance aims to recount these injustices, and it does so in a stirring and entertaining way. Directed by Snehal Desai, with music and lyrics by Jay Kuo, and book by Marc Acito, Jay Kuo and Lorenzo Thione, it's a high-caliber musical melodrama that relays history as it impacts on the fictional Kimura family. Uprooted from their home, re-housed in a barracks-like setting where they are treated like criminals, members of the family are torn further apart when father and son bitterly fall out over whether to pledge loyalty to a government that has stamped them as enemy aliens.
At the top, Takei plays an elderly retired soldier, Sam Kimura, who receives news of the death of his sibling, from whom he's been estranged for years. That prompts him to recall his youth as the son of a prosperous, widowed farmer (Scott Watanabe) in Salinas, California. Sammy (Ethan Le Phong) is his family's first college graduate, and dearly beloved by his elder sister Kei (Elena Wang).
The scenario darkens as the family and their neighbors are packed off to Wyoming's barbed-wired Heart Mountain Relocation Center. Eventually, Sammy joins the army and distinguishes himself in battle, while his future brother-in-law, Frankie (Eymard Cabling), angrily challenges the government and goes to prison. So does Sammy's dad for his defiant answers to the questionnaire. Father and son never reconcile.
Kuo's 26 songs are a euphonious mix of ballads, upbeat dance numbers (choreography, Rumi Oyama) with a terrific 1940s swing, and elegiac melodies. Despite the weighty theme, the show's pace is brisk, as the music sweeps the narrative to its poignant conclusion. The vocals, solo and ensemble, are strong across the board, with Le Phong's powerful lyric tenor soaring above others, especially in his rendering of the ethically-themed "What Makes A Man." A live 11-piece orchestra, under the musical direction of Marc Macalintal, lends superlative support throughout.
The non-musical aspects of the performances may not go deep, but like the story they're telling, they never ring false. Special kudos to Jordan Goodsell, who so effectively portrays every nasty white bully and bigot the targeted Japanese-Americans encounter.
JACCC's Aratani Theatre, 244 S. San Pedro Street, Los Angeles; Thurs.-Sat., 8 p.m.; Sat., 2 & 8 p.m.; Sun., 2 p.m.; no performance March 18; through April 1. AllegianceMusical.com.
---
Copyright Capital & Main

'Skeleton Crew' Is a Play With a Moral Spine
Set in a Detroit automobile outfitting plant, Dominique Morisseau's drama grabs you from the start with its focus on blue-collar men and women, and their struggle for dignity and self-respect.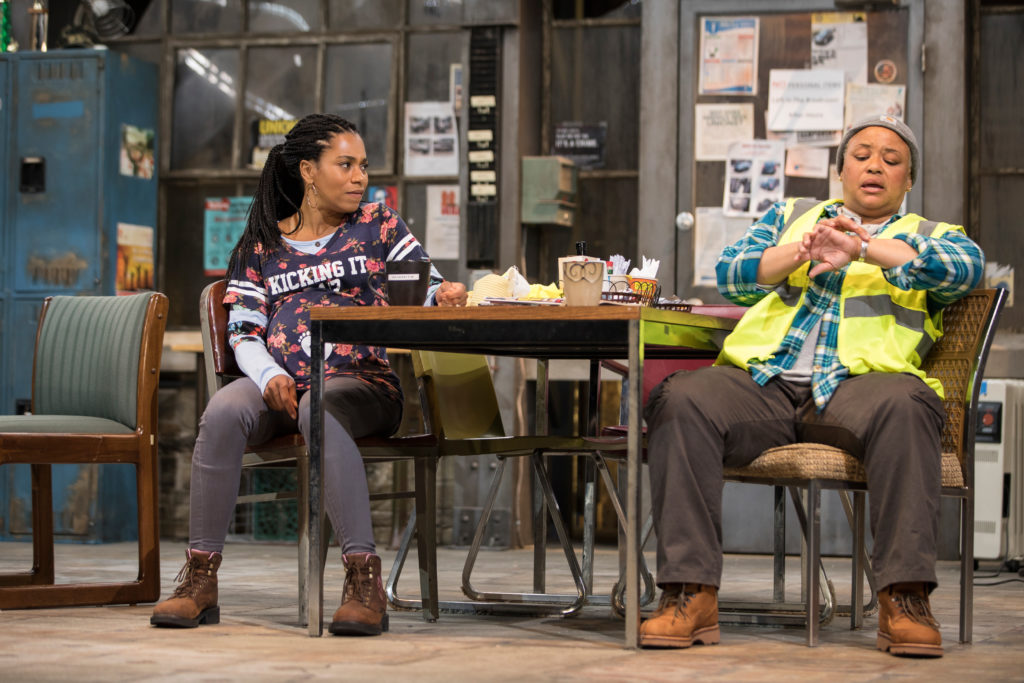 Working-class men and women of color are rarely front and center in today's media and, likewise, are presented all too occasionally on the American stage. So it's buoying to see that trend bucked in playwright Dominique Morisseau's percipient and well-crafted drama, Skeleton Crew. The play is the final installment in her Detroit  Project Trilogy; the first, Paradise Blue, is set in the 1940s amidst displacement caused by urban renewal and gentrification, while the second, Detroit '67, transpires on the eve of the 1967 Detroit riots sparked by a police action.
Directed by Patricia McGregor at Los Angeles' Geffen Playhouse, Skeleton Crew is a play with a moral spine. It takes place in 2008, when the shrinking U.S. auto industry is being further downsized. Morisseau's engaging quartet of characters — Faye (Caroline Stefanie Clay), Dez (Armari Cheatom), Shanita (Kelly McCreary) and Reggie (DB Woodside) – are employed at an automobile outfitting plant. Faye, Dez and Shanita are workers on the line while Reggie (who has a wife and kids, and has pulled himself together after a troubled youth) is their supervisor.
The first three customarily mingle in their break room (designer Rachel Myers' impressively cluttered, dingy and detailed set), trading the sort of familiar barbs and genuine concern for each other common among longtime co-workers. They also face off on philosophy: Upper-middle-aged Faye and the younger, pregnant Shanita take pride in their labor, while Dez, though a good worker, is a malcontent scornful of management and firm in the belief that everyone needs to watch out for himself. He's a thorn in Reggie's side, for while Reggie wants to be supportive of his workers, he must act at the behest of higher management. For his part, Dez resents Reggie's authority, and a palpable unease exists between them.
Besides this male matchup, we're made privy to Dez's attraction to Shanita, who mostly turns away his advances, but every now and then displays a hint of interest. Most poignant is Reggie's regard and affection for the lesbian Faye, which has roots in his boyhood when she loved, and lived, with his now-deceased mom.
These people's various predicaments intensify when rumors spread of the plant's shutdown — a disaster for all, but a particular calamity for the already near-broke Faye who, one year short of retirement, would lose her pension. The crisis forces each of these people to make a choice.
A sound piece of social realism, Skeleton Crew grabs you from the start in its focus on blue-collar men and women, and their struggle against odds for dignity and self-respect. Morisseau not only furnishes these characters a platform for their travails, she endows them with strong values, big hearts and the opportunity to choose between right and wrong.
Unfortunately, the performance I attended did not soar. Many exchanges lacked a fresh edge. The actors certainly had their characters down, but too often they appeared to be coasting on technique. (This seemed particularly true of Clay, who performed the role to great accolades in Washington, DC in 2017, also under McGregor's direction). Additionally, some of the stage movement was not entirely fluid; in confrontations, actors sometimes would just stand and face each other in an artificial way. And Cheatom's interpretation of Dez struck me as a bit overly churlish and depressive: I needed more glimpses of the intelligence and edge that would secretly attract the strong, self-directed Shanita.
The most compelling moments belong to Woodside, well-cast as a man trying his best in difficult circumstances to do the right thing.
---
Gil Cates Theater at the Geffen Playhouse, 10886 Le Conte Ave., Westwood Village; Tues.-Fri., 8 p.m.; Sat., 3 & 8 p.m. Sun., 2 & 7 p.m.; through July 8. (310) 208-5454 or www.geffenplayhouse.org