Recounting the Japanese-American Internments in a Musical
Stamped by their government as enemy aliens, the Kimura family is uprooted from their home and re-housed in a barracks-like setting where they are treated like criminals.

Produced by East West Players at the Japanese American Cultural Center, Allegiance features noted performer-activist George Takei, and draws inspiration from his personal experience in a Japanese-American internment camp during World War II.
One of the more shameful, racially-motivated episodes in U.S. history, the forced internment of approximately 120,000 people of Japanese descent commenced in February 1942 on the executive order of President Franklin Roosevelt, and only terminated seven months after Japan surrendered and the last of 10 relocation centers shut its gates.
The internees, two-thirds of whom were American citizens, were stripped of their property and dignity, and required to fill out trick questionnaires to assess their loyalty. Failure to comply or give the politically correct response often resulted in imprisonment. Young men of draft age filled out a separate form, indicating whether they were willing to serve in the military — in a segregated unit. Some said yes, others did not. The questionnaire — how to respond and even whether or not to do so — further rent an already divided and disheartened community.
Allegiance aims to recount these injustices, and it does so in a stirring and entertaining way. Directed by Snehal Desai, with music and lyrics by Jay Kuo, and book by Marc Acito, Jay Kuo and Lorenzo Thione, it's a high-caliber musical melodrama that relays history as it impacts on the fictional Kimura family. Uprooted from their home, re-housed in a barracks-like setting where they are treated like criminals, members of the family are torn further apart when father and son bitterly fall out over whether to pledge loyalty to a government that has stamped them as enemy aliens.
At the top, Takei plays an elderly retired soldier, Sam Kimura, who receives news of the death of his sibling, from whom he's been estranged for years. That prompts him to recall his youth as the son of a prosperous, widowed farmer (Scott Watanabe) in Salinas, California. Sammy (Ethan Le Phong) is his family's first college graduate, and dearly beloved by his elder sister Kei (Elena Wang).
The scenario darkens as the family and their neighbors are packed off to Wyoming's barbed-wired Heart Mountain Relocation Center. Eventually, Sammy joins the army and distinguishes himself in battle, while his future brother-in-law, Frankie (Eymard Cabling), angrily challenges the government and goes to prison. So does Sammy's dad for his defiant answers to the questionnaire. Father and son never reconcile.
Kuo's 26 songs are a euphonious mix of ballads, upbeat dance numbers (choreography, Rumi Oyama) with a terrific 1940s swing, and elegiac melodies. Despite the weighty theme, the show's pace is brisk, as the music sweeps the narrative to its poignant conclusion. The vocals, solo and ensemble, are strong across the board, with Le Phong's powerful lyric tenor soaring above others, especially in his rendering of the ethically-themed "What Makes A Man." A live 11-piece orchestra, under the musical direction of Marc Macalintal, lends superlative support throughout.
The non-musical aspects of the performances may not go deep, but like the story they're telling, they never ring false. Special kudos to Jordan Goodsell, who so effectively portrays every nasty white bully and bigot the targeted Japanese-Americans encounter.
JACCC's Aratani Theatre, 244 S. San Pedro Street, Los Angeles; Thurs.-Sat., 8 p.m.; Sat., 2 & 8 p.m.; Sun., 2 p.m.; no performance March 18; through April 1. AllegianceMusical.com.
---
Copyright Capital & Main

A Spiritual Mystery Play Fails to Enlighten
Yusuf Toropov's drama, set in a contaminated, cancer-ridden community, involves a publisher and his brother — a priest struggling against the local archdiocese.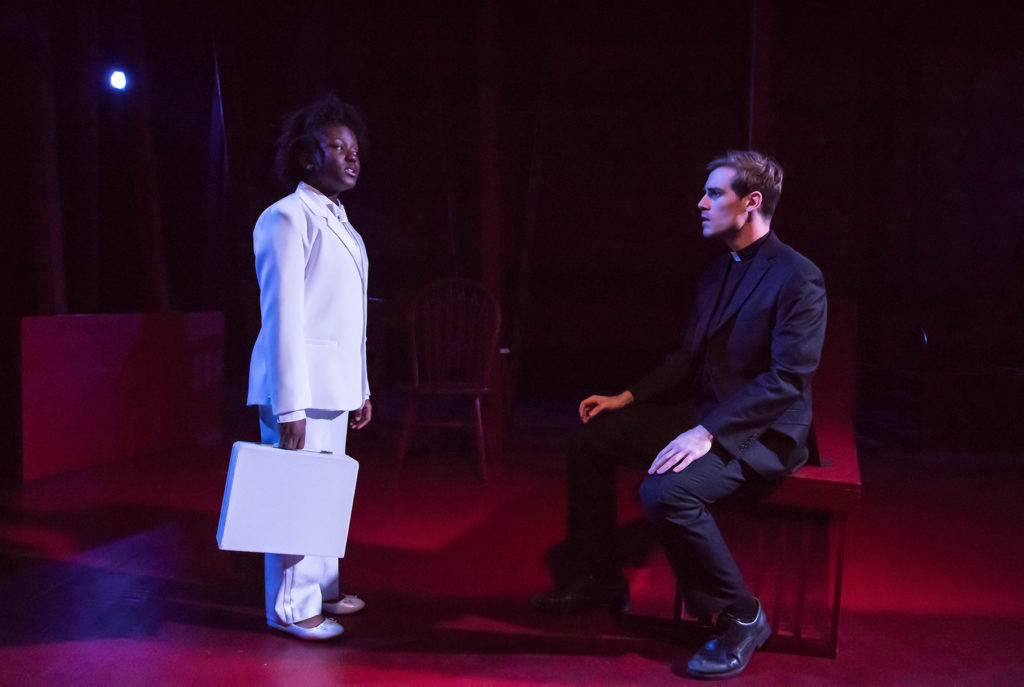 Directed by Chris Fields, Yusuf Toropov's An Undivided Heart, co-produced by the Echo Theater Company and the Circle X Theatre Co., is an aspiring work that aims to be deep but doesn't get there.
The play, running at the Atwater Village Theatre, unfolds on several levels. First, it tells the story of a young Catholic priest who must decide whether or not to publicly expose the pedophiles among his fellow clerics. Second, the work deals with our human struggle to understand why bad things happen with seeming random cruelty (a conundrum whose answers are regularly dispensed by spiritual leaders of all faiths, not very satisfactorily). On yet a third level, the play seeks to express the paradoxical wonder and mystery of life, with an assist from the supernatural.
That's a lot to cover in a little over two hours and, while the production is handsomely staged, its ambitious narrative is diminished by dangling threads, one major improbable setup near the end and too many bits of opaque dialogue.
Tim Wright, Alison Martin and Alana Dietze.
The setting is Holbrook, Massachusetts — a community whose residents have been exposed to contaminants, so cancer is rampant — in the summer of 1992. The story revolves around two brothers, both good guys: Mike (Matthew Gallenstein), a local priest who's written a revelatory book that his superiors want him not to publish, and Max (Tim Wright), an editor, who'd like to help his brother proceed.
When Max arrives at some sort of civic facility (the background particulars of this scene are unclear), he promptly tangles with an angry pregnant clerk named Lynne (Alana Dietz). A few minutes into their altercation, she goes into premature labor, and he rushes her to the hospital — the beginning of a nurturing romance.
Mike, meanwhile, is having strange dreams involving a burning typewriter and a cryptic little girl (Ann'Jewel Lee) who appears to him brandishing a dead cat. The same young person manifests in the dreams of Janice (Tracey A. Leigh, alternating with Jennifer A. Skinner), Max's Buddhism teacher, who is fond of posing riddles. Her favorite: If I am preparing to slice a cat in two, how would you prevent me from doing it?
The narrative shifts between Mike's struggle with his archdiocese, personified by its Cardinal (John Getz, alternating with William Salyers) and Lynne's problems with her dying mom Ruth (Alison Martin, alternating with Sigute Miller), a devout Catholic still in denial over her son's abuse by a priest when he was a youth.
These two storylines are interposed with the baffling dream sequences and Max's (and later Mike's) sessions with the inscrutably smiling Janice and her eschatological brain teasers. One crucial scene that leads to the dramatic climax has Mike looking to entrap an abusive priest (Jeff Alan-Lee, alternating with Jesse Bush) by attending confession with him and pretending to be a pedophile himself. The interchange, in which the priest probes for salacious details, is awkwardly plotted and escalates into over-the-top melodrama.
Cricket Myers' superlative sound design hints at the depth and scope that the playwright himself perhaps had in mind but was unable to attain. Amanda Knehans' set is an effective arrangement of wooden beams, tables and chairs that lighting designer Rose Malone smartly shades with a reddish-orange chroma, like the hues of hell. Elsewhere, she spotlights the players well.
Wright's warm and empathetic Max is highly likable, and he keeps you interested in the scenes he's involved with. Getz is appropriately unctuous as the Cardinal, and Martin draws a richly textured portrait of a not terribly educated housewife, who, buffeted by adversity, still clings to her faith. Michael Sturgis steals the limelight as a singing, simpering cleric. A couple of the other lead performances need refining.
Atwater Village Theatre, 3269 Casitas Ave., Los Angeles; Mon., 8 p.m.; Fri.- Sat., 8 p.m.; Sun., 4 p.m.; through April 22. www.EchoTheaterCompany.com
---
Copyright Capital & Main