Recounting the Japanese-American Internments in a Musical
Stamped by their government as enemy aliens, the Kimura family is uprooted from their home and re-housed in a barracks-like setting where they are treated like criminals.

Produced by East West Players at the Japanese American Cultural Center, Allegiance features noted performer-activist George Takei, and draws inspiration from his personal experience in a Japanese-American internment camp during World War II.
One of the more shameful, racially-motivated episodes in U.S. history, the forced internment of approximately 120,000 people of Japanese descent commenced in February 1942 on the executive order of President Franklin Roosevelt, and only terminated seven months after Japan surrendered and the last of 10 relocation centers shut its gates.
The internees, two-thirds of whom were American citizens, were stripped of their property and dignity, and required to fill out trick questionnaires to assess their loyalty. Failure to comply or give the politically correct response often resulted in imprisonment. Young men of draft age filled out a separate form, indicating whether they were willing to serve in the military — in a segregated unit. Some said yes, others did not. The questionnaire — how to respond and even whether or not to do so — further rent an already divided and disheartened community.
Allegiance aims to recount these injustices, and it does so in a stirring and entertaining way. Directed by Snehal Desai, with music and lyrics by Jay Kuo, and book by Marc Acito, Jay Kuo and Lorenzo Thione, it's a high-caliber musical melodrama that relays history as it impacts on the fictional Kimura family. Uprooted from their home, re-housed in a barracks-like setting where they are treated like criminals, members of the family are torn further apart when father and son bitterly fall out over whether to pledge loyalty to a government that has stamped them as enemy aliens.
At the top, Takei plays an elderly retired soldier, Sam Kimura, who receives news of the death of his sibling, from whom he's been estranged for years. That prompts him to recall his youth as the son of a prosperous, widowed farmer (Scott Watanabe) in Salinas, California. Sammy (Ethan Le Phong) is his family's first college graduate, and dearly beloved by his elder sister Kei (Elena Wang).
The scenario darkens as the family and their neighbors are packed off to Wyoming's barbed-wired Heart Mountain Relocation Center. Eventually, Sammy joins the army and distinguishes himself in battle, while his future brother-in-law, Frankie (Eymard Cabling), angrily challenges the government and goes to prison. So does Sammy's dad for his defiant answers to the questionnaire. Father and son never reconcile.
Kuo's 26 songs are a euphonious mix of ballads, upbeat dance numbers (choreography, Rumi Oyama) with a terrific 1940s swing, and elegiac melodies. Despite the weighty theme, the show's pace is brisk, as the music sweeps the narrative to its poignant conclusion. The vocals, solo and ensemble, are strong across the board, with Le Phong's powerful lyric tenor soaring above others, especially in his rendering of the ethically-themed "What Makes A Man." A live 11-piece orchestra, under the musical direction of Marc Macalintal, lends superlative support throughout.
The non-musical aspects of the performances may not go deep, but like the story they're telling, they never ring false. Special kudos to Jordan Goodsell, who so effectively portrays every nasty white bully and bigot the targeted Japanese-Americans encounter.
JACCC's Aratani Theatre, 244 S. San Pedro Street, Los Angeles; Thurs.-Sat., 8 p.m.; Sat., 2 & 8 p.m.; Sun., 2 p.m.; no performance March 18; through April 1. AllegianceMusical.com.
---
Copyright Capital & Main

Two Cousins and a Magical Ice Cream Truck Figure in Leon Martell's New Play
Although not all of ICE's comedy clicks, Martell's story has both weight and charm. The production's overriding plus is its successful rendering, fashioned with humor and craft, of the difficulties immigrants face.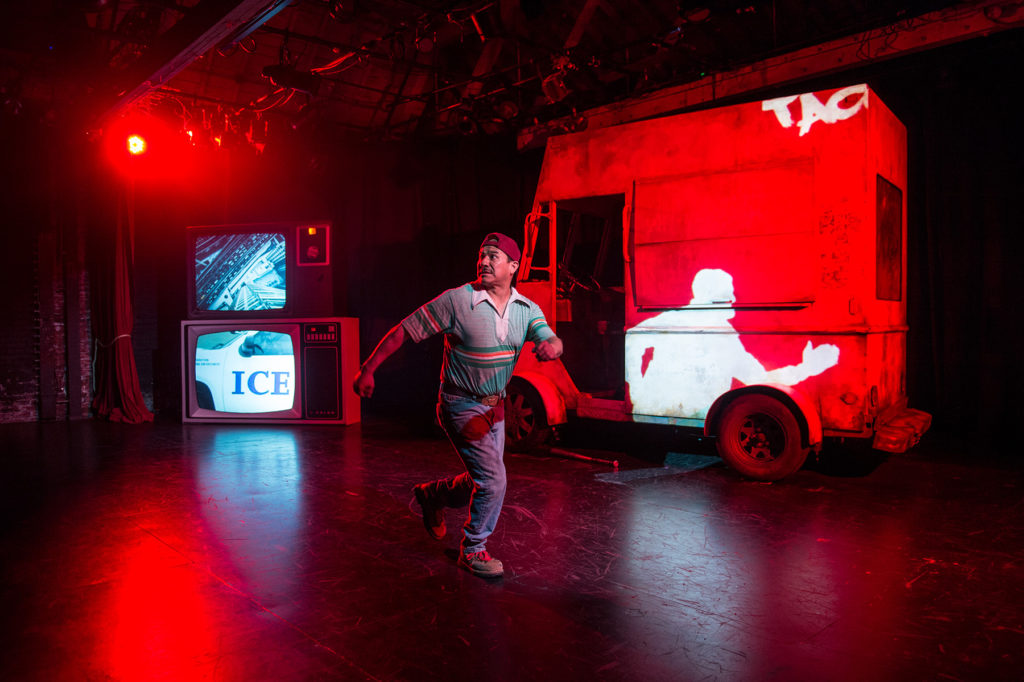 ICE, Leon Martell's family friendly play, takes place in 1988 and follows the misadventures of two undocumented immigrants: Chepe (Jesús Castaños-Chima), an avid baseball fan who dreams of making a fortune selling gourmet tacos; and his cousin Nacho (Tony Dúran), whom the beleaguered Chepe summons from Mexico to assist him in setting up his business. Directed by Debbie Devine at 24th Street Theatre, the show displays plenty of heart, not all of it realized in this premiere production. Despite this, there's enough political relevancy, moral truth and human comedy packed into the show's 65-minute time frame to overlook its shortcomings.
The core of the humor is the difference in personality between the two cousins. The ambitious Chepe is bitter and frustrated about his experience in America, where he's been cheated and lied to by bosses who exploit his labor and pay him next to nothing. Yet he's bought into the American Dream of money and fame, and to achieve that he's purchased a dilapidated old ice cream van to convert into a taco truck. It doesn't run, though, and the secret family salsa recipe is with his kin in Mexico. So, he phones home and implores his mechanic cousin to head north, bringing the salsa recipe as well as his skills.
Cousin Nacho, by contrast, is a sweet old-fashioned guy. He wants success too, but making money isn't the only thing he thinks about. He juggles tomatoes to make kids laugh and indignantly admonishes Chepe for his desperate inclination to do what it takes (steal tomatoes, for example) to score success.
Into the mix Martell tosses a blind, disgruntled priest (Davitt Felder), who plays guitar and wants to launch English classes for children in his parish (the archdiocese turns him down). Then there's Chepe's truck, which has opinions of its own. It breaks out in jingles at random intervals; later, it communicates with Nacho via blinking red letters that eerily appear on the side of the vehicle, furnishing the two men with simple directives and essential advice. When ICE (Immigration and Customs Enforcement) shows up, it alerts them to run.
Although not all of the comedy clicks, Martell's story has both weight and charm. The production's overriding plus is its successful rendering, fashioned with humor and craft, of the difficulties immigrants face. Its main weakness is Castaños-Chima's technically skilled but somewhat chilly depiction of his character, which leaves us wishing for more warmth and complexity. Felder appears awkward in his role of the blind priest, but proves versatile on video as Chepe's various nemeses. Dúran's naïve Nacho is a lovable presence from first to last.
Displayed on a monitor, Matthew G. Hill's video slides add historical and social perspective, and his backwall projections, in tandem with Dan Weingarten's lighting and Chris Moscatiello's sound, help conjure a magical aura to this parabolic piece.
24th Street Theatre, 1117 West 24th St., Los Angeles; Sat., 3 & 7:30 p.m.; Sun., 3 p.m.; through June 10, (213) 745-6516 or 24thstreet.org.
---
Copyright Capital & Main