Last month two of L.A.'s richest men decided they needed to defend their wealth in a Los Angeles Times opinion piece. The headline read: "It Isn't a Sin to Be Rich."
Of course it isn't. No one has said it was a sin to be rich in a very long time. After all, rich is a state of being. It's greed that makes the list of cardinal sins.
Naturally, social critics and political figures have spoken about the shrinking middle class. They've talked about the social instability caused by the exponential growth of wealth and the relatively shrinking resources of the working poor. Even film makers have produced documentaries describing a few people's wealth growing so exorbitantly that it virtually pauperizes the rest of us. So apparently the two rich guys felt the sting and decided they needed to defend their class.
Which reminded me of words attributed to Gandhi: First they ignore you, then they ridicule you, then they fight you and then you win.
So when activists first began calling for raising the minimum wage to a living wage, people in power ignored them. When Occupy set up camp in New York and other cities around the country, they were roundly ridiculed. The media took it as some sort of youth tantrum imported from the 1960s. But now speaking about the one percent is part of mainstream discussion.
The gap between the rich and the rest of us has become such a prominent issue that not only local wealthy civic leaders feel the need to fight back, so do corporations from McDonald's to Walmart. These corporate citizens used the holidays to tell their employees how to get by on low wages by accessing government programs like food stamps and health care. Meanwhile they keep workers fearful, on edge and off balance. Part-timers don't get consistent schedules. Benefits disappear. Activists among the work force with spotless records suddenly get written up for minor infractions. People get laid off.
But then, says Gandhi, we win. Sounds like pie in the sky, but, apparently, winning is actually around the corner. An activist analysis called MAP – Movement Action Plan – developed by American activist Bill Moyer, confirms this scenario. Moyer (not the PBS host) began to study the problem after meeting with a group of depressed anti-nuclear energy activists several decades ago. They had just won a major victory that virtually ended the development of new nuclear plants in this country, but instead of celebrating, they were sinking into despair. He wanted to know why, and here's the pattern he developed by studying several historic movements.
At first, an issue attracts only a few activists, some of whom engage in public actions that dramatize their concern. The actions draw a core of people dedicated to turning contentment into dissatisfaction. Then, as the general public becomes more aware, conditions shift, and more people join the demand for change — what Moyer labels "Take Off." After some time, the call becomes so pervasive that government officials and corporate executives must take note.
When people at the top of the power pyramid respond – first to ridicule, then to defend, then to attack – the ground moves. If the activist community stays the course, and if more of the general public climbs aboard, those in positions to make policy begin to address the problem. As that occurs the issue moves into the mainstream. The status quo cannot hold, and we win.
Yes, it is a long process. In the course of a struggle for justice – whether about nuclear energy or racism or global climate change or livable wages – many activists grow weary and discouraged. Often they abandon the cause — a reasonable response when faced with ridicule and harsh antagonism over an extended period of time. But when social-change advocates understand opposition as a sign of their effectiveness, they can take it as encouragement and keep going, knowing success will likely arrive shortly.
I've found both Gandhi's words and Moyer's concept helpful over the years. They sustain me and keep me balanced. They give me a perspective of hope for the long haul.
(Photo: moi 84/Wikimedia)

What the NLRB's About-Face on McDonald's Means for Franchise Workers
While the National Labor Relations Board is currently divided 2-2, the confirmation of another Trump appointee will restore the Republican majority — which is bad news for fast-food-chain workers.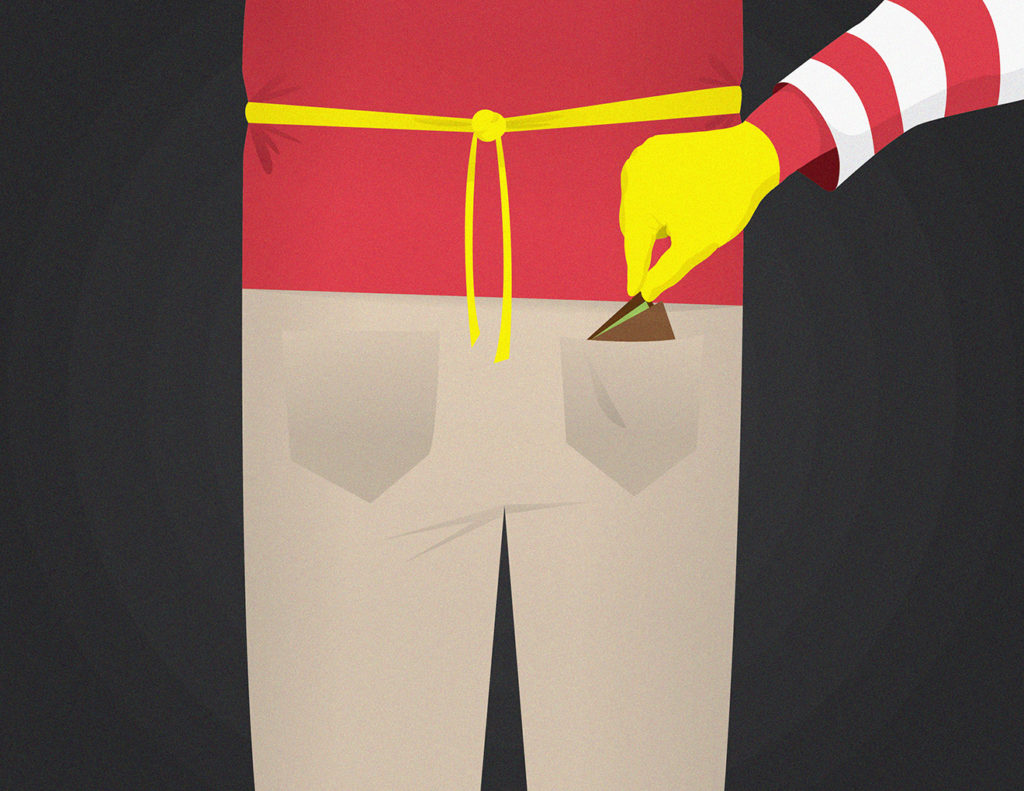 ---
With Donald Trump's election, the momentum at the NLRB is now with employers.
---
Workers at McDonald's joined the union-backed Fight for $15 campaign because many found that they could not get by on minimum wage without the help of family and public assistance. But joining that campaign spurred retaliation, with dozens of employees alleging that they lost money or their job for organizing to get better pay.
Enter the U.S. National Labor Relations Board.
In a victory for workers, the board decided the McDonald's Corporation was jointly responsible for punitive actions against employees across the country because the company dictates, among other things, how those employees cook and clean. That 2015 decision, in a case called Browning-Ferris, established a broad definition of "joint employer." It made franchisors potentially liable for the actions of individual franchises, citing the "indirect" control they exercised over employees and their workplaces. And it meant fast-food chains, among others, would have to collectively bargain with employees who joined a union.
Donald Trump was elected president the next year. By December 2017, the NLRB was back on the side of business with respect to who is and who is not a joint employer, the board overturning with a 3-2 vote the "indirect control" standard of Browning-Ferris.
Then a Republican member of the board retired, evenly dividing the NLRB along partisan lines. The board's inspector general then issued a report in February 2018 saying the December decision never should have been made — that, in particular, a Trump appointee should have recused himself due to a conflict of interest. The decision was thrown out, with congressional Democrats, such as Massachusetts Senator Elizabeth Warren, calling for hearings.
By that point, however, the NLRB had already ordered its lawyers to retreat in the most visible battle over the "indirect" joint-employer standard.
When an administrative trial began back in 2016, the NLRB had said McDonald's was jointly responsible for alleged labor violations at its franchises, including reduced hours, surveillance and wrongful termination of employees who had been organizing for better pay.
"If McDonald's is involved in determining working conditions at its franchised operations, it is responsible for what happens to workers subject to those conditions," NLRB lawyer Jamie Rucker said at the time.
But the NLRB sought and won a 60-day suspension of that trial earlier this year. Lawyers representing the Fight for $15 movement and its allies say the NLRB is now rushing through a proposed settlement that would see McDonald's get off without a finding of joint liability — which won't make it any easier for low-wage workers to collectively bargain.
"What I see is an attack on workers' ability to form a union," said attorney Marni von Wilpert of the progressive Economic Policy Institute (EPI). "If you were able to find a joint-employment relationship with the corporate [franchisor], then all of a sudden they all have one big employer, and all the employees can go to corporate McDonald's. That's really what it's all about, whether workers can organize."
Under the proposed settlement, McDonald's admits no wrongdoing, but its franchisees agree to cover back pay for workers fired as a result of their organizing.
The NLRB "is proposing a sham settlement," said Mary Joyce Carlson, a lawyer representing Fight for $15. "McDonald's directed a wave of retaliation that stretched from coast to coast and included illegally harassing, surveilling and firing workers in the Fight for $15. The hardworking cooks and cashiers who were organizing to get off of food stamps and out of poverty deserve a ruling in their case, not a settlement hammered out at the last minute in collusion with the Trump administration."
With Trump's election, the momentum at the NLRB is now with employers. Any setbacks would appear to be temporary: while divided 2-2 for now, the confirmation of another Trump appointee will restore the Republican majority. Once that happens, the NLRB can be expected to seek another opportunity to overturn the Browning-Ferris joint employer standard.
While Browning-Ferris did not explicitly pertain to the franchise model, it clearly spooked those who depend on it — and inspired those who think franchisors like McDonald's should be liable for the mistreatment of employees at locations bearing its name.
Fight for $15 has prioritized organizing at fast-food businesses, but forming unions is extremely difficult when a dozen small restaurants with the same name may have a dozen different owners. There are over 14,000 McDonald's restaurants in the United States, with only one in 10 owned by the corporation. The ability to collectively bargain with McDonald's, the corporate franchisor, would make a union's task easier — and help address the sort of labor violations that regulators routinely find at fast-food franchises. An EPI report says unionized workers are half as likely to be victims of wage theft, for example.
At an April 5 hearing, Fight for $15 attorney Kathy Krieger urged NLRB Administrative Law Judge Lauren Esposito to reject the settlement. Krieger argued that McDonald's had conspired with its franchises to thwart worker organizing, the corporation recommending, she said, that franchisees "restrict crew members from taking their meals or their rest breaks outside the crew room" as a means "to prevent concerted activity."
McDonald's attorney Willis Goldsmith said the company would never accept a settlement identifying it as a joint employer. "The franchisees, they're independent business people," he said. "They did whatever they did, and if they are willing to concede that, they're going to have to pay people. It's not our job."
While it appears the NLRB under Trump will ultimately reimpose the stricter, pre-Browning-Ferris standard that a joint employer must have direct rather than indirect control of workers, industry groups aren't taking any chances.
Jenna Weisbord, a communications manager at the International Franchise Association to which McDonald's belongs, said her group is looking to Congress to pass the "Save Local Business Act," which would legislatively reimpose the pre-Browning-Ferris standard. "We understand the Senate will take on this task later this year," she said of the bill, which passed the House last year.
A television ad campaign sponsored last year by the franchise association and the U.S. Chamber of Commerce argues the measure would restore "balance to labor law" in the face of a "runaway government agency." That agency, in the era of Trump, is increasingly tilting in the favor of business.
---
Copyright Capital & Main