Reactions to High Court's Voting Rights Act Ruling
Reactions to the Supreme Court's ruling Tuesday that halts the use of a key provision in the landmark Voting Rights Act (VRA) included disappointment, motivation to continue community organizing and a sense that it was fair.
The Associated Press and Equal Voice News collected comments from elected officials and community leaders, who work directly on voter engagement issues and in key states affected by the Supreme Court's decision.
President Barack Obama:
"I am deeply disappointed with the Supreme Court's decision today… Today's decision invalidating one of its core provisions upsets decades of well-established practices that help make sure voting is fair, especially in places where discrimination has been historically prevalent."
Scott Douglas, executive director of Greater Birmingham Ministries in Alabama:
"Our deepest concern is that if a state like ours had the gall to pass voter suppression and racially-discriminatory laws under the scrutiny of Section 5 of the VRA, what in the world will they attempt having been granted a free pass by the Supreme Court?
While we are disappointed in the Supreme Court, we are not deterred. Our ongoing struggles for a fully inclusive, fully participatory and fully just democracy in the communities and the state we love. This decision only deepens our resolve to work together to amplify the voices of Alabama's families."
Mississippi House Elections Committee Chairman Bill Denny:
"I've always felt that it was unconstitutional… I would've agreed in 1965 that something had to be done, but it should've been done to all 50 states. I just always felt that was wrong, that was a violation of the 10th Amendment to begin with, of states' rights."
Democratic Leader Nancy Pelosi, D-Calif.:
"This decision weakens the cause of voting rights in our time, disregards the challenges of discrimination still facing our country, and undermines our nation's ongoing effort to protect the promise of equality in our laws."
Florida Secretary of State Ken Detzner:
"We're free and clear to follow through with our law now without any restriction by the Justice Department… Last year I think we spent over a half a million dollars defending our pre-clearance cases. That cost will be eliminated in the future as a result of this opinion."
Gihan Perera, executive director of Florida New Majority: 
"The fact that Florida's top elections official, Secretary of State Ken Detzner is elated at this decision should give us all reason to pause… Yet if it wasn't for that same Department of Justice, Florida's disastrous HB 1355 would have been allowed to limit the voting rights of ALL residents in Collier, Hardee, Hillsborough, Hendry and Monroe counties. There would have been no recourse for these voters against the rules pass[ed] in 2011 that looked to reduce early voting hours and make registration more difficult.
…Ultimately, democracy is not determined by five men in black robes sitting high in Washington, D.C. It is determined and protected by a movement of free people. So we look forward to using this step backward as a moment to hold our leaders accountable."
Rep. Jeff Duncan, R-S.C.:
"Today's Supreme Court's ruling invalidating the preclearance requirements contained within the Voting Rights Act is a win for fairness, South Carolina, and the rule of law… The court's ruling will hopefully end the practice of treating states differently and recognizes that we live in 2013, not the 1960′s."
Brendan Walsh, executive director of Central Arizonans for a Sustainable Economy:
"The decision is very disappointing. Throughout this country's history, poor people and people of color have been denied the right to vote, ensuring an increasing income and power gap in the United States. Our conservative Supreme Court has issued their decision on the Voting Rights act at a time when Latino voting participation promises to transform our country's politics. We in the progressive movement need to keep fighting to make the promise of full political participation in the United States a reality. Only by doing this can we make sure that our families—all our families—are able to live their lives with the dignity they deserve."
Rea Carey, executive director of the National Gay and Lesbian Task Force:
"Discrimination at the ballot box is a real problem and causes real harm to our democracy. This ruling is a major step backwards in the ongoing fight for a truly free and fair democracy and democratic system."
Louisiana Secretary of State Tom Schedler:
"I've been saying for some time that I thought it was time for the Supreme Court to review it because the data was so stale, 50 years old. Things have changed."
James Harrington, director of the Texas Civil Rights Project: 
"The Supreme Court decision is a severe set-back for voting rights of minority folks in the south and southwest. It's as if the Court lacks a practical understanding of how the decades of voter suppression, dilution, and gerrymandering continued historical patterns of minority voter disenfranchisement and segregation. The Voting Rights Act opened a thousand doors to African American and Mexican American political leaders and infused power like never before into these communities. Today's decision pushed back those doors. It's a decision by five people who have no sense of this country's awful practices of keeping people from voting, a right for which many people gave their lives and suffered immensely."
Petra Falcon, executive director of Promise Arizona:
"To organizations like Promise Arizona in Action that work every day to empower traditionally disenfranchised Latino voters, the Supreme Court's decision to strike down Section 4B of the Voting Rights Act is a great disappointment, but also a call to action to work even harder against the seemingly daily barrage of attacks against our right to fully participate in our democracy. It is precisely because our community has begun to assert itself more forcefully at the polls that some in Arizona and across the country, especially in the Republican Party, are trying to stifle our voice. We won't let that happen."
Rev. Jesse Jackson, longtime civil rights leader and former presidential candidate:
"This is the most devastating blow to civil rights since the 1896 decision (Louisiana's "grandfather clauses")… It stabs the Voting Rights Act in the heart and seeks to destroy the infrastructure of … inclusion and expansion."
(This post first appeared on Equal Voice News and is republished with permission.)

Seven Restless GOP Districts Revisited
This week, in a run-up to the June 5 primary, we are re-highlighting our profiles of seven Republic congressional districts whose flipping would signal a fundamental groundswell against the Trump administration.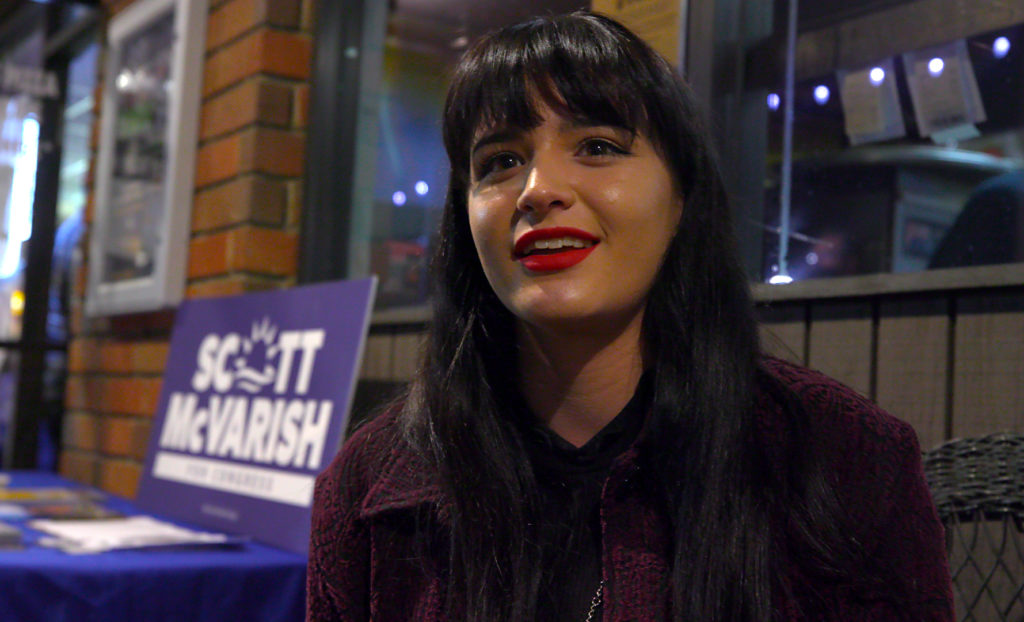 On February 1 Capital & Main launched its Blue State/Red District series profiling seven Republican-held congressional red districts — specifically, the challenges shaping their destinies and the policy rifts between the districts' representatives and their constituents. We began the series because, in 2016, seven of California's 14 Republican-held congressional districts returned all GOP incumbents to the House of Representatives, yet majorities in seven of those districts chose Hillary Clinton over Donald Trump for president. The districts were located in places long associated with rock-ribbed conservatism: The High Desert, Orange County, interior San Diego County and the Central Valley.
This week, in a run-up to the June 5 primary, we are rerunning these stories in the hope of returning attention to these key districts, whose flipping would signal a fundamental groundswell against the Trump administration and its policies.
---
CA 49 (Northern and Central San Diego County) — Kelly Candaele. Co-published by International Business Times.
CA 48 (Coastal Orange County) — Judith Lewis Mernit. Co-published by The American Prospect.
CA 10 (Central Valley) — Larry Buhl. Co-published by International Business Times.
CA 25 (High Desert) — Steve Appleford. Co-published by International Business Times.
CA 21 (San Joaquin Valley) — Larry Buhl.
CA 45 (Orange County) — Judith Lewis Mernit. Co-published by International Business Times.
CA 4 (The Gold Country) — Kelly  Candaele.
---
Copyright Capital & Main