Ray Bradbury: Good-bye, Rocket Man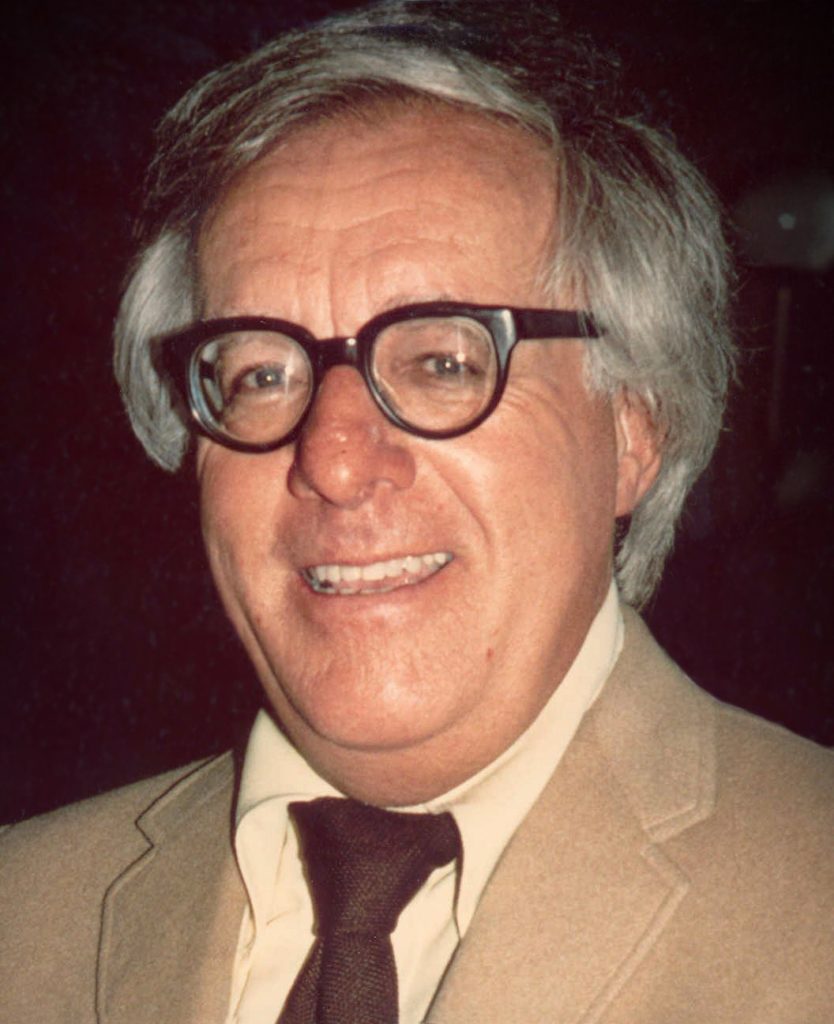 Much was made in Ray Bradbury's obits last week of his paradoxical nature: He was a science fiction writer who never drove a car or used a computer, a seer who looked to the past to describe the future. All of which was true – Bradbury was one of the few authors who could make a trip to the next century seem like a sentimental journey. The reason is that so much of his Tomorrowland was really mid-20th Century America dressed up in a space suit and relocated to Mars. The Midwestern front porch on a summer evening, lit by fireflies and the murmur of conversation, was as key to Bradbury's fictional worlds as rocket ships and robots.
In fact, Bradbury is too often typecast as a science fiction writer – after all, he wrote a number of plays for Los Angeles theater, along with the screenplay for John Huston's film Moby Dick and the narration for King of Kings. His few novels and most of his short story collections are probably best described as fantasy –  fantasies whose frequent moral twists made them social fables. Fahrenheit 451, for example, is a dystopic vision of the nearest of futures – a censorious world every bit like ours except that firemen happen to burn books instead of putting out fires. "The Other Foot,"  a 1951 short story with a lynching theme, takes place on a Mars populated with American Negroes, but it's really set in a place much closer to home.
I spoke to Bradbury a couple of times on the phone and was surprised to learn how humble a background he came from. A true child of the Great Depression, Bradbury sold afternoon newspapers on Olympic and Norton in Los Angeles, then spent part of his earnings attending meetings, at a downtown cafeteria, of the science fiction club he and his friends had founded.
"Dues were 10 cents a meeting," he told me in a 2004 interview for the L.A. Weekly. "It cost seven  cents to take the trolley car there, and Clifton's had wonderful dime malts — they were whole meals. We'd also eat cheese enchiladas."
His low-income upbringing would leave its mark on Bradbury, whose stories invariably spotlighted underdogs and outcasts. Not only did John Steinbeck's The Grapes of Wrath have a profound impact on the young fantasist, but Bradbury said he used this Dust Bowl novel to structure the short stories in his collection, The Martian Chronicles. Bradbury, an autodidact who graduated from Los Angeles High School in 1938, was no propagandist for any cause, however, and seemed pleased by his late-career credentials as a curmudgeonly Luddite who hated cell phones and the Internet.
He also seemed to relish a reputation as  the house male chauvinist whenever he appeared on television programs and, during one of our interviews, told me quite bluntly that the country was going to hell in a handbasket because of all the illegal aliens from Mexico – a country he described as "horrible." In fact, despite several short stories sympathetically portraying Mexicans and immigrants who were presumably legal, Bradbury traced his animosity to Mexico to a harrowing road trip he and a friend took south of the border after World War II. He would never return.
It's disheartening that an artist of Bradbury's stature harbored such repugnant views. And while there's no excusing it, Bradbury's anti-immigrant bigotry offers a sobering reminder that artists are only as human as the person sitting next to you on the bus, and that in some way our heroes will always let us down. Poets don't make their precarious livings as saints, but, like Bradbury, when they die they leave our lonely planet a little poorer.

'Skeleton Crew' Is a Play With a Moral Spine
Set in a Detroit automobile outfitting plant, Dominique Morisseau's drama grabs you from the start with its focus on blue-collar men and women, and their struggle for dignity and self-respect.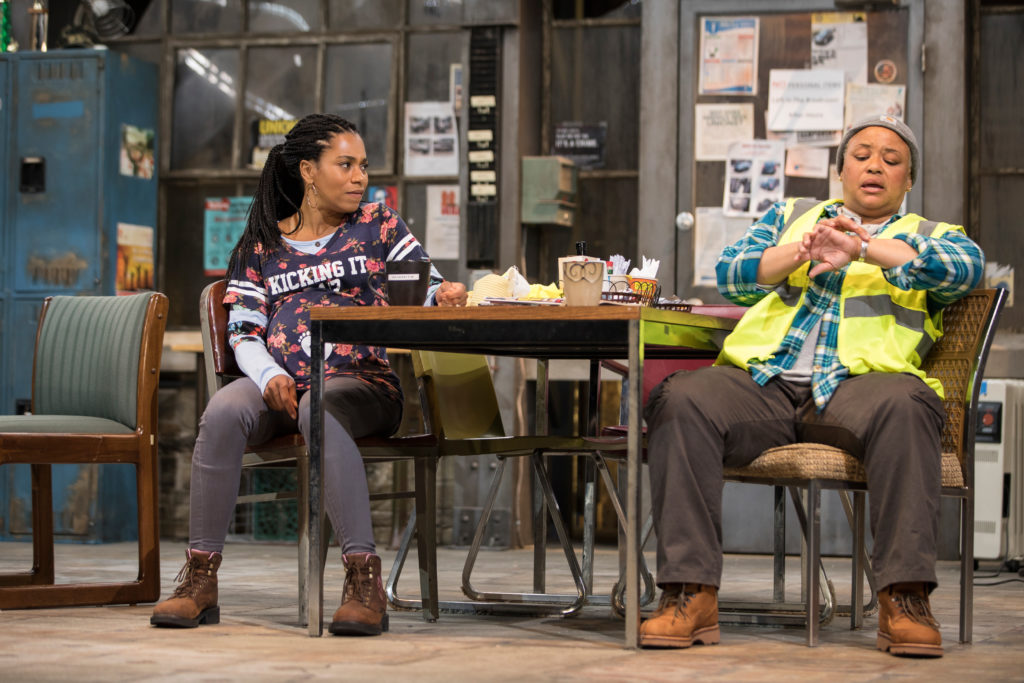 Working-class men and women of color are rarely front and center in today's media and, likewise, are presented all too occasionally on the American stage. So it's buoying to see that trend bucked in playwright Dominique Morisseau's percipient and well-crafted drama, Skeleton Crew. The play is the final installment in her Detroit  Project Trilogy; the first, Paradise Blue, is set in the 1940s amidst displacement caused by urban renewal and gentrification, while the second, Detroit '67, transpires on the eve of the 1967 Detroit riots sparked by a police action.
Directed by Patricia McGregor at Los Angeles' Geffen Playhouse, Skeleton Crew is a play with a moral spine. It takes place in 2008, when the shrinking U.S. auto industry is being further downsized. Morisseau's engaging quartet of characters — Faye (Caroline Stefanie Clay), Dez (Armari Cheatom), Shanita (Kelly McCreary) and Reggie (DB Woodside) – are employed at an automobile outfitting plant. Faye, Dez and Shanita are workers on the line while Reggie (who has a wife and kids, and has pulled himself together after a troubled youth) is their supervisor.
The first three customarily mingle in their break room (designer Rachel Myers' impressively cluttered, dingy and detailed set), trading the sort of familiar barbs and genuine concern for each other common among longtime co-workers. They also face off on philosophy: Upper-middle-aged Faye and the younger, pregnant Shanita take pride in their labor, while Dez, though a good worker, is a malcontent scornful of management and firm in the belief that everyone needs to watch out for himself. He's a thorn in Reggie's side, for while Reggie wants to be supportive of his workers, he must act at the behest of higher management. For his part, Dez resents Reggie's authority, and a palpable unease exists between them.
Besides this male matchup, we're made privy to Dez's attraction to Shanita, who mostly turns away his advances, but every now and then displays a hint of interest. Most poignant is Reggie's regard and affection for the lesbian Faye, which has roots in his boyhood when she loved, and lived, with his now-deceased mom.
These people's various predicaments intensify when rumors spread of the plant's shutdown — a disaster for all, but a particular calamity for the already near-broke Faye who, one year short of retirement, would lose her pension. The crisis forces each of these people to make a choice.
A sound piece of social realism, Skeleton Crew grabs you from the start in its focus on blue-collar men and women, and their struggle against odds for dignity and self-respect. Morisseau not only furnishes these characters a platform for their travails, she endows them with strong values, big hearts and the opportunity to choose between right and wrong.
Unfortunately, the performance I attended did not soar. Many exchanges lacked a fresh edge. The actors certainly had their characters down, but too often they appeared to be coasting on technique. (This seemed particularly true of Clay, who performed the role to great accolades in Washington, DC in 2017, also under McGregor's direction). Additionally, some of the stage movement was not entirely fluid; in confrontations, actors sometimes would just stand and face each other in an artificial way. And Cheatom's interpretation of Dez struck me as a bit overly churlish and depressive: I needed more glimpses of the intelligence and edge that would secretly attract the strong, self-directed Shanita.
The most compelling moments belong to Woodside, well-cast as a man trying his best in difficult circumstances to do the right thing.
---
Gil Cates Theater at the Geffen Playhouse, 10886 Le Conte Ave., Westwood Village; Tues.-Fri., 8 p.m.; Sat., 3 & 8 p.m. Sun., 2 & 7 p.m.; through July 8. (310) 208-5454 or www.geffenplayhouse.org