Randy Shaw: An Activist's Story
Randy Shaw does not fit the rabble-rouser profile. An upper-middle-class native of West Los Angeles, he came to San Francisco in 1979 to enroll in the city's prestigious Hastings Law School, whose downtown campus is part of the University of California, Berkeley. There, however, he discovered that his school had for years been expanding by swallowing up residential hotels catering to low-income residents in the adjacent Tenderloin district.
"It used to be," Shaw remembers, "that if you wanted to evict someone in the Tenderloin you'd throw them down a flight of stairs. Then it became more civilized: You'd just threaten to throw them down a flight of stairs." In 1980 he co-founded the Tenderloin Housing Clinic as a legal aid resource for neighborhood residents. But it soon grew into an aggressive grassroots organization battling developers who wanted to replace much of the Tenderloin with luxury tourist hotels. From there the group found itself in the forefront of affordable housing campaigns.
In 1996 Shaw published  The Activist's Handbook, which he has now completely revised and subtitled, Winning Social Change in the 21st Century. It's a remarkable, unsentimental record of modern Bay Area politics and causes, yet hardly belongs to a niche readership. San Francisco, the maritime city of earthquake and general strike, has long been a progressive experiment but, like most other American cities, is home to powerful real estate and development interests. The fights against these forces have, during the decades, included bitter urban renewal battles over the city's African American Fillmore District and a protracted effort to save the International Hotel for fixed-income seniors living in Manilatown.
Shaw's activism falls into that timeline of struggle and, in The Activist's Handbook, his experiences give him unique perspectives on the national Occupy movement, immigration reform, gay marriage and student activism. His new edition also closely examines the role of the Internet and social media in community organizing. From a very local milieu he is able to draw conclusions about the dynamics of coalitions that apply to just about anywhere.
It's clear from his book that a defining moment in Shaw's life came after helping elect liberal state Assemblyman Art Agnos to the mayor's office in 1987 – only to see Agnos renege on his promises to the city's rent-control movement.
"That was a real transformative experience for me," Shaw says in an interview. "It showed me how manipulative politicians could be toward grassroots activists and how grassroots activists allow themselves to be manipulated by their 'friends.'"
That lesson hovers over what might be seen as the book's prime directive: Hold elected officials accountable – especially the ones you worked to put in office. Shaw calls this the Fear and Loathing strategy – to make even friendly allies in office so fear your group's retaliation if they don't deliver on campaign promises that they ultimately loath you.
"The farm workers had no illusions," says Shaw, who has also written a history of the United Farm Workers union. "Cesar Chavez had a great relationship with Jerry Brown but he was in a protest movement and could do whatever he wanted. The farm workers were very close to politicians but they made sure they held them accountable."
Shaw's book tries to vaccinate readers against the chumminess that often develops between activists and the politicians and other rainmakers they believe share their agenda – but he also appreciates its attraction.
"In San Francisco the average activist can meet the mayor all the time," he says. "You go to events and the mayor's there – you can go up and talk to him. If the mayor of the city knows your first name and chats you up and is calling you out at meetings and praising you – do you want to give that up by holding him accountable?"
Shaw also admits that activists are often their own worst enemies – particularly progressives who pass up the chance to build winning coalitions because, he says, they "only want to work with people they agree with 95 percent of the time."
Like many activists who have been burned by the news media, Shaw maintains an extra arms-length distance with the press, whose Internet-depleted ranks have radically altered the approaches to news-gathering.
"It used to be the reporters of San Francisco would call me up and ask if there were stories out there. Now very few reporters pick their stories. When you get a call from a reporter, their editor has told them to do a story and here's the angle they're supposed to write. If your words do not comply with what they want to hear, you're not quoted. They're using you, you're not using them."
One of the reasons Shaw began his Beyond Chron news blog in 2004 was to counter the cynical indolence of the San Francisco Chronicle, his town's paper of record.
"Matier and Ross are probably the most-read feature in the Chronicle," he says, referring to the paper's leading political writers, Phillip Matier and Andrew Ross. "Ninety-five percent of the cynicism they create in their column is [directed] toward government. It's always about 'overpaid workers,' some boondoggle contract, something that didn't get fixed on time. But never a negative word about corporations."
Well, not quite:
"When there is a private sector issue," Shaw continues, "it's always about an individual – Tom Smith is in trouble for this – not Chevron Corporation. It creates the impression that government is always screwing up, doing bad things. And [this helps] get people to favor restricting public employee pensions ."
Despite his hard-earned distrusts and skepticism, Shaw never loses sight of what drew him into grassroots organizing for the long haul. Nor does he hesitate when asked advice for young agitators contemplating a life of activism.
"It really has to be fun," he says. "I have a great time here. The people I've known who are activists really enjoy it. If it's not fun it's hard to sustain anything."

'Skeleton Crew' Is a Play With a Moral Spine
Set in a Detroit automobile outfitting plant, Dominique Morisseau's drama grabs you from the start with its focus on blue-collar men and women, and their struggle for dignity and self-respect.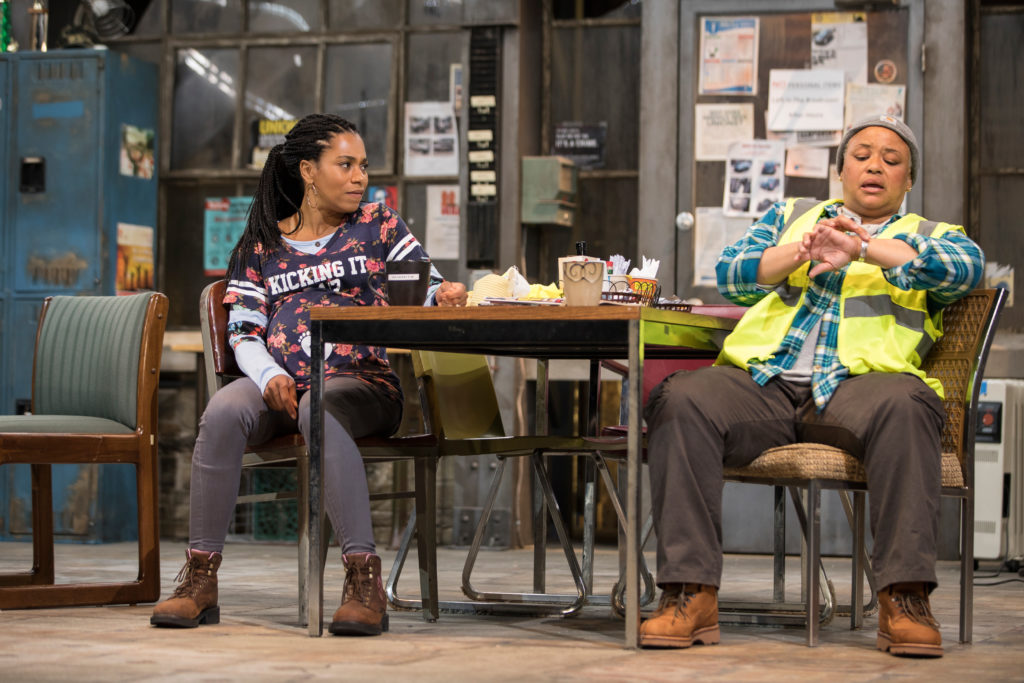 Working-class men and women of color are rarely front and center in today's media and, likewise, are presented all too occasionally on the American stage. So it's buoying to see that trend bucked in playwright Dominique Morisseau's percipient and well-crafted drama, Skeleton Crew. The play is the final installment in her Detroit  Project Trilogy; the first, Paradise Blue, is set in the 1940s amidst displacement caused by urban renewal and gentrification, while the second, Detroit '67, transpires on the eve of the 1967 Detroit riots sparked by a police action.
Directed by Patricia McGregor at Los Angeles' Geffen Playhouse, Skeleton Crew is a play with a moral spine. It takes place in 2008, when the shrinking U.S. auto industry is being further downsized. Morisseau's engaging quartet of characters — Faye (Caroline Stefanie Clay), Dez (Armari Cheatom), Shanita (Kelly McCreary) and Reggie (DB Woodside) – are employed at an automobile outfitting plant. Faye, Dez and Shanita are workers on the line while Reggie (who has a wife and kids, and has pulled himself together after a troubled youth) is their supervisor.
The first three customarily mingle in their break room (designer Rachel Myers' impressively cluttered, dingy and detailed set), trading the sort of familiar barbs and genuine concern for each other common among longtime co-workers. They also face off on philosophy: Upper-middle-aged Faye and the younger, pregnant Shanita take pride in their labor, while Dez, though a good worker, is a malcontent scornful of management and firm in the belief that everyone needs to watch out for himself. He's a thorn in Reggie's side, for while Reggie wants to be supportive of his workers, he must act at the behest of higher management. For his part, Dez resents Reggie's authority, and a palpable unease exists between them.
Besides this male matchup, we're made privy to Dez's attraction to Shanita, who mostly turns away his advances, but every now and then displays a hint of interest. Most poignant is Reggie's regard and affection for the lesbian Faye, which has roots in his boyhood when she loved, and lived, with his now-deceased mom.
These people's various predicaments intensify when rumors spread of the plant's shutdown — a disaster for all, but a particular calamity for the already near-broke Faye who, one year short of retirement, would lose her pension. The crisis forces each of these people to make a choice.
A sound piece of social realism, Skeleton Crew grabs you from the start in its focus on blue-collar men and women, and their struggle against odds for dignity and self-respect. Morisseau not only furnishes these characters a platform for their travails, she endows them with strong values, big hearts and the opportunity to choose between right and wrong.
Unfortunately, the performance I attended did not soar. Many exchanges lacked a fresh edge. The actors certainly had their characters down, but too often they appeared to be coasting on technique. (This seemed particularly true of Clay, who performed the role to great accolades in Washington, DC in 2017, also under McGregor's direction). Additionally, some of the stage movement was not entirely fluid; in confrontations, actors sometimes would just stand and face each other in an artificial way. And Cheatom's interpretation of Dez struck me as a bit overly churlish and depressive: I needed more glimpses of the intelligence and edge that would secretly attract the strong, self-directed Shanita.
The most compelling moments belong to Woodside, well-cast as a man trying his best in difficult circumstances to do the right thing.
---
Gil Cates Theater at the Geffen Playhouse, 10886 Le Conte Ave., Westwood Village; Tues.-Fri., 8 p.m.; Sat., 3 & 8 p.m. Sun., 2 & 7 p.m.; through July 8. (310) 208-5454 or www.geffenplayhouse.org