Proposition 47: Winning One Door at a Time
Tiesha Speights
"A lot of people want to make changes but they don't know where to go," said Tiesha Speights on the afternoon of Election Day. So Tiesha went to the people, knocking on doors in Long Beach on behalf of Proposition 47, the California ballot initiative written to reduce the penalties for low-level crimes that involve less than $950, from felony levels to misdemeanors. Speights had been hustling block-by-block for the "Yes on 47" campaign for three weeks.  Her work and the canvassing efforts of countless others paid off – Prop. 47 would pass handily Tuesday by a 58.5 percent to 41.5 percent margin.
Speights deeply connected with the measure, which permits re-sentencing for those currently serving a prison term for any of the offenses that the initiative reduces to misdemeanors, including forgery, theft, minor drug offenses and shoplifting. Some 10,000 inmates would be eligible to have their sentences reconsidered.
That means fewer people filling up California's packed prisons. The savings from reduced incarceration will be put toward re-entry support for those leaving prison, toward substance abuse and mental health programs, and for support for crime victims.
Speights, who has a two-year-old daughter and now works for LA Metro ("I have to get up at 4 a.m. so please don't call too late," she apologetically told a reporter) had been arrested on a misdemeanor charge for lifting a package of bacon. "It was for my family," she said.
"Crimes of poverty," agreed her precinct-walking partner, Raymond Graham Sr., a man in his mid-30s who has been in and out of prison five times: "Stealing food, stealing clothes for the baby." He describes the cycle—no jobs available, the petty thefts needed to get by, prison time and a record that makes it tough to get a job. "Once you get in, it's hard to get out."
He has five children—and a partner who is incarcerated. Prop. 47 could mean "their mother would probably be home sooner — that way he can have his mother," Graham says of his son. He has worked for the past year as a community organizer with Helpline Youth Counseling at Dr. Martin Luther King Jr. Park in Central Long Beach.
Graham, who plans to run for office in Long Beach's District 6 where he grew up, seemed to know all the passersby on 10th Street near Cherry Avenue. Skateboarders and pedestrians nodded and waved as they went by.
Speights bounded through gates and knocked on doors armored with wrought-iron and heavy screens. She left  campaign "hangers" to remind residents that it was Election Day, then noted the transaction on a sheet attached to a clipboard—she and Graham would circle back later as the 8 o'clock voting deadline approached.
The two canvassers were part of a team of paid staff and volunteers organized by Long Beach Rising, a coalition of 20-plus organizations anchored by the Los Angeles Alliance for a New Economy (LAANE), which also sponsors Capital & Main.
Long Beach Rising came together to pass Measure N in 2012. That living wage initiative requires Long Beach hotels with 100-plus rooms to pay hotel workers a minimum of $13 an hour. Tourism is a robust part of the Long Beach economy.
"Since Measure N passed more groups are willing to do door-to-door work," said Jeannine Pearce, director of LAANE's Long Beach Hospitality Project, which led the Measure N campaign. "Measure N changed the culture in Long Beach."
The Long Beach Yes on 47 campaign knocked on 3,500 doors—most in low-income African-American and Latino neighborhoods where voter participation tends to be low—but some 20 percent in more affluent areas with voters with more of a propensity to get to the polls.  "They need to get the Prop. 47 message," said Pearce.
The campaign was part of a statewide effort organized by California Calls, an alliance of local organizations in 14 counties that targeted voters who were unlikely to get to the polls—young people, new voters, immigrants and those typically overlooked by polling. California Calls identified more than 200,000 "yes" votes for Prop. 47.
As the sun began sinking over 10th Street, Graham and Speights re-checked their lists and doubled back.  Graham knocked on a door with a heavy gate—impossible to see in. The resident swung it open. Graham made his pitch, explaining how critical it was for Long Beach voters to get out in support of Prop. 47.
It was a relaxed back-and-forth. The voter was receptive. But "I'm just one n—–," the man said in an easy tone.
"You're just one brother," Graham responded with a smile.  He checked his clipboard. They would be back later to make sure that just one vote got to the polls. By 8 o'clock nearly three million votes had put Prop. 47 over the top.
---
(Photos by Bobbi Murray)

Seven Restless GOP Districts Revisited
This week, in a run-up to the June 5 primary, we are re-highlighting our profiles of seven Republic congressional districts whose flipping would signal a fundamental groundswell against the Trump administration.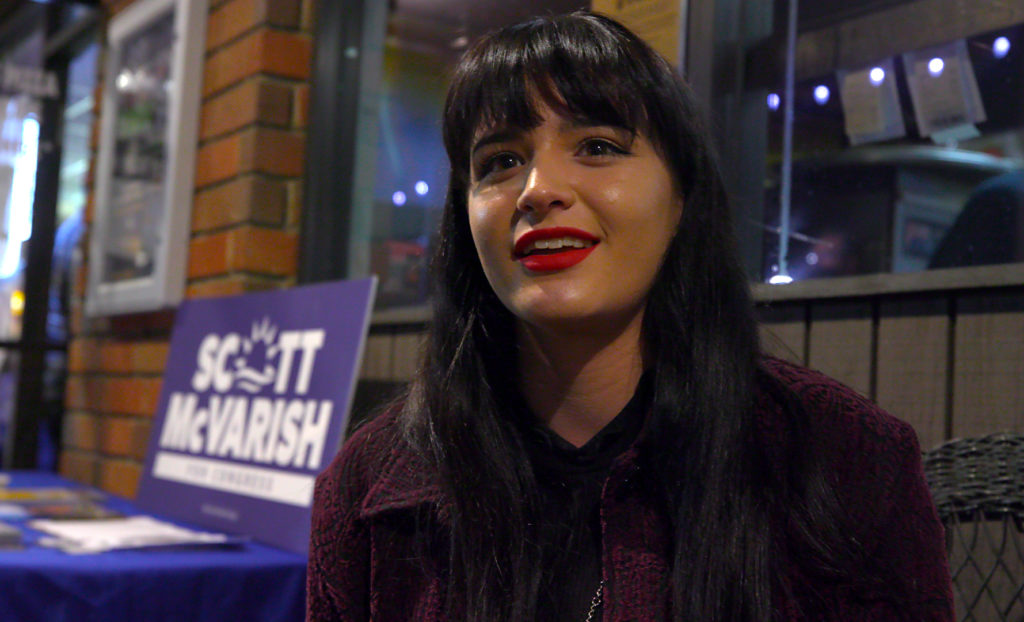 On February 1 Capital & Main launched its Blue State/Red District series profiling seven Republican-held congressional red districts — specifically, the challenges shaping their destinies and the policy rifts between the districts' representatives and their constituents. We began the series because, in 2016, seven of California's 14 Republican-held congressional districts returned all GOP incumbents to the House of Representatives, yet majorities in seven of those districts chose Hillary Clinton over Donald Trump for president. The districts were located in places long associated with rock-ribbed conservatism: The High Desert, Orange County, interior San Diego County and the Central Valley.
This week, in a run-up to the June 5 primary, we are rerunning these stories in the hope of returning attention to these key districts, whose flipping would signal a fundamental groundswell against the Trump administration and its policies.
---
CA 49 (Northern and Central San Diego County) — Kelly Candaele. Co-published by International Business Times.
CA 48 (Coastal Orange County) — Judith Lewis Mernit. Co-published by The American Prospect.
CA 10 (Central Valley) — Larry Buhl. Co-published by International Business Times.
CA 25 (High Desert) — Steve Appleford. Co-published by International Business Times.
CA 21 (San Joaquin Valley) — Larry Buhl.
CA 45 (Orange County) — Judith Lewis Mernit. Co-published by International Business Times.
CA 4 (The Gold Country) — Kelly  Candaele.
---
Copyright Capital & Main