Proposed State-Run STEM School Raises Questions, Suspicions
There are well over a hundred specialized STEM schools and programs in the Los Angeles Unified School District. So why are a handful of California politicians pushing to create a state-run STEM school in L.A.?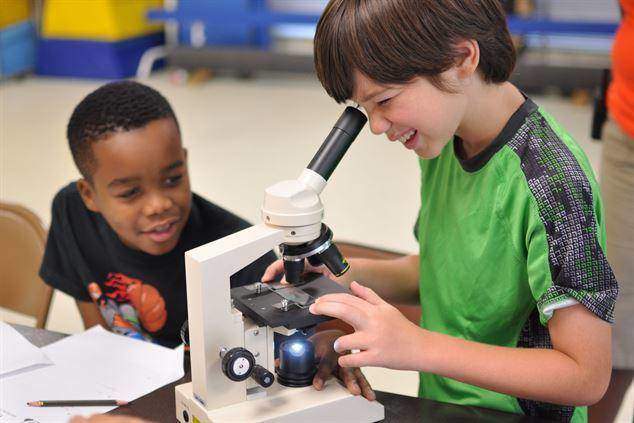 Copyright Capital & Main
---
A hastily revised bill introduced in Sacramento last month is attempting to address the state's STEM crisis by adding a single new privatized state STEM school to California's already contentious K-12 landscape. The plan to create an 800-student "State School for Instruction in Science, Technology, Engineering, and Mathematics (STEM)" that would serve grades six through 12, and be located somewhere within Los Angeles County, has met heated resistance from public school advocates.
Part of their concern lies in just how much the proposed new breed of state STEM schools resembles charter schools, which are privately managed but taxpayer-funded. School districts have long contended that charters siphon off their higher achieving students while leaving the districts with less money to teach a larger percentage of far-needier kids.
Authored by Assemblymember Raul Bocanegra (D-San Fernando), Assembly Bill 1217 stipulates that the new STEM school would operate similarly. It would be managed by a private non-profit corporation and get its funding from the same combination of private philanthropy and the state ADA (average daily attendance) money that would follow its 800 students, probably from Los Angeles Unified School District (LAUSD). (Boganegra has said he'd like to see the school located in downtown L.A.) For a district that is already the largest charter school authorizer in the nation and is still gun-shy after recently fending off a takeover attempt by billionaire school choice philanthropist Eli Broad, any scheme that promises further stratification is an existential threat.
The bill started life last spring as legislation that would have expanded teaching residency programs. But a July 11 press release from Bocanegra, who is also the leader of the Assembly's so-called Moderate Democrat caucus, announced its startling change in direction. It touted the school as a pathway for "low-income and underrepresented communities in Los Angeles County [to pursue] STEM higher education and careers," and as an answer to the lack of diversity in California's expanding tech sector workforce. The press release also noted that "less than six percent of Silicon Valley tech engineers are African-American or Latino."
Critics, however, say it is how the bill proposes to achieve that end — along with its murky factual grasp of the problems facing STEM education — that they find deeply troubling.
"I think that there's a lot of agreement that it's important for K-12 education to play some role in that," University of California Los Angeles education professor John Rogers told Capital & Main.  But it's not clear why you would want to have a new state governance structure over one small school."
"There's some political quid pro quos that are going on here," third-year LAUSD school board member George McKenna offered in a phone call. "Far be it for me to speculate. I'm a recently elected official, and I don't consider myself that politically astute. But I can read. And I know the difference between the sunshine and Shinola."
"The economic devastation to the district is felt in ways they can't see," added McKenna. Even if you say [a state STEM school] was something that the local district would want to do, it lends itself to the separatism and the elitism of [creating] schools that only certain types of children will be anxious to apply to."
John Rogers, education professor: "It's not clear why you would want to have a new state governance structure over one small school."
But the bill also moves beyond California's existing charter law by stipulating that, rather than than being authorized and overseen by a local school board, the legislature would authorize the STEM school and the state schools superintendent would be responsible for its accountability. That, according to Sylvia Rousseau, emeritus professor of clinical education at the University of Southern California's Rossier School of Education, raises some red flags.
"The best protection to education as democracy is that we allow democratically elected school boards to govern the education of children under their jurisdiction," Rousseau said. "When efforts like this have less control by local governing bodies, where it's funded much more by private interests — or at least it's sponsored by private interests with the opportunity to contribute heavily to it — it begins to redefine who has access to STEM education."
"AB 1217 is an end-run around local control," agreed education law attorney Sue Ann Salmon Evans in an email. "This is an effort to establish charters without the local district's input (or local community, local employees, local unions, etc.)."
The existing charter law, Salmon Evans pointed out, only allows the SBE to sidestep local review of a charter school petition in the case of a so-called "statewide benefit charter," which is a sort of charter franchise empowered to open schools anywhere in the state. The catch is that the SBE must first determine that the proposed charter school would be providing instructional services that cannot otherwise be provided by a charter school operating in only one school district, or only in one county. That is obviously not the case with STEM curricula.
"There already are a whole host of STEM schools across the state, and in particular in Los Angeles, the area that it is targeting," Rogers explained. "[AB 1217] fails to acknowledge that fact. It presents this as a whole new idea."
In fact, LAUSD alone lists 97 STEM magnet schools on its website in what looks to be a fairly even distribution across the city's lower-income neighborhoods. An informal survey of the California Department of Education's charter school database also turned up at least 34 charter schools in Los Angeles County that specified "math" or "science" or "STEM" in their name.
The STEM crisis has less to do with student enrollment than it does a shortage of qualified STEM teachers.
The bill comes at a time when the very existence of a STEM crisis has been hotly debated, with some alleging that the issue has been distorted since the Obama era in pushes by Silicon Valley tech companies to expand H-1B visas — temporary immigration permits for skilled workers — that have depressed wages for U.S. workers with advanced science degrees. Nevertheless, a 2014 study by the Public Policy Institute of California estimated that more than half of new jobs in the state will be in industries likely to face a shortage of workers with some college education but less than a bachelor's degree, including STEM-related occupations in health care and social assistance, and scientific and technical services.
In educational terms, however, the crisis has less to do with STEM enrollment than it does a shortage of qualified STEM teachers. A report this year by the Learning Policy Institute noted that between 2012 and 2016 alone, the proportion of California mathematics and science teachers with substandard credentials or permits doubled from 20 percent to nearly 40 percent — even as the number of fully credentialed math and science teachers dropped from 3,200 to only 2,200.
That decline has many implications, insisted Rousseau, and it raises larger questions that would be better addressed at the state level — such as whether California is supporting teachers and adequately compensating them for the value of their work.
"I think we tend to always try to solve the problem before we understand the problem," said Rousseau. "So I would say that's a great way for a state board of the office of education to engage in a period of inquiry about why STEM education seems to be a problem in local districts. Offering an alternative never solves the problem. It only addresses some symptoms and rescues a few children without addressing the systemic issue."
The bill, which is being co-sponsored by State Senator Anthony Portantino (D-La Cañada), is slated to be taken up by the Senate Appropriations Committee when the legislature returns from its summer recess August 21.
---
Photo above by DHendrix73. Homepage photo by Ida Irby.
California Ramps Up College Education Behind Bars
Co-published by the American Prospect
Prisons have been called universities of crime. What if they became, instead, actual universities?
---
A 2014 law is turning state lockups into de facto institutions of higher learning.
---
Co-published by the American Prospect
In January 2017, Peter Fulks, a former police officer, stepped inside the California Correctional Institution (CCI), a sprawling supermax prison of more than 4,000 inmates, located just west of the foothill community of Tehachapi. The previous year, Fulks had accepted a teaching job at Cerro Coso Community College, which serves the sparsely populated eastern end of Kern County. The baby-faced 32-year-old had only a semester under his belt when he had volunteered to take his course about criminal justice inside a criminal justice facility, part of a daring experiment in California to provide face-to-face college courses to people behind bars.
Fulks wasn't sure what to expect at CCI. He admired the idea of teaching prisoners, and believed education could be transformative, but he was also prepared for resistance. "I was ready to argue for four months straight," he said. The first day was rocky. After he announced that he would be dividing the inmates into groups, a man at the back of the classroom interjected, "Professor, I believe we have already established our groups." Fulks looked at his new students, who had organized their seating arrangements by race, as so much else was organized inside the prison, and let it be.
---
Inmate: "Everywhere I turned, people were talking about what classes they have, what homework they had due, how many units they needed to complete their degree. I had to see what this was all about."
---
Like Fulks, his students seemed to believe in the value of education—they had signed up for his intro course, after all—but he sensed they were skeptical that anything positive could come from their time in prison. (And for good reason, Fulks conceded.) The skepticism didn't last. During the semester, they studied the history of prisons, analyzed the budget of the California Department of Corrections and Rehabilitation (CDCR), and wrote letters to elected officials regarding various public safety bills. The inmates were enthusiastic and sharp, and they were soon high-fiving and chest-bumping each other without regard to the institution's racial order.
"I got to see in front of my eyes a complete breakdown of the prison's subculture," Fulks told me. He also saw a side of the criminal justice system that hadn't been visible from the perspective of a beat cop: the talent, drive and dreams of the people he had once put away. After that first semester, he set out with his colleagues to scale up the program and has turned Cerro Coso into what is likely the largest provider of face-to-face college education in the nation. This academic year, 10 full-time and 36 part-time Cerro Coso instructors will teach more than 1,200 inmates at CCI and another state prison located in Kern County, the California City Correctional Facility.
*   *   *
Fulks and Cerro Coso stand at the forefront of a remarkable effort to turn California's prisons into de facto institutions of higher learning, made possible by the passage, in 2014, of state Senate Bill 1391. Inmates had previously been mostly limited to GED, career technical and correspondence programs, but the new law allowed community college professors to teach inside prisons and be compensated for instructing inmates as if they were students on the outside. Though the experiment has been operating largely below the radar, the results have been striking: In the fall of 2018, nearly 5,000 inmates from all security clearance levels took face-to-face college courses. That's more than in any other state, and more than the total number of students enrolled in the federal Second Chance Pell Pilot Program, which began under the Obama administration in 2016.
---
Prison Teacher: "You are entering an area
of supreme control, of which you have none."
---
There is plenty of evidence to support bringing higher education classes into prisons. Nearly all inmates will eventually be released, and a comprehensive 2013 RAND Corporation study found that inmates who participated in educational programs lowered their chances of recidivating by 43 percent. The RAND study also found that each dollar invested in correctional education returns between four and five dollars. And prisoners are often hungry to learn: Thus far, incarcerated students in California who take community college courses are consistently receiving higher grades than their campus counterparts.
One inmate, a student of Fulks who didn't want to include his name, wrote that he had been transferred to a prison for disciplinary reasons. He described himself as a "multi-striker" who had first entered prison in 1993. After his transfer, he noticed "a buzz around the facility that I have never experienced in this environment. Everywhere I turned, people were talking about what classes they have, what homework they had due, how many units they needed to complete their degree. I had to see what this was all about and signed up for whatever I could get."
Last fall, he took five courses, including art history and psychology, and is on track to earn his associate degree later this year. "For the first time in a long time, I don't feel like a 'lost cause,'" he concluded, adding that he was "on the right path to becoming a success story [and a human being again]."
*   *   *
"People talk about reduced recidivism, safer communities, and saving money, and those things are true," said Rebecca Silbert, a senior fellow at the Opportunity Institute in Berkeley and co-director of a statewide initiative, Renewing Communities, that supports providing higher education in prison. "But, fundamentally, this matters because we are a nation that believes in opportunity for all. What is the point of public higher education, if not to create opportunity for the public—meaning all of us, even those who made bad decisions in the past?"
Silbert has been heartened by what California has been able to achieve in a relatively short period. Still, challenges remain. Textbooks are expensive, especially for inmates who might earn only 25 cents an hour. Much of the administrative work is labor intensive and unfunded—to register students, someone has to physically travel to the prison yard with a clipboard. And professors must learn how to design lesson plans that don't require the Internet and avoid assigning banned books, which in California include such titles as Dante's Inferno and Freud for Beginners. There are delicate relationships, as well, to manage between CDCR and the California Correctional Peace Officers Association, the union that represents prison guards. As a teacher in a prison, Fulks told me, "You are entering an area of supreme control, of which you have none."
However, both Fulks and Silbert feel that California is on the right path and can provide a model for other states. Fulks told me that he had recently returned to teach a more advanced course to his initial students, a handful of whom have earned their associate degrees and want to pursue a PhD program. To meet this demand, Cerro Coso will soon be bringing in doctoral students from the University of California, Los Angeles, who will mentor inmates during their final year in prison and help place them into a bachelors-to-PhD program upon their release.
Fulks laughed, thinking about this prison-to-PhD pipeline: "That has happened zero times with my students on the outside."
---
Copyright Capital & Main