Promise Breakers: How Regulators Failed to Stop a Sacramento Lead Hazard
A Capital & Main investigation has found that state health officials were aware of lead poisoning cases at Sacramento's contaminated Mangan Park Gun Range 13 years before its 2015 closure — yet failed to take crucial steps that almost certainly would have forced the gun range to close much sooner.
---
Copyright Capital & Main
Last July, as part of a state investigation into lead contamination in and around Sacramento's James Mangan Rifle and Pistol Range, the city operating the indoor range received a request from California regulators to provide records of staff, contractor or patron exposure to lead. Sacramento officials would turn over hundreds of documents related to the gun range's operation. In September 2016 a criminal investigator from California's Department of Toxic Substances (DTSC), which enforces the state's hazardous waste laws, cleared the city of any criminal wrongdoing.
But a Capital & Main investigation has discovered an entire chapter of the gun range's history involving multiple workers who had elevated blood lead levels, and one with a potential fatal case of lead poisoning. The lead poisoning case  happened 13 years before the gun range ultimately closed, raising questions about why the range continued to operate despite dangerous conditions. Our investigation also found that state health officials also were aware of the lead poisoning cases, and failed to take crucial steps that almost certainly would have forced the gun range to close.
The new information came to light after we made our own public records request to the California Department of Public Health (CDPH) last January. We asked because of one document that had been turned over to state regulators — a 2007 letter sent to CDPH by the city, which made a series of promises to protect Mangan workers and the public from lead hazards. The safety measures were described as "action items," a term suggesting the range had some kind of previous public health issue. We tried to discover exactly what had transpired.
The city of Sacramento has never publicly disclosed the 15-year-old lead poisoning cases, even though it had many opportunities to do so. In April 2016, a Sacramento Bee report about extensive lead contamination at the shuttered gun range caused alarm among residents who live nearby. At a heated city-sponsored community forum held in the working class Mangan Park neighborhood, Sacramento officials did not disclose the earlier cases of lead poisoning, even when asked by residents about when they became aware of lead problems at the range.
In February of this year CDPH provided Capital & Main with documents showing what triggered the action items with Sacramento. In 2002, CDPH said, it became aware of several Mangan gun range workers who had elevated levels of lead in their blood, at least one of whom had "serious lead poisoning."
The CDPH would not reveal to this website how many Mangan range workers were diagnosed with lead poisoning in 2002, contending that to do so would be a violation of privacy, even with the names of victims withheld. But CDPH did say that the Sacramento worker with the most acute lead poisoning had blood lead levels of 56 micrograms per deciliter. Out of about 3,000 California workers who annually are found to have elevated blood lead levels, there are typically only a handful of cases with levels as potentially life-threatening as the 2002 Sacramento gun range case.
Capital & Main spoke to one of three private shooting instructors who, years later, were also diagnosed with lead poisoning traced to the Mangan range. In 2014 the man received a letter from CDPH revealing he had lead poisoning. The level of lead in his blood was on par with the most serious cases in the recent Flint, Michigan lead scandal. "Being fit was something that I took pride in. Now I get tired easily, my hands tremble," said the former instructor, who wished to keep his identity anonymous. The man spoke reluctantly about his ordeal because he worried some in the tough-guy world of mostly ex-military personnel might blame him for the gun range's closure.
He said he suffers depression, memory loss, sterility and other neurological problems associated with elevated blood lead levels in adults. Two years after the gun range was padlocked, the man has spent thousands of dollars crisscrossing the nation to visit medical specialists.
The alarming blood tests weren't the only red flag for CDPH officials, who opened an investigation into the Mangan range in 2002. According to the documents provided by CDPH, tests for airborne lead, taken in 2003, had levels as high as "80 times the permissible exposure limit." Airborne lead is considered the most dangerous form of the toxin because no amount of hand-washing can protect one from inhaling lead.
How CDPH reacted in 2003 to the lead poisoning at the Mangan gun range points to gaping holes in California's statewide system to protect workers and the public from the danger posed by lead.
In many states a severe case of lead poisoning should, theoretically, trigger what is called a "compliance inspection," which can result in fines and even the shut-down of an unsafe workplace. Inspections are mandated by a 2001 U.S. Occupational Safety and Health Administration (OSHA) directive, which says that any workplace where blood levels exceed 40 micrograms "shall be considered high-gravity, serious and must be handled by inspection." In 2007 the level for mandatory inspections was reduced to 25 micrograms.
Forty-one states require that blood tests with elevated lead levels be transmitted to state public health agencies. The OSHA directive encourages OSHA to work, while maintaining patient privacy, with state departments of public health, so it can find out about cases of lead poisoning. Medical referrals "often come from health departments," said Scott Allen a regional director for public affairs for OSHA.
Inspections triggered by blood lead levels have been shown to identify unsafe conditions. In 2015, a federal OSHA inspection of an Ohio gun range found 23 serious safety violations and resulted in $61,200 in fines. In a press release OSHA said it "initiated the inspection after receiving a medical referral indicating that an employee had elevated blood lead levels."
But OSHA in California isn't run by the federal government. Instead the federal program is administered by a state agency called Cal/OSHA. This had huge consequences for the Sacramento gun range. State officials say they aren't bound by what is technically called the National Emphasis Program (NEP) to reduce occupational exposure to lead.
A 2014 Seattle Times investigation into an epidemic of lead poisoning cases at indoor shooting ranges across the nation noted that the CDPH case workers "rarely refer range owners to California-OSHA for enforcement. When they do, it's for particularly egregious cases." While It seems perplexing how the Mangan range did not qualify as one of those egregious cases, 15 years later CDPH remains unapologetic for its handling of the case.
Matt Conens, a CDPH spokesperson,  told Capital & Main by email, "California has no mandatory requirement for CDPH to report all blood lead levels (BLLs) at or above 40 micrograms/deciliter (μg/dL) to Cal/OSHA." Conens acknowledged that federal OSHA "recommends policies and procedures, such as the inspection of workplaces where exposures equal or exceed 25 µg/dL." However, Conens said, state OSHA plans are not required to follow it.
Elaine Fischer, a spokeswoman from Washington state's Department of Labor & Industries, said that Washington's state OSHA program actually goes farther than the federal guidelines. "We actively inspect work conditions where uncontrolled occupational lead exposures are likely occurring, even below 25ug/dL," she said. Fischer added that reducing high lead exposures to workers is crucial, "due to the permanent health damage high body burdens of lead cause." Workplace inspections triggered by medical referrals identified multiple hazards at one Washington gun range in 2010, and in 2012 called for the replacement of a dangerous ventilation system during another gun range inspection.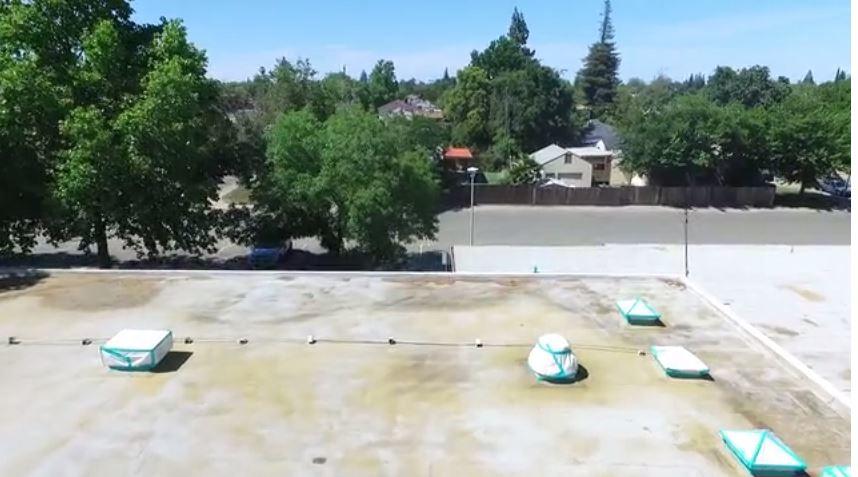 Mangan Park neighborhood with sealed gun range in foreground.
The CDPH's decision not to subject the Mangan range to a Cal/OSHA inspection — in effect, to trust but not verify — appears to have had terrible consequences. Between 2013 and 2015, the public health agency acknowledges, it learned of the several instructors connected to the Mangan range who also tested positive for lead poisoning. Capital & Main verified three cases through interviews with victims. Once again CDPH failed to refer the gun range for inspection to Cal/OSHA.
Peter Green, a University of California, Davis engineering researcher and expert in urban lead contamination, called the failure of city and state officials to recognize red flags and refer these cases to OSHA for an inspection "tragic." Green said that severe lead poisoning cases should be treated as the proverbial canary in the coal mine, pointing to larger systemic problems that can impact workers and neighboring communities. "To not mandate serious inspections when there are serious lead poisoning cases seems wrong to me," Green said. "Whatever it costs to fix those workplaces should be worth the value of people's health."
Had state public health officials followed federal recommendations and referred the case for inspection, the range would have likely been permanently shuttered more than a decade sooner. Extensive lead contamination was later found to be in nearly every corner of the Mangan gun range building. Additionally, a substandard 50-year-old ventilation system spewed unfiltered lead dust into the surrounding park and nearby homes, where vulnerable toddlers lived, triggering a cleanup the city estimates will eventually cost $350,000.
In 2013, just a year before the gun range closed, 19-year-old Jason Bracy, a former high school quarterback, was assigned by the city's parks department to clean the gun range. Bracy said he no idea that others who had performed the same job had contracted lead poisoning and, if he had known, he would have refused the assignment.
In 2003 and 2007, the city assured CDPH it would provide workers with shower facilities, full respirators and regular blood tests. But records show that rather than issue Bracy the promised full respirator, the city gave him a $6 face mask that offered a fraction of a respirator's protection.
"A shower?" Bracy laughed.  "Where would that have happened? There weren't any showers in that building." Bracy said he received no real training about the dangers of lead and sometimes cleaned the range in street clothes. "It was hot in there, everyone did that," he said.
Today family members say that Bracy has not been the same since he left the job after about six months of cleaning the gun range.
"There is something wrong with Jason,"  Bracy's father Jason Bracy Sr. admitted during a break from his job at a Sacramento barber shop popular among African-Americans.
Determining lead exposure is difficult if too much time passes from the point of exposure. Until Capital & Main contacted him, no one had gotten in touch with the younger Bracy to let him know he should seek out a doctor to determine whether he had been exposed to harmful levels of lead.
Lead tests conducted in October 2016 and January 2017 found extensive contamination in 12 homes. At one of the most contaminated houses, directly across the street from the gun range, Sandra Levario said she was angry with state and city officials for failing to heed warning signs.
Levario's tidy home has a backyard garden filled with lush plants and wind chimes where her grandson, who was born in 2005, played constantly as a toddler. Today he takes medication for attention deficit hyperactivity disorder (ADHD) a condition that can be exacerbated by lead exposure. Levario said she does not know if her grandson's condition was caused by lead. But, she said, given how much the now 11-year-old played in her lead-contaminated yard, she believes there could be a link. Levario said that if the condition is connected to her grandson's playful explorations of her backyard,  it would be "very upsetting because it happened at my house. I'm his grandma, I'm supposed to take care of him."
Records show that instead of ordering an inspection following the discovery of the 2002 cases, CDPH elicited promises of safety reforms from Sacramento officials Bill Vannett, a safety specialist at the time with Sacramento's Risk Management Division, and Greg Narramore, then the city's top park ranger and who, for at least a dozen years, managed the Mangan facility.
This website's year-long-investigation found that during that time Narramore regularly leased the entire range to security firms, which were the heaviest users of the gun range. We discovered substantial evidence of financial mismanagement by Narramore, and the possibility of an embezzlement scheme.
While public health officials could not be expected to know about possible financial malfeasance at the Mangan range, it is difficult to understand how the CDPH was unaware that the city of Sacramento had made and broken important safety promises.
In 2007, four years after investigating the lead poisoning cases, CDPH visited Mangan to see how the promised safety reforms were being implemented. Documents that were turned over last month to Capital & Main by CDPH show that several crucial pledges made by the city of Sacramento were never honored. These included making sure that workers were given semiannual blood tests and critical protective gear, and that lead tests were conducted on surfaces inside the gun range.
"To my knowledge the city has not implemented any of these recommendations," said a February 2007 letter from Jennifer McNary of CDPH's Occupational Lead Poisoning Prevention Program. McNary noted that despite pledges made four years earlier, city workers were still only being outfitted with half-mask respirators, which "provide only about a fifth the protection that full respirators provide."
For six weeks the city did not respond to the state's alarm, eliciting a warning letter from CDPH with an April 9, 2007 deadline to reply. While McNary implied that the state was prepared to get tough, she also dangled a carrot. "Our policy," McNary wrote, "is to work cooperatively with employers to improve lead safety. However, if an employer fails to correct serious hazards, we will make a referral to Cal/OSHA for a compliance inspection."
The city's Bill Vannett responded with a letter days before the April 9 deadline. This is the letter with the "action items" reference. He repeated promises made four years earlier. "Greg Narramore will be responsible for assuring that employees are scheduled for blood lead testing every April and October," was one of the renewed promises.
Even though airborne lead samples were once again tested and found to be far above allowable limits, the eleventh-hour promises made by the city were enough to avoid the threatened compliance inspection. The CDPH spokesperson Conens told Capital & Main that "CDPH provided other technical assistance to help the City address other noted problems, and the City responded, at least in part, to those recommendations."
In an interview, Vannett acknowledged that he never provided workers with full face respirators.
"The people that were asking for this," Vannett said, "are used to being in a lab, they are not used to being out in the field." He also conceded that after 2007 the city did not follow through with another important commitment — providing regular lead tests for employees. Vannett cited a high turnover of cleaning staff as the reason for the lack of subsequent blood tests.
Vannett also said that over the years there were internal discussions at the city about the lead problem. "There were a lot of conversations," he said, "maybe not at a high enough level."
Whatever occurred in the past, at the April 2016 community meeting city officials, with state regulators by their side, pledged to worried residents that their top priority going forward would be to ensure that residents would be safe. But the ensuing year has featured unexplained delays in the state-monitored lead testing and cleanup. As Capital & Main reported last December, there was a seven-month delay in testing homes. "In serious cases like this, where there is a known public health risk, testing should happen in days not months," UC Davis' Green said.
Now a city-hired consultant, Stantec, has concluded that the contamination "does not appear to represent lead originating from a point source like the gun range." Stantec came to the conclusion despite the fact that four of five homes tested directly across the street from the gun range were found to have lead contamination well above safe levels set by the Department of Toxic Substances. In a March report delivered to the city, Stantec's senior geologist, Neil Doran, said that the more likely source of lead contamination is "aerial deposition from leaded fuel from vehicles and from air traffic associated with Sacramento Executive Airport."
Capital & Main asked three lead experts to review Stantec's report and all found its conclusion that the gun range is not likely to have caused the lead contamination flawed. "The bottom line is that their data is not good enough to rule out the gun range as the source of elevated lead in the soil of neighboring homes. In my opinion, one would need very compelling evidence to reject what is otherwise an obvious and common-sense source," said James Wells, who holds a doctorate in geological sciences, after reviewing Stantec's report. Wells currently serves as a state-appointed community adviser to the massive lead cleanup at the former Exide battery recycling factory near downtown Los Angeles.
The Mangan Park neighborhood is next to an airport that serves smaller planes. Most private planes use fuel called avgas, which still contains lead.
But Alexander McCumber, a Duke University researcher who is an expert in lead contamination from avgas and has studied residential soil near private airports, said he was unaware of any available science that could attribute the high levels of lead found in the homes near the Mangan gun range to lead from planes. McCumber said that in the worst-case scenario the homes would see an average uptick of "perhaps between five and 10 micrograms." Many of the homes near the gun range were found to have lead levels between 200-700 micrograms. "It sounds like the issue deserves further study," he said. "It may be possible to identify the sources of lead found in the neighborhood."
Sacramento County and state regulators say they are still reviewing the city's plan for neighborhood cleanup. For Sandra Levario, the long delay in testing and now, cleanup, has had personal consequences. She says that she no longer allows her two grandchildren outside in her yard, opting instead to have them play video games and watch television after school.
---
Copyright Capital & Main
Promise Breakers: Introduction to a Public Health Scandal
Promise after promise was broken when it came to protecting Sacramento's workers and the public from lead hazards from a contaminated gun range housed in an aging recreational building.
Video Credits: Reported by Joe Rubin. Camera and editor Matthew Maxwell. Aerial photography Devon McMindes. Additional camera Jessica Obert
---
A Capital & Main investigation has confirmed five cases of lead poisoning that were linked to Sacramento's James Mangan Rifle and Pistol Range. As we reported last December, the 54-year-old gun range was padlocked in January 2015, after tests showed toxic levels of lead dust in nearly every corner of the building. The recent indictments of state officials in Michigan for involuntary manslaughter related to the lead contamination of the city of Flint's water supply shows what can happen when there is resolve across the political spectrum to hold officials accountable for environmental crimes. But what happens when the spotlight is dimmer — or, in the case of Sacramento, nonexistent?
Today independent health experts caution there could be dozens — perhaps hundreds — of undiagnosed cases connected to the gun range, which was located on the grounds of a public recreation park. While internal city emails cited "sky high" levels of lead as the reason for its closure, public notices simply announced the building, situated in a working-class residential neighborhood, was "temporarily closed." There was no mention of the word "lead."
Yet documents obtained as part of our investigation show that officials in California's Department of Public Health (CDPH) knew as far back as 2002 that workers at the range had levels of lead in their blood so high they could lead to organ shutdown and death.  A federal directive on lead hazards in the workplace says that such extreme cases are "high-gravity, serious" and "must be handled by inspection." Because hazards inside the range required millions of dollars in fixes to bring it up to safe federal standards, an inspection would have almost certainly led to the facility's permanent closure. Instead of referring the case for inspection, CDPH decided to trust city assurances that Sacramento would do better.
Our year-long investigation found substantial evidence to suggest that this public facility was, at the very least, incompetently run and, at worst, may have been the victim of embezzlement.
Multiple on-the-record sources told us of a cash payment system where weapons training companies slipped cash into a safe's deposit slot in exchange for exclusive access to the gun range – payments that for nearly 20 years went unrecorded and were never given to the city treasurer.
A Mangan Park neighborhood near the gun range.
In its heyday, the Mangan Range operated six days a week, frequently leased by companies that provided training courses for armed security guards. The 14 shooting lanes were almost always packed and the sound of gunfire reverberated throughout the blue-collar Mangan Park neighborhood. Last year, after a series of investigative reports caused state regulators to insist on more testing, high levels of lead were also found to have spread from the range to the surrounding park that is popular with children, and to nearby homes.
A 2016 criminal investigation by California's Department of Toxic Substances (DTSC ) initially cleared the city of any wrongdoing. We found many problems with that investigation, including an insistence on the part of the assigned investigator that no California lead laws were violated. The DTSC has now admitted to Capital & Main that mistakes were made in its original investigation of the Sacramento gun range, and the agency reopened the case.
After the news broke about the drinking water crisis in Flint, Michigan, then-President Barack Obama told that city's residents during a visit, "Government failed you at the federal, state and local level." While nothing has matched the scope of the Flint lead scandal, what we found comes close. Promise after promise was broken when it came to protecting Sacramento's workers and the public from lead hazards from this gun range housed in an aging recreational building. In a pair of stories, we will present evidence of a city administration and two state regulatory agencies that were asleep at the wheel during critical moments when it came to protecting Californians.
---
Copyright Capital & Main
Promise Breakers: Questions About Missing Cash and a Toxic Gun Range
A year-long Capital & Main investigation has found substantial evidence to suggest that Sacramento's lead-contaminated public gun range was, at the very least, incompetently run and, at worst, may have been the victim of embezzlement.
Sacramento's shuttered James Mangan Rifle and Pistol Range.
---
Copyright Capital & Main
In 2002 a worker who cleaned the city of Sacramento's public gun range was diagnosed with one of the worst cases of lead poisoning found among California workers that year. A decade later, a safety consultant told the city the indoor James Mangan Rifle and Pistol Range was covered with lead dust and warned that lead-contaminated air appeared to be escaping the building through an unfiltered exhaust system. Yet year after year the bullets kept flying– spreading more and more hazardous lead particulate inside the range and throughout an adjacent working class community.
A year-long investigation by Capital & Main has found substantial evidence to suggest that this public facility was, at the very least, incompetently run and, at worst, may have been the victim of embezzlement. The city claims that for 20 years Mangan's employees neglected to collect fees from the range's users, including businesses that leased it. Those users who were interviewed for this story, however, assert that during this time they did indeed pay thousands of dollars in fees, on the instructions of Sacramento's chief ranger, Greg Narramore, who has since retired.
Based on the city's own projected estimate of $30,600 in annual revenue from Mangan, the collected fees should have brought in close to a million dollars over several decades. Even more serious, the money's possible embezzlement may have provided, over the years, a motive to alter lead tests and bury damning safety reports — thwarting efforts to protect the public from lead hazards.
According to multiple on-the-record sources, cash payments were routinely placed in a deposit slot in a safe located inside the range. The payments mostly came from private companies specializing in firearms training courses. When their classes cleared out, low-wage city workers swept up toxic lead dust and spent bullets.
We reached Greg Narramore by phone but, when told we wanted to ask him about his financial management of the Mangan gun range, he said, "I really can't talk about that because I am under a subpoena for Mangan-related issues," and hung up.
At least a half-dozen companies, including the national firm Brink's Security, regularly used the range and enjoyed a special status – they were issued keys so they could manage their own access, and had permanent lockers with company logos on them. Brink's did not respond to repeated requests for comment, but representatives from two firms who used the gun range for decades did.
"As far as paying for use of the range, it wasn't a complicated system," said Vicci Gritz, the owner of the Universal Security Academy. She said she was instructed by Narramore over the course of 13 years to place cash in an envelope – $5 per person for everyone she brought to the range — along with a sign-in sheet. Gritz claimed she placed about $5,000 into the safe every year.
Although most of the funds allegedly deposited into that safe came from private companies, thousands of dollars also came from the public, whose access to the range was limited to just two evenings per week. Those nights were overseen by the United Revolver Club of Sacramento, a volunteer group of firearm enthusiasts. Ron Morales, URCS's former president, said he and other club volunteers collected a $5 fee from residents. Morales said the group was told by Narramore, the gun range's manager, to place the evenings' proceeds in the safe's slot along with a sign-in sheet/release-of-liability form. Morales estimated that the group typically submitted approximately $500 per month.
According to Morales, the weekly public nights were small change compared to the usage by the security companies: "There were times the safe was so filled with envelopes, it was difficult to jam another one in."
Mangan Park playground.
The leasing business was booming for a couple of reasons. Armed security guards in California need to pass firing range tests to obtain licenses, then  to requalify semiannually. Some companies, like Gritz's, set up shop near the range; others, like Geibig Protective Services, from Tracy, California, had its members travel up to 60 miles to take target practice. Part of the appeal, according to company representatives that Capital & Main spoke to, is that the $5 per person cash fee was a third the cost of private indoor gun ranges.
The range was in even more demand after 2010, when Sacramento's sheriff dramatically liberalized the issuance of concealed weapons permits. Several training companies added the $200 permit class to their class rosters. Thousands of Sacramento County residents signed up for qualifying courses, many of which were held at Mangan.
A 1992 Sacramento City Council resolution set fees and encouraged the leasing of the range. The resolution emphasized that fees would help pay for needed capital improvements. Today city officials say parks department employees simply failed to charge anyone for using the gun range — for decades.
Sacramento's city auditor, Jorge Oseguera, conducted a 2014 investigation into the Mangan range. "Unfortunately, the Department of Parks and Recreation does not have record of collecting these fees until October 2014," his audit concluded. We provided the city with specific details, including how the payments were made and asked Sacramento to provide any documentation the city had about those payments. A city spokesperson, Marycon Razo, merely repeated what the parks department had told the city auditor, even after we informed her about the possible existence of a secret payment system that was described to us by four separate sources.
One of our sources, the longtime owner of the California Security Training Academy, Steve Caballero, said his company had been a prolific range user since 1973 and "paid every time." He added that he was always under the impression that money from range leasing fees was turned over to the city.
Caballero's former business partner, Peggy Seaman-Caballero, provided a similar account. "I was uncomfortable with the cash payments," she said. "I asked if we could instead pay by check, but was told that is the way the city wanted it."
The city did send us evidence of payments from security companies for the last three months that the range was open, a time when the city briefly initiated reform in the range's finances after Narramore's retirement. For example, the records show that Vicci Gritz's USA Security firm paid $1,020 in October 2014 for 34 hours of classes at the range.

Emails Suggest a Payment System
Capital & Main has examined emails related to the gun range's operation. Some came from the city, which deletes most emails older than two years, and from Vicci Gritz, whose emails went back to 2009. The correspondence gives a sense of an in-demand gun range with different firms jockeying to book the most dates. Narramore moderated occasional disputes between the companies.
In one 2009 email Narramore's response to Gritz seems to make it clear that payments were being collected from the companies who visited the gun range: "Yes they were scheduled to use the range and did pay," he said in one email.
In a 2011 email, Narramore brushed aside rumors that the range was not up to safety codes and could be permanently closed. "There is no truth to that rumor," Narramore replied to Gritz's query.
Ron Morales told this website that while it was clear the range business was booming, money did not seem to be reinvested back into Mangan. "The place was falling apart, there were gaping holes in the roof, leaking toilets and water fountains," Morales said, adding that the gun range was also missing safety basics like "sticky mats" that prevent lead from being tracked out of the building. Morales said he was worried about the lead situation at the range: "It wasn't just a place for adults – Boy Scout troops used Mangan, and we had occasional shooting competitions. Lots of kids sat in the bleachers." But Morales said he had hoped the gun range was mostly rough around the edges, and still safe.
Morales claimed he pressed the city to get an independent safety assessment of the gun range. In early 2012 Sacramento's parks director, Jim Combs, approved $6,000 for TRS Range Services to visit the range and conduct a safety review. Morales said he was on hand when TRS arrived that February, helping to point out areas of concern.
Three weeks later a report, which found problems so serious TRS strongly implied the city should consider closing the range until safety improvements were made, was sent to Narramore. Morales said he never saw it.
"I kept asking for it, and Greg [Narramore] kept saying it wasn't ready," Morales said. "Eventually I just gave up." Had Narramore shared his copy with him, Morales would have learned that "TRS visually identified lead dust throughout the range," and that the issue "should be immediately addressed to reduce health hazards."
Bill Vannett, an environmental safety specialist who worked for the city's Risk Management Division, told Capital & Main that he had read the report in 2012 and agreed that the report brought up important safety issues. But, Vannett said, "I don't know how far up the chain of command that report went, I don't know if it went to department heads, directors, city council. That was above my pay grade."
TRS found major problems with the ventilation system. "Adequate air flow is a critical factor in controlling lead dust," the report noted, adding that "there was no noticeable air flow." TRS also pointed out that lead dust was simply being vented out through an exhaust fan onto the roof and that "appropriate measures should be taken to insure this area is treated as contaminated."
Mangan Range's sealed roof today.
A University of California, Davis lead expert and researcher, Peter Green, said that ignoring such warning signs was a "terrible" choice by the city. "Lead is toxic, and simply blowing out of the building is not taking care of the problem. It is simply blowing it somewhere else, in this case into a park, and that is a shame." Green added that lead in an urban setting is particularly worrisome because in the soil or airborne, "it will get into the blood stream and damage the nervous system. In children that is even worse because that nervous system is still developing."
The city would provide a copy of the TRS safety report to the California Department of Toxic Substances (DTSC), but with two crucial changes. The first version of the report was dated 2012 and addressed directly to Narramore. In 2014, at the city's request, TRS sent the city a new version. The new version was identical to the one sent two years earlier, except it removed Narramore's name and changed the date of the report from 2012 to 2014. A "draft" watermark was also removed. A DTSC official told Capital & Main that the 2014 date on the report they received led them to believe that the report was from 2014.
We provided a copy of the 2012 version of the report to DTSC senior attorney Vivian Murai, who said that "two years is a long time" and that, "If the city had reason to believe that an area was contaminated, and didn't act, that could be a violation of state hazardous waste laws."
Mangan Park neighborhood, near the gun range.

A Park Ranger With a Questionable Role
The TRS lead report was not the first safety warning that was ignored by city officials. In 2007 the California Department of Public Health found that the city had not lived up to commitments made in 2003 to keep the range safe. In response, the city pledged to the CDPH that it would get things right this time. A letter to the state signed by the city's safety specialist, Vannett, promised that "Greg Narramore will be responsible for assuring that employees are scheduled for blood lead testing every April and October." The city also promised to regularly monitor lead levels at the range.
But our investigation found serious problems with how lead tests were conducted at Mangan, raising the possibility that illicit profits motivated practices that downplayed the danger posed by a dangerous neurotoxin.
Not only were most lead tests commissioned by Sacramento's Risk Management Division, with Greg Narramore present, but a 2013 lead report states that the samples were collected directly by Narramore. The results found barely detectable levels of lead. Allowing Narramore, the range's chief administrator, to participate in the testing of his own facility might be seen as permitting a conflict of interest. The city also appears to have violated a state law requiring those who gather lead tests complete a series of courses and receive certification from the CDPH. We obtained six lead tests where the samples were taken by city employees, none of whom (including Narramore), the CDPH told us, was in its database of certified testers.
A CDPH spokesperson also said that an uncertified person may not perform a lead hazard evaluation in California, and that "punishment for violation to these statutes may include imprisonment, a fine or both."
Vannett, who conducted most of the lead tests at the range until he left the city in 2012, said he was completely unaware of California's certification requirements when performing lead testing. He acknowledged that he provided Narramore with "some training," despite his own lack of state certification. Asked about the misleading test results delivered by Narramore, Vannett said "it all depends on how you do the test. It might just be that he wasn't doing the sampling right. Or, it could have been that he was doing it right after they cleaned, right where they cleaned, to make the numbers look good. There are a lot of ways that could have gone."
We also found more explicit evidence of some city employees concocting intentionally misleading lead tests that presented a sunnier picture than the dangerous reality. Emails obtained by Capital & Main include one from a city parks employee in 2014 informing the Sacramento city auditor that during 2012 city-funded tests, the technician followed instructions to test "purposely selected areas where the lead dust levels would be lower."
According to Jeff Van Slooten, who trains state-certified lead inspectors, cherry picking safer or pre-scrubbed areas is something a trained and certified lead tester would know is completely wrong. "A state-certified lead inspector is trained to look for worst-case scenarios for testing for lead hazards. That means we focus our test where there is the highest probability for lead contamination, not the least."
Tests taken two years later, in 2014, by a CDPH-certified consultant found toxic levels of lead in every corner of the gun range. The top of a microwave oven, a couch and bleachers had levels more than 50 times above federal standards for an indoor gun range. Some areas of the Mangan facility had lead measurements thousands of times above hazardous levels. The city closed the range weeks later.
That was not the end of the city's questionable lead testing practices. On April 1, 2016, with the imminent publication of a Sacramento Bee investigation focusing on the contamination inside the range, Sacramento's parks director Christopher Conlin ordered long overdue tests outside the gun range building, part of a heavily used public park. But the company, Stratus Environmental, took soil samples one to two feet underground, avoiding lead-tainted surface soil entirely. When Conlin was told the news of the exculpatory test results, he responded in an email, "great news, now how do we get this out?" Stratus Environmental also had no state-required lead testing certification.
After Sacramento's ABC10 (in a story produced by this reporter) commissioned independent tests that contradicted the city's results by showing major lead contamination outside the range, the city took new tests utilizing a company with state-certified testers. Those tests showed a ring of lead contamination that surrounded the range building.
For months DTSC criminal investigator Charles Stone defended to Capital & Main the fact that the city's initial soil samples were taken too deep in the ground, asserting that the city needed no certification and that its tests followed standard practices. But then in January, DTSC spokesperson Russ Edmonson admitted to us that the initial tests violated California laws because the company lacked state certification. Edmonson said that the error in its interpretation was "the result of our former lack of knowledge" about regulations around lead testing.
As a result of our questions, Stone, who had closed his criminal investigation, conducted new interviews and wrote an amended investigative report. The interviews resulted in finger pointing. Karl Kurka, who supervised the tests for the city of Sacramento, claimed that he had intended for the tests to be on the soil's surface all along. He said that although he met the lead tester in the park, he hadn't caught the error because he "did not wait around" for the actual testing. The company's account was that city officials had explicitly ordered that the tests be taken one to two feet underground. Stratus technician Chris Hill stated that the one-to-two-feet deep tests were "per Kurka's request."
An interview with Sacramento parks director Conlin last spring seems to back up the company's version of events. Conlin said that he had initially ordered the subsurface tests, and then ordered new tests after consulting with Sacramento County and DTSC regulators. Conlin made similar comments at an April 2016 public meeting.
For the moment no individual, or the city of Sacramento, appears to be facing any criminal consequences for contaminating a leafy park or the adjoining homes that surround the gun range, even though the DTSC acknowledged that the April 1, 2016 tests were conducted without legally required certification. According to a DTSC source the 2016 testing issue has been turned over to Sacramento County for a possible administrative sanction where the city of Sacramento could face a $25,000 fine for overseeing lead tests with no state-required certification.

Getting to the Bottom of the Payment Mystery
Greg Narramore retired six months before the gun range closed in January 2015. Jeff Harris, then head of the Sacramento City Parks Commission and today a City Council member, hailed Narramore at the time of his retirement as a "great public safety figure" who would be difficult to replace. Harris declined to comment on the Mangan gun range, referring all questions to the office of Sacramento's city manager.
Harris' reluctance to discuss the troubled former gun range reflects a challenge in reporting this story. Unlike vocal elected officials in Flint, Michigan or Los Angeles (which is still reeling from the contamination scandal swirling around an Exide battery plant), Sacramento's elected officials have been tight-lipped about their former public gun range. Two firearms trainers, and the wife of an instructor who had a miscarriage that she says was lead-related, are suing the city.
It wasn't just elected officials who declined to be interviewed; when we asked to speak to staff members who may have been able to shed light on the mysteries of the gun range finances, a city spokeswoman told Capital & Main, "since we are in litigation from prior range users, at this time we are not willing to allow interviews of city staff about the gun range operations."
Craig Powell, president of Eye on Sacramento, a Sacramento city government watchdog organization, said that elected officials refusing to talk about the mismanagement of the lead-tainted gun range is a "suspension of brains, judgment and duty to provide oversight." Powell has extensive knowledge of Sacramento's parks department because he also heads a parks-volunteer group that organizes clean-up days and other activities.
"There were no fees coming in from this gun range for 25 years and no one notices?" he asked. "Why was the city's top parks ranger so intertwined with booking this  gun range to begin with? It's completely inconsistent with how the parks department is supposed to be organized. There is a unit responsible for bookings and collecting fees, and a system for tracking finances. This is a multi-layered failure of government, and what is sickening about this failure is people could have gotten hurt because of it."
Told about the financial questions swirling around the former range, the former environmental and safety official Vannett, who worked closely with Narramore at the range said, "I don't see him embezzling anything at all, not at all."

A Brief Criminal Investigation
This past February, Capital & Main met with the DTSC's Charles Stone and asked him about the troubling evidence of the embezzlement scheme we were encountering.
A month later Stone told us that he turned the embezzlement issues over to the internal affairs division of the Sacramento Police Department. Asked why not refer the case, as DTSC is empowered to do, to federal or state law enforcement, Stone said he was "legally required" to turn it over to Sacramento's internal affairs division because "Narramore was former law enforcement for the city."
It did not take long for the Sacramento police to declare that there was nothing to investigate. In an April 20 email, the SPD's Mike Blessing wrote Stone, "As mentioned before, I passed the case on to another investigator.  She went thru [sic] the case.  Between the City Attorney's office, myself and another investigator, we don't believe that this issue needs to be further investigated.  Thank you again and take care!" Blessing also wrote, "We have received numerous documents to show that there were payments being made."
The documents that the Sacramento police appear to have used to rule out any issue of embezzlement are the same ones provided to Capital & Main months ago, showing only payments from private security companies made during the last three months the gun range was open in 2014. There was no evidence presented of security companies paying in the decades before.
Stone said he provided the Sacramento police with one potential witness to interview – Ron Morales, who said he made regular cash payments into the safe, and saw what he believed were other envelopes from the security companies stuffed into it. Morales told Capital & Main that no one from the Sacramento police has ever contacted him. "I'd be happy to go down to the range and show authorities where the payment was located if someone would ask," Morales said.
The fact that Sacramento City Attorney James Sanchez was involved in shutting down the investigation is eyebrow-raising. The city is fending off a lawsuit over lead poisoning at the range, and the added complication of an embezzlement scheme operating at the gun range could add to the city's liability.
Capital & Main asked Sanchez by email about the police investigation into gun range finances but received no response. We also received no response when we asked the city manager's office about the payment mystery.
The DTSC's senior attorney, Vivian Murai, said the agency has concluded its criminal investigation and that as for allegations of embezzlement, "that's not our mandate, tracking hazardous waste is." According to emails obtained by Capital & Main, Charles Stone did ask the Sacramento Police Department to provide documentation to back up the department's claim that it had the financial records to prove there was no malfeasance. Mike Blessing told Stone in an email that the police were "exempt" from sharing the records "because [the case] is still currently being investigated." Later, when he was told that Sacramento's police had closed its investigation, Stone responded with a simple "thank you,'' making no further mention of the financial records.
---
Copyright Capital & Main
Promise Breakers: Scenes From a Regulatory Failure (Video)
Today Capital & Main publishes an investigative series on the failure of Sacramento and two state agencies to safeguard the public from the hazards of lead.
Video Credits: Reported by Joe Rubin. Camera and editor Matthew Maxwell. Aerial photography Devon McMindes. Additional camera Jessica Obert
---
Today Capital & Main publishes an investigative series by reporter Joe Rubin on the failure of the city of Sacramento and two state agencies responsible for safeguarding the public from the hazards of lead. Read Rubin's Promise Breakers stories and watch this video created by Rubin and his multimedia team.
Copyright Capital & Main