Promise Breakers: How Regulators Failed to Stop a Sacramento Lead Hazard
A Capital & Main investigation has found that state health officials were aware of lead poisoning cases at Sacramento's contaminated Mangan Park Gun Range 13 years before its 2015 closure — yet failed to take crucial steps that almost certainly would have forced the gun range to close much sooner.
---
Copyright Capital & Main
Last July, as part of a state investigation into lead contamination in and around Sacramento's James Mangan Rifle and Pistol Range, the city operating the indoor range received a request from California regulators to provide records of staff, contractor or patron exposure to lead. Sacramento officials would turn over hundreds of documents related to the gun range's operation. In September 2016 a criminal investigator from California's Department of Toxic Substances (DTSC), which enforces the state's hazardous waste laws, cleared the city of any criminal wrongdoing.
But a Capital & Main investigation has discovered an entire chapter of the gun range's history involving multiple workers who had elevated blood lead levels, and one with a potential fatal case of lead poisoning. The lead poisoning case  happened 13 years before the gun range ultimately closed, raising questions about why the range continued to operate despite dangerous conditions. Our investigation also found that state health officials also were aware of the lead poisoning cases, and failed to take crucial steps that almost certainly would have forced the gun range to close.
The new information came to light after we made our own public records request to the California Department of Public Health (CDPH) last January. We asked because of one document that had been turned over to state regulators — a 2007 letter sent to CDPH by the city, which made a series of promises to protect Mangan workers and the public from lead hazards. The safety measures were described as "action items," a term suggesting the range had some kind of previous public health issue. We tried to discover exactly what had transpired.
The city of Sacramento has never publicly disclosed the 15-year-old lead poisoning cases, even though it had many opportunities to do so. In April 2016, a Sacramento Bee report about extensive lead contamination at the shuttered gun range caused alarm among residents who live nearby. At a heated city-sponsored community forum held in the working class Mangan Park neighborhood, Sacramento officials did not disclose the earlier cases of lead poisoning, even when asked by residents about when they became aware of lead problems at the range.
In February of this year CDPH provided Capital & Main with documents showing what triggered the action items with Sacramento. In 2002, CDPH said, it became aware of several Mangan gun range workers who had elevated levels of lead in their blood, at least one of whom had "serious lead poisoning."
The CDPH would not reveal to this website how many Mangan range workers were diagnosed with lead poisoning in 2002, contending that to do so would be a violation of privacy, even with the names of victims withheld. But CDPH did say that the Sacramento worker with the most acute lead poisoning had blood lead levels of 56 micrograms per deciliter. Out of about 3,000 California workers who annually are found to have elevated blood lead levels, there are typically only a handful of cases with levels as potentially life-threatening as the 2002 Sacramento gun range case.
Capital & Main spoke to one of three private shooting instructors who, years later, were also diagnosed with lead poisoning traced to the Mangan range. In 2014 the man received a letter from CDPH revealing he had lead poisoning. The level of lead in his blood was on par with the most serious cases in the recent Flint, Michigan lead scandal. "Being fit was something that I took pride in. Now I get tired easily, my hands tremble," said the former instructor, who wished to keep his identity anonymous. The man spoke reluctantly about his ordeal because he worried some in the tough-guy world of mostly ex-military personnel might blame him for the gun range's closure.
He said he suffers depression, memory loss, sterility and other neurological problems associated with elevated blood lead levels in adults. Two years after the gun range was padlocked, the man has spent thousands of dollars crisscrossing the nation to visit medical specialists.
The alarming blood tests weren't the only red flag for CDPH officials, who opened an investigation into the Mangan range in 2002. According to the documents provided by CDPH, tests for airborne lead, taken in 2003, had levels as high as "80 times the permissible exposure limit." Airborne lead is considered the most dangerous form of the toxin because no amount of hand-washing can protect one from inhaling lead.
How CDPH reacted in 2003 to the lead poisoning at the Mangan gun range points to gaping holes in California's statewide system to protect workers and the public from the danger posed by lead.
In many states a severe case of lead poisoning should, theoretically, trigger what is called a "compliance inspection," which can result in fines and even the shut-down of an unsafe workplace. Inspections are mandated by a 2001 U.S. Occupational Safety and Health Administration (OSHA) directive, which says that any workplace where blood levels exceed 40 micrograms "shall be considered high-gravity, serious and must be handled by inspection." In 2007 the level for mandatory inspections was reduced to 25 micrograms.
Forty-one states require that blood tests with elevated lead levels be transmitted to state public health agencies. The OSHA directive encourages OSHA to work, while maintaining patient privacy, with state departments of public health, so it can find out about cases of lead poisoning. Medical referrals "often come from health departments," said Scott Allen a regional director for public affairs for OSHA.
Inspections triggered by blood lead levels have been shown to identify unsafe conditions. In 2015, a federal OSHA inspection of an Ohio gun range found 23 serious safety violations and resulted in $61,200 in fines. In a press release OSHA said it "initiated the inspection after receiving a medical referral indicating that an employee had elevated blood lead levels."
But OSHA in California isn't run by the federal government. Instead the federal program is administered by a state agency called Cal/OSHA. This had huge consequences for the Sacramento gun range. State officials say they aren't bound by what is technically called the National Emphasis Program (NEP) to reduce occupational exposure to lead.
A 2014 Seattle Times investigation into an epidemic of lead poisoning cases at indoor shooting ranges across the nation noted that the CDPH case workers "rarely refer range owners to California-OSHA for enforcement. When they do, it's for particularly egregious cases." While It seems perplexing how the Mangan range did not qualify as one of those egregious cases, 15 years later CDPH remains unapologetic for its handling of the case.
Matt Conens, a CDPH spokesperson,  told Capital & Main by email, "California has no mandatory requirement for CDPH to report all blood lead levels (BLLs) at or above 40 micrograms/deciliter (μg/dL) to Cal/OSHA." Conens acknowledged that federal OSHA "recommends policies and procedures, such as the inspection of workplaces where exposures equal or exceed 25 µg/dL." However, Conens said, state OSHA plans are not required to follow it.
Elaine Fischer, a spokeswoman from Washington state's Department of Labor & Industries, said that Washington's state OSHA program actually goes farther than the federal guidelines. "We actively inspect work conditions where uncontrolled occupational lead exposures are likely occurring, even below 25ug/dL," she said. Fischer added that reducing high lead exposures to workers is crucial, "due to the permanent health damage high body burdens of lead cause." Workplace inspections triggered by medical referrals identified multiple hazards at one Washington gun range in 2010, and in 2012 called for the replacement of a dangerous ventilation system during another gun range inspection.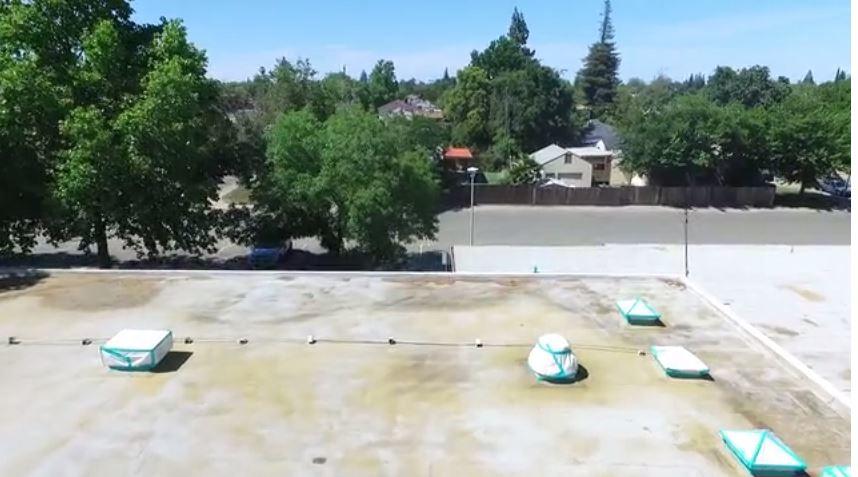 Mangan Park neighborhood with sealed gun range in foreground.
The CDPH's decision not to subject the Mangan range to a Cal/OSHA inspection — in effect, to trust but not verify — appears to have had terrible consequences. Between 2013 and 2015, the public health agency acknowledges, it learned of the several instructors connected to the Mangan range who also tested positive for lead poisoning. Capital & Main verified three cases through interviews with victims. Once again CDPH failed to refer the gun range for inspection to Cal/OSHA.
Peter Green, a University of California, Davis engineering researcher and expert in urban lead contamination, called the failure of city and state officials to recognize red flags and refer these cases to OSHA for an inspection "tragic." Green said that severe lead poisoning cases should be treated as the proverbial canary in the coal mine, pointing to larger systemic problems that can impact workers and neighboring communities. "To not mandate serious inspections when there are serious lead poisoning cases seems wrong to me," Green said. "Whatever it costs to fix those workplaces should be worth the value of people's health."
Had state public health officials followed federal recommendations and referred the case for inspection, the range would have likely been permanently shuttered more than a decade sooner. Extensive lead contamination was later found to be in nearly every corner of the Mangan gun range building. Additionally, a substandard 50-year-old ventilation system spewed unfiltered lead dust into the surrounding park and nearby homes, where vulnerable toddlers lived, triggering a cleanup the city estimates will eventually cost $350,000.
In 2013, just a year before the gun range closed, 19-year-old Jason Bracy, a former high school quarterback, was assigned by the city's parks department to clean the gun range. Bracy said he no idea that others who had performed the same job had contracted lead poisoning and, if he had known, he would have refused the assignment.
In 2003 and 2007, the city assured CDPH it would provide workers with shower facilities, full respirators and regular blood tests. But records show that rather than issue Bracy the promised full respirator, the city gave him a $6 face mask that offered a fraction of a respirator's protection.
"A shower?" Bracy laughed.  "Where would that have happened? There weren't any showers in that building." Bracy said he received no real training about the dangers of lead and sometimes cleaned the range in street clothes. "It was hot in there, everyone did that," he said.
Today family members say that Bracy has not been the same since he left the job after about six months of cleaning the gun range.
"There is something wrong with Jason,"  Bracy's father Jason Bracy Sr. admitted during a break from his job at a Sacramento barber shop popular among African-Americans.
Determining lead exposure is difficult if too much time passes from the point of exposure. Until Capital & Main contacted him, no one had gotten in touch with the younger Bracy to let him know he should seek out a doctor to determine whether he had been exposed to harmful levels of lead.
Lead tests conducted in October 2016 and January 2017 found extensive contamination in 12 homes. At one of the most contaminated houses, directly across the street from the gun range, Sandra Levario said she was angry with state and city officials for failing to heed warning signs.
Levario's tidy home has a backyard garden filled with lush plants and wind chimes where her grandson, who was born in 2005, played constantly as a toddler. Today he takes medication for attention deficit hyperactivity disorder (ADHD) a condition that can be exacerbated by lead exposure. Levario said she does not know if her grandson's condition was caused by lead. But, she said, given how much the now 11-year-old played in her lead-contaminated yard, she believes there could be a link. Levario said that if the condition is connected to her grandson's playful explorations of her backyard,  it would be "very upsetting because it happened at my house. I'm his grandma, I'm supposed to take care of him."
Records show that instead of ordering an inspection following the discovery of the 2002 cases, CDPH elicited promises of safety reforms from Sacramento officials Bill Vannett, a safety specialist at the time with Sacramento's Risk Management Division, and Greg Narramore, then the city's top park ranger and who, for at least a dozen years, managed the Mangan facility.
This website's year-long-investigation found that during that time Narramore regularly leased the entire range to security firms, which were the heaviest users of the gun range. We discovered substantial evidence of financial mismanagement by Narramore, and the possibility of an embezzlement scheme.
While public health officials could not be expected to know about possible financial malfeasance at the Mangan range, it is difficult to understand how the CDPH was unaware that the city of Sacramento had made and broken important safety promises.
In 2007, four years after investigating the lead poisoning cases, CDPH visited Mangan to see how the promised safety reforms were being implemented. Documents that were turned over last month to Capital & Main by CDPH show that several crucial pledges made by the city of Sacramento were never honored. These included making sure that workers were given semiannual blood tests and critical protective gear, and that lead tests were conducted on surfaces inside the gun range.
"To my knowledge the city has not implemented any of these recommendations," said a February 2007 letter from Jennifer McNary of CDPH's Occupational Lead Poisoning Prevention Program. McNary noted that despite pledges made four years earlier, city workers were still only being outfitted with half-mask respirators, which "provide only about a fifth the protection that full respirators provide."
For six weeks the city did not respond to the state's alarm, eliciting a warning letter from CDPH with an April 9, 2007 deadline to reply. While McNary implied that the state was prepared to get tough, she also dangled a carrot. "Our policy," McNary wrote, "is to work cooperatively with employers to improve lead safety. However, if an employer fails to correct serious hazards, we will make a referral to Cal/OSHA for a compliance inspection."
The city's Bill Vannett responded with a letter days before the April 9 deadline. This is the letter with the "action items" reference. He repeated promises made four years earlier. "Greg Narramore will be responsible for assuring that employees are scheduled for blood lead testing every April and October," was one of the renewed promises.
Even though airborne lead samples were once again tested and found to be far above allowable limits, the eleventh-hour promises made by the city were enough to avoid the threatened compliance inspection. The CDPH spokesperson Conens told Capital & Main that "CDPH provided other technical assistance to help the City address other noted problems, and the City responded, at least in part, to those recommendations."
In an interview, Vannett acknowledged that he never provided workers with full face respirators.
"The people that were asking for this," Vannett said, "are used to being in a lab, they are not used to being out in the field." He also conceded that after 2007 the city did not follow through with another important commitment — providing regular lead tests for employees. Vannett cited a high turnover of cleaning staff as the reason for the lack of subsequent blood tests.
Vannett also said that over the years there were internal discussions at the city about the lead problem. "There were a lot of conversations," he said, "maybe not at a high enough level."
Whatever occurred in the past, at the April 2016 community meeting city officials, with state regulators by their side, pledged to worried residents that their top priority going forward would be to ensure that residents would be safe. But the ensuing year has featured unexplained delays in the state-monitored lead testing and cleanup. As Capital & Main reported last December, there was a seven-month delay in testing homes. "In serious cases like this, where there is a known public health risk, testing should happen in days not months," UC Davis' Green said.
Now a city-hired consultant, Stantec, has concluded that the contamination "does not appear to represent lead originating from a point source like the gun range." Stantec came to the conclusion despite the fact that four of five homes tested directly across the street from the gun range were found to have lead contamination well above safe levels set by the Department of Toxic Substances. In a March report delivered to the city, Stantec's senior geologist, Neil Doran, said that the more likely source of lead contamination is "aerial deposition from leaded fuel from vehicles and from air traffic associated with Sacramento Executive Airport."
Capital & Main asked three lead experts to review Stantec's report and all found its conclusion that the gun range is not likely to have caused the lead contamination flawed. "The bottom line is that their data is not good enough to rule out the gun range as the source of elevated lead in the soil of neighboring homes. In my opinion, one would need very compelling evidence to reject what is otherwise an obvious and common-sense source," said James Wells, who holds a doctorate in geological sciences, after reviewing Stantec's report. Wells currently serves as a state-appointed community adviser to the massive lead cleanup at the former Exide battery recycling factory near downtown Los Angeles.
The Mangan Park neighborhood is next to an airport that serves smaller planes. Most private planes use fuel called avgas, which still contains lead.
But Alexander McCumber, a Duke University researcher who is an expert in lead contamination from avgas and has studied residential soil near private airports, said he was unaware of any available science that could attribute the high levels of lead found in the homes near the Mangan gun range to lead from planes. McCumber said that in the worst-case scenario the homes would see an average uptick of "perhaps between five and 10 micrograms." Many of the homes near the gun range were found to have lead levels between 200-700 micrograms. "It sounds like the issue deserves further study," he said. "It may be possible to identify the sources of lead found in the neighborhood."
Sacramento County and state regulators say they are still reviewing the city's plan for neighborhood cleanup. For Sandra Levario, the long delay in testing and now, cleanup, has had personal consequences. She says that she no longer allows her two grandchildren outside in her yard, opting instead to have them play video games and watch television after school.
---
Copyright Capital & Main