Pro- and Anti-Immigration Rallies Hit Laguna Beach
Sunday brought over 2,000 counter-demonstrators to the sun-baked boardwalk of Laguna Beach to shout down a modest, Trump-obsessed gathering called "America First! Electric Vigil for the Victims of Illegals and Refugees."
Pro-Trump and anti-immigration demonstration at the Laguna Beach boardwalk.
All photos by Steve Appleford
---
Racial and political confrontations continue to rage across the Summer of 2017. Sunday brought over 2,000 counter-demonstrators to the sun-baked boardwalk of Laguna Beach to shout down a modest, Trump-obsessed gathering called "America First! Electric Vigil for the Victims of Illegals and Refugees." Before it ended with police clearing the streets around 9 p.m., there had been two arrests, some pepper spray, multiple shouting matches and threats, a few songs and continued angst with no end in sight.
The action unfolded barely a week after the alarming white nationalist battle of Charlottesville, Virginia, where young men shouting racist and anti-Semitic slogans marched beneath tiki torches, left and right fought on the streets with clubs and fire, and a 32-year-old nonviolent protester was killed.
Against that backdrop, Laguna Beach was prepared in force for the competing groups gathered on the city's Main Beach. Police officers and sheriff's deputies from across Orange County were called in, and a police helicopter circled throughout the day and night.
The America First! rally was a previously scheduled monthly protest on the beach, little noticed in months past. The protest's announcement on Facebook included a festive group photo that looked more like an invite to an electro dance party than a political event.
Only a few dozen protesters turned out, some wearing "Make California Great Again" caps. One protester carried a sign reading: "No more victims. Secure our borders now. How many more lives must be lost?"
Surrounded by media on the sand was activist Johnny Benitez, who organized the America First! protest. Across the street stood a row of small shops, a Starbucks and a Johnny Rockets. Playing at the Laguna Cinemas was Love Rises Up.
As drums pounded from the counter-protesters' side, Jordan Davis, 25, stood with his German Shepherd on a small grass lot surrounded by police in riot gear. Davis spent time as an active protester for Occupy Wall Street and Black Lives Matter. But last year's presidential election shifted his political perspective rightward, and he drove south from the Bay Area to join the America First! rally.
As counter protesters shouted "Black lives matter!" nearby, Davis, who is half-African-American, half-Jewish, complained that the events in Virginia had tainted anyone on the right with the stain of David Duke and white supremacy.
"Now they are trying to lump us in with dum-dums," he said, wearing a T-shirt with a picture of Trump wielding a machine gun. "That's not fair. We have nothing to do with what happened in Charlottesville. It's very unfortunate that a few people passed away. It's very heartbreaking. But at the end of the day, me and Johnny and everyone else, we have to go on with our events."
Nearby was a couple of real housewives of Trumplandia, smiling broadly and dressed in stylish stars and stripes. Earlier, a dark-haired man in a denim vest with a swastika tattooed to his neck made an appearance. Davis said he was asked to leave: "It's alleged that guy is paid to be here and is a paid to be a fake Nazi to make us all look bad."
Holding one end of a banner covered with photographs of people allegedly killed by undocumented immigrants was Tyler Denzin, 22, head shaved, an Iron Cross tattooed on his throat. Denzin said the cross and other tattoos were done while serving time in jail and prison. "I don't consider myself a white supremacist and I'm not affiliated with any hate groups," said Denzin, who learned of the protest from Facebook.
"This is more conservatives," he explained. "It doesn't matter where you're from. It's to support to America and Americans. It has nothing to do with the KKK or whatever. I would never march with David Duke. He's a fucking retard and an asshole."
Ed Baker, 54, brought his 15-foot flagpole, flying the Stars and Stripes high above the beach and a phalanx of riot police on foot and horseback that kept the opposing factions safely apart. A machinist from Antelope Valley, Baker is a regular at the monthly demonstrations. He supported Benitez's decision to go ahead, even in the overheated atmosphere of the moment.
"It's been going on for months and months and months," Baker said of the America First! protests. "Yes, the timing is really bad, but he's not going to cancel. We have a problem with illegal aliens killing Americans. Why cancel the event?"
On the other side of the police line were some protesters taking their first steps into political action. Carrying a sign reading, "Stripper for Socialism," was an 18-year-old exotic dancer named Piper, who was moved to join the counter-protest after seeing the news from Charlottesville. She had driven here from Anaheim, despite her boyfriend's objections. It was her first protest. "There's all kinds of different groups here tonight, and sex work is underappreciated," said Piper, her stage name. "I'm sure some of my sisters are here tonight."
There were a few modest scuffles and two arrests. After wading into the counter-protest side, Republican activist R.C. Maxwell, 29, got into a heated exchange with an enraged Richard Losey, 20. Maxwell's companion pulled out pepper spray, but struck both of them, sending Maxwell and Losey to onsite medics who poured soothing milk into their eyes.
Losey works as a machinist in Lancaster, Ohio, and was on vacation in Laguna Beach when he was told about the Sunday protest. He showed up ready to confront America First! — a plan he described as "just doing the right thing, standing up for the minorities from the racist pieces of shit. What am I going to do, stand there and watch?"
Soon after recovering from the pepper spray, Losey spotted Maxwell and chased him into the street. Maxwell fell to the pavement, but counter-protesters eased Losey away from the confrontation. Minutes later, police closed down Pacific Coast Highway for the rest of the night.
"Honestly, I enjoy fighting," Losey said, without apology. "I'm not much of a talker, dude. If I'm going to do something, I'm going to do it." By 11 a.m. the next morning, he said, he planned to be on a plane back to Ohio. (He was arrested instead the following day.)
Maxwell's incursion into the counter-protest was no accident. Dressed in a tie and red "Make America Great Again" cap, he came with a camera crew to capture his experience. "It seems like Black Lives Matter is out here getting very aggressive, antagonistic for no reason," Maxwell said, as he crossed a street. "So as a result of me speaking my mind, and being a conservative Christian Republican, I've been attacked, pepper sprayed, assaulted – all on video."
Bad behavior came from all directions. In the final half-hour of the counter-protest, a line of cops on horseback slowly edged forward to begin moving demonstrators out of the park, a fairly orderly and common police tactic. Then, without warning, a squad of police on foot appeared to aggressively shove people backward with their batons. One cop, with an "H" tattooed on his left knuckle, knocked over a young women for no apparent reason.
Later, there were new chants from counter-protesters: "We won't leave till they leave!" and "Go home Nazis!" A woman sang a verse of "This Land Is Your Land," and soon an army of police and sheriff's deputies marched across the park and through the streets, sweeping away all remnants of the angry protests that for a few hours passed through a quiet beach town on Sunday.
Reports: Lies, Chaos and Abuse at ICE Contractor Lockup
Co-published by Fast Company
Immigrant-detainee suicides indicate that the Stewart Detention Center and ICE are out of step with a trend in corrections to keep seriously mentally ill people out of solitary confinement.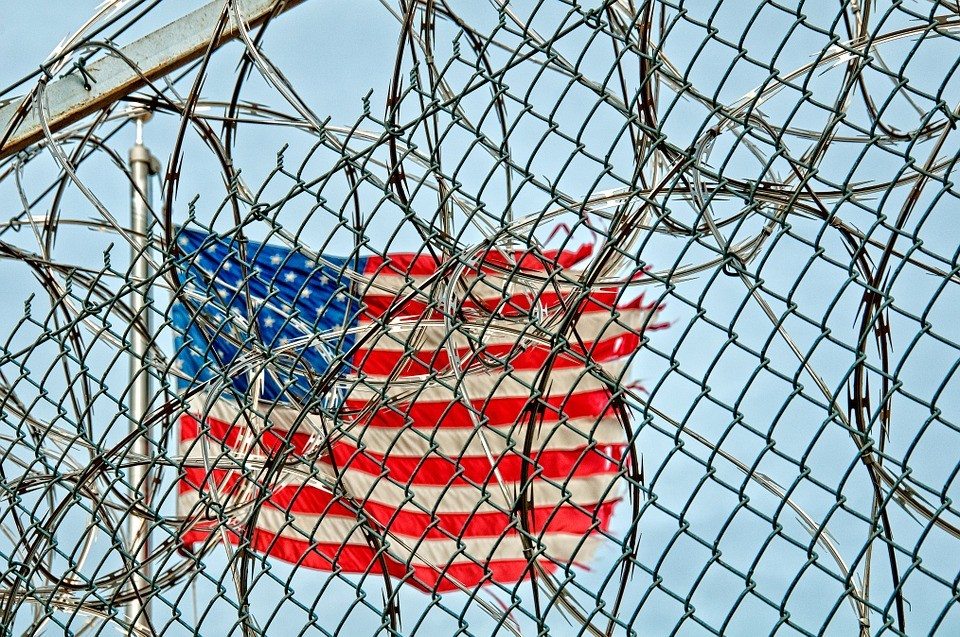 ---
Efrain de la Rosa was the 184th detainee to die in the custody of U.S. Immigration and Customs Enforcement since 2003.
---
Co-published by Fast Company
On the last day of his life Efrain de la Rosa, a 40-year old Mexican citizen detained as an undocumented immigrant, told a social worker he didn't need medication for his schizophrenia. He would die soon, he said. Later that day, de la Rosa knotted together his prison-issue orange socks, fashioned them into a noose and hanged himself from the top bunk in his solitary confinement cell at Georgia's Stewart Detention Center.
De la Rosa spent four months at Stewart, which is operated by the private prison firm CoreCivic. While incarcerated, he repeatedly predicted his own death, reported hearing voices, and refused medication. He was briefly placed on suicide watch and was sent to an outside mental health facility for five weeks. Upon his return to Stewart, he continued to refuse medication and to dwell on death in his conversations with healthcare staff and detainees.
---
De la Rosa's suicide followed that of another mentally ill man, JeanCarlo Jimenez Joseph, who hanged himself after 19 days in solitary confinement.
---
Stewart is indistinguishable from a prison even though the detainees are held only to compel their attendance at immigration hearings or to await deportation there, and not as punishment. At the time of his July 10, 2018, death, de la Rosa had been alone in a 13-foot by 6-foot cell 23 hours a day for three weeks. It was his second stint in solitary confinement.
De la Rosa's suicide came just 14 months after that of JeanCarlo Jimenez Joseph, a 27-year-old man who was also mentally ill and hanged himself after 19 days in solitary confinement. He was the 184th detainee to die in the custody of U.S. Immigration and Customs Enforcement since 2003, and the third to die at Stewart since May 2017.
The Georgia Bureau of Investigation found no criminal wrongdoing in de la Rosa's death, but its report, which includes findings from the detention center's internal investigation, along with ICE's detention death report, shows that Stewart Detention Center staff made a series of mistakes in de la Rosa's care, beginning with his placement in solitary confinement and ending with a chaotic emergency response when he was found unresponsive in his cell.
The report shows that detention center staff repeated some of the same errors in de la Rosa's care that they made in Jimenez Joseph's. The failure to correct such mistakes — which can prove fatal to vulnerable detainees — is common in ICE detention centers, concluded a Department of Homeland Security Office of Inspector General report entitled ICE's Inspections and Monitoring of Detention Facilities Do Not Lead to Sustained Compliance. "ICE does not adequately follow up on identified deficiencies or consistently hold facilities accountable," inspectors found.
* * *
In de la Rosa's case, CoreCivic made an attempt to suppress the release of the GBI report, which exposes some of those errors, arguing that making it available to the public would violate federal law.
"We had another death at the facility last year where the GBI released records and video to the public as part of OR [open records] requests," wrote Stephen Curry, a CoreCivic attorney. "…it is our request that there not be a release of information contrary to federal law."
The GBI initially acquiesced, but last month largely reversed course and released a first batch of documents after attorneys and media outlets, including Capital & Main, challenged its decision. The agency plans to redact audio and video evidence before making it available to the public, beginning at the end of January. The GBI continues to refuse to release some solitary confinement records and other information that it maintains are federal documents.
In both de la Rosa and Jimenez Joseph's suicides, the reports show:
• Both men were in prolonged solitary confinement, despite their serious mental illnesses.
• Health care professionals recommended both men receive additional mental health care, but both died before it could be provided.
• Detention officers failed to perform every half hour checks in the hours before each man died to ensure their well-being.
• Both men's cells contained suicide hazards, including a bunk bed in de la Rosa's one-person cell.
* * *
The social worker who met with de la Rosa on the day that he died had noted he "would benefit from a referral to a higher level of care mental health facility" after he once again refused medication and predicted he would die. Terry Kupers, a psychiatrist who has written extensively about prison mental health care, suggested that was a mistake.
"One would think provisions would be made to immediately place him in some form of observation in a safe place awaiting transfer to the location of that higher level of care," Kupers wrote in an email.
De la Rosa, however, remained in isolation.
Moreover, detention officers failed to look in on de la Rosa for nearly two hours before finding him unresponsive in his cell later that evening.
Stewart officials found that detention officer Rodney Dent falsified records to cover for his failure to check on de la Rosa, and he was fired.
Dent had falsely claimed he looked in on de la Rosa at 10:04 p.m. before he finished his shift. Security cameras showed that his relief, Officer Jamorris McCoy, was doing rounds when he found de la Rosa unresponsive and hanging from the top bunk in his cell at 10:34 p.m.
* * *
Dent, however, may not have been the only officer who was negligent on the night of de la Rosa's death.
Detainee Eduardo Corado Martinez, who was also in segregation when de la Rosa died, told a GBI agent that he tried to alert guards that something was wrong in de la Rosa's cell when he heard noises that night. But he said they didn't immediately respond. Jorge Caballero Ramos, who was also in a neighboring cell, told the GBI that he woke up to the sound of Corado Martinez pushing on his own door to get the guards' attention, but he said they didn't act until it was too late.
CoreCivic spokeswoman Amanda Gilchrist said in an email that she could not reveal details of de la Rosa's death, including why the detention center's investigation didn't include statements by Corado Martinez and Caballero Ramos, because of a "pending claim" and an ongoing ICE investigation.
"The safety and well-being of the individuals entrusted to our care is our top priority, and we take seriously our obligation to adhere to federal Performance Based National Detention Standards in our ICE-contracted facilities," Gilchrist wrote.
At the time of this story's deadline, ICE public affairs staff were unavailable to comment on the lapses the reports showed because of the government shutdown.
However, it appears that the Stewart Detention Center and ICE are out of step with a trend in corrections to keep seriously mentally ill people out of solitary confinement. Kupers said that prisons are moving away from the practice "because of the high risk of suicide and in even larger part because we have such clear evidence from much research that solitary confinement exacerbates serious mental illness."
He cited state laws in New York and Maine that prohibit solitary confinement for people who are seriously mentally ill, and federal court orders in at least three states that require more stringent screening for inmate placement in solitary.
The reports also describe a haphazard emergency response on the night de la Rosa was found unresponsive in his cell.
Two nurses who rushed to help discovered that their medical bag was missing a defibrillator and working oxygen tank, slowing the attempt to revive him. The detention officer assigned to the medical unit didn't hear the emergency call for medical assistance. Another officer had to alert them several minutes after the initial radio call.
The lack of adequate lifesaving equipment at Stewart is puzzling given CoreCivic's healthy bottom line. In the third quarter of last year, the company's revenues were up 4.5 percent from the year before and it netted $41 million for the quarter.
ICE is also better funded than ever before, with a $4.1 billion Congressional appropriation for its Enforcement and Removal Operation, but it is unclear whether it is taking steps to hold detention centers more accountable. The agency is scheduled to report to the Inspector General on its progress by June 2019.
Rep. Lucille Roybal Allard (D-CA), newly appointed chair of the House Homeland Security Subcommittee on Appropriations, said in a call with reporters last month that she would demand greater accountability from ICE and its contractors for detention conditions.
De la Rosa's family and his attorneys have not filed a lawsuit, but say they are exploring their legal options.
---
Copyright Capital & Main