Praying With Our Feet — A Rabbi Takes a Stand Against Trump's Muslim Ban
"This week we're reading about the beginning of the 10 plagues against Pharaoh," says Rabbi Neil Comess-Daniels, standing on the crowded sidewalk outside LAX's Tom Bradley International Terminal.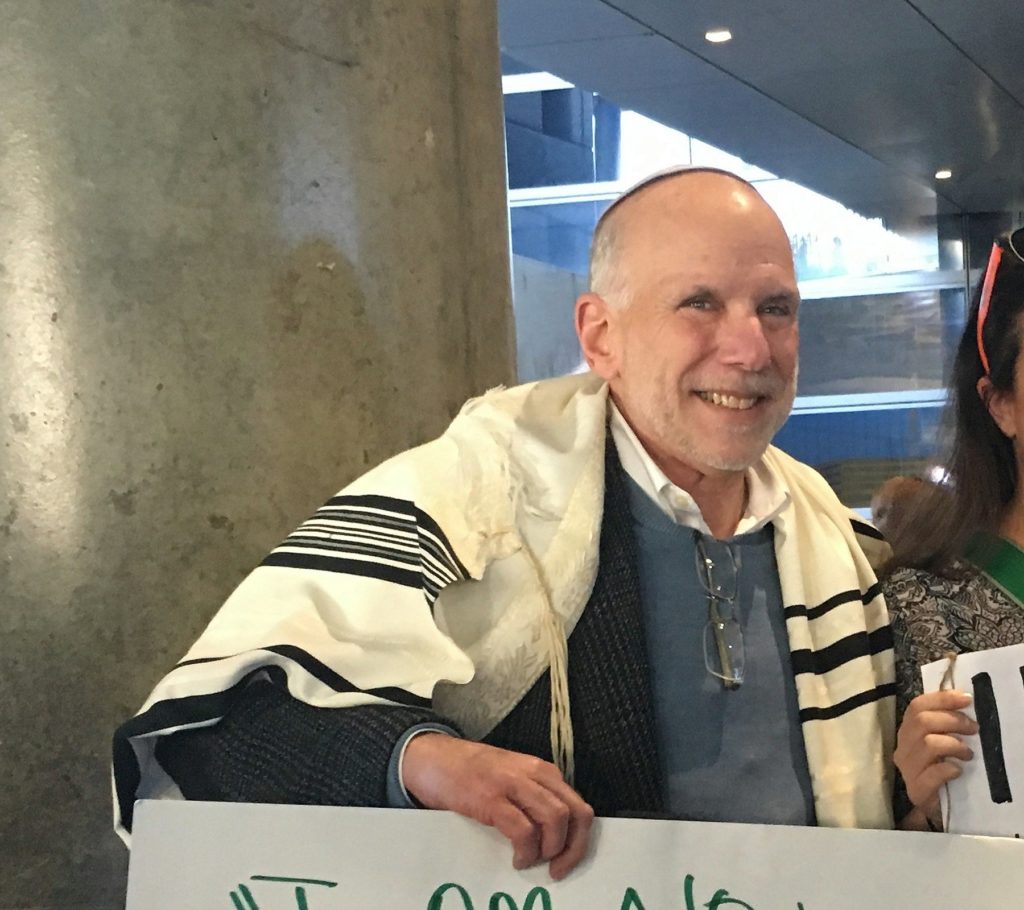 Rabbi Neil Comess-Daniels at Los Angeles International Airport. (Photo: Judith Lewis Mernit)
"This week we're reading about the beginning of the 10 plagues against Pharaoh," says Rabbi Neil Comess-Daniels, standing, conspicuously, on the crowded sidewalk outside the Tom Bradley International Terminal at LAX. He wears a kippah atop his head, and a white tallit with black stripes—the most traditional of prayer shawls—around his shoulders. "The problem with somebody like the pharaoh is that his world was very small. He wasn't really grateful for being part of this world, and having everybody else be part of his world, too.
"Donald Trump is the same way," he shouts over the sing-song call-and-response of thousands of marchers, here to protest Trump's January 27 executive order banning U.S. entry for people from seven Muslim-majority countries. "He loves his kids! Okay, great. But does he love anybody else? His circle is very small."
Suddenly a man rushes out of the throng to confront us, frantic, but smiling. "I'm glad there are people wearing tallises here!" he yells. "I have it on good authority that there were people outside the White House wearing tallises today." He shoves his hand toward Comess-Daniels to shake; the rabbi happily obliges.
"That's what I'm getting, constantly," says Comess-Daniels, who presides over Congregation Beth Shir Shalom in Santa Monica. "This is a spiritual event for so many people, and that's what happens. They see my tallit, and they feel validated in that. It proves that this isn't just a political struggle. This is a spiritual struggle."
It is also a fight for the very principal of coexistence. Religious wars throughout history have sown division and hatred; faith has been used—by President Trump himself, no less—to justify persecuting one group and favoring another. But the people gathering at the nation's airports this week, the rabbi observes, are having none of it. Distanced though they may be from the constraints of organized religion, the protestors have shown up for precisely religious reasons: To defend the rights of human beings to move freely across borders regardless of creed, and to openly honor their beliefs without fear of harassment.
The only people more popular in this crowd than Comess-Daniels, in fact, are women in hijabs. As we speak, we watch five of them line up for a photo opportunity, the backs of their pastel-shrouded heads looking like a row of Easter eggs. People put down their protest signs and take up their smartphones; some hand their cameras off to strangers and squeeze themselves into the shot.
"They are trying to draw us out and make this ugly," Comess-Daniels says. "People here aren't doing it."
A thin man in short black hair and glasses comes toward the rabbi, stretching his arms out as if to hug him. "Shalom Aleichem, Salaam Alaikum!" he shouts, nodding vigorously and planting his hands on Comess-Daniels' shoulders. "Thank you for joining us! Thank you very, very much!"
"Why are you thanking him?" I ask the man.
"Because he's Jewish!" he says with an incredulous shrug, as if the answer were obvious. "There has been so much hatred on our side, so much hatred on their side. There are Jews here! That is a good message."
Comess-Daniels laughs as the man walks away. "You see? You see? 'The Jews are here!' He got it. He really got it. We mean it when we say 'We're with you.'"
Barely more than a week into the administration of President Donald J. Trump, people who have never before taken to the streets find themselves ensconced in drum circles and human microphones that transmit the phone number of the National Lawyers' Guild. Squabbles among activist groups have given way to cooperation; male Bernie Sanders supporters don "Nasty Woman" T-shirts and chant alongside women in knitted pink hats; police in riot gear broker deals with direct-action perpetrators staging sit-ins at airports. There is buoyancy to the protest crowds, a noticeable upwelling of graciousness; a remarkable, if temporary, setting aside of differences. Even longstanding, deep and historic ones.
Comess-Daniels might chafe at a certain chant from the crowd that lumps in Trump's proposed border wall with the wall that divides Palestinians and Israelis on the West Bank. ("Israelis need to understand that Palestinians feel like they're in jail, and that they're punishing the innocent along with the guilty," he says. "Palestinians need to understand that Israelis are frightened. We all have to work on taking that wall down together.") But today he is reveling in what Muslims and Jews have in common, from dietary restrictions to Sabbath observance to Moses. "We are both a mandated people," Comess-Daniels says. "I am commanded to stand with a stranger; I have to be here. Muslims do, too. The commandments aren't just suggestions."
Both groups also share a history of displacement; their plights follow similar arcs. Nearly every American Jewish family has a refugee story. "There are some of us who are here in this country who wouldn't be here if people hadn't put their lives on the line for us, who stood in the way," Comess-Daniels says. Even Jews whose forebears didn't flee from Russian pogroms or from Europe during World War II contain the Diaspora in their historical memories.
"As we say at Passover, I came out of Egypt," Comess-Daniels says. "I think somewhere in the Muslim consciousness they know how authentic this is for us. This is not just about our values; this is about what we've been through.
"How many Jews do you know that, when Trump even threatened he'd set up a Muslim registry, said they'd go register, too?" (Many, I admit, including my own husband.) "This is important for people to know: Jews remember."
I start to ask where Christians fit into this political moment, and what it means that they voted, the exit polls say, in large numbers for Trump. Comess-Daniels begins to formulate an answer. "It's interesting," he starts. "In my interfaith work—"
He doesn't finish. Instead, as if on cue, a beaming young man emerges from out of the crowd. He wears a shirt with a ring of black around the neck, with a tab of white in the center: A clerical collar.
Comess-Daniels stops in mid-sentence. "Hi!" he says. "I like your collar! I wish I had a collar."
Kristian Kohler ("like the faucet," he tells me), a vicar at St. Paul's Lutheran Church in Santa Monica, laughs out loud. Then he and the rabbi make plans to have lunch.
"Our Old Testament lesson for today was Micah 6:8," Kohler tells me. "It says to do justice and love kindness and to walk humbly with God. I think any kind of social justice activity starts with the walking, and the walking with each other, and the walking with God is how you find that spiritual place of seeking justice."
"Praying with your feet," Comess-Daniels affirms. "When Rabbi Abraham Joshua Heschel marched from Selma with Dr. Martin Luther King Jr., that's what he said: 'I felt my legs were praying.'"
We must only take care that our feet don't tire too soon. It's going to be a long walk.

Historian: Why Economic Libertarianism Is an Overwhelmingly White Cause
While the eyes of most journalists and citizens have been fixed on Washington and Donald Trump, a Duke University professor warns, Charles Koch-funded groups and politicians are quietly lining up the state authorizations needed for a new constitutional convention.

Nancy MacLean is a historian in a hurry. Leaning forward, hands pressed on the table in front of her, she is telling a room full of activists that an assault on democratic institutions has created an "all-hands-on-deck emergency" on a scale that "we have not seen in our lifetime." MacLean has a dramatic flair in her writing and in her personal presentations. She speaks with the urgency of someone who recognizes a pivotal historical moment when she see one.
Seated in the windowless basement of a union hall that is shared with a local economic justice non-profit, she is dressed in a white blouse and blazer.
Those assembled take turns expressing dismay over a divided country, over the daily attack on immigrants, and over the legendary discipline of an extreme right-wing political movement that has advanced all the way to the White House.
"Economic libertarianism produces a kind of social Darwinism — the idea that anyone who is not thriving in the economy must have something wrong with them."
The Duke University professor says she discovered the intellectual underpinnings of the country's rightward tilt while digging through the archive of a Southern economist named James McGill Buchanan. She laid out her argument in her impassioned and highly readable 2017 book, "Democracy in Chains: The Deep History of the Radical Right's Stealth Plan for America. That history holds important lessons for those resisting the right's ascendance, she tells the group.
The "days of silos are over," says MacLean. Whereas the left has been focused on discrete campaigns and issues, the extreme right, she warns, has undertaken "an audacious bid that has been six decades in the making to fundamentally change the relationship between the government and the people — and to do so permanently."
Buchanan, who was 93 when he died in 2013, provided a key set of anti-democratic ideas that propelled the libertarian right's effort to dismantle the liberal state, while giving plutocrats free rein, according to MacLean. Part of his agenda, MacLean says, included shielding the "makers" from the "takers" by eroding the public's faith in government as a means to protect the rights of the property-owning class.
Buchanan, a Nobel Prize winner, favored requiring supermajority votes to approve tax increases, making it more difficult for public officials to meet the needs of ordinary citizens. In a long and varied career, he advocated dismantling Social Security, counseled the government of Chilean dictator Augusto Pinochet and nurtured generations of scholars at Southern universities, including at a center he founded at George Mason University with the help of $10 million from the right-wing billionaire Charles Koch.
One of her book's insights is how conservative legal scholars and economists have understood the degree to which the devil lay in the mind-numbing detail of policy.
"The wicked genius of Buchanan's approach to binding popular self-government was that he did it with detailed rules that made most people's eyes glaze over. In the boring fine print, he understood transformations can be achieved by increments that few will notice, because most people have no patience for minutiae," she writes.
That passage refers to the advice he gave Pinochet's government, which she argues has hampered Chile's current president, Michelle Bachelet, from enacting social programs in spite of a strong popular mandate.
Now MacLean is warning progressive activists that the Republican tax bill and its projected $1.5 trillion deficit could help fuel a growing right-wing clamor for a state-led constitutional convention, whose first order of business would be a balanced budget amendment to curtail future government spending.
"While the eyes of most journalists and citizens have been fixed on Washington" and Trump, she warns, "scores of organizations and elected officials funded by Charles Koch and his donor network" have been "quietly lining up the state authorizations" needed for a constitutional convention that will curtail legislators' ability to serve the needs of the governed. "They now have 28 of the 34 states needed to call such a constitutional convention under Article 5 [of the U.S. Constitution]."
Such a move, she adds, would put the country further down the path toward the "glorious period of liberty" favored by Koch and Buchanan — a place in which workers have "no legal right to organize for collective voice and power" and where corporations are "all but free of democratic accountability" — and where privatization had eliminated Social Security, Medicaid, and Medicare.
Nobody is immune from the right-wing attack on government, says MacLean. "Every civil rights activist, every feminist, every environmentalist, every queer and every retirees' group who goes to government to move a public agenda is a target for this and will suffer if it goes through," she says.
Yet this creates a "perverse source of strength," she says. "Our common need for government can potentially unite all these constituencies across groups to protect and expand democracy."
MacLean's fifth book has received a slew of positive reviews from major publications and a National Book Award nomination. Not surprisingly, Democracy in Chains has also drawn an avalanche of attacks from the very right-wing think tank networks that she critiques, as well as complaints from some left academics.
MacLean's claim of Buchanan's centrality to the rise of libertarianism, wrote political scientists Henry Farrell and Steven Teles, could be misleading to a progressive movement "liable to overestimate the extent to which the right is operating by a single plan. The most serious danger is that the left might look to this mistaken understanding of the right's success as a model for how it should organize itself."
Speaking to Capital & Main, MacLean actually gives some credit to Buchanan, who in spite of his deeply reactionary politics, was "probably the most original thinker about democracy in the last 50 years," she said.
But Buchanan's "very, very reductionist analysis" was deployed to erode popular trust in government, she argues.
"He sought to build a case that government could not do what it promised because politicians were not really seeking to advance the public interests as they claimed. They were just trying to get themselves elected using other people's money. The same was true of all public actors, according to Buchanan," as she told the union-hall gathering.
MacLean's book anchors Buchanan's thinking in the South's troubled history of segregation and slavery. He advocated for state-funded voucher systems for private schools in the late 1950s, after local officials had closed public schools as part of massive resistance against court-ordered desegregation.
MacLean is careful to say her research found no evidence that Buchanan operated on the basis of racial animus — although he must have understood the context of his proposal for school privatization. MacLean joins conservative scholars in connecting Buchanan's ideas to those of antebellum South Carolina Senator and plantation owner John C. Calhoun, who thought democracy needed to be curbed because it failed to preserve the liberty of the slave-owning elite.
And what about today's libertarians? She believes there is a reason libertarianism has remained an overwhelmingly white cause.
"Economic libertarianism," she told this website, "produces a kind of social Darwinism — the idea that anyone who is not thriving in the economy must have something wrong with them. There's always this slippage between [economic libertarianism] and the really ugly white-supremacist right," she says.
MacLean's fundamental message is that Buchanan – and the extreme right – have an Achilles heel. Their ideas are extremely unpopular and so they have had to proceed by stealth – whether through voter suppression laws, gerrymandering or other means.
"We've had the most radical gerrymandering in American history," MacLean told Capital & Main. "And they're trying to destroy labor unions without actually saying that they don't want working people to have a collective voice."
"However much they may offer bromides to freedom or liberty in the abstract," she added about the far right, "what they're really talking about is freeing corporations, and the wealthiest taxpayers, who don't support what the majority of their fellow citizens do."
---
Copyright Capital & Main