Praying With Our Feet — A Rabbi Takes a Stand Against Trump's Muslim Ban
"This week we're reading about the beginning of the 10 plagues against Pharaoh," says Rabbi Neil Comess-Daniels, standing on the crowded sidewalk outside LAX's Tom Bradley International Terminal.

Rabbi Neil Comess-Daniels at Los Angeles International Airport. (Photo: Judith Lewis Mernit)
"This week we're reading about the beginning of the 10 plagues against Pharaoh," says Rabbi Neil Comess-Daniels, standing, conspicuously, on the crowded sidewalk outside the Tom Bradley International Terminal at LAX. He wears a kippah atop his head, and a white tallit with black stripes—the most traditional of prayer shawls—around his shoulders. "The problem with somebody like the pharaoh is that his world was very small. He wasn't really grateful for being part of this world, and having everybody else be part of his world, too.
"Donald Trump is the same way," he shouts over the sing-song call-and-response of thousands of marchers, here to protest Trump's January 27 executive order banning U.S. entry for people from seven Muslim-majority countries. "He loves his kids! Okay, great. But does he love anybody else? His circle is very small."
Suddenly a man rushes out of the throng to confront us, frantic, but smiling. "I'm glad there are people wearing tallises here!" he yells. "I have it on good authority that there were people outside the White House wearing tallises today." He shoves his hand toward Comess-Daniels to shake; the rabbi happily obliges.
"That's what I'm getting, constantly," says Comess-Daniels, who presides over Congregation Beth Shir Shalom in Santa Monica. "This is a spiritual event for so many people, and that's what happens. They see my tallit, and they feel validated in that. It proves that this isn't just a political struggle. This is a spiritual struggle."
It is also a fight for the very principal of coexistence. Religious wars throughout history have sown division and hatred; faith has been used—by President Trump himself, no less—to justify persecuting one group and favoring another. But the people gathering at the nation's airports this week, the rabbi observes, are having none of it. Distanced though they may be from the constraints of organized religion, the protestors have shown up for precisely religious reasons: To defend the rights of human beings to move freely across borders regardless of creed, and to openly honor their beliefs without fear of harassment.
The only people more popular in this crowd than Comess-Daniels, in fact, are women in hijabs. As we speak, we watch five of them line up for a photo opportunity, the backs of their pastel-shrouded heads looking like a row of Easter eggs. People put down their protest signs and take up their smartphones; some hand their cameras off to strangers and squeeze themselves into the shot.
"They are trying to draw us out and make this ugly," Comess-Daniels says. "People here aren't doing it."
A thin man in short black hair and glasses comes toward the rabbi, stretching his arms out as if to hug him. "Shalom Aleichem, Salaam Alaikum!" he shouts, nodding vigorously and planting his hands on Comess-Daniels' shoulders. "Thank you for joining us! Thank you very, very much!"
"Why are you thanking him?" I ask the man.
"Because he's Jewish!" he says with an incredulous shrug, as if the answer were obvious. "There has been so much hatred on our side, so much hatred on their side. There are Jews here! That is a good message."
Comess-Daniels laughs as the man walks away. "You see? You see? 'The Jews are here!' He got it. He really got it. We mean it when we say 'We're with you.'"
Comess-Daniels might chafe at a certain chant from the crowd that lumps in Trump's proposed border wall with the wall that divides Palestinians and Israelis on the West Bank. ("Israelis need to understand that Palestinians feel like they're in jail, and that they're punishing the innocent along with the guilty," he says. "Palestinians need to understand that Israelis are frightened. We all have to work on taking that wall down together.") But today he is reveling in what Muslims and Jews have in common, from dietary restrictions to Sabbath observance to Moses. "We are both a mandated people," Comess-Daniels says. "I am commanded to stand with a stranger; I have to be here. Muslims do, too. The commandments aren't just suggestions."
Both groups also share a history of displacement; their plights follow similar arcs. Nearly every American Jewish family has a refugee story. "There are some of us who are here in this country who wouldn't be here if people hadn't put their lives on the line for us, who stood in the way," Comess-Daniels says. Even Jews whose forebears didn't flee from Russian pogroms or from Europe during World War II contain the Diaspora in their historical memories.
"As we say at Passover, I came out of Egypt," Comess-Daniels says. "I think somewhere in the Muslim consciousness they know how authentic this is for us. This is not just about our values; this is about what we've been through.
"How many Jews do you know that, when Trump even threatened he'd set up a Muslim registry, said they'd go register, too?" (Many, I admit, including my own husband.) "This is important for people to know: Jews remember."
I start to ask where Christians fit into this political moment, and what it means that they voted, the exit polls say, in large numbers for Trump. Comess-Daniels begins to formulate an answer. "It's interesting," he starts. "In my interfaith work—"
He doesn't finish. Instead, as if on cue, a beaming young man emerges from out of the crowd. He wears a shirt with a ring of black around the neck, with a tab of white in the center: A clerical collar.
Comess-Daniels stops in mid-sentence. "Hi!" he says. "I like your collar! I wish I had a collar."
Kristian Kohler ("like the faucet," he tells me), a vicar at St. Paul's Lutheran Church in Santa Monica, laughs out loud. Then he and the rabbi make plans to have lunch.
"Our Old Testament lesson for today was Micah 6:8," Kohler tells me. "It says to do justice and love kindness and to walk humbly with God. I think any kind of social justice activity starts with the walking, and the walking with each other, and the walking with God is how you find that spiritual place of seeking justice."
"Praying with your feet," Comess-Daniels affirms. "When Rabbi Abraham Joshua Heschel marched from Selma with Dr. Martin Luther King Jr., that's what he said: 'I felt my legs were praying.'"
We must only take care that our feet don't tire too soon. It's going to be a long walk.

State Senator Predicts "Sledgehammer Time" If GOP Tax Bill Passes
Holly Mitchell, a leading legislative advocate for children and low-income Californians, says the state may return to the days of budget cutting if the current Congressional Republican tax plan becomes law.

State Senator Holly Mitchell (All photos by Joanne Kim)
Holly Mitchell, the state Senator who represents Los Angeles' heavily blue-collar 30th District, has been called by one colleague the "social conscience of the entire Senate." A personable policy wonk whose career included a stint as chief executive of Crystal Stairs, a child development nonprofit, Mitchell chairs the Senate Budget Committee — the first African-American woman to do so. She recently sat down in Pico-Fairfax with Capital & Main at the Paper and Plastik Cafe to talk about the possible effects of the Republican tax bill on California's poor.
---
Capital & Main: Taking the temperature between now and New Year's, what's your prognosis for the House and Senate tax bills?
Senator Mitchell: The GOP tax plan is a redistribution of wealth from the poor to the rich or semi-rich. It gambles away the health care of poor people and this is unacceptable.
I'm so disappointed with the work of the [U.S.] Senate Budget Committee. I can't imagine being a legislator, getting a report from the Congressional Budget Office that says the things it says about these bills — and voting to pass it. Did they ignore it? Did they not care?
One Senator, when interviewed, expressed concern about the bill's potential to make the deficit skyrocket. When asked if that was enough to make him not vote for it he said, "I'm not sure. I'm still working on it."
Senator Mitchell: The whole point of having the support of fiscal analysts and the Congressional Budget Office, with their independent status, is to provide you with critical data to help you make a decision. How can you say, "Oh yeah, that's bad, but I'm not sure if I'm going to go forward on this or not"? Politics is continuing to trump — lowercase T—what's best.
Is Sacramento concerned?
Senator Mitchell: Am I concerned? Yes! But I think what I'm more concerned about now is the Healthy Families Program.
This is the entitlement for California families who aren't poor enough for Medi-Cal — but don't earn enough to have private insurance.
Senator Mitchell: It provides care for about two million kids [and] requires federal reauthorization. And [Congress] has not reauthorized it. That could have immediate impacts on California's budget. It's a separate process [from the federal tax bills] but they have already missed the deadline.
It's also been said that the tax proposals could undermine affordable housing construction in California because they would affect the credits and tax breaks that developers receive.
Senator Mitchell: Yes, which are critical for developments to pencil out. Given how far behind we are in terms of our housing-unit need, it would be devastating. L.A. County has done amazing things — voters have said yes to Prop M, yes to Prop HHH. All of that could be compromised — this delicate balance where developers can come in, get these credits to build affordable units. We're already behind the eight ball in terms of our need. This would be yet another blow.
Defenders of the tax bill say everybody will get their taxes cut initially. Then by 2027, according to the Congressional Budget Office, middle- and low-income people will experience a net loss.
Senator Mitchell: They claim that they're protecting "the middle class" — folks who make $100,000 and over. But that's not how we define the middle class in California—here the salary threshold is much lower. What they claim is good news, I think, masks the bad news. And they're rushing it through the process.
What steps are needed to analyze and create a response for a new federal tax plan's effect on California?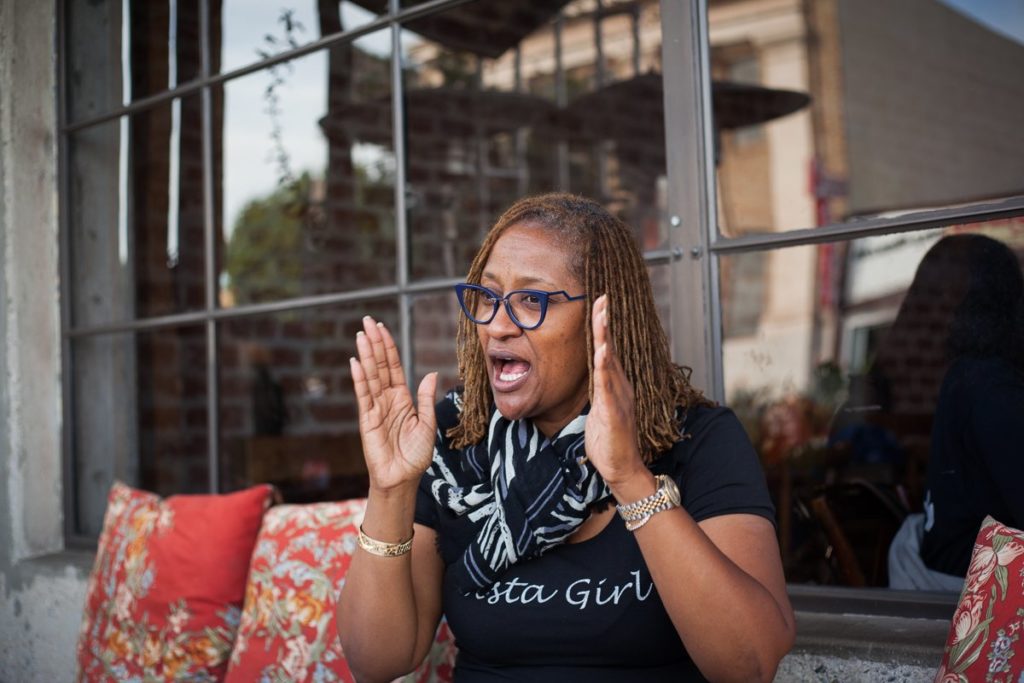 Senator Mitchell: It will be a process. Unlike [the U.S. Senate], I will rely on our Department of Finance, the Legislative Analyst's Office, the Senate Budget Committee staff to have discussions, to have a full budget hearing.
What's your sense of the tax proposals' potential effect on the state's economic health?
Senator Mitchell: How we earn income as a state government could be severely impacted. We are socking money away into rainy-day funds to try to prepare for the time at which our recovery will slow down — [but] we couldn't save enough to prepare for these [federal] proposals and the kind of hole they could blow in the state's general fund.
What's your plan if California does take a financial hit?
Senator Mitchell: As budget chair, I would be forced, as painful as that would be, to go back to the days of cutting. We may not be able to use a scalpel. It may be sledgehammer time — it would be devastating. In terms of the trend we've experienced with investments in K through 12, early education, the investments we have made in the last couple of years in the University of California and Cal State University systems — all these investments that we've made to expand access to services, would be impacted.
We fund Opti-Cal and Dental-Cal [for eye and dental care] — those are the kinds of core, basic human services that we could potentially have to roll back again. Medi-Cal funding helps undergird and support our overall health-care delivery system. If that went away, everything would be compromised.
---
Copyright Capital & Main