Praying With Our Feet — A Rabbi Takes a Stand Against Trump's Muslim Ban
"This week we're reading about the beginning of the 10 plagues against Pharaoh," says Rabbi Neil Comess-Daniels, standing on the crowded sidewalk outside LAX's Tom Bradley International Terminal.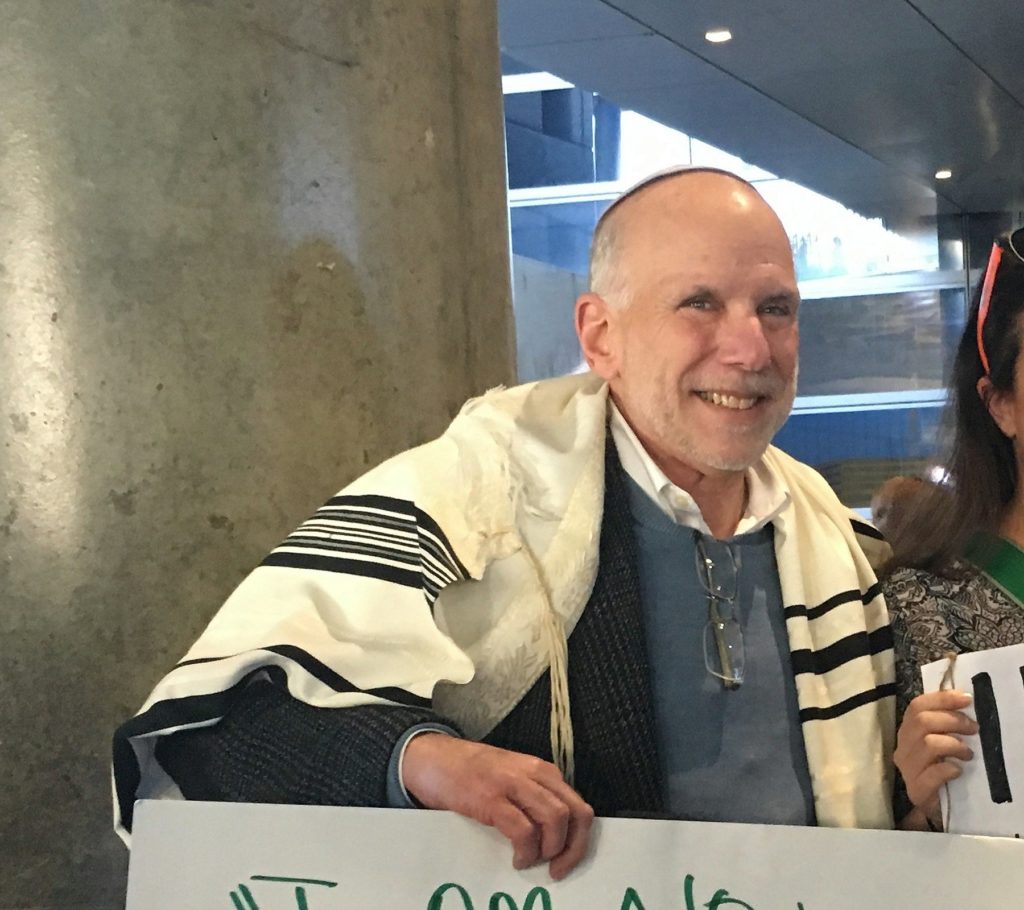 Rabbi Neil Comess-Daniels at Los Angeles International Airport. (Photo: Judith Lewis Mernit)
"This week we're reading about the beginning of the 10 plagues against Pharaoh," says Rabbi Neil Comess-Daniels, standing, conspicuously, on the crowded sidewalk outside the Tom Bradley International Terminal at LAX. He wears a kippah atop his head, and a white tallit with black stripes—the most traditional of prayer shawls—around his shoulders. "The problem with somebody like the pharaoh is that his world was very small. He wasn't really grateful for being part of this world, and having everybody else be part of his world, too.
"Donald Trump is the same way," he shouts over the sing-song call-and-response of thousands of marchers, here to protest Trump's January 27 executive order banning U.S. entry for people from seven Muslim-majority countries. "He loves his kids! Okay, great. But does he love anybody else? His circle is very small."
Suddenly a man rushes out of the throng to confront us, frantic, but smiling. "I'm glad there are people wearing tallises here!" he yells. "I have it on good authority that there were people outside the White House wearing tallises today." He shoves his hand toward Comess-Daniels to shake; the rabbi happily obliges.
"That's what I'm getting, constantly," says Comess-Daniels, who presides over Congregation Beth Shir Shalom in Santa Monica. "This is a spiritual event for so many people, and that's what happens. They see my tallit, and they feel validated in that. It proves that this isn't just a political struggle. This is a spiritual struggle."
It is also a fight for the very principal of coexistence. Religious wars throughout history have sown division and hatred; faith has been used—by President Trump himself, no less—to justify persecuting one group and favoring another. But the people gathering at the nation's airports this week, the rabbi observes, are having none of it. Distanced though they may be from the constraints of organized religion, the protestors have shown up for precisely religious reasons: To defend the rights of human beings to move freely across borders regardless of creed, and to openly honor their beliefs without fear of harassment.
The only people more popular in this crowd than Comess-Daniels, in fact, are women in hijabs. As we speak, we watch five of them line up for a photo opportunity, the backs of their pastel-shrouded heads looking like a row of Easter eggs. People put down their protest signs and take up their smartphones; some hand their cameras off to strangers and squeeze themselves into the shot.
"They are trying to draw us out and make this ugly," Comess-Daniels says. "People here aren't doing it."
A thin man in short black hair and glasses comes toward the rabbi, stretching his arms out as if to hug him. "Shalom Aleichem, Salaam Alaikum!" he shouts, nodding vigorously and planting his hands on Comess-Daniels' shoulders. "Thank you for joining us! Thank you very, very much!"
"Why are you thanking him?" I ask the man.
"Because he's Jewish!" he says with an incredulous shrug, as if the answer were obvious. "There has been so much hatred on our side, so much hatred on their side. There are Jews here! That is a good message."
Comess-Daniels laughs as the man walks away. "You see? You see? 'The Jews are here!' He got it. He really got it. We mean it when we say 'We're with you.'"
Barely more than a week into the administration of President Donald J. Trump, people who have never before taken to the streets find themselves ensconced in drum circles and human microphones that transmit the phone number of the National Lawyers' Guild. Squabbles among activist groups have given way to cooperation; male Bernie Sanders supporters don "Nasty Woman" T-shirts and chant alongside women in knitted pink hats; police in riot gear broker deals with direct-action perpetrators staging sit-ins at airports. There is buoyancy to the protest crowds, a noticeable upwelling of graciousness; a remarkable, if temporary, setting aside of differences. Even longstanding, deep and historic ones.
Comess-Daniels might chafe at a certain chant from the crowd that lumps in Trump's proposed border wall with the wall that divides Palestinians and Israelis on the West Bank. ("Israelis need to understand that Palestinians feel like they're in jail, and that they're punishing the innocent along with the guilty," he says. "Palestinians need to understand that Israelis are frightened. We all have to work on taking that wall down together.") But today he is reveling in what Muslims and Jews have in common, from dietary restrictions to Sabbath observance to Moses. "We are both a mandated people," Comess-Daniels says. "I am commanded to stand with a stranger; I have to be here. Muslims do, too. The commandments aren't just suggestions."
Both groups also share a history of displacement; their plights follow similar arcs. Nearly every American Jewish family has a refugee story. "There are some of us who are here in this country who wouldn't be here if people hadn't put their lives on the line for us, who stood in the way," Comess-Daniels says. Even Jews whose forebears didn't flee from Russian pogroms or from Europe during World War II contain the Diaspora in their historical memories.
"As we say at Passover, I came out of Egypt," Comess-Daniels says. "I think somewhere in the Muslim consciousness they know how authentic this is for us. This is not just about our values; this is about what we've been through.
"How many Jews do you know that, when Trump even threatened he'd set up a Muslim registry, said they'd go register, too?" (Many, I admit, including my own husband.) "This is important for people to know: Jews remember."
I start to ask where Christians fit into this political moment, and what it means that they voted, the exit polls say, in large numbers for Trump. Comess-Daniels begins to formulate an answer. "It's interesting," he starts. "In my interfaith work—"
He doesn't finish. Instead, as if on cue, a beaming young man emerges from out of the crowd. He wears a shirt with a ring of black around the neck, with a tab of white in the center: A clerical collar.
Comess-Daniels stops in mid-sentence. "Hi!" he says. "I like your collar! I wish I had a collar."
Kristian Kohler ("like the faucet," he tells me), a vicar at St. Paul's Lutheran Church in Santa Monica, laughs out loud. Then he and the rabbi make plans to have lunch.
"Our Old Testament lesson for today was Micah 6:8," Kohler tells me. "It says to do justice and love kindness and to walk humbly with God. I think any kind of social justice activity starts with the walking, and the walking with each other, and the walking with God is how you find that spiritual place of seeking justice."
"Praying with your feet," Comess-Daniels affirms. "When Rabbi Abraham Joshua Heschel marched from Selma with Dr. Martin Luther King Jr., that's what he said: 'I felt my legs were praying.'"
We must only take care that our feet don't tire too soon. It's going to be a long walk.
Reviewed: A DIY Guide for "The Magicial Resistance"
A new book offers practical tips on how to organize — and cast spells — for equality and the environment.
Religion and politics have gone hand in hand at least from the time of Hammurabi's Code. Though we are guaranteed separation of church and state in the United States, many a prayer has been uttered for political gain. Any and all religions make no bones about their desire to influence social events and governmental organizations using their own methods and views of the Divine, whether it's the Catholic Workers marching for the rights of the poor, Baptist churches rallying for the right of the unborn — or witches casting spells to protect the environment.
---
At a time when many people feel helpless, ceremonial magic places power firmly in the hands of people who want to see positive change for the future.
---
While mainstream faithful said their prayers, conservative chaos magicians invoked Pepe the Frog to aid the 2016 elections. Since then, sorcerers of all stripes and more than few faithful in the Abrahamic faiths have been very publicly throwing down to counteract what they perceive as harmful acts by the current administration.
David Salisbury's Witchcraft Activism is a smart, direct guide to incorporating activism into your witchcraft practice, or experimenting in your activism by adding a little extra whammy. An experienced, long-time activist and well-respected pagan practitioner, Salisbury lays out a guide for activism that incorporates strategy, defense, offense, victory and loss with spiritual tools and magical methods drawn from Western European folk magic traditions.
He begins with setting intention and leads us to getting off the couch and carrying out an action, be it letter writing, participating in marches, attending city council meetings or lobbying — each with certain magical additions to aid in success. Salisbury also gives results based on his actions incorporating magic and suggests a variety of means for different scenarios. Concentration, visualization and focus are stressed as tools, with the addition of sigils, herbs and incantations.
Spiritual actions range from the simple to the complex. Whether meditating before a meeting, doing a divination for suggested actions, writing out a petition and placing it under a candle or using advanced magical practices like egregores, the acts suggested by Salisbury increase dedication to our causes and shift perspective, creating space for new ideas, for relief from burnout and for refocusing on goals.
Over 1.5 million in the United States identify as Pagan or Wiccan in a 2014 Pew Research Center poll—and that's not counting those witches, sorcerers and others who do not identify in those categories. The numbers of magical practitioners have risen steadily over the decades, perhaps because organized religions may not offer a sense of personal connection, of gnosis, or may have goals that are in opposition to participants'. At a time when many people feel helpless, witchcraft, ceremonial magic and folk/indigenous faiths place power firmly in the hands of people who want to see positive change for the future.
Don't believe in magic? Give Salisbury's methods a try and see what happens. You may be surprised, success is your proof. Just stay away from the Goetia!
---
Copyright Capital & Main